13 Best Serums For Sensitive Skin Available In India
Nourish your face with the mild skin elixirs that accentuate your natural glow.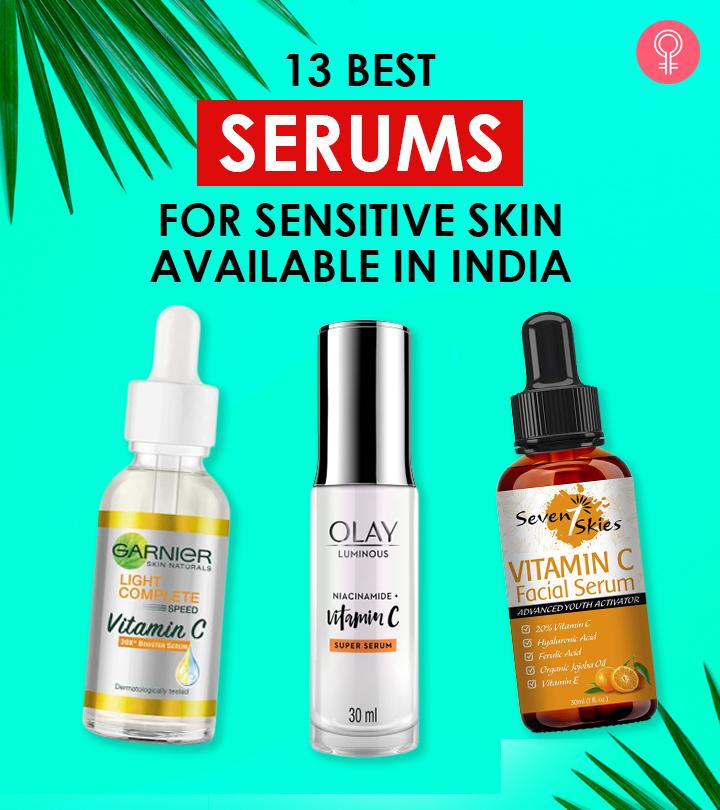 Tired of sensitive skin woes? Well, get over the pity party because all you need is the right serum! It deeply penetrates the skin to repair and heal it, control dullness and saggy skin, and treat dark spots, aging signs, acne, and whatnot. In this article, we have listed the 12 best serums for sensitive skin available in India. Scroll down to show some TLC to your skin!
Top Picks
13 Best Serums For Sensitive Skin Available In India
The Olay Luminous Niacinamide + Cica Super Serum is best suited for inflamed and tired-looking skin. The calming formula is enriched with 99% pure niacinamide and cica. The anti-inflammatory niacinamide or vitamin B3 soothes skin irritation and redness while cica reduces skin discoloration and yellowness. The lightweight formula absorbs quickly, providing 24-hour hydration and plump skin. This serum offers smoother and even skin tone and reveals glowing skin. It improves skin resilience, even tones the skin, and enhances skin elasticity.
Pros
Lightweight
Non-greasy
Paraben-free
Sulfate-free
Phthalate-free
Petrolatum-free
Mineral oil-free
Cons
None
The StBotanica Vitamin C 20% + Vitamin E & Hyaluronic Acid Professional Face Serum is ideal for sensitive and acne-prone skin. This powerful anti-aging serum contains hyaluronic acid that hydrates and plumps the skin and vitamins C and E that nourish the skin and protect it from free radical damage.
The essential oils in the serum repair UV damage. The unique blend of vitamins and plant-based extracts soothes and hydrates the skin. It visibly reduces fine lines, wrinkles, acne, saggy skin, and breakouts. This serum helps moisturize, tighten, and revitalize the skin with collagen-boosting ingredients like jojoba oil, tea tree, aloe, witch hazel, and geranium.
Pros
Vegan
Silicone-free
Paraben-free
Mineral oil-free
Sulfate-free
Dermatologically tested
Mild scent
Cons
The mixify Unloc Skin Serum is a non-greasy power-packed formula that transforms dull and lifeless skin into radiant, glowing, and healthy skin. It has exfoliating and antioxidant properties to reduce pigmentation and dark spots.
This serum contains vitamin C that boosts collagen production to prevent wrinkles and fine lines. Mulberry fades dark spots and blemishes, while licorice has soothing and regenerative properties. Glycolic acid gets into the deepest skin layers to activate cell regeneration and shrink the pores. Lactic acid enhances cell turnover and stimulates the fibroblasts to smoothen the skin.
Pros
Oil-free
Non-comedogenic
Vegan
Sulfate-free
Paraben-free
Cons
Feels heavy
May irritate the skin.
The GARNIER LIGHT COMPLETE Vitamin C Booster Serum gives you spotless and glowing skin in only three days. This ultra-light formula is enriched with 30X vitamin C and Japanese yuzu lemons that fade stubborn acne marks and dark spots. The quick-absorbing, non-oily serum penetrates deep into the skin to provide radiance and luminosity.
Pros
Non-oily
Lightweight
Dermatologically tested
Absorbed quickly
Pleasant fragrance
Cons
The kaya yOUTH Oxy-Infusion Face Serum provides a boost of oxygen to leave your skin youthful and glowing. The expert grade formula eliminates dullness, reduces dark spots, and rejuvenates the skin. The highly active concentrates offer intense care to your skin. The skin-nourishing and healing additives like vitamin E, evodia fruit extracts, niacinamide, dimethic one, and Oxygen Boost Complex reduce dullness, uneven skin tone, and dark patches.
Pros
Dermatologically tested
Lightweight
Non-greasy
Absorbed quickly
Pleasant fragrance
Cons
Price at the time of publication: ₹22.88
The Naked & Raw Coffee Face Serum from mcaffeine boosts hydration and sun protection to the skin. The antioxidant-rich formula is infused with coffee that fights oxidative stress and premature aging signs like wrinkles, age spots, and fine lines.
Caffeine evens out the skin tone, soothes the skin, and imparts glow. The freshly grounded aroma of Arabica coffee seeds keeps you fresh and energized all day long. Vitamin E offers sun damage recovery, while white water lily fades hyperpigmentation and dark spots. Hyaluronic acid conditions and hydrates the skin.
Pros
Clinically tested
Cruelty-free
Mineral oil-free
SLS-free
Paraben-free
FDA-approved
Pleasant fragrance
Cons
May cause a burning sensation.
Price at the time of publication: ₹18.99
The Seven Skies Vitamin C Serum offers anti-aging benefits and rejuvenation to sensitive skin. The effective formula is crafted without harsh chemicals that can damage the skin by stripping natural oils.
This serum contains pure concentrated vitamin C, which helps remove dark spots, discoloration, acne, blackheads, hyperpigmentation, and other aging signs. It nourishes, moisturizes, smoothens, hydrates, and plumps up your skin, leaving it feeling refreshed. The vitamin E, jojoba, and hyaluronic acid keep irritation, redness, and discomfort at bay and protect the skin.
Pros
Non-irritating
Lightweight
Non-sticky
Quickly absorbed
Paraben-free
Pleasant fragrance
Cons
The PILGRIM Vitamin C Night Serum is a secret potion for youthful skin. It contains antioxidants derived from vitamin C and hyaluronic acid to nourish, hydrate, and brighten your skin.
This serum combats free radicals that cause premature aging. It also enhances collagen production to improve skin texture and prevent blemishes, dark spots, and hyperpigmentation. This serum for sensitive skin increases its elasticity and shrinks pores. It also contains white lotus that fades acne marks, wrinkles, and fine lines, leaving a refreshing aroma. This Korean serum gives you even-toned, firm, and bright skin.
Pros
Lightweight
Non-sticky
Vegan
Paraben-free
Sulfate-free
Cruelty-free
Mineral oil-free Absorbed quickly
Safety-tested
Cons
Over powering scent
May cause breakouts.
This Hyaluronic Serum Concentrate from DOT & KEY provides extended hydration and makes your skin plump and dewy. There pairing formula improves the skin's natural barrier and rejuvenates it. It combats free radicals and environmental aggressors that cause premature aging and the occurrence of fine lines, dark spots, and wrinkles.
The hyaluronic acid in the serum intensely moisturizes the skin to restore its suppleness. The antioxidant-rich acai berries promote cell regeneration and heal and repair damaged skin. The serum also contains Bulgarian rose that calms and relaxes sensitive skin. The potent combination of vitamin C and hyaluronic acid protects and enhances the skin texture.
Pros
Cruelty-free
Dermatologically tested
Pleasant fragrance
Gentle
Non-sticky
Absorbed quickly
Cons
Runny consistency
May irritate the skin.
Price at the time of publication: ₹17.22
This serum from LOTUS HERBALS is a two-in-one formula to impart nourishment and youthfulness to your skin. Its uses Green Science Technology and Gineplex Youth Compound obtained from natural and safe ingredients that fade aging signs like wrinkles and fine lines.
The ginseng promotes cell regeneration to provide radiance and bounce to the skin. Ginger reduces dark spots, blemishes, and hyperpigmentation to even out the skin tone and add glow by increasing blood circulation. Milk peptides boost collagen production and nourish the skin from within to enhance its elasticity and vitality. The youth activation formula improves skin elasticity. The anti-aging compounds and moisturizing agents in this serum reduce dark spots and blemishes to make your skin smooth and radiant.
Pros
Lightweight
Non-greasy
Absorbed quickly
Preservative-free
Cons
May cause itching and burning.
The Vya Naturals Niacinamide Serum is ideal for sensitive skin and eliminates dullness, fine lines, and wrinkles. It shrinks the pores and evens out the skin tone. This serum contains unique and skin-friendly ingredients likeniacinamide or vitamin B3, a water-soluble vitamin that offers immense benefits to the skin.
It improves the skin's natural barrier and moisture-retention abilities. The aloe vera extracts, rich in antioxidants and anti-inflammatory properties, heal the skin. Sodium hyaluronate, a superfood for the skin, offers deep moisturization and hydration while repairing the tissues to make your skin plump. Rosemary leaf extract is rich in antioxidants that combat free radicals and environmental aggressors to protect your skin.
Pros
Lightweight
Quickly absorbed
Paraben-free
Sulfate-free
Cons
Strong fragrance
May cause breakouts.
This is an anti-pigmentation daily wear serum that removes blemishes and pigmentation. It lightens the skin and reduces tanning, acne marks, and dark spots. The broad-spectrum protection of alpha arbutin prevents photodamage caused by harsh UV rays. The clinically proven formula decreases melanin production without cell cytotoxicity and makes your skin bright, soft, and smooth. The aloe vera and hyaluronic acid in the serum provide intense hydration and moisturization. The non-irritating formula maintains the skin pH from 4.7-5.2.
Pros
Lightweight
Hypoallergenic
Oil-free
Non-comedogenic
Fragrance-free
Silicone free
Sulfate-free
Paraben-free
Essential oil-free
Dye-free
Cons
The minimalist Niacinamide 5% serum helps hydrate, soothe, and repair damaged skin from within. It fades blemishes and offers even-toned skin in only two weeks. Niacinamide decreases melanin production and issues like age spots and dark spots. Its antioxidants combat oxidative damage and prevent early aging signs.
The hyaluronic acid deeply hydrates the skin and prevents water loss from the epidermal skin layer. Vitamin B3 strengthens the skin barrier. Niacinamide and aloe vera calm and relax the skin. This serum also strengthens the skin barrier to protect the skin from harsh chemicals, pollutants, and UV rays. It reduces pore size, redness, and inflammation, controls excess sebum production, and increases cell turnover to refine skin texture and prevent acne. This serum maintains the skin's pH between 5.5-6.5 so that it stays healthy and nourished.
Pros
Non-comedogenic
Hypoallergenic
Paraben-free
Sulfate-free
Silicone-free
Fragrance-free
No essential oils
Dye-free
Cons
If you have decided to opt for a serum for sensitive skin, it's time to get familiar with the factors to consider before buying one. Check out the next section for more details.
How To Choose The Best Serum For Sensitive Skin
Look for the following ingredients and aspects:
Anti-inflammatory Ingredients
Look for serums with ingredients like aloe vera to prevent redness, inflammation, and irritation.
Choose a serum containing ingredients with high concentrations of vitamins A, C, and E to protect the skin and reduce free radical damage.
Opt for serums with mild exfoliating acids like lactic and salicylic acids to remove the top layer of dead cells and restore glow to the skin.
Sensitive skin is easily prone to damage and inflammation. Hence, look for a hydrator that moisturizes, repairs, and protects the skin and keeps inflammation and premature aging signs at bay. Ingredients like hyaluronic acid and aloe vera serve this purpose.
Go for a non-comedogenic serum to prevent clogging of pores, which might lead to acne and breakouts. Avoid products containing alcohol, fragrances, and essential oils that might irritate sensitive skin and cause rashes.
These were the 12best serums for sensitive skin available in India. If you are still stuck with old fashioned creams and gels, think about switching to these sensitive skin serums to offer more care to your sensitive skin. Go ahead and take your pick!

Recommended Articles