10 Best Hair Serums For Dry Hair – 2023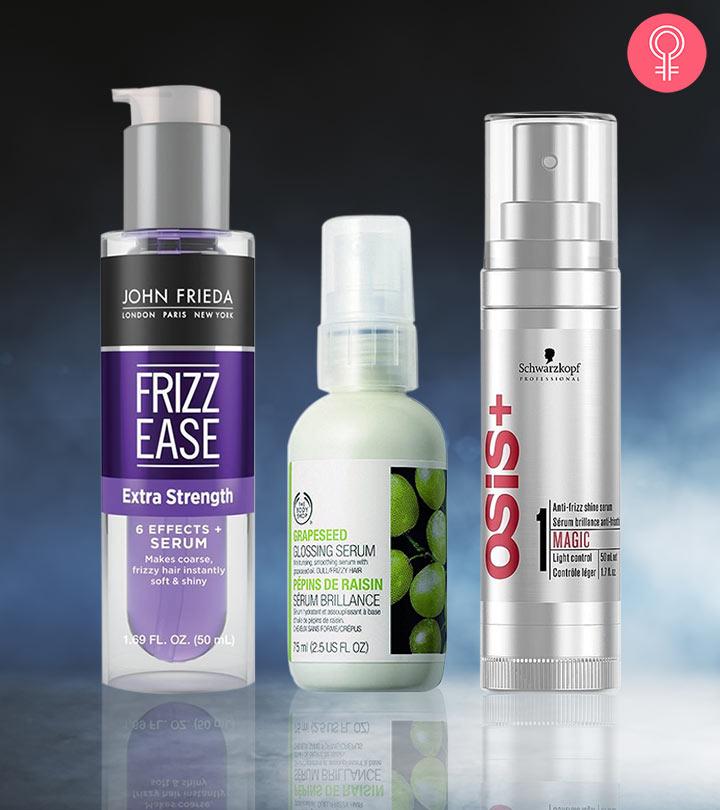 Do you get into a 1-on-1 combat with your hair every single day? Do you end up chucking your comb across the room in frustration? If it's a yes to both these questions, well, you have dry hair. Oiling your hair and using a mild shampoo can be a good start to treating your dry hair. But there's another step that can make the deal – it can make your hair super smooth and easy to detangle. And that is, applying a hair serum after you step out of the shower.
But wait! You need to do your research and pick up a serum that is specifically made for your hair's needs. And not just about anything.
Here are some things you need to keep in mind:
If you're struggling with dry and frizzy hair, pick a serum that contains natural oils like castor, argan, or rosemary that not only smoothen your hair but also hydrate it.
Pick a keratin-based serum if you want to prevent split ends.
Serums that contain lavender or jojoba oil are great for protecting your hair against the harmful sun rays.
Argan oil-based serums work best on thick and textured hair.
To make curly hair more manageable and frizz-free, it is best to use serums that contain hydrating oils like sweet almond, jojoba or argan oil.
Serums that contain coconut oil and green tea extracts are best suited for colored and chemically treated hair.
Now that you know how to pick out a serum for yourself, let's take a look at the 10 best hair serums for dry hair that you can check out right now!
Best Hair Serums For Dry Hair
What makes St. Botanica Moroccan Argan Hair Serum a premium hair serum? The fact that it's a blend of argan oil, avocado oil, grapeseed oil, and olive oil. This intense hair serum claims to nourish, soften, and rehabilitate your dry hair and add shine to it without making it greasy. It also moisturizes your dry scalp and protects it from the harmful rays of the sun.
Pros
Reduces frizz and breakage
Improves hair texture
Makes it easier to detangle your hair
Adds shine
Free of sulfates, parabens, and other harmful chemicals
Cons
Expensive
Thick consistency that can make your hair greasy if you apply too much of the product
Say goodbye to frizz and hello to glossy hair with Streax Pro Vita Gloss Hair Serum. This ultimate frizz-free formula claims to seal the silky smoothness into your hair cuticles. Enriched with vitamin E, it smoothens rough and damaged hair to give you shiny, frizz-free tresses.
Pros
Detangles hair
Adds shine
Reduces frizz
Lightweight formula
Does not weigh your hair down or make it sticky
Cons
Hair & Care Silk-n-Shine Leave-in Conditioner is a unique serum that is enriched with fruit vitamins that work to soften dry, rough, and damaged hair. It combats the harmful effects of dust, sunlight, chemicals, and hard water to give you silky and shiny hair.
Pros
Makes hair silky and smooth
Reduces frizz
Adds shine
Detangles hair
Pleasant fruity fragrance
Cons
The L'Oréal Professionnel Serie Expert Absolut Repair serum works on the Lipidum complex technology with wheat oil to target each strand of your hair fiber to restore its structure. This hair serum works ideally on weak and damaged hair. It strengthens, repairs, and protects the hair. In addition, the hair serum makes your hair smooth, stronger, and shiny.
Pros
Non-greasy formula
Does not weigh down hair
Easy to use
Instant shine
Cons
Not effective on very dry hair
Schwarzkopf Osis + Anti-Frizz Shine Serum is made with a combination of silicone agents and glycerine that deliver intense smoothness and shine to your hair. It provides a weightless hold and separation to your hair while still being easy to wash out.
Pros
Reduces frizz
Adds shine
Non-sticky
Lightweight
Cons
Livon Serum is perfect for anyone who has dry, frizzy, unruly, or dull hair. Enriched with vitamin E and a unique CutiSoft Formula that forms a protective sheath on your hair, it gently detangles your hair and reduces breakage to make it soft and silky.
Pros
Smoothens hair
Less visible split ends
Detangles hair
Cons
Does not spread easily on hair
L'oreal Paris Smooth Intense Smoothing Serum is infused with silk proteins and argan oil that nourish your hair from root to tip. This rejuvenating serum tames down frizz, reduces split ends, and adds shine to your dry hair. It also restores moisture and protects your hair from the harsh sun rays, leaving it feeling smooth and silky.
Pros
Reduces frizz
Adds shine
Non-sticky
Reasonably priced
Cons
Keeps hair frizz-free only for 3-4 hours
Inspired by nature's water resistant camellia, Matrix Biolage SmoothProof Smoothing Serum is specially formulated to combat frizz and provide humid control. It also nourishes dry hair, adds shine, smoothens rough ends, and makes it easier to detangle your hair.
Pros
Reduces dryness and frizz
Detangles hair
Adds shine
Absorbs quickly into your hair
Lightweight and non-greasy
Cons
Does not do much to improve hair texture
Your hair is exposed to sun, water, and pollution on a daily basis that leave it dry, rough, and unmanageable. Fortunately, L'Oreal Paris Total Repair 5 Smoothening And Repairing Serum contains ceramide-cement that attaches itself to damaged areas of your hair, repairs them, and protects them from further damage and split ends. It also smoothens your hair and leaves it feeling silky soft.
Pros
Adds shine
Makes hair soft and manageable
Detangles hair
Does not weigh hair down
Cons
Does not repair damaged hair
Would you describe your hair using words like coarse, thick, unruly, or frizzy? Then, you need to get your hands on John Frieda Frizz Ease Extra Strength Serum. Formulated with a blend of frizz-fighters, silk proteins, and seaweed extract, this potent serum claims to combat six hair problems – frizz, heat styling damage, humidity, frizz, dryness, and flyaways.
Pros
Reduces frizz
Moisturizes hair
Only a small amount of product required for each use
Cons
Can flatten down oily hair
Consider the essential points listed in the next section before investing in a hair serums for dry hair.
Things To Consider When Buying A Serum For Dry Hair
Checking the ingredients is crucial when buying serum for dry hair. Look for ingredients that hydrate and nourish dry hair. The serum should also contain ingredients that add shine and luster to your hair and make it voluminous and bouncy. Natural ingredients such as olive oil, argan oil, raspberry extracts, and sunflower seed oil work best for dry hair.
If you have frizzy, dull, or lackluster hair, find a serum that can help mitigate such problems. If your hair is frizzy, opt for a serum meant to control frizziness. For dullness, choose a serum that will induce shine and luster to your hair. You can find various serums depending on your hair needs, such as heat-protecting serum, volume-boosting serum, anti-split-ends serum, and serum for colored or chemically treated hair.
Hair serums come in bottles of different sizes. Choose the one that suits your requirements. If you have never used the product before, opt for the smallest quantity. If the serum suits you well, you can go for a big bottle next time.
Hair serums come in a wide price range. Some decent and reliable brands are quite affordable. Professional brands can be a bit heavy on the pocket. Go for a reputed yet dependable brand based on your budget after checking the user reviews.
Well, now that you are up-to-date on the best hair serums out there, what are you waiting for? Grab one and let us know what kind of difference it has made to your hair.
Frequently Asked Questions
Is serum good for hair?
Yes, serum is good for hair as it adds a bit of moisture to it and makes it easier to detangle.
What does serum do to your hair?
Serum smoothens your hair shafts.
Can serum be used daily?
Yes, serum can be used daily. Here are the Best 15 Best Hair Serums.
How often should I use a hair serum for dry hair?
Use the serum as recommended on the product. Most hair experts recommend using a hair serum a max of 3-4 times a week. Use a hair serum every time you wash your hair. Avoid washing dry hair daily. Use an oil-based serum that nourishes and hydrates dry tresses.
Can I use a hair serum for dry hair on wet or damp hair?
It is always recommended to apply hair serum on damp hair as it absorbs better and helps manage the tresses more effectively.
Can hair serums help with scalp dryness or itchiness?
Not all hair serums help with scalp dryness or itchiness. Buy a scalp serum specifically formulated to manage dryness and itching. Serums like St. Botanica Moroccan Argan Hair Serum moisturize the scalp, reducing dryness and itchiness.
Can hair serums be used on all hair types?
Yes, hair serums can be used on all hair types. However, there are specially formulated ones for each hair type. While serums with ingredients like castor oil or rosemary oil are good for dry hair, argan oil-based serum helps thick and coarse hair. Check the product label or brand website to know if a specific hair serum suits your hair type.
Can hair serums be used as a heat protectant before styling with hot tools?
Yes, hair serums with silicones, silk proteins, and nut oils coat your strands and act as a barrier to protect your hair from heat-styling tools. Apply a few drops of the serum from the root to the tip of the hair before using the styling tools.
Recommended Articles