9 Best Serums For Oily Skin Available In India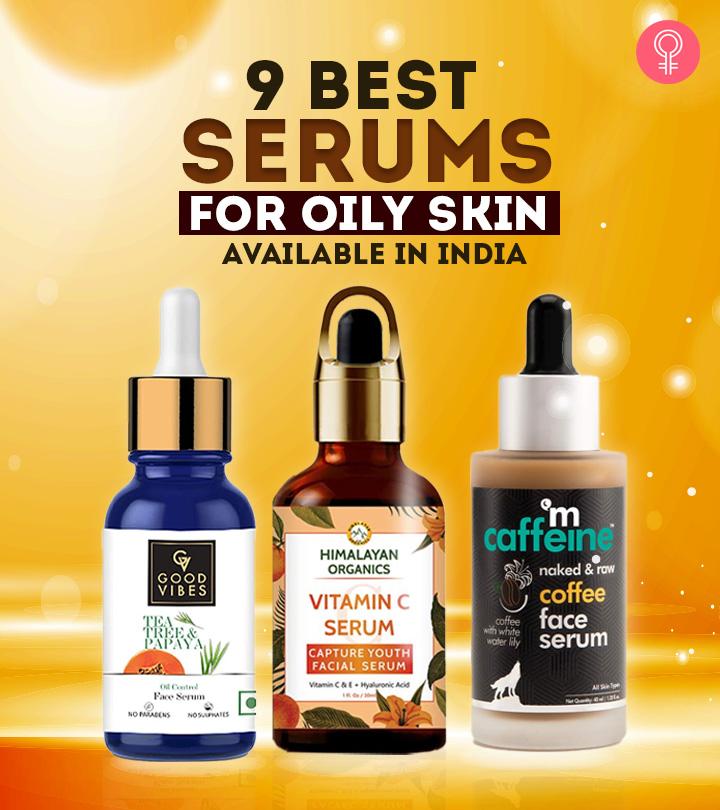 If you have oily skin, then finding a serum is quite challenging. You need a lightweight and nongreasy serum with potent ingredients to manage oily skin problems like excess sebum, clogged pores, acne, and more. If you are looking for a nourishing serum for your skin, we have compiled a list of the 9 best face serums for oily skin right here. Scroll down and check them out!
9 Best Serums For Oily Skin Available In India
The Himalayan Organic Vitamin C Serum encourages collagen production, revitalizes skin tone, and makes your skin look more radiant. It has a unique blend of vitamin C, E, and hyaluronic acid to hydrate, replenish and nourish your skin. Vitamin C in the formula fades acne marks, sunspots, and age spots. The serum balances melanin production and protects the skin from UV damage to keep it bright and healthy.
Key Ingredients: Vitamin C
Pros   
 Gentle
 Anti-acne
 Anti-aging
 Paraben-free
 Sulfate-free
 Artificial fragrance-free
Cons
The Kaya Youth Oxy-Infusion face serum stimulates oxygen supply in your skin to keep it glowing naturally. It contains an oxygen boost complex, niacinamide, and dimethicone that nourishes the skin to restore its natural glow. It also contains the goodness of vitamin E and evodia fruit extracts to keep your skin hydrated and reduce dark spots. This lightweight serum gets absorbed easily. It is dermatologically tested and can be used during day or night.
Key Ingredients: Niacinamide, Dimethicone, Vitamin E, Oxygen boost complex, and Evodia fruit extract
Pros
 Dermatologically-tested
 Fast absorbing
 Non-oily
 Non-sticky
 Lightweight
Cons
The Newish Vitamin C Serum offers antioxidant support to aging skin. It contains 40% vitamin C that improves skin texture, and repairs damage. It is enriched with the goodness of aloe vera, glycerine, and grape seed extract to control acne and fight signs of aging. Glycerine in the formula is great for oily skin as it moisturizes your skin without any greasiness. Aloe vera in the serum has anti-inflammatory properties that soothe acne.
Key Ingredients: Vitamin C, E, Hyaluronic acid, and Amino acid blend
Pros 
 Cruelty-free
 Paraben-free
 Vegan
 Value for money
Cons
 Doesn't gets absorbed easily
The Garnier Light Complete Vitamin C Serum provides radiant and healthy-looking skin. It contains Japanese yuzu lemon extract (rich in vitamin C) and salicylic acid to fade dark spots and acne marks from your skin. This lightweight serum improves skin texture and shows results in just three days. It is non-oily and instantly penetrates your skin.
Key Ingredients: Japanese yuzu lemons and Salicylic acid
Pros 
 Dermatologically-tested
 Non-oily
 Lightweight
Cons
The Mcaffeine Naked & Raw Coffee Face Serum is an antioxidant-rich, lightweight, and non-greasy product. It is enriched with coffee to fight free radicals, prevent fine lines, soothe and nourishes the skin deeply to provide an instant glow. The formula contains vitamin E to protect your skin from harmful sun rays, white water lily extract to reduce dark spots and hyperpigmentation, and hyaluronic acid to condition and hydrates your skin.
Key Ingredients: Coffee and Whitewater lily extracts
Pros
 Dermatologically-tested
 Silicon-free
 Paraben-free
 Mineral oil-free
 SLS-free
 Non-sticky
 Vegan
Cons
 Less quantity for the price
The Honest Choice Vitamin C Serum is lightweight, non-greasy, and fast-absorbing formula. It diminishes fine lines, acne pits, and makes your skin look younger. The serum contains vitamin C to boost collagen production and offer anti-aging benefits. The hyaluronic acid in the formula improves skin texture and moisturizes the skin. It protects your skin from environmental aggressors and sun damage.
Key Ingredients: Hyaluronic acid, Grape Fruit, Vitamin E, Aloe vera, and Vitamin C
Pros 
Cons
The WOW Skin Science Anti Acne Face Serum is an excellent choice for dull and acne-prone skin. The natural actives in the formula reduce acne scars and spots, evens complexion, and gives a dewy glow. It controls sebum production and promotes cell renewal process while boosting collagen production for firmer and younger-looking skin. Use this serum regularly for a fresh and bright appearance.
Key Ingredients: Neem leaf oil, Tea tree oil, Dextran, Tripeptide-1, and Caviar lime fruit extract
Pros 
 Dermatologically-tested
 Vegan
 Paraben-free
 Silicone-free
 Fragrance-free
 Gluten-free
 Mineral-oil free
Cons
 May cause a burning sensation
The Good Vibes Oil Control Face Serum is a lightweight formula that improves your skin texture, fades blemishes and acne marks. It is enriched with tea tree oil and has astringent, anti-inflammatory, and anti-microbial properties to regulate excess oil production and minimize enlarged pores' appearance. The serum also contains papaya extract to accelerate cell turnover and even complexion for fresher, youthful skin.
Key Ingredients: Tea tree and Papaya extract
 Pros 
 Lightweight
 Cruelty-free
Cons
The Lumiglo Anti-Acne Collagen Serum acts as a sun defense and has a barrier repair formula. It contains botanical extracts that neutralize free radicals and soothe various skin conditions. Rosemary extract in the formula repairs the damaged skin cells, while chamomile extract reduces skin irritations. It also contains tea tree oil to reduce blemishes, acne, infections, and dry patches. Vitamin C in the serum stimulates collagen production for firmer, younger, and smoother skin. The formula also contains Japanese knotweed that offers anti-inflammatory and anti-bacterial protection.
Key Ingredients: Japanese knotweed, Licorice, Tea tree, Rosemary, Chamomile, and Vitamin C
Pros 
 Lightweight
 Easy to apply
Cons
If you are wondering about the key considerations before investing in serum for oily skin, fret not. We have got you covered! Read the next section for a detailed buying guide.
How To Choose The Best Serum For Oily Skin
1. Ingredients: Always pay attention to the ingredients on the label. Here is a list of few ingredients you should check for:
 Tea tree oil
 Benzoyl peroxide
 Glycolic acid
 Vitamin C
 Glycerine
 Lactic acid
2. Dermatologist Tested Formula: Ensure the serum is approved by a skin expert or clinically tested.
3. Customer Feedback: Check for customer reviews online to get the best idea about the specific product.
Serums contain active ingredients that penetrate the skin layers to keep your skin healthy and provide targeted results. Using a serum on your oily skin can keep it youthful, radiant, and glowing. So go ahead and pick a serum that suits your skin needs!
Frequently Asked Questions
Is hyaluronic acid good for oily skin?
Yes, hyaluronic acid is good for oily skin as it keeps it moisturized.
How are serums beneficial for oily skin?
Serums provide targeted results and may tighten pores, improve texture, and moisturize oily skin and help reduce acne.
Is Vitamin C good for oily skin?
Yes, vitamin C is good for oily skin as it relieves acne and brightens the skin.
Are there any side effects of using a serum for oily skin?
No, there are no side effects unless you are allergic to specific ingredients in the serum.
Recommended Articles
The following two tabs change content below.