12 Best Serums For Oily Skin To Look Out For In 2020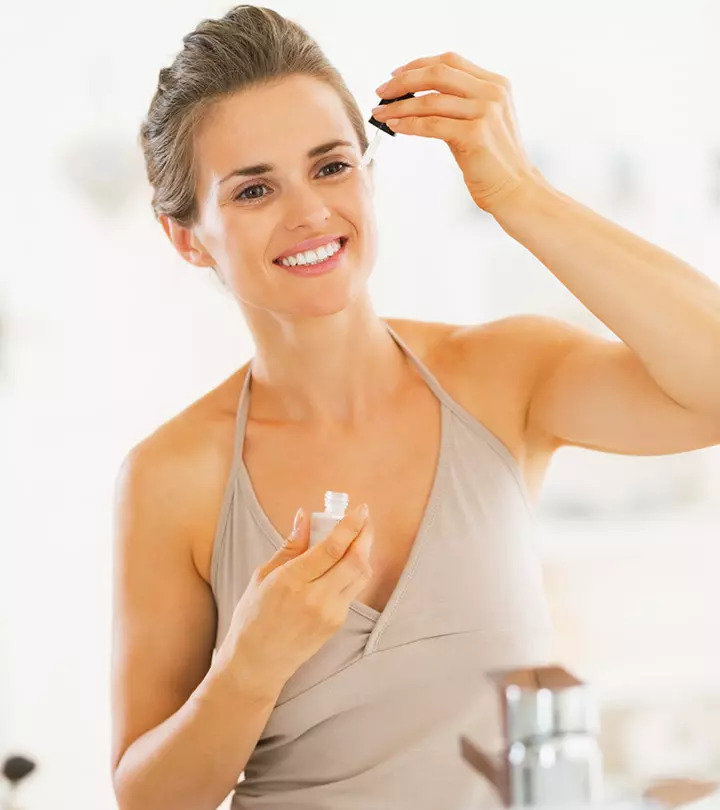 Most of us may think of it as a luxury indulgence, but serum is the most hardworking skin care product of all. It keeps your skin hydrated and nourished. You must be aware that your natural sebum coating already does the hard work to keep your skin protected and moisturized. Then, how does adding serum to your skin care routine make sense? Well, it contains active ingredients that seep deeper into your skin than any cream and moisturizer. It also rebalances the excess sebum on your face and keeps it looking nourished.
To reap the maximum benefits of a serum, you need to pick the right formula for your oily skin. Here is a list of serums that can do wonders for oily skin. Check them out!
The Best Serums for Oily Skin – 2020
Using vitamin C on oily skin can never go wrong! This light and refreshing serum from The Body Shop is one of the best serums for oily skin. This serum contains Amazonia Camu Camu berry extracts that protect your skin from the damaging effects of environmental pollution and improve its radiance. It evens out your skin tone and keeps it feeling fresh the entire day. However, if you are using it during the day, don't forget to use a sunscreen.
Pros
100% vegan
Fair price ingredients
Cruelty-free
No harmful chemicals
Contains natural ingredients
Cons
None
Similar Products:
[ Read: The Body Shop Vitamin C Serum Reviews ]
If your skin produces excess oil, this has to be your go-to serum. It is an amazing blend of Alaskan glacier water and botanical and sea plants extracts that reduces excess oil production by minimizing the size of your pores. It is excellent for oily and combination skin types.
Pros
Lightweight
Gets absorbed quickly
Contains herbal ingredients
Sebum-controlling formula
Paraben-free
No harmful chemicals
Cons
None
Similar Products:
This is another gem from the Korean skincare market. The VB Effector serum from Its Skin has an oil-free formula. It gives your skin an oil-free finish and keeps it feeling refreshed, which is why it is a summer must-have for oily-skinned beauties. It also helps in acne management and shrinking large skin pores.
Pros
Hydrating formula
Maintains oil-water balance
Contains natural ingredients
No artificial colors
Fragrance-free
Alcohol-free
Cons
None
Similar Products:
This serum is a complete AHA treatment for your skin. It contains lactic acid that helps shrink the size of your pores, improves your skin texture, reduces dark spots, clarifies your skin, and makes it smooth.
Pros
Clinically tested
Sulfate-free
Paraben-free
Phthalate-free
No mineral oils
Cruelty-free
100% vegan
Gluten-free
Recyclable packaging
Cons
None
Similar Products:
This is a highly concentrated hyaluronic acid serum and is extracted from plants. It is a natural moisturizer for your skin that helps rejuvenate it. It also contains vitamins C and E, MSM, green tea extracts, witch hazel, and aloe vera. All these ingredients help eliminate dark circles, brighten your skin, reduce the appearance of age spots and wrinkles, and calm your skin. This serum is suitable for all skin types.
Pros
Vegan formula
Paraben-free
Silicone- free
Cons
Similar Products:
Plum Green Tea Skin Clarifying Concentrate is a 100% vegan serum for oily and acne-prone skin. This serum is enriched with organic green tea and willow bark extracts and is great for gentle exfoliation of the skin. Organic green tea extracts prevent oxidation of sebum. Willow bark is rich in salicylic acid, a microbe-fighter that helps prevent acne. It also contains AHAs from 5 different plant sources such as sugar cane, bilberry, maple, orange, and lemon that help in clarifying the skin.
Pros
Prevents acne
Gentle exfoliation
Paraben-free
No mineral oil
Paraffin-free
Silicone-free
Sulfate-free
Alcohol-free
Vegan
Cruelty-free
Suitable for oily and acne-prone skin
Cons
Retinol formulas are good for oily skin. If you are new to retinol, you can start with this serum that has a relatively low percentage of retinol. It contains vitamin C and other skin-soothing ingredients, such as ceramides, aloe vera, and oatmeal extracts, which take care of all your skin concerns.
Pros
Contains hyaluronic acid
Vegan formula
Gluten-free
Safety tested
No artificial color and fragrance
No mineral oils
Paraben-free
Sulfate-free
Cons
None
If you prefer organic formulas, this serum is for you. This is a deeply nourishing serum containing grapeseed oil that regulates sebum production and keeps your skin clear. It also contains vitamin E that nourishes and moisturizes your skin.
Pros
Fast-absorbing formula
Vegan
Cruelty-free
100% natural
GMO-free
Gluten-free
Cons
None
Have oily skin that is sensitive to certain ingredients? If yes, this serum will be a perfect match! This serum helps rebalance oil production, soothes your skin, minimizes the appearance of blemishes, and calms down irritated skin.
Pros
Contains plant extracts
Cruelty-free
Contains tocopherol
Clinically proven
Vegan
Contains sustainably procured ingredients
No synthetic fragrance
Cons
None
Hyaluronic acid works well on oily skin. This serum is a blend of hyaluronic acid and botanical extracts. It improves your skin texture and elasticity. It gives you an oil-free finish and reduces the appearance of your skin pores.
Pros
Fragrance-free
No artificial colors
Paraben-free
Non-greasy
Cons
None
This antioxidant-rich serum contains vitamin C. It rejuvenates your skin, boosts its hydration levels, makes it firm, and reduces the signs of aging. It is equally suitable for people with sensitive skin. If you are using it during the day, use it along with a sunscreen with SPF 30.
Pros
Gets absorbed quickly
Fragrance-free
Paraben-free
No harmful chemicals
Cons
None
This serum is developed specifically for adult and mature skin. If you are experiencing breakouts due to excessively oily skin, this serum is for you. It has a gentle and hydrating formula that slowly clears acne without causing any dryness or irritation. It helps control excessive oiliness, improves skin texture, and minimizes wrinkles.
Pros
Allergy-tested
Fragrance-free
Paraben-free
Phthalate-free
Cons
All these serums contain powerful combinations of ingredients that repair your damaged skin and keep it healthy. Pick any of these incredible serums and make your oily skin look and feel better than ever!
Have you ever tried any serum? Which one is your absolute favorite? Let us know in the comments section below!
Recommended Articles: