13 Best Serums To Get Even Skin Tone – 2023 Reviews
Pamper yourself with the right skin elixirs to get healthy, illuminated skin.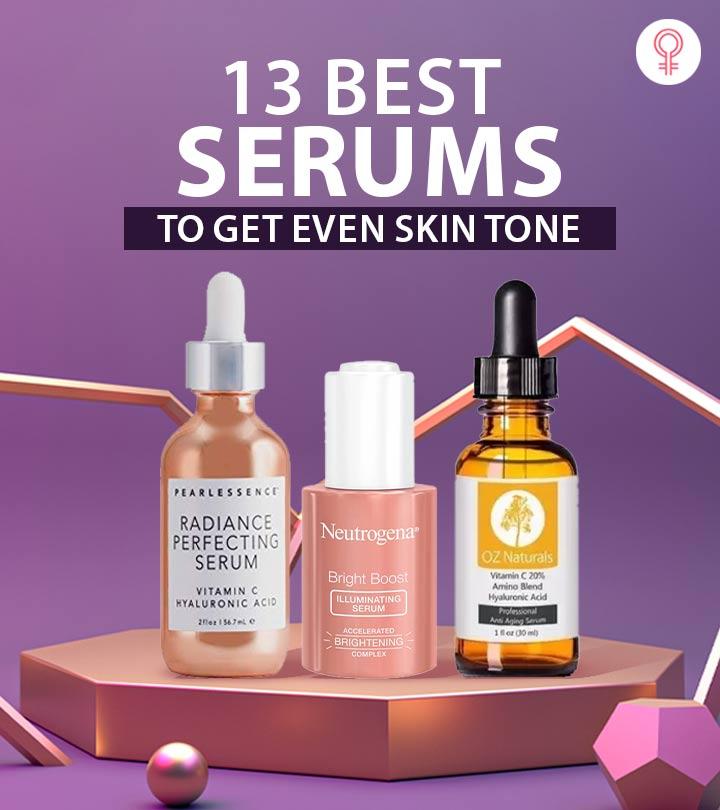 The market is filled with makeup products that can blur or hide your blemishes, but now with the best serums to even skin tone, you can ace your no-foundation look like pro. UV rays are the primary cause of multiple dark spots on the skin. Moreover, fluctuations in the level of estrogen can also cause melanin to rush to your skin surface and form dark patches. Hyperpigmentation, deep acne scars, and redness, if you are struggling with any of the following skin issues, you must include serums to improve your skin condition. A serum for uneven skin tone checks your complexion needs and heals the dark areas naturally from within, provided you pick a formula that suits your skin type and use it daily. We have compiled the best serums to even your pigmented skin issues and provide you with radiant, even skin that needs minimal makeup.
13 Best Serums To Even Skin Tone
Price at the time of publication: $16.68
Price at the time of publication: $35
Price at the time of publication: $9.99
Price at the time of publication: $15.97
Price at the time of publication: $12.99
Give your skin the care it deserves with the It's SKIN Blemish Catcher 10. This serum is formulated using Power Effect 100TM to suit every skin type and prevent any itchy sensations. It reduces melanin production and brightens the skin with regular use. The potent formula is enriched  with plant-based vitamin C that reduces the appearance of freckles, blemishes, and spots on your skin. The green tea extract in the hypoallergenic formula tightens pores and offers a radiant complexion. This facial serum does not contain any harmful ingredients or artificial colors, making it safe for sensitive skin. Check this video to learn about the benefits of the serum.
Key Ingredients: Vitamin Cand Green Tea Extract
Pros
Suitable for all skin types
Reduces the appearance of freckles
Relieve skin irritation
Moisturizing
Hypoallergenic
Easy to use
Wears well under makeup
Non-sticky
Brightens your skin
Paraben-free
Alcohol-free
Cruelty-free
No harsh chemicals
Cons
Price at the time of publication: $13.5
The Valjean Labs Glow Facial Serum has a silky, lightweight formula that is effective in brightening your skin tone and reducing any signs of aging. Vitamin C and Magnesium are the two key ingredients of the serum that heal the skin damages caused by everyday pollutants, prevent breakouts, and boost collagen development in the skin. Vitamin C also enhances the luminosity and radiance of the skin, while magnesium regulates cellular replication, prevents breakouts and wrinkles, and clears the skin. This effective serum creates an extra layer between your delicate skin and the external irritants, preventing the irritants from seeping in and causing skin havoc. The serum absorbs easily and leaves no sticky residue.
Key Ingredients: Vitamin C and Magnesium
Pros
Brightens the skin tone
Combats aging signs
Lightweight
No sticky residue
Long-lasting
Reduces hyperpigmentation
Cruelty-free
Paraben-free
Cons
Contains alcohol
Contains synthetic dye
Price at the time of publication: $15.49
The Loreal Paris Youth Code Serum works effectively on the skin surface to correct and fade dark spots. Daily UV exposure results in dull, discolored, and uneven skin tone. The serum hydrates the skin from within and improves its texture. This fast-absorbing facial serum addsinstant luminosity to your appearance. It smoothes and refines the skin and also reduces all kinds of dark spots, acne marks, or sun spots in just four weeks of regular use. In addition, this non-greasy formula is non-comedogenic and safe for all skin types.
Key Ingredient: Niacinamide
Pros
Suitable for all skin types
Non-greasy
Reduces dark circles
Diminishes wrinkles
24 hours hydration
Diminishes dark spots
Smoothens the skin
Absorbs easily
Clinically tested
Dermatologist tested
Cons
Price at the time of publication: $15.59
The Pearlessence Radiance Perfecting Serum is enriched with the goodness of Vitamin C and Hyaluronic acid. Vitamin C tones and brightens your skin tone while preventing aging signs from developing. On the other hand, hyaluronic acid improves the skin texture and appearance by boosting the moisture content in the skin cells and diminishes wrinkles, if any. This potent serum leaves your skin wrinkle-free and naturally radiant. It comprises smaller molecules that get absorbed easily into the skin. The product can be used daily by itself or underneath a moisturizer. In addition, the serum comes with a dropper, making it very convenient to use.
Key Ingredients: Vitamin C and Hyaluronic Acid
Pros
Hydrates dry skin
Improves skin texture
Reduces aging signs
Absorbs easily
Reduces the appearance of pores
Sulfate-free
Cruelty-free
Paraben-free
Cons
Sticky consistency
Might irritate your skin
Price at the time of publication: $19.79
The Peter Thomas Roth Potent-C Power Serum is highly effective in improving your natural skin tone and reducing fine lines and wrinkles. It is formulated with 20% THD Ascorbate, 3% Vitamin E, and 2% Ferulic Acid, In addition, the serum improves your skin's overall texture and moisture content. THD Ascorbate is an ultra-stable ingredient that is 50x more powerful than the usual vitamin C. It aids the serum to doubly brighten your skin from within. In addition, the serum's performance is boosted by two powerful antioxidants (Vitamin E and ferulic acid) that allow the product to meet the aging, firming, and brightening concerns. This luxurious serum is gentle and leaves your otherwise dull skin shiny and hydrated. Apply the product twice daily on your face and neck for best results.
Key Ingredients: THD Ascorbate, Vitamin E, and Ferulic Acid
Pros
Hydrates the skin
Firms the skin
Provides antioxidant benefits
Reduces aging signs
Fragrance-free
Cons
Price at the time of publication: $89.25
Give your skin the jolt of energy with the 40 Carrots Vitamin Serum. It has an antioxidant-rich formula fortified with a healthy juice complex. It is enriched with vitamins C and A and recharges and rejuvenates stressed-out skin and lends a soft, velvety glow. It also contains Betanol Age Radiance Complex (Beta-Carotene from natural skin-loving carrots and retinol), and effectively diminishes aging signs such as wrinkles and brightens your skin naturally. The gentle formula offers younger-looking, glowing skin with regular use.
Key Ingredients: Vitamin A (Retinol) and Beta-Carotene
Pros
Lightweight
Absorbs quickly
Smoothens the skin
Diminishes aging signs
Reduces acne
Does not irritate the skin
Cruelty-free
Paraben-free
Cons
Price at the time of publication: $19.94
Whether battling blackheads, fighting aging signs, or struggling with hyperpigmentation, serums to help even skin tone should be the first things in your skincare shopping cart. However, not every serum will suit your skin type and be beneficial to your skin in the long run. Read on to choose the best serum to even your skin.
How To Choose The Best Serums To Even Skin Tone
If you wish to clarify and refine your facial skin, you must look for the ingredients that provide such benefits. For example, the following ingredients are great for neutralizing pigmentation.
Vitamin C- Serums with vitamin C brighten your dull complexion, deflect the pollutants and combat the rogue free radicals that essentially harm your skin.
Retinol-  It is almost a magic ingredient that effectively improves the overall skin quality.
AHAs and BHAs- Serums with AHAs and BHAs, remove the dead skin cells that clog your pores.
Hyaluronic Acid- Hyaluronic acid boosts moisture levels in your skin, leaving it plumper. It also rejuvenates the skin from within while diminishing the dark spots gradually.
Salicylic Acid- This ingredient works wonders for skin congested with dirt and debris. Salicylic acid gently exfoliates and removes the debris and clears your complexion.
Investing in serums that contain natural ingredients such as green tea and birch bark is great. These natural substitutes work amazingly well to clarify and brighten your skin.
Since your skin deserves the best, avoiding certain harmful ingredients and chemicals is essential. For example, pick serums that do not contain parabens, sulfates, and alcohol, as these ingredients gradually deteriorate your skin's texture and leave it dull and dehydrated.
Spending too much time under the sun can affect your skin texture drastically. The harmful UVA and UVB rays can leave your skin dry and wrinkled. In addition, issues like hyperpigmentation and sun spots are common results of sun damage. If you are wondering how to get rid of these damages from your skin, go through the following section.
How To Even Skin Tone From Sun Damage
Skin damaged by the harmful sun rays can be eventually healed with the help of tone correcting serums. Be mindful of the ingredients before buying any serum. If you are struggling with sun spots and damage, pick out a serum containing ceramides to plump your skin. Serums that have fruit extracts, calm down your stressed out skin. Another great ingredient is fatty acids. They soothe your damaged skin and balance the nutrient contents in it.
In addition to a good serum, you can even your skin tone and enjoy a brighter complexion with an overnight face mask. Invest in a gently foaming cleanser with alpha-hydroxy acids for better results, and ace radiant, youthful complexion even in your 40s. Using a sunblock with broad-specturm SPF is necessary to prevent further sun damage.
For severe sun-damaged skin, three primary treatments are helpful. These take care of the hyperpigmented skin and relieve the irritated areas. –
Laser Therapy- It is a non-invasive treatment that revitalizes and restores the natural skin tone of your skin. The treatment is highly effective in reducing wrinkles and in promoting an even skin tone.
Broad Band Light- BBD treatment uses broad-spectrum light to destroy sun spots and brightens your complexion. In addition, this cosmetic dermatology treatment rejuvenates and naturally hydrates your skin tissues.
Chemical Peels- If you want to get rid of aging signs from the skin, chemical peels are ideal. These chemical solutions peel away the outer layer of your skin and expose a smooth, bright complexion.
Skin issues such as hyperpigmentation and sun spots are common. But, nothing beats the results produced by the best serums for even skin tone. A good serum that suits your skin type is the need of the hour. It will not only reduce the appearance of dark patches but also help your skin regain its natural, silky, and smooth texture. Serums containing active ingredients, such as Vitamin C, Retinol, and hyaluronic acid, should be included in the daily skincare routine as they are dermatologist approved to treat sun-damaged skin. These serums gradually heal the affected areas while maintaining the necessary moisture levels in the skin cells. But, simply using a serum will not provide you with long-lasting results. Building a healthy skincare regime and religiously following it is necessary. Investing in a good sunblock, toner, and moisturizer is equally important to retain a clearer complexion even when you enter the mature years of your life. Be patient with your serum and use it daily to achieve an even complexion within weeks.
Why Trust StyleCraze?
Vaishnavi Kothuri, a certified skincare expert, is the article's writer. She has gone through several review sites researching the individual serums and has listed their pros and cons separately, thus making it easy for you to select a serum that meets your skin needs. She has also provided her expert advice on how to repair and heal sun-damaged skin and listed the main ingredients to look for while buying a serum for your uneven skin.
Frequently Asked Questions
Does vitamin C serum even skin tone?
Yes. Vitamin C serum evens the skin tone. It  prohibits abnormal melanin production and the anti-inflammatory properties of Vitamin C reduce redness and dark spots and gradually clears the complexion.
Does hyaluronic acid help with uneven skin tone?
Yes. Hyaluronic acid boosts moisture retention in the skin. It also plumps and firms the skin and promotes healthy-looking, even skin tone.
How to even out skin tone and texture?
You must follow a fixed skincare routine to even out your complexion and improve the texture of your skin. An ideal skincare routine must include:
• Exfoliation- gentle exfoliation is an effective way of removing the dead upper layer cells of the skin.
• Toning – use a good toner to maintain a balance of  nutrients in the skin.
• Serum – use a serum containing vitamin C and retinol to diminish the dark spots on your skin gradually.
• Moisturizing- make sure to moisturize your skin daily with a nourishing moisturizer to keep it plump and healthy.
• Sunscreen – wear sunscreens daily, even when you are inside the house.