15 Best Setting Powders For A Flawless Makeup Look (All Skin Types)
Get your looks on point with the right makeup essentials to avoid greasy looking skin.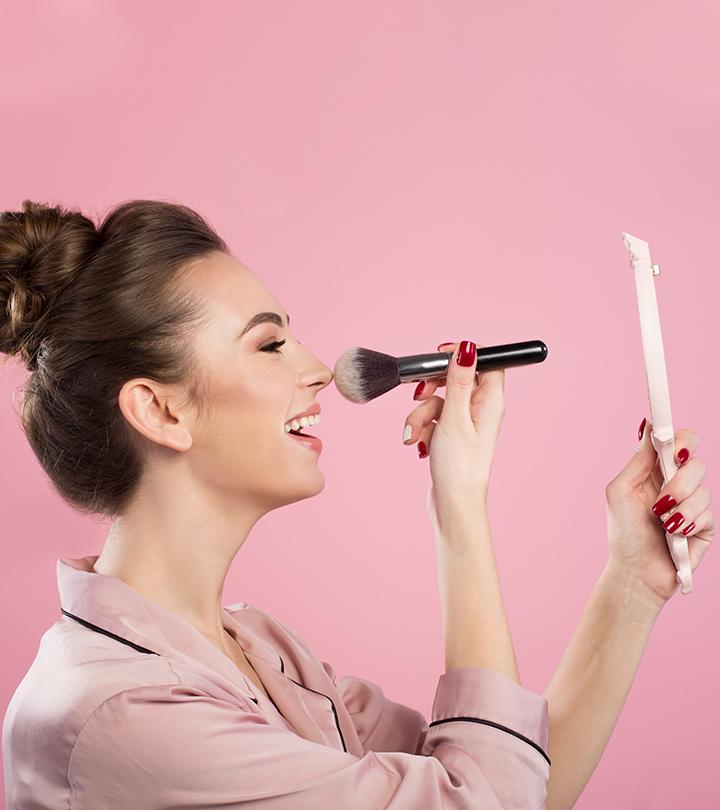 The best setting powders are crucial for nailing all your makeup looks. Imagine scouting through YouTube to find the perfect makeup tutorial for your date; you nail that look after spending another two hours on it, but midway through your date, you realize that your face is smudged and the makeup has bled out. Well, what a nightmare!
To avoid such disasters, we suggest you get yourself a good setting powder. It is a very important tool in your makeup arsenal. Not only does it absorb excess oil and sebum, but it also helps set your makeup and keeps you looking perfectly shine-free for hours. To hold the best foundations and concealers in place, you need a good quality setting powder. Here, we have listed the 15 best setting powders that will cater to different skin tones. Go ahead and get the one that suits your skin tone and type the best – you will only look fresh and radiant all day.
What Can A Setting Powder Do For Your Face?
Setting powders are a versatile product, but in simple terms, they're like locking the door of your house, so everything is intact when you come back. Dusting a setting powder after applying your products helps makeup stay in place without fading or smudging. Some even absorb excess shine and oil (we can hear all you oily-skinned ladies screaming in delight!). The lightweight textures of these loose powders sit lightly on your face and help conceal fine lines, wrinkles, and spots. As a bonus, some tinted shades can even be used to bake, highlight, and contour! For a flawless makeup look, read our list of the best setting powders available in multiple shade ranges. Brownie points if yours has SPF because there's no such thing as too much sun protection, is there?
Level Up Your Makeup With The 15 Best Setting Powders In 2023
A good makeup powder can be your best-kept secret to a lightweight and velvety finish. Being one of the best setting powder brands, Loose Face Powder by COTY AIRSPUN does just that, along with efficiently covering up fine lines, dry patches, wrinkles, and blemishes. Finely milled, you can use this makeup setting powder as a foundation or bake and highlight. This longwear formula spreads evenly onto your face to give your skin ultra-smooth and light coverage. You can also check this YouTube video for a complete idea about the product.
Pros
Lightweight
Can be used as foundation, highlighter, or contour powder
Offers long-lasting wear
Covers up skin inconsistencies
Smooth finish
Offers light coverage
Cons
The scent might be overpowering for those with sensitive skin
Price at the time of publication: $5.72
If you keep away from setting powders due to the ashy finish in photographs, you should try Sasha Cosmetics' compact setting powder. Absorbing excess shine, the Buttercup Setting Powder is a great choice for oily skin types as it keeps your face matte for a long time. For medium-to-dark skin tones, use this shade that covers up pores to reduce their appearance. You can also highlight, contour, or use this popular setting powder as a foundation. If you want to know more about the results, take a look at this review on YouTube.
Pros
Blurs skin inconsistencies
Non-comedogenic
Hypoallergenic
Cruelty-free
Suitable for all skin types
Suited for longwear
Cons
The powder may not be finely milled
Price at the time of publication: $25.0
Putting your best face forward only needs a few dabs of Black Radiance's True Complexion Loose Setting Powder. This top-rated setting powder features a silky formula that blends seamlessly without looking ashy for some extra coverage. It conceals your skin imperfections and allows your makeup to stay put all day long. For the ultimate soft-focus finish with no flashback, choose this face setting powder by Black Radiance.
Pros
Blends easily
Conceals skin imperfections
Doesn't end up ashy
No flashback
Silky formula
Offers a matte finish
Cons
Might not be ideal for sensitive skin types
Price at the time of publication: $6.87
The translucent shade setting powder by Dermablend Professional is all you need for a lightweight transfer-proof and smudge-proof makeup look. For up to 16 hours, the Loose Setting Powder works its magic by enhancing and sealing in your glam. No matter your skin type, tone, or condition, rest assured that this top setting powder absorbs all the oil for a matte finish and leaves your skin looking smooth.
Pros
Fragrance-free
Oil-free
Cruelty-free
Can be layered
Works for up to 16 hours
Resistant to transferring and smudging
Cons
Some might find it to be cakey
Price at the time of publication: $29
Have your makeup last all day long with Aesthetica's universal finishing powder made with high-quality ingredients. Its weightless formula is a pro at absorbing oil from your skin while also softening the look of lines and blurring out pores. Aesthetica's setting powder for makeup adheres to skin without getting cakey, and the velour puff makes it super easy to apply. Just throw this talc-free setting powder in your bag, and we're sure it'll come in handy for on-the-go touch-ups and blotting out excess oil, especially if you have oily skin.
Pros
Vegan
Cruelty-free
Gluten-free
Paraben-free
Flash-friendly
Free of oil and talc
Cons
Some may not like the sheer coverage
Price at the time of publication: $19.97
For the ultimate soft-focus effect with a matte finish, you can't go wrong with the setting powder makeup by L'Oreal Paris. This pro-inspired translucent mattifying powder blurs out enlarged pores and blemishes for a clear complexion. Dust it on before a date, so none of your layered products budge all night! With micro-fine translucent powder particles, say goodbye to greasy-looking skin and welcome a mattified and natural-looking finish.
Pros
Offers a matte finish
Softens and blurs out skin imperfections
Controls shine
Cake-proof
Lightweight
Cons
Might not be suited for longwear
Price at the time of publication: $6.34
If your enlarged pores give you a tough time and staring them down doesn't work, try the Bye Bye Pores Translucent Loose Setting Powder by It Cosmetics. It was developed with the help of plastic surgeons (they know the struggle!) and is combined with Bye Bye Pores Optical Blurring Technology. Ideal for those seeking out anti-aging benefits, this great setting powder for mature skin uses natural silk to blur out pores and hydrolyzed collagen to soften the look of wrinkles. With a blend of antioxidants and peptides, your skin will be ready to grace the cover of any magazine — no Photoshop needed!
Pros
Contains anti-aging benefits
Ideal for mature skin
Universal shade works on all skin tones
Hides pores
Offers shine control
Silk moisturizes skin
Cons
Might not be easy to blend
Price at the time of publication: $22.5
We're sure everyone knows by now how wonderfully effective Korean beauty products are. If you still don't, give this white setting powder a shot. Made with a unique air spun technology, SKINFOOD's setting powder is super fine and soft, which means less-to-none caking and controlled oil. This lightweight setting powder contains silk which softens skin texture and adds a natural glow when applied with a fluffy powder brush. As it also has a peach scent, now you can also smell as good as you look!
Pros
Finely milled powder
Lightweight
Offers a matte finish
Controls sebum
Refreshing peach scent that dissipates quickly
Softens skin texture
Cons
Might look ashy in photos or under bright lighting
Price at the time of publication: $9.99
The ultimate airbrushed look is possible without filters if you can give this mattifying setting powder a chance. For a soft-focus effect, Maybelline uses a microfine powder that extends the wear of your foundation. Minimizing shine, the illuminating formula glides across skin smoothly and locks down your makeup for all-day wear. The oil-controlling feature makes this a good setting powder for oily skin. Make sure to keep it on hand if you suddenly want a baked look or would fancy a touch-up here and there. You can use it by itself for a natural look or atop your makeup on lighter skin tones, and we guarantee that it'll be undetectable.
Pros
Smooth powder
Offers a matte finish
Minimizes shine
Suits all skin tones
Lightweight
Brightens skin tone
Cons
Might discolor foundation
Price at the time of publication: $9.98
For a dreamy complexion, e.l.f's Halo Glow Setting Powder will not disappoint you. It's super light and embraces your skin for an airbrushed finish that blurs out skin inconsistencies. The silky and feather-light texture of this mineral powder offers amazing shine control. It contains sapphire particles that are finely milled so you can dust some on for dewy skin (that's not greasy) and with no worries of looking cakey. As it is also talc-free, there's no reason you shouldn't get your hands on this glowy setting powder!
Pros
Offers a soft glow
Vegan and cruelty-free
Light texture
Offers shine control
Blurs imperfections
Long lasting
Cons
Some may not like the soft shimmer
Price at the time of publication: $8
If you're looking for a special effect setting powder or one for regular use, Ben Nye's Neutral Set Colorless Powder might be the right fit for you. It is formulated to reduce sweat and oil production so that your makeup stays put without smearing. The mattifying finish makes this a great setting powder for oily skin types. For when you're rocking a lot of cream-based products or liquid foundations, this Colorless Powder can be your best companion.
Pros
Ideal for oily skin
Offers a matte finish
Reduces sweat and oil
Offers long-lasting wear
Suited for theatrical or halloween makeup
Easy to blend
Cons
Might not be crease-proof
Price at the time of publication: $26.99
To veil your skin, this cult-loved setting powder by Hourglass has a flawless finish. Ultra-refined and finely-milled, you can't go wrong with this lightweight setting powder that has a soft-focus effect. Instantly blurring skin inconsistencies and reducing the appearance of pores, this powder sets you on your way to smooth and even-textured skin. You can also use it for baking your under-eye, so that it stays put without fading.
Pros
Suits all skin tones
Blurs out lines, wrinkles, and blemishes
Cruelty-free
Vegan
Made without sulfates, dyes, or fragrances
Talc-free
Cons
Might not be ideal for mature skin
Price at the time of publication: $46.0
All beauty junkies own some or the other Urban Decay product, and we're telling you — they deliver. Even this All Nighter: Waterproof Setting Powder is a must-have to control oil and shine for a matte effect. This pressed setting powder seals in all your glam for up to 11 hours, and the lightweight texture covers up skin irregularities for an even complexion. The universal shade graces pale and darker skin tones without dulling the natural glow and blurs out enlarged pores to keep you looking bomb all day.
Pros
Waterproof
Offers a matte finish
Lightweight and breathable formula
Cruelty-free
Blurs pores and wrinkles
Transfer-proof
Cons
Price at the time of publication: $35
Too Faced brings you a loose setting powder with a matte finish that also brightens skin with a peachy tint. The feather-light powder goes on smoothly, absorbing both shine and oil. Infused with peaches and sweet fig milk, your skin is not only conditioned, but this peach-tinted setting powder adds dimension to your makeup look. Use it comfortably for any skin type or a variety of skin tones and bask in the smoothness that follows.
Pros
Offers a matte finish
Conditions skin
Has a brightening effect
Controls shine and oil
Suited for all skin types
Vegan
Cons
Might not be resistant to creasing
Price at the time of publication: $64.99
You'll never be able not to find a Laura Mercier pick on any best makeup setting powders list. So now, instead of Googling 'good setting powders', bag this instead! It is oil-free, but it also controls oil with an ultra-sheer finish while also lowering shine due to the Shine Control Complex. Featuring a subtle mint green tint, this powder is ideal for anyone that faces the issue of redness. The transparent setting powder shade is universal and offers a high-quality matte finish. With the soft-focus effect, you won't have to worry about creasing anymore.
Pros
Oil-free and oil-controlling
Offers shine control
Covers redness
Offers a matte finish
Crease-proof
Suits all skin tones
Cons
Some may not like the odor
Price at the time of publication: $39.0
Now that we've looked at some of the best setting powders on the market, let's learn how to choose the right one for your skin type and tone.
How To Choose The Right Setting Powder
There are quite a few options for setting powders, and choosing the correct one can get intimidating.
Loose setting powders are ideal for lightweight coverage as they can be dusted on the skin. As they are formulated with less to no oil, they provide a major benefit for oily and combination skin. With a super-fine texture, you may find that they might settle into fine lines or wrinkles and can be pretty messy to use.
Pressed setting powders are compact and mess-proof to use and might be the best option for on-the-go touch-ups. You can use them if you desire a natural-looking full coverage. These formulas contain some oil, so oily skin types would do better to avoid them. As they help cover up spots and blemishes, they can make achieving even skin tone easy.
Translucent setting powders don't have any color and are sheer without any coverage. They are pretty effective at controlling shine and oil, making them suited to oily skin. As they can help add brightness, they might leave behind a white cast if applied with a heavy hand.
Tinted setting powders come in a variety of shades to not just set makeup but to correct a skin condition. Green can hide redness in the skin, for example.
If you have oily or combination skin, look for ingredients that absorb oil, such as silica or kaolin. Loose-setting powders that offer a matte finish will be ideal for this skin type. For dry and flaky skin, pressed powders containing hydrating ingredients like hyaluronic acid and provide a radiant or dewy finish will be just about right. You could even opt for a luminous setting powder. It goes without saying that natural skin types are gifted, and as long as they don't suffer from significant skin issues, they can use any setting powder they prefer.
Ensure that your setting powder is the same shade as your skin or foundation. For this, you can swatch the test on your neck or wrist. Choosing a powder that is too light may leave a white cast, and choosing one darker than your skin color can end up looking patchy and too obvious. Don't opt for shades with dark pink or orange undertones, but choose beiges and browns for a natural look. If you can't find the right shade for your skin tone, a translucent powder should do the trick.
After you've bagged your favorite setting powder, let's put it to use and keep our makeup in place, shall we?
How To Use Setting Powder
Step 1: Apply all your base makeup such as foundation and concealer. Follow up with blush, highlighter, and lip products if desired.
Step 2: Using your setting powder of choice, get ready to apply. You can use the puff or brush that comes with the product, or just use a kabuki or a powder brush.
Step 3: Swirl the brush or lightly dab cushion in the powder and dust off the excess.
Step 4: Start by dusting the powder on your T-zone (forehead, nose, and upper lip).
Step 5: Dab some under your eyes over your concealer. Wait for 5-10 minutes.
Step 6: Dust your whole face gently with some light strokes so that your skin doesn't end up looking cakey.
Step 7: Stay put for at least 5 minutes without talking, laughing, or smiling to allow the look to set in place.
We know we've been going on about setting powders and if you feel like you don't understand what the hype is about, read below to learn some benefits.
Benefits Of Using Setting Powder
Setting powder seals in all of your makeup products so that they last longer than usual. They will also not smudge or crease for a long time.
If you have oily skin, setting powders will absorb excess oil and shine to give you a mattifying effect that lasts all day long.
Setting powders are a great tool to even out your skin tone and texture. Some may even offer brightening benefits.
Some setting powders have blurring capabilities so that your spots, fine lines, pores, and wrinkles are softly covered up.
If you choose a powder with SPF, the sun protection levels are boosted for protected skin.
For midday touch-ups, setting powders are an easy way to keep your makeup looking fresh.
Why Trust StyleCraze?
The author, Chaitra Krishnan, is a makeup enthusiast and writes research-based product reviews for StyleCraze. She has curated the list of the best setting powders after checking tons of products available on the market and scanning through user reviews on trusted online forums. These setting powders absorb excess sebum and help hold foundations and concealers in place to get a smudge-free look.
Frequently Asked Questions
Does setting powder actually work?
Yes, setting powders effectively keep makeup in place for long hours while also controlling excess shine and oil for a fresh look.
Is translucent powder the same as setting powder?
Yes, translucent powder is often colorless and can be used on any skin tone. It sets your makeup for longwear without budging or fading.
Is setting powder supposed to be lighter or darker than your skin tone?
Neither, as setting powders should match the exact shade of your foundation so as to not appear too patchy.
How long do you leave setting powder on?
You can leave setting powder on for 5-10 minutes, after which it will finish setting or 'baking'.
When should you apply the setting powder?
Apply the setting powder after foundation, concealer, and blush to set your makeup well.
Is there a difference between the setting and the finishing powder?
There is no major difference between a setting and finishing powder except that a setting powder keeps your makeup intact and in place while a finishing powder enhances your makeup by blurring your skin.
Can I wear the setting powder without makeup?
Yes, but wearing the setting powder without makeup would not make sense. Instead, apply foundation and concealer before applying the setting powder.
What do you do after applying the setting powder?
After applying the setting powder, blend your makeup, especially your foundation and concealer, to create a flawless look.
Recommended Articles: