12 Best Shaker Bottles In India – 2023 Update
Keep yourself hydrated while you sweat out in the gym with a chic shaker bottle.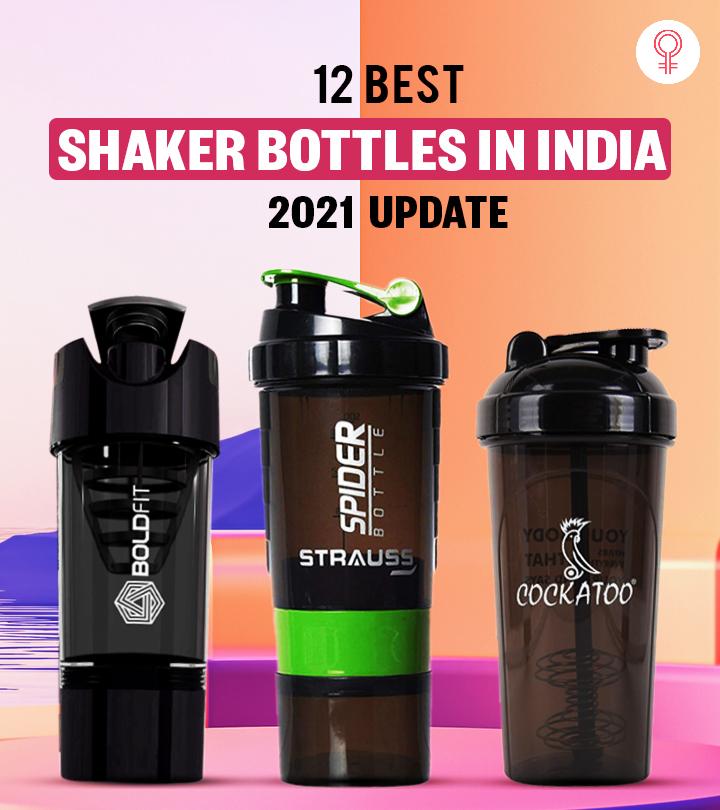 Are you a fitness enthusiast? If yes, it is imperative to keep yourself hydrated and energized while exercising. Sometimes, only water is not enough. What you need is a protein shake to pump up the adrenalin. These supplements are generally prescribed to be taken before, during, or post-workout. Thus, it is a good idea to carry the liquid, the powder, and other supplements in a shaker bottle.
Shaker bottles come with a whisk ball or discs to facilitate smooth blending of the drinks. They have leakproof lids and capped mouths, and all you have to do is shake, open, and drink. Check out our list of the 12 best shaker bottles available in India that will ensure proper hydration during your daily workout sessions. Scroll down!
12 Best Shaker Bottles In India – 2023 Update
The Fitkit bottle shaker is a 700ml plastic bottle with a wide spout to ensure easy pouring. The lid opens with a simple push with one hand. It has a mixing ball wire whisk, which is perfect for making the classic protein shake. This sports bottle is microwave-safe and made of food-grade material. The bottle measures 10.2×6.3×22.9cm and keeps you hydrated during your workout sessions.
Pros
Sweat-proof
Leakproof
Dishwasher -safe
Freezer-safe
Eco-friendly
Cons
Not recommended for very hot drinks.
Price at the time of publication: ₹144
The Asitis Shaker Bottle is ideal for carrying meal powders and protein shakes. This black bottle has a capacity of 470ml and comes with a scoop and mixer ball for lump-less drinks. The screw-on lid with a secure lock cap makes the bottle leak and spill-proof. It has a flip-down loop on the lid, making it convenient to carry. The bottle is made of food-grade BPA-free plastic that is durable and sturdy.
Pros
Drink level markings
Single-handed opening
Easy to clean
Versatile
Dishwasher-safe
Non-toxic
Recyclable
Cons
Price at the time of publication: ₹188
This 500ml bottle from Strauss is a spider shaker with a patented wire whisk blender ball. It makes sure the drinks are lump-free. The shaker is perfect for pancake batter, smoothies, protein shakes, etc.
It has multiple detachable storage compartments for storing pills, protein powder, mixes, etc. The leakproof design includes a flip-top lid and secure seals. The blender is made of fine food-grade quality material that is safe and hygienic.The design facilitates opening the lid with a simple push. This bottle is dishwasher-safe and available in many colors.
Pros
Space-efficient design
Freezer-safe
Microwave-safe
BPA-free
Stay-open flip cap
Adjustable loops to carry
Cons
Price at the time of publication: ₹299
The Boldfit Cyclone Shaker is ideal for juices, water, protein shakes, and other pre-workout drinks. It is made of food-grade plastic, which is safe and hygienic. It has a flip-top that locks to prevent spills and leaks, along with clear measurement markings.
It includes a tornado mixture for the perfect lump-free blend. "It can be useful for people who consume protein powders that tend to be clumpy and do not mix well.", says Sports Performance Coach and Personal Trainer, James Shapiro. The sleek design is attractive and functional and easy to clean and carry. The detachable storage compartment can be used to store pills, protein powder, mixes, etc. The shaker is convenient to carry and can be used every day.
Pros
Drip-proof
Dishwasher-safe
Easy to carry
Non-toxic
BPA-free
Cons
Price at the time of publication: ₹499
Mix your protein drinks effortlessly with the Jaypee plus Ace Shaker. The bottle features a tight screw lid, flip cap, wide spout, and blending ball. The sleek and compact bottle shaker is capable of carrying 700 ml liquid. In addition, the leak-proof lid prevents spillage and preserves the flavor of the beverage. This bottle comes with a unique metal ball that aids in a smooth and proper blending of drinks without any lumps. You can use this bottle to carry protein shakes, energy drinks, beverages, water, and other liquids.
Pros
 Dishwasher-safe
 Easy drinking
 Large spout
 Easy to clean
Cons
Price at the time of publication: ₹210
This Classic Shaker from Fitkit is a 1000ml bottle with a simple push-open lid. It accommodates one-hand use during workout sessions or on-the-go. The shaker is made of 100% food-grade material and has a convenient size to ensure easy portability. It has a wire mixer ball for lump-less blending and is rust-proof. The bottle is dishwasher-safe with a wide mouth for easy streaming of water.
Pros
BPA-free
Eco-friendly
Leakproof
Phthalate-free cap
Cons
This blender shaker from Strauss is made from high-quality, BPA-free acrylic plastic. It is strong and durable. It has a storage box for supplements, pills, and powders. The spout has a protective cover to keep germs and dirt out.
The shaker is designed with a rubber grip for a firm hold. It has a blender ball inside for smooth blending. The shaker cup comes with a firm screw-on lid, making it leakproof. A snap sound ensures the flip cap is shut securely.  The blender ball is rust-proof and won't chip or peel.
Pros
Durable
Convenient
Portable
100% leakproof
Cons
Price at the time of publication: ₹349
The Spike Protein Shaker is ideal for protein mixes and supplements during cycling, working out, and other outdoor activities. The water bottle comes with a stainless steel ball blender for smooth consistency of drinks. It has a wide mouth with cap locks to prevent leaks and spills. The shaker also includes a strong loop on the lid for easy carrying. It is made with polypropylene, dishwasher-safe, and easy to clean. The material is heat-tolerant and resistant to malodor.
Pros
Safe
Suitable for hot or cold liquids
BPA-free
DEHP-free
Non-toxic
Cons
Price at the time of publication: ₹499
The Cockatoo CS-01 ShakerBottle is designed with a leakproof and secure screw-on lid. The flip-top is easy to open with a single push. The shaker is ideal for carrying smoothies, protein shakes, pancake batter, etc. It can be used as a mixing cup or a drinking bottle. The shaker mixes the drinks to a smooth consistency. The material is safe and hygienic. It has a wide mouth that facilitates easy flow and is also convenient for pouring in powders and liquids. The bottle also has space to attach keys.
Pros
Ergonomic flip cap
BPA-free
Phthalate-free
Loop for carrying
Cons
Food smell is difficult to clean.
The Signora Charger Shaker is a stainless silver bottle with clear measurement markings. The versatile bottle is suitable for mixing energy drinks for workouts and exercise sessions. It is also useful as a simple drinking bottle. It has a unique blending ball that whisks the drink to a smooth consistency and helps in froth creation. This 750ml bottle has a large spout with a flip cap and tight screw lid for extra security against leaks and spills.
Pros
Dishwasher-safe
Rust-proof
Strong grip
Easy to carry
Leakproof
Cons
None
Price at the time of publication: ₹499
The Herbalife Shake shaker is also a drink cup. It is perfect for mixing and carrying health supplements in a bottle. The shaker is easy to carry to the gym, while cycling, or anywhere outdoors. Take your protein shakes on the go now with this bottle. You don't need a mixer or a blender anymore to make your drinks. Just pour the ingredients into the bottle and shake it well, and your drink is ready.
Pros
Easy to carry
Lightweight
Perfect during exercising
Cons
None
Price at the time of publication: ₹279
The SportsFuel Protein Shaker has a capacity of 700ml and is ideal for protein shakes and pre-workout drinks. It comes with a strainer for lump-free smoothies. It is designed with100% leakproof technology, which makes it easy to carry in any bag. This shaker is made of food-grade plastic and is safe to store consumables. It is a combination of functionality and style. 
Pros
BPA-free
Lightweight
Lump-free
Available in multiple colors
Cons
Price at the time of publication: ₹249
There are plenty of options for shaker bottles on the market, so consider these points before picking one for yourself.
How To Choose The Best Shaker Bottles
Size: A shaker bottle is ideally used for supplements before, during, and post workouts. Therefore, the size of the bottle depends on your workout sessions. A light workout for 30 minutes will not require a very big or multifunctional bottle. But if your workout session is long and extensive, a bigger bottle (1500 ml) will serve the purpose better. Bottles vary from 500ml to 1000-1500ml in capacity.
Material: Most protein shakers are constructed with transparent plastic for better visibility. Some are also made of stainless steel. Steel does not collect smell. Plastic is lighter than steel and costs less. Some cheap plastic may absorb malodor or reek of the plastic itself. BPA may cause hormonal imbalance in the body. Hence, the plastic you choose must be food-grade and BPA-free.
Blenders: The main use of a protein shaker is to blend the supplement powder with the liquid smoothly. Make sure the bottle includes a whisk or metal balls and disc or any such object to enable proper mixing and blending without leaving any residue or lumps.
Compartments: Although this is optional, the compartments area a functional feature. Different compartments in the bottle make it easier to carry the required amount of protein powder or supplements and pills. This reduces the load of carrying multiple containers for each ingredient/product.
Design: The bottle should be ergonomically designed with a good, anti-slip rubber grip to enable holding with sweaty hands. It could include a loop to ensure easy portability. An ideal shaker should also have a screw-on cap and a flip-open lid for easy, single-handed use. It must be leakproof, so you can carry it in any bag without fear of spilling. Some bottles have key holders and are insulated to keep the liquid warm or cold.
A fit physique requires a lot of hard work. But the body also needs to be balanced with a lot of liquids and protein intakes. A shaker bottle is a must-have, especially if you are a health enthusiast. Pick from our recommended list of the 12 best shaker bottles available in India and ensure proper hydration.
Frequently Asked Questions
Q. How do you clean a shaker bottle effectively?
A. Here is how you can clean a shaker bottle effectively
Rinse the shaker bottle with warm water to remove any stubborn residue.
 Add a mixture of mild dish soap and warm water to the bottle.
 Close the lid tightly and shake vigorously.
 Use a brush to scrub the edges and hard to reach areas of the lid and cap.
 Let the bottle air dry with the lid off.
Q. How do I prevent odors from developing in a shaker bottle?
A. Regularly rinse the shaker bottle with warm water and let it air dry with the lid off to prevent growth of bacteria and odors. If the situation worsens, sprinkle some baking soda inside the bottle to absorb any lingering odors and rinse it thoroughly.
Q. What are some tips for effectively using a shaker bottle?
A. Take note of these tips to effectively use a shaker bottle:
Pour liquids like water, milk, or juice into the bottle before adding protein powder or other ingredients.
Utilize proper mixing to break up clumps and ensure a smoother blend.
Close the lid tightly and shake the bottle vigorously for about 10-15 seconds to thoroughly mix the ingredients.
Be cautious with hot liquids to prevent pressure buildup and spills.
Rinse the bottle well immediately after use.
Recommended Articles