10 Best Shampoos & Conditioners For Curly Hair – 2023
Tame your curls and nourish them to be able to channel your inner Disney princess.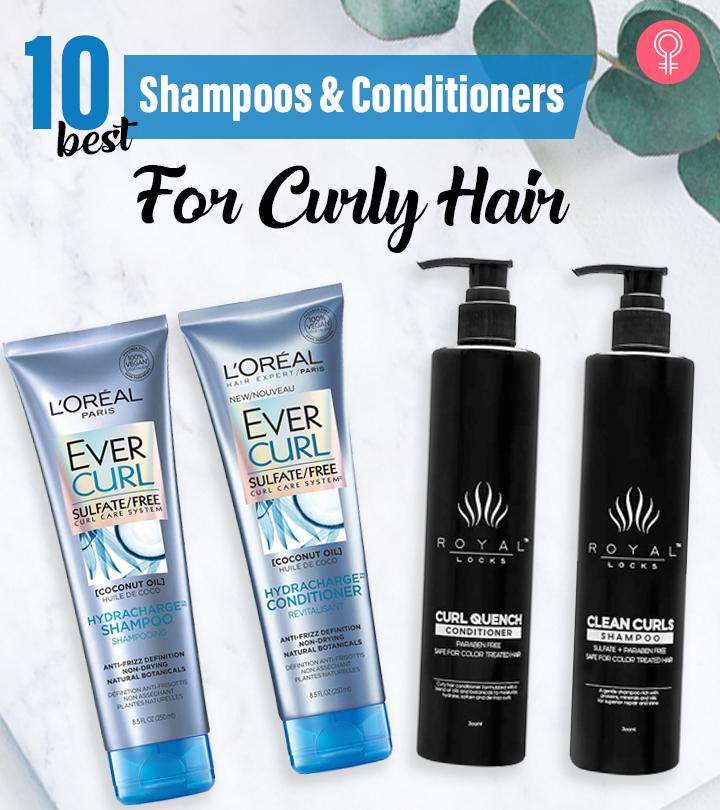 Maintaining your curls can be quite the work, and your everyday shampoo is not cut out for this. It would be best if you the best shampoo and conditioner for curly hair care. Specially formulated and designed to handle the complex texture and pattern of your curls, these shampoos and conditioners can help tame your wild curls. To determine which is the best shampoo and conditioner for your curls, read this article further and check out our top ten list. So what are you waiting for?
10 Best Shampoos And Conditioners For Curly Hair
Pros
Define curls
Gentle
Gluten-free
Alcohol-free
Paraben-free
Phthalate-free
Rejuvenating scent
Ideal for colored hair
Cons
May make the hair crunchy
Price at the time of publication: $16.95
Pros
Gentle
Lightweight
Long-lasting frizz control
Suitable for color-treated hair
Lather well
Gluten-free
No synthetic dyes
Cons
Price at the time of publication: $17.98
Pros
Nourishing and hydrating formula
Restores hair shine
Reduces breakage
Leaves hair soft and bouncy
Reduces frizziness
Cons
Conditioner may not smell pleasant
May not rinse away silicone buildup
Price at the time of publication: $25.99
Pros
Prevent breakage
Gluten-free
Mild formula
Cruelty-free
Easy to wash
Long-lasting
Don't weigh the hair down
Cons
Price at the time of publication: $29.99
The Pantene Complete Curl Care Shampoo and Conditioner set contains pro-vitamin B5 and pure, vitamin E-rich jojoba oil that can rescue the driest and frizziest of hair in a single wash. Pro-vitamin B5 nourishes the hair strands from within, strengthening your hair and protecting it from damage.
The shampoo gives a rich lather that clears product buildup while the jojoba oil restores the moisture balance. The conditioner brings your curls back to life by adding a natural shine and bounce. It keeps them detangled and smooth so that they look voluminous and fuller when worn loose. These products are safe for permed, chemically treated, and color-treated hair.
Key Ingredients: Jojoba seed oil, Panthenol, and Histidine
Pros
Fast-acting formula
Color-safe
Sulfate-free
Subtle fragrance
Easy to rinse
Gentle on chemically treated and permed hair
Cons
Price at the time of publication: $17.99
Pros
Detangle curls
Affordable
Protect from humidity and heat
Subtle scent
Cons
Contains sulfates and silicone
Price at the time of publication: $17.04
The aussie Miracle Curls Shampoo and Conditioner Set has a gentle cleansing formula that enhances the texture and bounce in your curls. The products soften and moisturize frizzy hair, leaving it manageable. They contain coconut and jojoba oils and aloe and kelp extracts, which restore the moisture balance in the scalp. This hair care duo has a refreshing scent and spreadable formula and leaves your hair pampered and well-styled for long hours. The products are cruelty-free and planet-friendly.
Key Ingredients: Aloe leaf extract, Jojoba seed oil, Coconut oil, and Common kelp extract
Pros
Refreshing scent
Cruelty-free
Gentle formula
Unisex
Cons
None
Price at the time of publication: $12.5
Pros
Subtle fragrance
Mild formulation
Don't weigh the hair down
Long-lasting
Sulfate-free
Silicone-free
Cons
Difficult to dispense
Too creamy
Price at the time of publication: $16.49
Pros
Lightweight
Cruelty-free
Paraben-free
Sulfate-free
Restore pH balance in the scalp
Protect hair from styling damage
Cons
Price at the time of publication: $35
The Organix Quenching+ Coconut Curls bundle is formulated to boost and nourish your curls and keep them soft and shiny. Every wash leaves your curls smelling divine, bouncy, and tangle-free. The conditioner makes combing washed curls a breeze by locking in moisture and controlling frizz. The coconut oil, honey, and lemon oil combination softens split ends, soothes and hydrates cuticles, and prevents breakage. The products do not weigh your hair down and are easy to wash off.
Key Ingredients: Coconut oil, Honey, Lemon fruit oil, and Orange extract
Pros
Rejuvenating smell
Long-lasting
Easy to wash off
Cons
Harsh shampoo
Make the hair sticky
Price at the time of publication: $17.25
Figuring out your ideal curly hair care routine can be tricky, and depends on whether you want to define your curls, defrizz, or just give them some moisture. Scroll down to know more on what to look for while choosing the best shampoos and conditioners for curly hair.
How To Choose The Best Shampoos & Conditioners For Curly Hair
Ingredients To Opt For
Curly hair is basically much drier than straight hair, so choose products that contain natural hydrators like butter, oils, and glycerin. Natural humectants, or ingredients that help pull water into your hair are ideal for curly hair. Ingredients like shea butter, macadamia oil, and coconut oil create a protective barrier on the strands so there is minimal moisture loss.
Ingredients To Avoid
Sulfates are harsh and may strip away too much moisture, leaving your hair dry and frizzy. To retain natural moisture and oils in your curly hair, steer clear of products with sulfates. Ingredients like sodium lauryl sulfate, ammonium lauryl sulfate, and sodium laureth sulfate are best avoided in shampoos and conditioners.
There are conflicting viewpoints on the presence of silicones in hair care products. We love them for their frizz-controlling and shine-enhancing properties. But on the flipside, silicones are also known for causing build-up that can result in flat and lifeless hair. If you prefer to take advantage of the beneficial properties of silicone, use a clarifying shampoo at regular intervals to take care of the build-up.
Curl Definition
Full bodied, well defined curls look much better than flat curls. To enhance curl definition and achieve a voluminous look, opt for shampoos and conditioners that are enriched with curl defining complexes.
Added Protection
Curly hair can be fragile and brittle due to heat styling and chemical treatment. Therefore look for shampoos and conditioners that are enriched with ingredients like coconut oil, neem oil, vitamin E, vitamin K, shea butter, argan oil, and marula oil, and pro-vitamin B5 to strengthen and rejuvenate your hair. Products that are enriched with biotin, niacinamide, and vitamins E and B focus on strengthening dry and damaged hair fibers right from the roots.
Why Trust StyleCraze?
The author of this article, Oyendrila Kanjilal, is a hair care ensthusiast who loves creating comprehensive content for her readers. She has carefully analyzed user reviews and read product specifications before curating this list of the shampoos and conditioners for curly hair. These formulas are also ideal for colored hair. Not only do these shampoos and conditioners manage frizzy hair problems in curly hair, but they also help prevent breakage and keep your curls nourished and bouncy.
How often should curly hair be washed?
Washing your curly hair every day can remove the natural oils of your curls. It could be difficult to retain moisture, texture, and nutrition. Some experts recommend washing curly hair once every 2-3 weeks. However, the washing frequency entirely depends on your hair texture, porosity, exposure to pollutants and heat, styling needs, and water quality in your neighborhood.
How do you moisturize curly hair?
A simple way is to gently rub traces of hair oils only to the ends. This is because massaging the roots with heavy oils often can result in product buildup and hair falling flat. Not using leave-in conditioners often is another tip to retain moisture and natural oils in the scalp. Use protein-rich products to build the porosity of hair fibers. They can help hold moisture for a longer time.
Is dry shampoo bad for curly hair?
No, dry shampoo is a good option for curly hair. If you want your curls to appear silky and defined without washing, dry shampoos can be effective.
Does a curly hair shampoo and conditioner cause hair loss?
No, hair loss depends on the strength of your tresses, how you maintain them, and the ingredients used in a shampoo. Most curly hair shampoos and conditioners are devoid of toxic ingredients and do not cause hair loss. However, always check for ingredients that may not be suitable for your hair and scalp.
Does curly hair shampoo and conditioner help hair growth?
Yes, most curly hair shampoos and conditioners help with hair growth and keep your tresses shiny and silky.