7 Best Shampoos For Dreadlocks That Will Keep Them Intact – 2023
Wash away the residues from your deadlocks and maintain their form and style.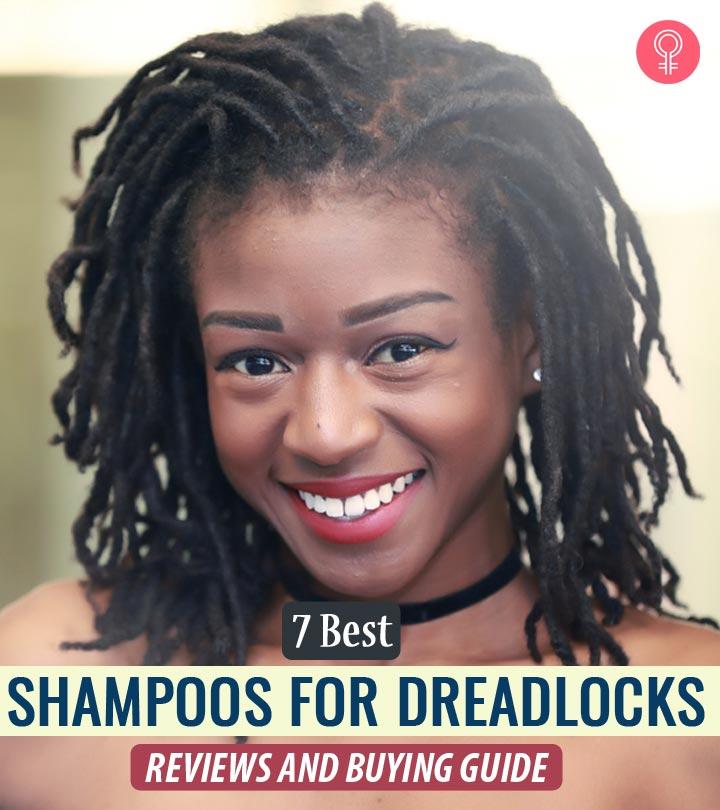 Dreadlocks are one of the most iconic hairstyles of all time, but maintaining them is quite a hassle. As they require constant care and attention, you need the best shampoo for dreadlocks. While dreadlocks might be stylish and eye-catching, you need an ideal shampoo specifically formulated for dreadlocks to maintain this hairstyle. Unlike regular shampoos, dreadlock shampoos clean any build-up residue on your hair more effectively. Some shampoos even help tighten the dreadlocks and keep the style intact.
If you choose to carry this hairstyle, you will need sulfate-free and residue-free products that won't turn your scalp oily or greasy. It will also be a good idea to choose shampoos that are infused with rosemary, peppermint, tea tree, and other botanical ingredients to help soothe dandruff and itching. Scroll down for a low-down on the best shampoos for dreadlocks available on the market! Read on.
7 Best Shampoo For Dreadlocks
Jamaican Mango & Lime Tingle Shampoo cleanses your hair, massages the scalp, and removes build-up. This gentle formula contains antibacterial and antioxidant ingredients that help in relieving itching. It leaves your hair smelling fresh due to the presence of mango and lime extracts. Since this shampoo is made with natural ingredients, it is safe for your hair. The Tingle Shampoo is inspired by old Jamaican recipes that leave your dreads looking well-groomed and healthy.
Pros
Nourishes the hair
Gently cleanses
Relieves itching
Removes build-up
Natural ingredients
Fresh fragrance
Cons
Does not lather well
Creates a tingling sensation
Trivia
The world's longest dreadlocks measure 5 feet and 3 inches on a man named 'Sudesh Muthu.' It took him 23 years to achieve this length and earn a place in the Guinness World Records.
Price at the time of publication: $7.35
Dollylocks Nag Champa Liquid Shampoo is made with pure and organic botanical extracts. This rich shampoo cleanses your hair and scalp without leaving behind any residue. The coconut oil in this shampoo gently nourishes your hair without stripping away its natural oils. The gentle formula of shampoo is great for color-treated hair. It protects the hair color from fading. This residue-free shampoo is effective and leaves your scalp feeling refreshed and invigorated! Its lightweight formula gives you shiny, healthy dreads infused with thefloral scent of nag champa.
Pros
High-quality natural ingredients
Phthalate-free
Lightweight
Residue-free
Available in different sizes
Pleasant fragrance
Cons
Price at the time of publication: $27.95
Knatty Dread Loc Shampoo is suitable for all hair types and hair textures. It tightens the dreads and helps in new growth. It contains coconut extracts that nourish and condition your hair. This shampoo reduces the drying time after washing and does not leave behind any residue. It is fragrance-free and used before styling the dreads. Washing your dreadlocks with Knatty Dread Loc Shampoo leaves them looking clean and healthy. It is a great shampoo to include in your hair care routine if you have natural or synthetic dreadlocks.
Pros
Tightens dreadlocks
Residue-free
Fragrance-free
Suitable for dreadlocks of all hair types
Short drying time
Moisturizes the hair
Cons
Price at the time of publication: $19
Dollylocks Tea Tree Spearmint Liquid Dreadlock Shampoo is specially formulated for sensitive skin. This deep-cleansing shampoo is made with natural organic ingredients that are hypoallergenic. It is a lightweight shampoo that balances the pH of the scalp as it gently cleanses away all the dirt and grime. It has a cool mint fragrance that leaves your dreadlocks smelling fresh. The coconut oil in it leave your hair feeling soft and conditioned. It does not leave behind any residue or build-up.
Pros
Lightweight
Organic ingredients
Hypoallergenic
No build-up
Hypoallergenic
pH-balanced formula
Suitable for sensitive scalp
Cons
Price at the time of publication: $30.95
Stylin' Dredz Lock Friendly Spray Shampoo contains tea tree oil that gently cleanses your hair without leaving behind any residue or build-up. It is specially formulated with foaming agents that help in maintaining dreadlocks. They create a thick lather that cleansesyour hair without detangling your dreadlocks. It clarifies and removes any build-up, leaving your dreads looking soft and shiny. It also moisturizes and conditions your scalp. Regular use of this shampoo helps in reducing itching and eliminating dandruff. It is very effective and easy to use.
Pros
Residue-free
Detangles dreads
Soothes the scalp
Lathers well
Relieves itching
Eliminates dandruff
Cons
Trivia
Archaeologists found the first known examples of this hairstyle in ancient Egyptian artifacts. They even discovered mummified remains of an ancient Egyptian with dreadlocks.
Earth Locks Organic Dread Shampoo moisturizes your dreadlocks, leaving themfeeling soft, shiny, and healthy. The ingredients in this shampoo do not dry out your hair or make it brittle. It protects the hair from breaking easily. It suds well and does not leave your dreadsfeeling sticky or greasy. It also does not have any fragrance. Its regular use repairs matted hair and prevents hair breakage. The packaging of this shampoo is made of recycled materials.
Pros
Nourishes the hair
Protects the hair
Non-greasy
Fragrance-free
Eco-friendly packaging
Cons
Contains toxic ingredients
Price at the time of publication: $79.99
Knotty Boy Dreadlock Shampoo is the world's first all-natural shampoo made just for dreadlocks. This minty fresh and invigorating shampoo keeps your dreads clean and smelling great. It contains moisturizing saponified oils such as olive oil, castor oil, and hemp seed oil. It also contains essential oils of tea tree, peppermint, rosemary, and cannabis. It imparts a slight tingling sensation that refreshes your dreadlocks and cleansesyour scalp thoroughly. It conditions and softens the dreads and eliminates the need for spraying tea tree oil for maintenance.
Pros
Residue-free
Soothes the scalp
Biodegradable
Non-toxic
Available in a bar form
Cons
Price at the time of publication: $15
Those were our top picks for dreadlocks shampoos. Now, let us look at a few factors to keep in mind before choosing the right shampoo for your dreads.
How To Pick The Right Shampoo For Your Dreadlocks
Residue-Free: Look for products that are residue-free. They help in keeping your dreadlocks light and remove the excess build-up. Ingredients like beeswax are moisturizing but leave behind a lot of residue, so it is better to avoid it.
Non-Greasy: Shampoos with heavy oily ingredients will make your dreads greasy and dirty. Greasy products increase build-up and make your scalp itchy and prone to dandruff.
Sulfate-Free: Avoid sulfates like sodium lauryl sulfate (SLS) in shampoos as they can be harmful to your hair. They bind to hair cuticles, making them dry and brittle and leading to hair damage. Sulfates may even cause split ends and leave your dreads looking dull and lifeless.
Natural Oils: Any ingredients that strip away your hair's natural oils and make your hair strands dry should be avoided. It is advised to choose shampoos with natural oils that nourish and moisturize your hair.
Look for shampoos that provide moisture and are free from harsh chemicals. Deep-cleansing shampoos that remove product build-up are also a good option.
Conventional shampoos are effective in cleaning and managing dreadlocks. Specially formulated dreadlocks shampoos that are sulfate-free and residue-free and contain natural oils help in keeping your dreadlocks healthy and clean. Let us know which is your favourite shampoo for dreadlocks from the ones listed above in the comments section below!
Why Trust StyleCraze?
Shiboli Chakraborti, who authored this article, is a certified skincare coach, and her expertise lies in both skin and haircare. Understanding that dreadlocks are desired by many, she has done thorough research and read many product reviews to make a list of the best shampoos for dreadlocks. These products listed below are sulfate and residue-free that will gently remove the excess oil from your hair and scalp.
Frequently Asked Questions
How often should I wash my dreads?
Wash dreads every two to three weeks to eliminate creams, oil, or dirt stuck in the strands and scalp.
Why do dreadlocks smell bad?
Mold can grow in your dreadlocks if your hair is left damp after washing. Scents from smoking, food flavors, and air pollution can also linger in your dreads and generate an odor.
Can you wet your dreads every day?
Washing your dreads or making them wet every day is not recommended. Persistent dampness can give way to the growth of fungus.
Can I use any shampoo on my dreads?
No, do not wash your dreadlocks with regular shampoo. Regular shampoos include fragrances, conditioners, softeners, thickeners, and other artificial substances that lubricate the hair to prevent matting and loosen knots. Use shapoos made for dreadlocks to cleanse, bind, and strengthen your dreadlocks.
How long can you go without washing dreads?
Wash your dreads every 2-3 weeks. If you want to wash them less often, you can do so as well if your lifestyle keeps your dreads clean. However, do not put off washing for more than 3 months.
Recommended Articles
The following two tabs change content below.