The 5 Best Shampoos And Conditioners For Fine Hair – 2023
Boost your hair's health and volume instantly with these fine formulas for fine hair.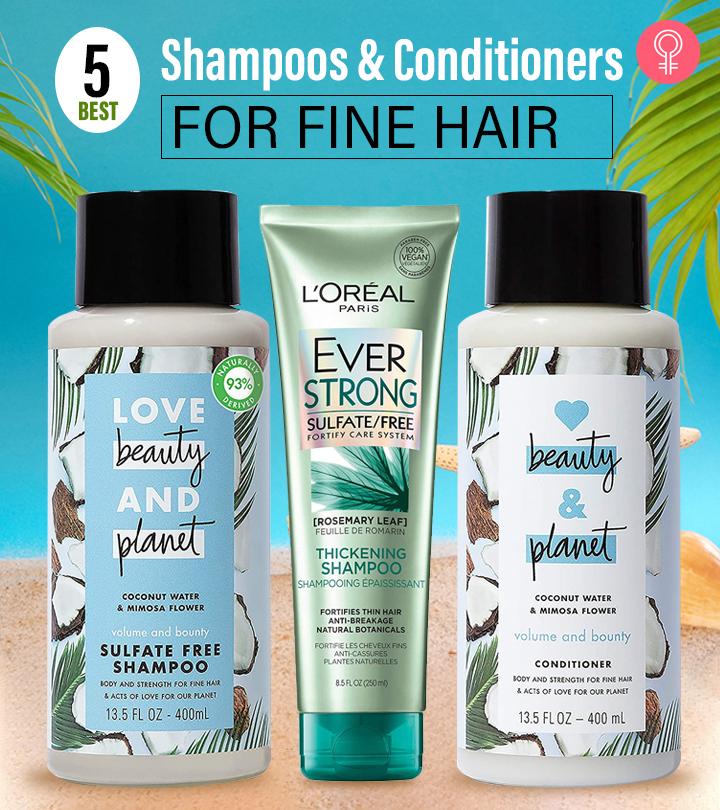 Fine hair troubles have a league of their own, and hence, they should be treated right with the best shampoo and conditioner for fine hair. If you choose to use anything otherwise, they will only weigh down your hair, making them feel greasy and limp. Shampoos and conditioners specially formulated for fine hair will add volume to the hair, making it look fuller. They will also hydrate and nourish your tresses for a beautiful lift. In this article, we have listed the 5 best shampoo and conditioners for fine hair. Make your pick to get healthy, lively hair.
5 Best Shampoos And Conditioners For Fine Hair
Pros
Sulfate-free
Paraben-free
Silicone-free
Dye-free
Vegan
Cruelty-free
Color-safe
Lightweight
Cons
Price at the time of publication: $13.88
Pros
Sulfate-free
Paraben-free
Gluten-free
Dye-free
No harsh salts
Vegan
Gentle formula
Color-safe
Cons
Price at the time of publication: $15.99
The PANTENE PRO-V Sheer Volume Shampoo And Conditioner volumize the hair. The shampoo helps detangle and moisturize the hair and adds shine. The conditioner provides lift to the hair and softens it. The antioxidant formula prevents protein loss and repairs damaged hair. This duo is powered with pro-vitamins that make the hair manageable without weighing it down. The shampoo and conditioner are lightweight, color-safe, and free of sulfates and silicones. If you need more convincing, feel free to take a look at this YouTuber's video on the merits and demerits of the product.
Key Ingredients: Pro-Vitamin
Pros
Silicone-free
Long-lasting
Color-safe
Sulfate-free
Lightweight
Suitable for color-treated hair
Cons
Price at the time of publication: $17.99
The BIOLAGE Volumebloom Shampoo & Conditioner set is specially formulated for fine hair and color-treated hair. This shampoo gently cleanses your hair and scalp without stripping the natural oils. It claims to add 70% volume to your hair in the first few washes. The conditioner keeps your hair hydrated and plumps fine hair making it bouncy and manageable. This duo provides root lift to make your hair soft, shiny, thick, and manageable.
Key Ingredients: Cotton extract
Pros
 Paraben-free
 Vegan
 Healthy hair
 Lightweight
 Long-lasting results
 Color-safe
Cons
None

Price at the time of publication: $21
The Luseta Rose Oil Shampoo And Conditioner is suitable for dry, fine, and thin hair. Rose oil moisturizes the hair and promotes healthy hair growth. The extract of rose rugosa flower nourishes and volumizes the hair. These products soften the hair and add luster. They are color-safe, environment-friendly, and cruelty-free. This shampoo-conditioner set does not contain sulfates, parabens, and gluten.
Key Ingredients: Rose extract and Soy protein
Pros
Sulfate-free
Paraben-free
Gluten-free
Color-safe
Cruelty-free
Environment-friendly
Cons
Price at the time of publication: $29.99
Fine hair can be difficult to manage. Without proper care, it tends to become weak, brittle, and dry. This is why you must make an informed choice become committing to a product for fine hair. In the section below we have put together a few important points to consider before buying the best shampoos and conditioners for fine hair so that you not only cleanse your hair but also impart strength and shine to hair strands.
Things To Consider Before Buying Shampoos And Conditioners For Fine Hair
Chemical Content: Shampoos and conditioners are often loaded with undesired chemicals that can be damaging to hair scalps or strands. Go for shampoos that do not contain additives such as paraben, silicone, SLS, sulfate, and other harsh salts. The formula must be gentle to the scalp skin and hair follicles. Many people prefer to use shampoos and conditioners that are vegan and cruelty-free because they are usually gentler.
Lightweight: Lightweight shampoos do not deposit on your hair strands weighing them down or making them oily. Non-greasy shampoos and conditioners preserve the natural shine and lively look of your tresses.
Natural Ingredients: Shampoos and conditioners that contain a rich blend of nutrient-filled organic ingredients keep your fine hair healthy. Additives such as rosemary, amino acids, and juniper fortify weak hair and make it appear thick. They help to get rid of dryness and dirt on the scalp. Conditioners that contain vitamins and proteins repair damaged hair and make it soft in texture. The shampoos loaded with essential oils and coconut water treat scalp dryness and revitalize hair strands.
Long-Lasting: Go for the shampoos and conditioners that offer quick and long-lasting results. The positive results must be visible after the first few washes. Go for shampoos that keep the hair detangled, frizz-free, and shiny for 3-4 days.
Other Features: Buy shampoos and conditions that are easy to wash, and do not leave any residue behind. The best shampoos and conditions for fine hair protect it from heat, pollution, and other environmental stressors. They help to revive the damaged hair and increase its luster.
Why Trust StyleCraze?
Shiboli Chakraborti, the author, is a hair care enthusiast. She has curated this list of the best shampoos and conditioners for fine hair after carefully analyzing the user reviews on trusted online forums and researching the ingredients. The shortlisted products are specifically formulated to provide much-needed volume to fine hair without making the hair limp, greasy, or weighed down.
Frequently Asked Questions
How often should fine hair be washed?
Fine hair should be washed three to four times a week.
Can fine hair become thick again?
No. Although you cannot restore hair thickness permanently, volumizing shampoos and conditioners can make your hair appear thicker and fuller.
How can I protect my fine hair?
•  Use styling products sparingly.
•  Wash your hair with a sulfate-free clarifying shampoo weekly.
•  Use a conditioner made for fine hair to boost its health.
•  Use a smoothing and detangling hair serum before brushing your hair to prevent tugging.
•  Avoid heat styling as far as possible.
•  Avoid dyeing and bleaching your hair.
•  Protect your hair and scalp from the sunlight using hats, scarves, or sunscreen hairspray.
•  Eat a healthy, balanced diet.
How do you volumize fine hair?
Follow these practices to add volume to your fine hair.
•  Use a volumizing shampoo to wash your hair twice or thrice weekly.
•  Wash and brush your hair upside down.
•  Towel- or air-dry your hair till they are 80% dry, and do the rest with a blow dryer.
•  Use a root-lifter on damp hair for special occasions.
•  Switch your hair parting often to prevent balding at one spot.
What is the difference between thin and fine hair?
If you have comparatively fewer hair strands, then you have thin hair. On the other hand, if your hair strands are thinner in diameter, you have fine hair.

Best Shampoos And Conditioners For Every Hair Type
Best Conditioners For Fine Hair – Reviews & Buying Tips
Best Shampoos For Fine Hair For An Instant Volume Boost
Best Shampoos And Conditioners For Hair Growth That Actually Work