10 Best Shampoos And Conditioners For Hair Extensions – 2022
Gentle cleansing and conditioning solutions that won't ruin your precious extensions.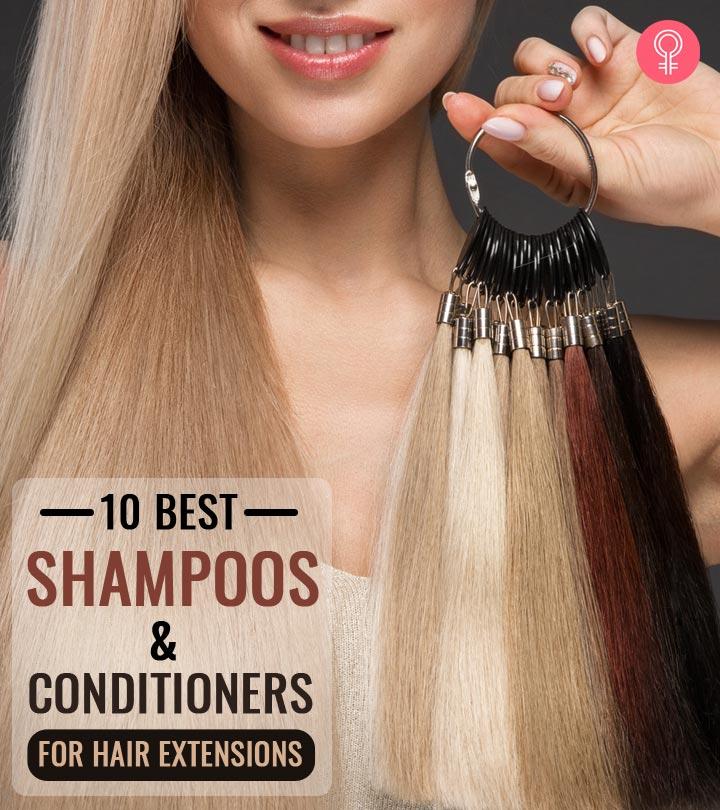 Hair extensions, wigs, or weaves are perfect for adding volume, thickness, and color to natural hair. But using shampoos and conditioners on them regularly can weaken the bonds and adhesives. This is why you should get your hands on the best shampoo and conditioner for human hair extensions. These products are exclusively made to prevent the extensions from damaging. Knowing their significance, we have compiled a list of the 10 most effective hair shampoos and conditioners you can apply to the extensions. So go ahead and check it out.
10 Best ShampoosAnd ConditionersFor Hair Extensions
The B3 Brazilian Bondbuilder Extension Trio Set comes with a shampoo, conditioner, and an extension refresher/finishing spray. The conditioner restores and repairs hair. It reinforces fiber strength and does not weaken bonds or adhesives. It also prolongs hair extension life, while the shampoo cleanses and repairs hair. The finishing or refresher spray helps blend natural hair with hair extensions and prevents bond split.
Pros
Makes hair healthy and shiny
Doesnot dry out extensions
Lathers well
Smells good
Silicone-free
Cons
The Mermaid Extension Care Travel Kit contains an extensive set of shampoo and conditioner, a clarifying shampoo, a firm hold spray, a small hairbrush, and a dry shampoo, all of which come in a clear acrylic bag. The shampoos and conditioner are 100% organic and vegan. They don't contain parabens. They have a tropical citrus fragrance and can be used on all hair types.
Pros
No residue
Makes the hair shine
Does not dry extensions
Pleasant tropical citrus fragrance
Works well with long hair
100% organic
Vegan
Paraben-free
Cons
The Hair Shop's 909 Shampoo and Conditioner Kit is to be used for 100% Remy hair extensions and wigs. The shampoo gently cleanses the extensions, keeping their bonds intact. The conditioner moisturizes the extensions and removes harmful microbes. It contains anti-static ingredients. Both the shampoo and conditioner contain silk amino protein, which helps lock in moisture and adds shine and strength. It is recommended to use the conditioner mid-way down until the ends.
Pros
Imparts shine
Rejuvenates hair extensions
No residue or buildup
Lightweight
Works with all hair extension methods
Cons
Might make extensions frizzy.
The ProStyles Wig and Hair extension Care Pack comes with a shampoo, a conditioning rinse, and a conditioning spray. These three products are designed to increase the lifespan of wigs and hair extensions. The shampoo and conditioner help remove any buildup or product residue from the extensions. The conditioning spray contains anti-static agents, which prevent frizz. They also leave extensions and wigs glossy, soft, and manageable. The shampoo is pH-balanced and contains keratin that leaves the hair shiny and soft. It also contains sunscreen to protect natural hair from UV ray damage.
Pros
Detangles hair
Makes the hair shiny and soft
Extends the lifespan of wigs and hair extensions
Suitable for synthetic fibers and human hair extensions
Reduced hair damage
Cons
The Hairtalk Extensions Set comes with a cleansing shampoo and a nourishing conditioner. The shampoo is specially designed to address the needs of extensions without stripping them of hydration and nourishment. It is gentle enough to be used daily on the scalp and hair. The conditioner improves hair elasticity, shine, and body. It detangles and reconstructs second and natural hair. The conditioner can be rinsed out or left in damp hair for better absorption of nutrients.
Pros
Lightweight
Makes the hair softer
Reduces hair damage
Detangles hair gently
Gentle
Cons
Might not suit all hair types.
The Beautimark Shampoo and Conditioner for Synthetic Hair help extend the life of synthetic hair. The shampoo gently cleanses and removes any residue and buildup without weakening the hair extension bonds. The conditioner uses a lightweight formula that nourishes and detangles hair.
Pros
Makes the hair soft and shiny
Works well on synthetic hair
Paraben-free
Cruelty-free
Cons
The X-10 Hair Extension Care Set comes with a shampoo and conditioner. They do not break the extension bonds and help increase their lifespan. They make synthetic and natural hair look shiny and soft. They keep synthetic fiber hair in the best condition for a long time.
Pros
Makes hair soft and healthy
Rejuvenates hair extensions
Reduces hair damage
Cons
Might not suit all hair types.
The NYK1 Keratin And Color Aftercare Set give you fuller-looking hair. The conditioner removes dirt and oil and imparts softness and shine to hair. The products intensely cleanse the hair without stripping it dry and also prevent frizz. This set also works well for color-treated hair and keeps the extensions bonded.
Pros
Makes the hair shiny
Lathers well
Smells good
Salt-free
Sodium-free
Sulfate-free
SLS-free
Paraben-free
Cons
May not work with keratin treatments.
The RemySoft bluemax Protection Daily Refresher &Serum set contains a leave-in conditioner and protective silicone serum for hair extensions. The leave-in conditioner helps combat dryness and can be used daily. It is a light, silicone-based refresher for extensions and natural hair. It contains a blend of natural oils that are specifically designed to be used between washes. It helps smoothen and detangle hair. It also protects the hair from UV ray damage and leaves no heavy product build-p. It is safe to use on hair extensions, weaves, and wigs.
Pros
Detangles hair
Reduces hair damage
Makes the hair shiny and soft
Protects the hair from UV rays
Cons
Might make the hair greasy.
The RemySoft Moisturelab Hydrating Cleanser and Recovery Cream help rejuvenate dry hair and reduce frizz. It contains exotic fruits and berry extracts, which intensely condition your hair. It also helps detangle and soften hair. The recovery cream is a conditioner that contains soy protein, aloe, exotic fruit, and berry extracts.  It is blended with the BlueMax protective serum that is suitable for hair extensions and colored hair. The highly moisturizing and protective formula strengthens and nourishes hair.
Pros
Moisturizes hair
Imparts shine
Smells good
Sulfate-free
Color-safe
Cons
Why Trust StyleCraze?
Shiboli Chakraborti, the author of this article, is passionate about hair care who loves experimenting with different hair care products. After carefully researching and browsing through online reviews, she has curated a list of the best shampoos and conditioners for hair extensions. These products are exclusively made to prevent the extensions from damage. They are lightweight, paraben-free, and reduce hair damage.
Recommended Articles