7 Best Shampoos And Conditioners For Hair Growth That Actually Work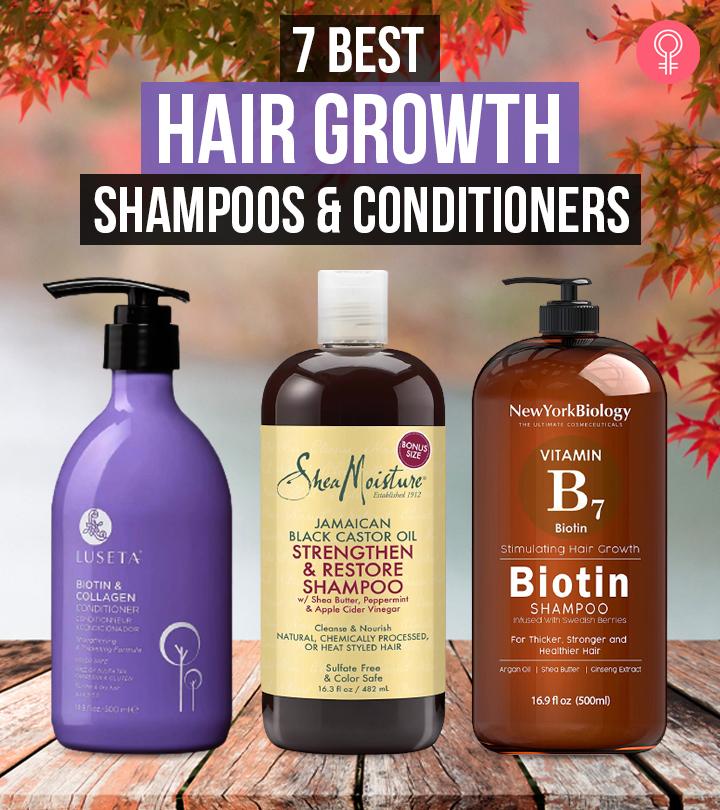 Although hair growth seems to be a slow, natural process, we can still boost it just a bit by using the best shampoo and conditioner for hair growth acceleration. With long, strong, and shiny tresses comes a lot of unmatched self-confidence. With the right lifestyle, we can use the best formulas to speed up or maintain the hair growth process. That's why we have got you the 7 best shampoos and conditioners for hair growth. Have a look.
7 Best Hair Growth Shampoos And Conditioners Of 2022
The Keranique Shampoo and Conditioner Set gently deep cleans, thickens, and volumizes thin and fine hair. The conditioner in this set nourishes and moisturizes hair without weighing it down. These products retain hair shine while removing any build-up. They also offer protection from hair breakage. They rejuvenate the hair follicles and boost hair health.
They are infused with Keranique's Keratin Amino Complex that helps strengthen and fortify thinning hair. This complex also thickens hair shafts and protects their outer layers. The products are free of parabens and sulfates. They also are cruelty-free. These fight hair frizz and make hair more manageable. For a more detailed review of this product, here's a video.
Key Ingredients: Keratin Amino Complex, Panax Ginseng Root Extract, Hydrolyzed Ceratonia Siliqua Seed Extract, and Arctium Majus Root Extract
Pros
Safe for color-treated hair
Cruelty-free
Sulfate-free
Paraben-free
Reduces frizz
Cons
The Not Your Mother's Way To Grow Shampoo and Conditioner Set is made with essential vitamins, herbs, and bioactive extracts that will make your hair stronger, healthier, and longer in no time. The shampoo helps remove any build-up and cleanses the hair with its rich lather. This shampoo and conditioner set is gentle enough for daily use. It also is free of sulfates and parabens. It increases hair volume and growth. Know more about this product in this video.
Key Ingredients: Biotin, Horse Chestnut Seed Extract, Castor Oil
Pros
Paraben-free
Sulfate-free
Reduces hair frizz
Cons
The Luseta Biotin & Collagen Shampoo and Conditioner Set is ideal for promoting hair growth. Biotin contributes to the production of healthy hair. These products also contain collagen that helps renew hair cells. Collagen also boosts hair elasticity and regeneration.
The shampoo helps strengthen and fortify your hair for a thicker and healthier appearance. It also adds volume to your tresses. The argan oil in the products contains vitamins A, C, and E, antioxidants, and omega-6 fatty acids that help repair and fight hair damage. The sunflower seed oil contains omega-9 fatty acids and helps moisturize hair. The oil also stimulates the scalp. These products are free of sulfates, parabens, and phosphates. They are also not tested on animals. Learn more about this product in this video.
Key Ingredients: Argan oil, Sunflower seed oil, Biotin, and Collagen
Pros
Cruelty-free
Sulfate-free
Paraben-free
Phthalate-free
Pleasant fragrance
Cons
The NewYorkBiology Biotin Shampoo and Conditioner Set works as a DHT blocker and helps reduce hair loss. The products also eliminate follicle-clogging dirt, excess sebum, and environmental residues. These hair-thickening shampoo and conditioner offer a deeply moisturizing formula that leaves hair and scalp feeling healthy and hydrated. They work without weighing your hair down.
The products suit all hair types. They are gentle on the hair. Their soothing anti-dandruff treatment targets oily roots, dandruff, and sensitive scalps. They also calm the itchiness and irritation by eliminating dry flakes on the scalp. They are free of sulfates, parabens, and alcohol. They also are cruelty-free.
Key Ingredients: Vitamin B7, Biotin, Argan oil, Shea Butter, Ginseng Extract, Amino Acids
Pros
Suitable for all hair types
Paraben-free
Sulfate-free
Alcohol-free
Fight dandruff
Cons
The Shea Moisture Strengthen & Restore Shampoo and Conditioner Set contains peppermint oil that invigorates the hair and scalp. The oil also stimulates hair cells and promotes better hair growth. The products are loaded with apple cider vinegar that balances scalp pH levels and keeps your hair naturally healthy and shiny. Its Jamaican black castor oil repairs and renews chemically-treated and heat-styled hair.
This formula also contains certified organic raw shea butter that infuses into the hair and hydrates your curls. The natural oils in the formulation seal open hair cuticles and reduce the appearance of split ends.
Key Ingredients: Apple Cider Vinegar, Jamaican Black Castor Oil, Shea Butter, Peppermint oil
Pros
Reduces hair breakage
Treats split ends
Balances scalp pH
Pleasant fragrance
Cons
Shampoo does not lather much
The NISIM F.A.S.T Fortified Amino Scalp Therapy Shampoo & Conditioner Set is a unique formula enriched with essential nutrients, amino acids, and proteins that promote longer and stronger hair. The products render your hair a rich, luxurious texture. They are formulated to deliver immediate moisture to your hair and leave it feeling extremely smooth and manageable. They are also suitable for all hair types and are safe on chemically-treated hair.
Key Ingredients: Hydrolyzed Wheat Protein, Biotin
Pros
Paraben-free
SLS-free
Suit all hair types
Safe for chemically-treated hair
Cons
The Product Biotin & Vitamin Shampoo & Conditioner Set is a potent formula. Its biotin helps prevent hair breakage and promotes healthy hair growth. These two products add volume and thickness to thin and brittle hair. They also strengthen the hair roots internally.
This shampoo and conditioner set is also great for adding moisture and shine to the hair shaft. These protect the hair color from fading. They are free of parabens and sulfates. They are also cruelty-free.
Key Ingredients: Biotin, Pro-Vitamin B5, Cucumber, Aloe Vera, Silk, and Wheat Proteins
Pros
Paraben-free
Sulfate-free
Cruelty-free
Color-safe
Pleasant fragrance
Cons
Conclusion
Even though hair growth shampoos and conditioners encourage hair growth, one must also focus on a nutritious diet and regular sleep and exercise. Ensure you pick products that suit your hair type the best. All of these factors, together, will give you the results you want.   
Why Trust StyleCraze?
Oyendrila Kanjilal, the author, has a passion for hair care. Her well-researched content highlights various benefits that you can gain from these products in order to achieve long, strong, and glossy hair. She has narrowed her search to the best shampoos and conditioners after conducting comprehensive analysis of product specifications and user reviews. These products prevent hair loss by promoting hair growth.
Frequently Asked Questions
Do hair growth shampoos and conditioners really work?
Hair growth shampoos and conditioners can be very effective. But they might not show miraculous results instantly. They do improve scalp health over time.
Why do I have lots of new hair growth?
New hair growth can be a result of various factors. Lifestyle changes such as a healthier diet, a new hair care regimen, etc. can contribute to better hair growth. Better hormonal balance can also improve hair growth.
Recommended Articles