5 Best Shampoos and Conditioners For Oily Scalp And Greasy Hair
Cleanse your hair of all kinds of sticky impurities that are making them dull and damaged.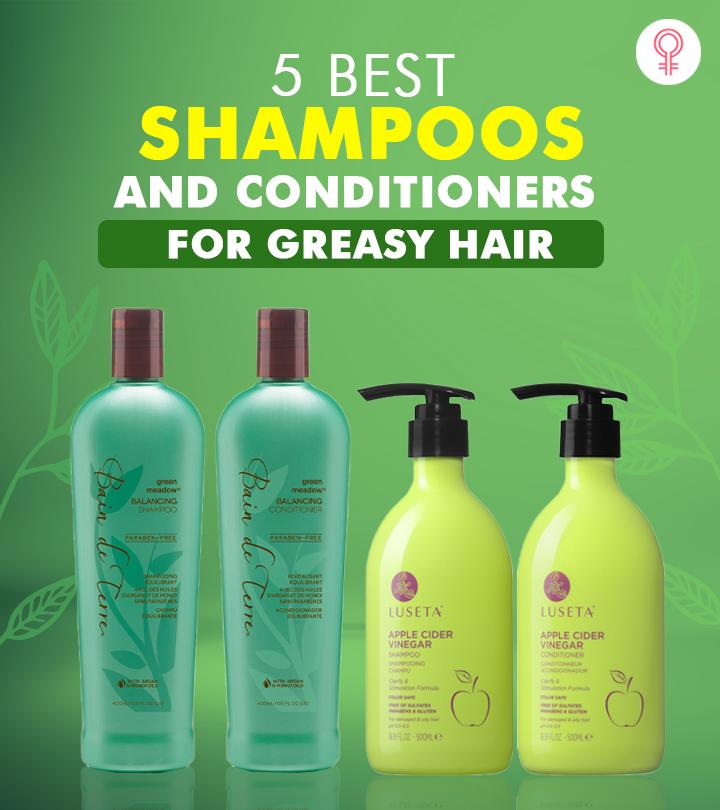 Oily hair routines with regular washdays can truly get onto your nerves if you don't have the best shampoo and conditioner for oily hair. Nothing makes your hair look worse than greasiness, and not every haircare formula can help you achieve oil-free hair for a longer time. Therefore, picking the right shampoo and conditioner formulas for oily hair is important. We have listed the 5 best combos below. Have a look!
5 Best Shampoos And Conditioners Of 2022 For Greasy Hair
The Luseta Apple Cedar Vinegar Shampoo And Conditioner Set makes your hair healthy and smooth. It is formulated with plant-based ingredients such as Pyrus Malus (apple cedar vinegar) and hydrolyzed wheat and soy proteins that nourish your hair from the root to the tip. It promotes hair growth and helps eliminate dandruff from your hair. It also restores the natural pH balance of your scalp.
This salon-inspired combo is free from parabens, sulfates, and gluten, and provides the best results for oily hair. It deeply cleanses your hair and leaves a refreshing apple fragrance afterward. It is not tested on animals.
Pros
Paraben-free
Sulfate-free
Gluten-free
Moisturizes hair
Cruelty-free
Fights dandruff
Cons
Expensive
May dry your hair out
Price at the time of publication: $26.99
The Pure Apple Cider Vinegar Shampoo And Conditioner Set adds a glowing and moisturized effect to your hair. It is made of apple fruit extract, coconut oil, argan nut oil, and almond oil. These ingredients are rich in vitamins and minerals and offer a perfect hair treatment to your dull, frizzy hair.
The products clarify your hair and remove dirt, oil, and other impurities. Apple cider vinegar helps boost hair shine while coconut oil nourishes your hair and reduces hair loss. The oil also fights itchy scalp and dandruff, and repairs damaged hair. It also promotes hair elasticity and hydration. 
Pros
Sulfate-free
Paraben-free
Restores hair shine
Fights dandruff
Prevents hair loss
Make hair healthier
Cons
May not suit all hair types
Price at the time of publication: $25.99
The Desert Essence Lemon Tea Tree Shampoo And Conditioner Set removes excessive oil from your hair and strengthens your strands. This bundle contains lemon tea tree oil and lemon peel extract that help remove the extra oil build-up from your hair and scalp. The conditioner contains jojoba seed oil and Australian organic tea tree leaf oil that nourish and revitalize your hair from the root to the tip.
This shampoo and conditioner set protects your hair and makes it more manageable. The products are vegan and free of parabens, sulfates, silicones, colors, glycol, petroleum, and gluten. Its natural fragrance will leave your hair smelling nice and refreshing for days.   
Pros
Vegan
Gluten-free
Paraben-free
Sulfate-free
Color-free
Glycol-free
Petroleum-free
No artificial fragrances
Cons
Price at the time of publication: $24.08
The Bain de Terre Green Meadow Balancing Shampoo And Conditioner Set keeps your hair oil-free, soft, and healthy. Its key ingredients include lush green meadows, argan oil, monoi oil, and hydrolyzed vegetable and soy proteins. The products nourish your hair deeply and restore the natural moisture balance. They also cleanse away the oil build-up and leave your hair with a nice fragrance. The products are suitable for normal to oily hair. They are paraben-free and color-safe.   
Pros
Paraben-free
Color-safe
Pleasing fragrance
Restore moisture balance
Cons
Price at the time of publication: $17.4
The Global Keratin Hair Balancing Shampoo And Conditioner Set washes off the excess oil and impurities from your hair. The products contain a special formula of natural seed oils and plant extracts that treat oily and greasy hair. They also help with the natural pH balance of the hair and scalp. These are recommended for normal to oily hair. They are free of sulfates, paraben, and gluten.
They contain cotton bloom extract that restores the strength of the hair cortex. They also relax stressed hair. 
Pros
Paraben-free
Sulphate-free
Gluten-free
Ideal for daily use
Restores pH balance
Cons
Price at the time of publication: $120
Why Trust StyleCraze?
The author, Shiboli Chakraborti, is a certified skin care coach. She also has expertise in hair care. This list of best shampoos and conditioners for oily hair has been created based on her research and the reviews posted on trusted online platforms. These products are sulfate- and paraben-free and work great to remove greasiness besides keeping the hair healthy and strong.
Frequently Asked Questions
Can you use a conditioner on oily hair?
Yes, a conditioner is recommended to be used on oily hair.
Why is my hair so oily just after a day of shampooing?
This happens as your scalp produces more oil than normal.
Does short hair get oily faster?
It is your scalp that produces more oil. The oiliness of hair has nothing to do with its length.
Why does my hair get oily when I sleep?
The fabric of your pillow determines how oily and greasy your hair becomes during the night. An unwashed pillow cover can make your hair much oilier. Also, your scalp produces more sebum while you sleep at the night.
Is oily hair bad?
Excess oily hair, if not taken care of, could lead to scalp acne. It may also attract dust and grime. You can treat your oily hair using specific shampoos and conditioners that remove extra oil from your hair.
Can oily scalp cause hair loss?
Yes, it can. Using the right shampoo and conditioner can help mitigate this condition.
Recommended Articles