10 Best Herbal Shampoos And Conditioners In India – 2023 Update
Unlock your hair's true potential and flaunt smooth, silky, and bouncy hair all day!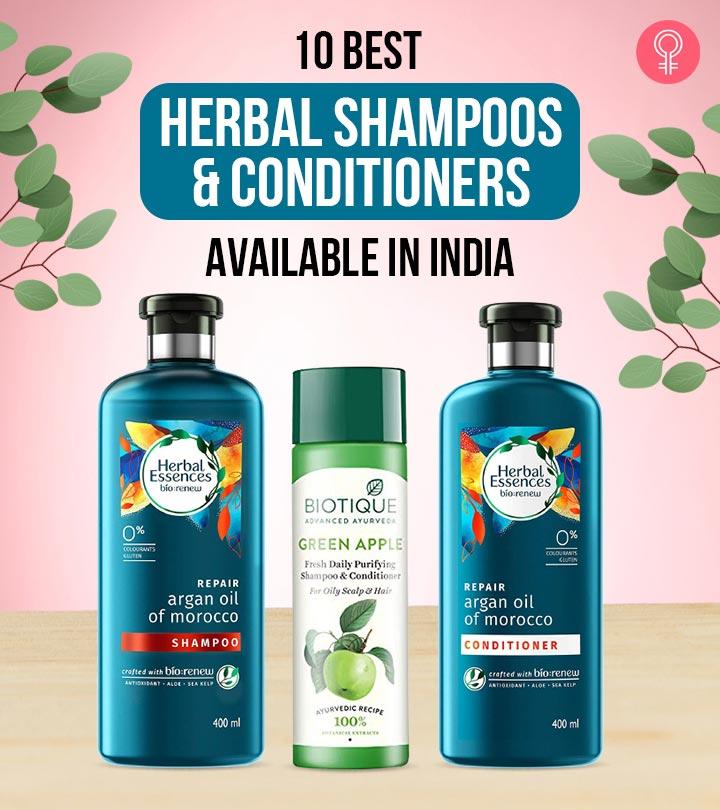 We all have been using shampoos and conditioners without digging much into what goes in their making. Picking up any shampoo or conditioner without reading their labels might not be a smart choice. Regular shampoos and conditioners loaded with harsh chemicals like sulfates and parabens strip the natural hair oils and leave the hair dry. To avoid this, opt for herbal hair care products.
Herbal shampoos and conditioners are made of natural ingredients and free of harmful chemicals. They help nourish your hair and maintain its health. This article lists the 10 best herbal shampoos and conditioners available in India. Scroll down to check them out.
10 Best Herbal Shampoo And Conditioners
The Wowsome Twosome Hair Care Kit contains the Wow Apple Cider Vinegar Shampoo and the Organic Virgin Coconut Oil + Avocado Oil Conditioner. The shampoo contains raw apple cider vinegar, Moroccan argan oil, and sweet almond oil. Raw apple cider vinegar helps eliminate flakes, sweet almond oil nourishes the hair and imparts shine, and Moroccan argan oil keeps the hair soft and moisturized. This shampoo detoxifies the hair and scalp and removes buildup caused by dust, pollution, dead cells, and styling products.
The conditioner is formulated with virgin coconut oil that provides hydration, reverses hair damage, and prevents bacterial and fungal growth. Avocado oil acts as a natural sunscreen that prevents hair breakage and split ends. Vitamins B5 and E promote healthy hair growth.
Pros
Suitable for color-treated hair
Dermatologically tested
Vegan
Sulfate-free
Paraben-free
Mineral oil-free
Silicone free
Gluten-free
Alcohol-free
Cons
This Onion Oil Shampoo & Conditioner Kit from Wow Skin Science offers strong and luscious hair by reviving the scalp. It washes away dirt and grime buildup in the hair shaft to improve the hair quality. The rejuvenating formula improves blood circulation in the scalp. It enhances hair texture and provides strength to the hair roots. The red onion seed oil, rich in sulfur flavonoids and vitamin B, C, D, and E, unclogs roots, prevents scalp infection, and strengthens hair. The anti-inflammatory properties of the black seed oil reduce hair fall, dryness, and dandruff while promoting a healthy scalp. The pro-vitamin B5 increases hydration and supplies nutrition to your hair and scalp to keep them soft and strong.
Pros
Dermatologically tested
Leathers well
Gentle formula
Vegan
Paraben-free
Sulfate-free
Silicone-free
Cons
Unpleasant scent
Can induce hair fall
Himalaya's Damage Repair Protein Shampoo And Conditioner together protect tresses and prevent future hair damage. This hair nourishing and repairing combo strengthens hair from root to tip with deep conditioning benefits. While chickpea provides daily nourishment to the hair, beach almonds give the tresses a soft and smooth texture.
Pros
Repairs split ends
Gentle formula
Pleasant fragrance
Prevents frizz
Cons
Doesn't leather well
Greasy texture
The Bio Renew Argan Oil Of Morocco Shampoo and Conditioner from Herbal Essences uses 90% natural additives to repair hair damage. The repairing shampoo is blended with natural antioxidants, sea kelp, and aloe vera to deep clean the scalp while nourishing the hair strands. It's a refreshing mix of creamy vanilla, exotic spices, and citrus aromas that leaves you supercharged for the day. Its color-safe and chemical-free formula maintains the scalp's pH balance and keeps it healthy. The smoothing conditioner helps keep hair moisturized and smooth.
Pros
Contains bio renewals
Color-safe
pH balancing
Pleasant scent
Prevents frizz
Cruelty-free
Gluten-free
Paraben-free
Colorant free
Cons
Not SLS free
Can lead to hair fall.
StBotanica's Moroccan Argan Hair Shampoo + Argan Hair Conditioner Kit has a rich and hydrating formula infused with natural and potent botanicals ingredients that gently cleanse and moisturizes your hair. This shampoo deeply cleanses the scalp to remove dirt and buildup while supplying essential antioxidants to the hair. It keeps dryness and flakes away with regular use and reveals smooth and silky hair. The hydrating blend of oils – argan oil, horsetail oil, rosemary oil, jasmine oil, clary sage oil, and ginkgo biloba oil – in the shampoo gives your hair intense nourishment. Additional ingredients like green tea, jojoba oil, sweet almond oil, kigelia extract, and nutgrass extract maintain a healthy hair texture. The nourishing conditioner infused with pro-vitamin B5 and a healthy blend of oils keeps moisture levels and leaves hair manageably soft.
Pros
Anti-dryness
Gentle formula
Retains moisture
Prevents hair fall
Lasting and pleasant scent
Anti-frizz
Paraben-free
SLS free
Mineral oil-free
No animal testing
Cons
The Biotique Bio Green Apple Fresh Daily Purifying Shampoo and Conditioner is a two-in-one formula that nourishes the scalp and hair. This shampoo cum conditioner is fused with natural vitamins and minerals that gently detoxifies the hair and nourishes them. Its pH balancing properties leaves hair refreshed, volumized, and full of shine. It is blended with all ayurvedic and potent ingredients like sea algae, pure green apple extract, and centella to adds body and texture to your stands.
Pros
Two-in-one
For daily use
Unisex
For all hair types
Oil-free
Completely Ayurvedic
Refreshing green apple scent
Prevents itching
Prevents dandruff
Restores shine
Cons
Not anti-frizz
Leave hair dry
The Himalaya Anti-Hair Fall Shampoo and Conditioner with Bhringaraja is suitable for all hair types. This strengthening shampoo sustains the hair roots and moisturizes the strands. The deep nourishing conditioner, rich in phytochemicals, strengthens roots and promotes healthy hair growth. Natural proteins present in the shampoo reduce hair fall. The bhringraj-infused conditioner strengthens and softens the hair, while chickpea supplies essential proteins and Butea frondosa prevent thinning.
Pros
Lathers well
Mild fragrance
Moisturizing formula
Value for money
Cons
Conditioner lacks moisture
Can lead to dry hair.
Khadi Natural's Amla-Bhringraj Shampoo and Aloe Vera Conditioner Combo Pack is all you need for your hair care. The revitalizing shampoo contains all-natural and healthy ingredients like amla and bhringa that gently cleanses the scalp and activates hair follicles to promote hair growth. The natural aloe vera conditioner deeply moisturizes and nourishes the hair to leave them soft, smooth, and silky. Post shampoo and conditioner, your hair will radiate a healthy shine.
Pros
Cooling effects
Strengthens follicles
For daily use
Anti-frizz
Pleasant scent
Paraben-free
Cons
Doesn't leathers well
Leaves hair dry
This Hair Strengthening Shampoo & Conditioner Combo from Organic Harvest improves hair health and stimulates the roots. The coffee-infused formula strengthens the hair shaft and promotes hair growth. This combo pack prevents dandruff while maintaining the scalp's pH balance to ensure healthy hair. It thoroughly eliminates toxins, dirt, and impurities. The active ingredient found in this shampoo and conditioner restores the hair sheen and keeps issues like frizz, thinning, split ends away. This organic and safe formula is made from certified organic ingredients and is free from harsh additives.
Pros
Prevents frizz
Prevents split ends
Anti-dandruff formula
Maintains pH balance
Promotes hair growth
Refreshing scent
Chemical-free
Sulfate-free
Silicone free
Paraben-free
Mineral oil-free
Cons
The Lotus Herbals Kera-Veda Hennapura Henna Shampoo with Conditioner comes packed with the goodness henna to condition hair and bring them back to life naturally. The presence of other potent and nourishing ingredients like neem and bhringa restores hair by strengthening to keep them strong and healthy. Its deep cleansing formula cleanses hair from root to tip to improve the quality.
Pros
Two-in-one formula
Natural conditioning
Strengthens hair
Restores shine
Anti-dandruff
Deep penetration
Cons
Consider the following factors before buying shampoos and conditioners to make the ideal choice.
How To Choose The Best Shampoo And Conditioners?
Always choose a shampoo and conditioner based on your hair type. If you have dry hair, look for a moisturizing shampoo and conditioner. For oily hair, look for shampoo and conditioner that help remove greasiness and product residue. Similarly, if you have color- or chemically-treated hair, look for a shampoo and conditioner, especially suitable for these hair types.
What goes into the making of your shampoo and conditioner is important. Check out for natural ingredients and stay away from harsh chemicals like sulfates, parabens, and silicones, which can strip the natural oil and moisture of your hair.
Herbal shampoos and conditioners help improve your hair texture and promote hair growth. We have narrowed some of the best herbal shampoo and conditioner combos to naturally treat your hair and leave them soft, strong, and problem-free.

Recommended Articles
The following two tabs change content below.