8 Best Shampoos For 4C Hair Type
Give some love and attention to your gorgeous 4c hair with these hydrating shampoos.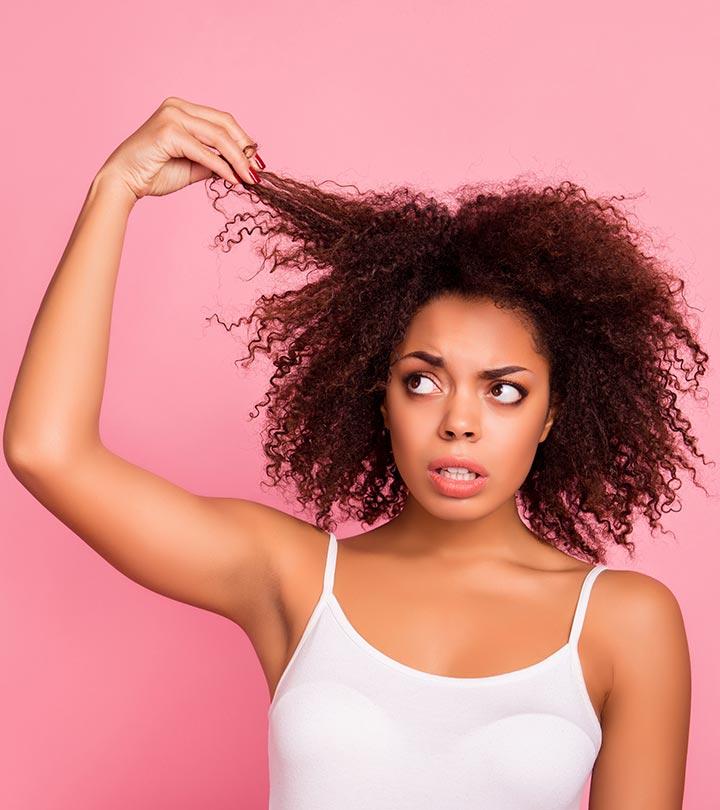 4C hair, commonly known as afro hair, is versatile and can be molded into the hairstyle of your choice. Since this hair type requires more care and attention than others, only the best shampoo for 4C hair will do. Before you go for the shampoo of your choice, you need to keep these few points in mind. The texture, porosity, density, and thickness all determine the quality of your hair. 4C hair tends to get entangled and needs gentle care and patience to untangle them. They can also get really dry, which causes damage and breakage. This makes it that much more essential to choose the right product. Listed below are a few shampoos that will add that oomph to your hair! Scroll down to know more!
8 Best Shampoos For 4C Hair Type
This range falls under the category of gentle, cleansing shampoos for curly hair. It is made in the USA using all-natural ingredients. This moisturizing shampoo doesn't only cleanse the hair but also helps in detangling by retaining moisture and hydrating the strands evenly. Design Essentials Natural Almond & Avocado Moisturizing & Detangling Sulfate-Free Shampoo is hands down, one of the best products to have graced the market to help solve curly-hair problems.
Pros
Hydrates hair
Detangles curls with ease
Does not disrupt the natural oil balance of the hair
Cruelty-free
Does not contain parabens, paraffin, petroleum products or derivatives
Cons
Leaves behind residue if not rinsed off well
Makes hair oily
This shampoo guarantees soft, bouncy hair and is made using hand-picked natural ingredients like organic shea butter. It helps restore hydration and makes your hair easy to manage. Formulated using natural ingredients, this shampoo helps enhance shine and luster of your curls, giving you frizz-free and healthy hair. Shea Moisture Coconut & Hibiscus Curl & Shine Shampoo does wonders for 4C hair types and helps to add volume and bounce to it. If you are a fan of shea-butter based hair products, this shampoo is a must try! If you need further convincing, check this YouTuber's review out.
Pros
Free from sulfates
Consists of all-natural ingredients
Color-safe
Can be used daily
Helps manage curls with ease
Cons
It has a strong fragrance
This formula is designed to protect hair from thinning and breakage. It is suitable for all hair types and works wonderfully well on 4C hair type. Composed of ingredients such as argan oil, rosemary, and aloe vera, this shampoo-conditioner duo helps promote healthy hair growth and prevents hair loss and damage. It also helps to hydrate hair. If you are looking to improve your overall hair texture and want to keep it feeling soft and hydrated, then Art Naturals Argan Oil Shampoo & Conditioner is what you need. It is highly recommended if you have 4C hair.
Pros
Non-GMO hypoallergenic product
Sulfate and paraben-free
Consists of all-natural ingredients
Helps prevent hair loss
Cons
Specially formulated to prevent  hair breakage, this shampoo gently cleanses hair while  shampooing. The shampoo produces thick lather and removes dirt and buildup more effectively than other shampoos formulated for 4C hair. It Consists of pure shea butter, which  deeply moisturizes your hair . So, for those looking for a solution to hair-breakage, this sulfate-free shampoo with a pleasant citrusy scent and creamy texture is what you must get your hands on! To get a better understanding of the Cantu Sulfate-Free Cleansing Cream Shampoo, you can check out this video on YouTube.
Pros
Sulfate and paraben-free
It works great on 4C hair to remove dirt
Does not contain mineral oil
It has a pleasant smell
Cons
This rich shampoo, which is made in the USA, comprises exotic natural ingredients like vitamin E, omega 6 and 9 fatty acids, and argan oil along with some other key ingredients. It helps to improve hair elasticity and the texture of hair, thereby imparting a natural luster to it. It is safe for daily usage. Generally, those with 4C hair types find managing their hair quite challenging. But thanks to OKAY Black Jamaican Castor Oil Shampoo, they can keep these troubles at bay. Check out the review of OKAY Black Jamaican Castor Oil Shampoo on YouTube to know why it is one of the best one out there.
Pros
Sulfate, paraben, and cruelty-free
Silicone-free
Rich in antioxidants
Detangles curls
Cons
Some may find the smell too strong
Transform your unmanageable hair into soft and shiny hair with Carol's Daughter Black Vanilla Moisture Shampoo & Conditioner set. The moisture shampoo is color-safe, gently cleanses your hair, and restores your hair's natural moisture. The presence of aloe vera, sweet clover, and rose in the shampoo provides 3X moisture to your 4C curls. The blend of shea butter, lavender, and vanilla in the conditioner adds smoothness and shine, making the hair detangled and soft.
Pros
Lightweight
No petrolatum
Mineral oil-free
No artificial colors
Sulfate-free
Paraben-free
Value for money
Cons
None
tgin Moisturizing Shampoo and Conditioner Duo is suitable for all hair types and works like magic on 4C hair type. The rich shampoo, followed by the triple-moisture replenishing conditioner, helps to maintain the natural oil balance of the hair while also making it lustrous and healthy. This shampoo consists of coconut oil and pro-vitamin B5, which helps manage your curls easily. The conditioner is composed of shea butter, argan oil, and jojoba oil that work towards retaining the moisture. tgin Moisturizing Shampoo and Conditioner Duo is perfect for 4C curls as it does not strip the hair follicles of its natural oils and rejuvenates your scalp.
Pros
Cruelty-free
Free from sulfates, lanolin, petroleum, etc.
Free from harsh or harmful chemicals
Enables natural-oil retention
Cons
Sweet Ginger Cleansing Rinse by Camille Rose Naturals is a perfect formula composed of Asian ginger, essential oils, and castor seeds, which leave your hair feeling nourished and soft. It helps in the retention of moisture in your hair and makes 4C hair more manageable. You can use it regularly without worrying about it drying out your hair. This product is perfect for those who are looking to make their curls bouncy and moisturized. It also has an aromatic fragrance that gives you a soothing cleansing experience.
Pros
Sulfate-free
Silicone and paraben-free
Cons
The product may take a while to rinse off
Why Trust Stylecraze
Vaishnavi Kothuri, the author of this article, has an immense interest in hair care. After extensive research and reading many user reviews from trusted forums, she curated this list of the best shampoos for 4c hair type. This narrowed-down list can make readers' choices easy. These shampoos hydrate the hair and are suitable for daily use. In addition, they manage hair loss effectively.
Frequently Asked Questions
What shampoo is good for 4C low porosity hair?
The Design Essentials Natural Almond & Avocado Moisturizing & Detangling Sulfate-Free Shampoo is good for 4C low porosity hair. It moisturizes and nourishes the hair deeply while cleansing it thoroughly.
What is the best way to wash 4C hair?
Wash your 4C hair only once or twice in 15 days. Follow the steps below for simple tricks to clean your hair.
• Detangle your hair before stepping into your washroom. This will save a lot of time while shampooing.
• Spritz water in your hair and section it into four parts. Use hair ties to hold the sections separately in place. Wash one section at a time.
• Apply some shampoo to your scalp and hair. Massage gently to lather, giving special attention to your scalp.
• Rinse your hair thoroughly and re-tie that section of the hair.
• Repeat this with the other sections. Once all the sections are cleansed, untie all your hair.
• Run water through your hair to make sure that no product is retained.
• Squeeze out all the water and tie a t-shirt to dry your hair.
What shampoo is best for damaged long 4C hair?
For damaged 4C hair, always avoid shampoos with harsh ingredients like parabens and sulfates. They dry out your hair and make it even more brittle. Look for nourishing and moisturizing ingredients like avocado oil, argan oil, coconut oil, vitamin E, and shea butter. These ingredients will protect and strengthen your hair, increase hair elasticity, and make it healthy.