8 Best Shampoos For 4C Hair Type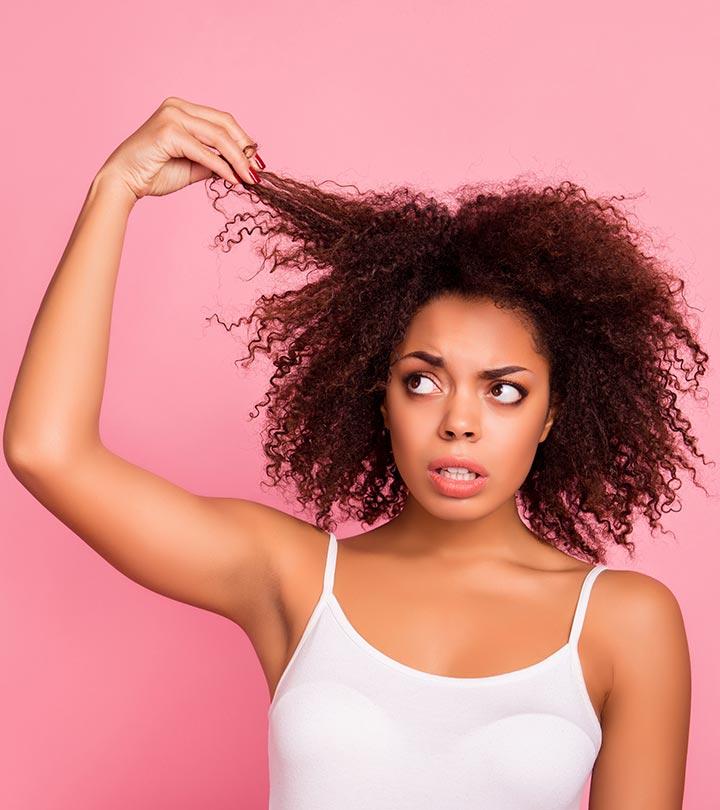 When was the last time you woke up to a good-hair day? When it comes to curly hair, good-hair days hold a great significance owing to the extremely fragile nature of such hair types. Without a doubt, beauty lies in diversity, and curly hair is unique in its own way. However, when your curls get entangled, things tend to take a bad turn. Forget the sheen and luster, some days you simply long to run the brush through your curls without having the tangles cause breakage.
While many women have curly hair, some have 4C hair type. This hair type is commonly referred to as Afro hair. The texture of 4C hair is slightly curly yet extremely delicate, and hence it is susceptible to breakage. The sooner you purchase good quality hair care products to maintain this type of hair, the better.
Let us take an in-depth look into some of the best shampoos and conditioners available in the market today that are formulated to cleanse and condition 4C hair. Read on to know more.
8 Best Shampoos For 4C Hair Type
This range falls under the category of gentle, cleansing shampoos for curly hair. It is made in the USA using all-natural ingredients. This moisturizing shampoo doesn't only cleanse the hair but also helps in detangling by retaining moisture and hydrating the strands evenly. Design Essentials Natural Almond & Avocado Moisturizing & Detangling Sulfate-Free Shampoo is hands down, one of the best products to have graced the market to help solve curly-hair problems.
Pros:
Hydrates hair
Detangles curls with ease
Does not disrupt the natural oil balance of the hair
Cruelty-free
Does not contain parabens, paraffin, petroleum products or derivatives
Cons:
Leaves behind residue if not rinsed off well
Makes hair oily
Buy Now From Amazon
Similar Products

This shampoo guarantees soft, bouncy hair and is made using hand-picked natural ingredients like organic shea butter. It helps restore hydration and makes your hair easy to manage. Formulated using natural ingredients, this shampoo helps enhance shine and luster of your curls, giving you frizz-free and healthy hair. Shea Moisture Coconut & Hibiscus Curl & Shine Shampoo does wonders for 4C hair types and helps to add volume and bounce to it. If you are a fan of shea-butter based hair products, this shampoo is a must try!
Pros:
Free from sulfates
Consists of all-natural ingredients
Color-safe
Can be used daily
Helps manage curls with ease
Cons:
It has a strong fragrance
Buy Now From Amazon
Similar Products

This formula is designed to protect hair from thinning and breakage. It is suitable for all hair types and works wonderfully well on 4C hair type. Composed of ingredients such as argan oil, rosemary, and aloe vera, this shampoo-conditioner duo helps promote healthy hair growth and prevents hair loss and damage. It also helps to hydrate hair. If you are looking to improve your overall hair texture and want to keep it feeling soft and hydrated, then Art Naturals Argan Oil Shampoo & Conditioner is what you need. It is highly recommended if you have 4C hair.
 Pros:
Non-GMO hypoallergenic product
Sulfate and paraben-free
Consists of all-natural ingredients
Helps prevent hair loss
Cons:
Buy Now From Amazon
Similar Products

Specially formulated to prevent  hair breakage, this shampoo gently cleanses hair while  shampooing. The shampoo produces thick lather and removes dirt and buildup more effectively than other shampoos formulated for 4C hair. It Cons:ists of pure shea butter, which  deeply moisturizes your hair . So, for those looking for a solution to hair-breakage, this sulfate-free shampoo with a pleasant citrusy scent and creamy texture is what you must get your hands on! .
Pros:
Sulfate and paraben-free
It works great on 4C hair to remove dirt
Does not contain mineral oil
It has a pleasant smell
Cons:
Buy Now From Amazon
Similar Products

This rich shampoo, which is made in the USA, comprises exotic natural ingredients like vitamin E, omega 6 and 9 fatty acids, and argan oil along with some other key ingredients. It helps to improve hair elasticity and the texture of hair, thereby imparting a natural luster to it. It is safe for daily usage. Generally, those with 4C hair types find managing their hair quite challenging. But thanks to OKAY Black Jamaican Castor Oil Shampoo, they can keep these troubles at bay.
Pros:
Sulfate, paraben, and cruelty-free
Silicone-free
Rich in antioxidants
Detangles curls
Cons:
Some may find the smell too strong
Buy Now From Amazon
Similar Products

Transform your unmanageable hair into soft and shiny hair with Carol's Daughter Black Vanilla Moisture Shampoo & Conditioner set. The moisture shampoo is color-safe, gently cleanses your hair, and restores your hair's natural moisture. The presence of aloe vera, sweet clover, and rose in the shampoo provides 3X moisture to your 4C curls. The blend of shea butter, lavender, and vanilla in the conditioner adds smoothness and shine, making the hair detangled and soft.
Pros:
Lightweight
No petrolatum
Mineral oil-free
No artificial colors
Sulfate-free
Paraben-free
Value for money
Cons:
None
tgin Moisturizing Shampoo and Conditioner Duo is suitable for all hair types and works like magic on 4C hair type. The rich shampoo, followed by the triple-moisture replenishing conditioner, helps to maintain the natural oil balance of the hair while also making it lustrous and healthy. This shampoo consists of coconut oil and pro-vitamin B5, which helps manage your curls easily. The conditioner is composed of shea butter, argan oil, and jojoba oil that work towards retaining the moisture. tgin Moisturizing Shampoo and Conditioner Duo is perfect for 4C curls as it does not strip the hair follicles of its natural oils and rejuvenates your scalp.
Pros:
Cruelty-free
Free from sulfates, lanolin, petroleum, etc.
Free from harsh or harmful chemicals
Enables natural-oil retention
Cons:
Sweet Ginger Cleansing Rinse by Camille Rose Naturals is a perfect formula composed of Asian ginger, essential oils, and castor seeds, which leave your hair feeling nourished and soft. It helps in the retention of moisture in your hair and makes 4C hair more manageable. You can use it regularly without worrying about it drying out your hair. This product is perfect for those who are looking to make their curls bouncy and moisturized. It also has an aromatic fragrance that gives you a soothing cleansing experience.
Pros:
Sulfate-free
Silicone and paraben-free
Cons:
The product may take a while to rinse off
Men and women having 4C hair would know what a real hair-challenge looks and feels like, but thanks to amazing hair-care products available in the market, people with type 4C hair can also flaunt their curls just as confidently as everyone else.
There is no better way to get those bouncy, coveted curls than to invest in the right hair-care products. So don't hesitate when it comes to hair-care, for real self-care starts with your hair – the more pampered those curls are, the better you look and feel. Now pick your favorite shampoo from the above lot and get set to flaunt your 4C hair with confidence! Did this post help you find the perfect mate for your hair type? Don't forget to tell us in the comments below.
Recommended Articles: