15 Best Shampoos For Color-Treated Hair To Buy In 2022
Protect your hair color and your tresses without compromising your scalp health.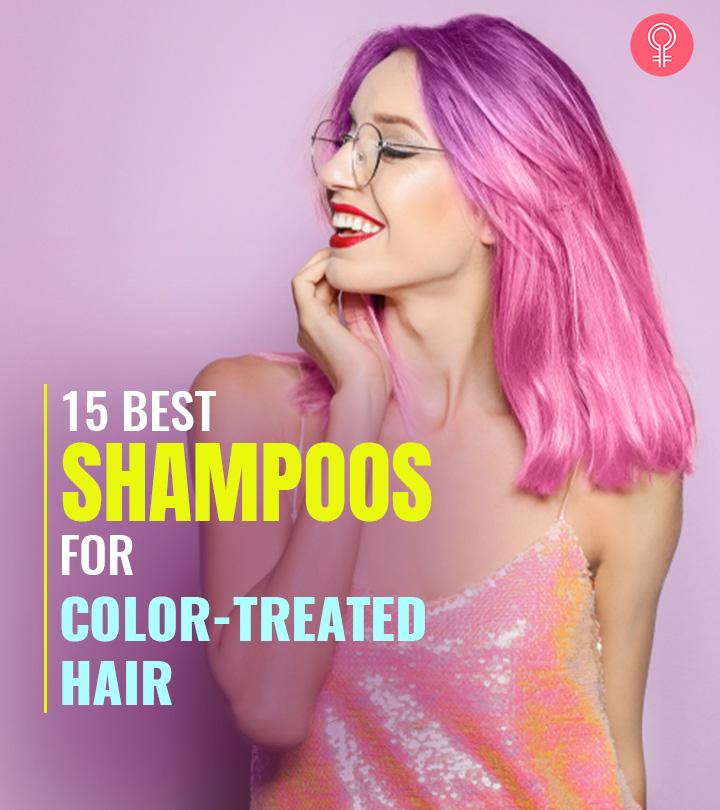 It is important to find the best shampoo for color-treated hair that is suitable for your hair type. This will protect the color on your tresses without compromising the health of your hair and scalp. Yes, it can be a daunting task, and that's exactly why we have got a list of the top 15 shampoos that can do the trick for you. Keep reading to find your pick.
15 Best Shampoos For Color-Treated Hair
Biolage has specially formulated the Colorlast Shampoo to nourish, protect, and maintain depth, tone, and shine of color-treated hair. The shampoo is inspired by nature's fade-defying orchid and has a low pH. It gently cleanses, locks the color, and maintains the vibrancy even after multiple uses. This color-protect shampoo gives you a professional treatment at home! More importantly, it is free of harmful parabens.
The texture is smooth as silk, smells good, and lathers up quickly. It does not strip the hair of its natural moisture. It leaves your scalp clean and your hair soft with a shiny new hue and a pleasant smell. If you have extremely dry or damaged hair, try applying the Colorlast Conditioner. Here is an informative video that tells you more about the product.
Pros
Does not strip color
Maintains the depth and tone of the hair color
Maintains vibrancy of hair color even after multiple uses
Gently cleanses hair
Makes hair soft and shiny
Paraben-free
Lathers quickly
Soft texture
Good smell
Value for money
Spillage-free packaging
Cons
When you color your hair, you need all the hydration and moisturization to keep it healthy and shiny. The Pureology Hydrate Moisturizing Shampoo provides exactly that without stripping the color. This is a gentle, sulfate-free shampoo, formulated with 100% vegan ingredients.
The anti-fade complex in this color-safe shampoo keeps the color vibrant. The advanced Hydrating Micro-Emulsion Technology provides deep nourishment and moisturization to the hair shaft. This multi-tasking shampoo also strengthens and revitalizes dry and damaged hair, leaving it feeling shiny, smooth, and bouncy. The subtle smell, which is a signature aromatherapy blend of ylang-ylang, bergamot, and patchouli, is definitely a plus point (you will love how your hair smells!). For more information about the product, click this video.
Pros
Advanced Hydrating Micro-Emulsion Technology hydrates and moisturizes hair
Anti-fade complex locks the color
100% vegan
Sulfate-free
Revitalizes and strengthens dry and damaged hair
Smells great
Makes hair shiny and bouncy
95% of bottles are made from recyclable materials
Bottles are 100% recyclable
Good value for money
Cons
Does not add volume
Not for people with oily scalp
Dyed hair is prone to quick damage, and more so by UV rays. The amika vault Color-lock Shampoo prevents color fading and hair damage by protecting the hair from UV rays. This sulfate-free shampoo is filled with antioxidants that shield your hair from free radicals and keep the hair color vibrant for a long time.
The key ingredients of this shampoo are sea buckthorn berry, which is rich in vitamins C and A, antioxidants, and healthy omega fatty acids (including the essential omega-7). It also contains soybean oil that protects against color fading. The rich Amino Acid Blend strengthens the hair shaft, smooths the cuticle, and boosts hair elasticity. The shampoo also contains betaine that is rich in humectants and helps retain moisture and shine. This shampoo is cruelty-free, vegetarian, paraben-free, and free of other harmful chemicals.
Pros
Enriched with antioxidants
Vitamins C and A protect hair from UV damage
Soyabean oil prevents color fading
Amino Acid Blend strengthens hair shaft
Prevents dulling hard water
Smooths hair cuticle
Boosts hair elasticity
Paraben-free
Sulfate-free
Hydrates and moisturizes hair
Free of gluten, mineral oil, oxybenzone, MIT/MCI, formaldehyde, formaldehyde-releasing agents, hydroquinone, triclosan, triclocarban, retinyl palmitate, aluminum, talc, phthalates, petrochemicals, sodium chloride, and artificial colors
Safe for color-treated, keratin-treated, and Brazilian-treated hair
Cruelty-free
Cons
Expensive
May cause frizzy hair if not followed with a conditioner
The Kerastase Reflection Bain Chromatique Multi-Protecting Shampoo offers lasting vibrancy for your newly-colored hair and maintains the shine. It is specially formulated for color-treated hair. This shampoo neutralizes water particles to keep the hair color from fading quickly. It gently cleanses your scalp and keeps your hair shaft moisturized and healthy.
Most color-protecting shampoos have a sticky deposit that makes the hair uncomfortable to touch. Thankfully, this shampoo creates an anti-deposit effect on the hair fiber's surface. Your hair will feel light and always smooth to touch. It also protects the hair shaft from UV damage and other harmful external aggressors. Check this video to learn more about the product.
Pros
Provides lasting vibrancy and shine
Gentle
Hydrating and moisturizing
Neutralizes water particles and prevents hair color from fading
Has an anti-deposit effect on the hair fiber's surface
Protects hair from UV damage and other external aggressors
Cons
Contains sulfates
Expensive
May make hair greasy for people with oily hair
The Fekkai Technician Color Care Shampoo extends the life of colored hair while making the hair glossy, hydrated, and healthy. It is infused with pure grapeseed oil and antioxidants.
This shampoo is gentle and protects the hair from oxidative damage, free radicals, and other harmful aggressors. A quarter-sized amount is enough to lather really well. It makes the hair shaft silky soft, smooth, nourished, and smell amazing.
Pros
Infused with pure grapeseed oil
Rich in antioxidants
Protects color-treated hair
Adds radiance and shine to the hair
Value for money
Cons
The Moroccanoil Clarifying Shampoo revitalizes and rejuvenates limp and lifeless colored hair. It washes away everyday build-up from chlorine, hard water, mineral deposits, dirt, and pollution. It contains argan oil and avocado oil that help hydrate the scalp, retain moisture, and keep the scalp and hair weightless.
The shampoo is infused with chamomile, lavender, and jojoba extracts and is enriched with keratin. This amber-colored color-protecting shampoo will leave your hair smelling great, shiny, bouncy, and feeling soft and silky to the touch.
Pros
Color-safe shampoo
Argan oil and avocado oil hydrate and moisturize hair
Washes off the daily build-up
Keeps the scalp and hair weightless
Infused with chamomile, lavender, and jojoba extracts
Makes hair shiny, silky, and smooth
Keratin-enriched
Free of sulfates, phosphates, and parabens
Smells exotic
Cons
Expensive
Not suitable for dry hair
May contain other forms of sulfate
If you have a sensitive scalp, the Maple Holistics Argan Shampoo could work best. It contains high-quality argan oil, which is hypoallergenic, sulfate-free, and gentle on all types of hair. The lightweight formula detoxifies the hair. It provides argan keratin treatment to the hair with the goodness of vitamin A, vitamin E, vitamin D, and vitamins B1 and B2. Jojoba and avocado oils and peach kernel rejuvenate and nourish the scalp and eliminate frizz.
Other natural ingredients, like silk protein and phytokeratin, reduce the damage caused by color treatment and help repair hair for a healthy shine. More importantly, the growth bundle thickens and strengthens hair and prevents hair loss. This shampoo provides deep nourishment for flaky scalp and dry hair.
Pros
Color-safe shampoo
Hypoallergenic
Contains natural ingredients like high-quality argan oil, avocado oil, jojoba, peach kernel, silk protein oil, camellia seed oil, almond oil, and phytokeratin
Moisturizes dry color-treated hair
Gently cleanses hair
Great for all hair types
Makes hair super soft from the root to the tip
Repairs damaged hair
Prevents hair loss
Suitable for sensitive scalp
Reduces frizz
Thickens and strengthens hair
Make hair shiny, voluminous, and bouncy
Provides nourishment to flaky scalp
Sulfate-free
BPA-free
Cruelty-free
Artificial fragrance-free
Pocket-friendly
Cons
The Matrix Total Results Brass Off Shampoo neutralizes the brassy tones in your newly-colored hair. It is one of the best color depositing treatments that balance blue and violet pigments and refresh your hair color by adding cool tones to your hair. The shampoo is especially good for brunettes or those with dark brown hair.
Pros
Neutralizes brassy tones
Great for natural brunettes
Refreshes the hair with cool tones
Contains vitamin oils
Smells good
Cons
Contains sulfates
May cause allergic reactions
May add a slight blue color to blonde or bleached hair
The Caviar Anti-Aging Replenishing Moisture Shampoo works best for dry, frizzy, and damaged color-treated hair. It hydrates and seals moisture to make the hair ultra-soft, smooth, and glossy. It is formulated with signature Caviar Extract and Sea Silk and targets the physical, environmental, and natural signs of aging and stress. It also improves the health of dry and damaged hair.
It is perfect for all kinds of hair – straight, curly, wavy, coiled, or tightly coiled hair. This gentle hair wash prevents color fading and restores hair health. If you are up for a lavish and luxurious salon-at-home experience with every wash, this color protecting shampoo is for you.
Pros
Color-safe shampoo
Formulated with signature Caviar Extract and Sea Silk
Moisturizing and replenishing
Sulfate-free
Improves dry and brittle hair
Restores hair health
Suitable for straight, curly, wavy, coiled, or tightly coiled hair
Gluten-free
Provides luxurious salon-at-home experience with every wash
Smells great
Cons
Expensive
May contain other forms of sulfates
The Baebody Moroccan Argan Oil Shampoo is formulated with gold standard Moroccan argan oil, olive oil, moisturizing shea butter, aloe vera, coconut oil, vitamin E, avocado oil, jojoba seed oil, keratin, and coco betaine. This ultra-nourishing shampoo locks moisture, and strengthens and improves hair elasticity without stripping color. It reduces dryness and roughness in color-treated hair. It is suitable for fine and thick hair types. It is paraben-free, cruelty-free, and safe for most skin types.
Pros
Color-safe
Hydrates and nourishes dry and frizzy hair
Contains gold standard Moroccan argan oil
Vitamins and minerals improve hair health
Betaine improves hair elasticity
Improves and restores shine
Makes hair ultra-soft
Great for fine and curly hair
Repairs split ends
Paraben-free
Cruelty-free
Suitable for most skin types
Non-greasy
Smells good
Cons
Has a watery consistency
May make the scalp itchy
The Bingo Hair Care Moroccan Argan Oil Shampoo is a color-safe and moisture-rich healing Moroccan argan oil shampoo. It reduces flaking and dry scalp, promotes the growth of healthy, strong hair, and makes the hair soft and shiny.
This shampoo has a high content of antioxidants, vitamin E, vitamin A, and essential fatty acids. These increase the hair's elasticity and add luster to dull hair. Antioxidants protect from UV damage and neutralize free radicals. This gentle shampoo is suitable for all types of hair. This hydrating and moisturizing shampoo is a luxurious elixir for dry and damaged color-treated hair. It restores hair health and strengthens hair from the root.
Pros
Color-safe shampoo
Sulfate-free
Hydrating and moisturizing
Contains luxurious Moroccan argan oil
Contains vitamin A and vitamin E
Contains essential fatty acids
Protects from UV damage and free radicals
Improves hair elasticity
Reduces flaking and dry scalp
Makes hair soft and shiny
Heals dry, damaged, and dull hair
Cons
Not for keratin-treated hair
Contains other forms of sulfate
The Oribe Shampoo for Beautiful Color provides protection against the color-fading effects of the sun rays and environmental pollutants. The moisturizing ingredients help restore the soft and silky texture. The shampoo gently cleanses hair, minimizing hair damage and adding shine to the hair.
The bioflavonoids in the shampoo prevent color fading and discoloration. The baobab tree extract provides superior moisture to the driest areas in the hair shaft. The edelweiss flower extract from the Swiss Alps prevents drying, damaging, and color-depleting effects. The kaempferia galanga root extract provides natural UV protection. The watermelon extract from the Kalahari Desert provides natural protection against oxidative stress and the deterioration of natural keratin. The shampoo is paraben-free, extends the life of hair color, and keeps the hair color looking bright and always new!
Pros
Color-safe
Moisturizes
Cleanses gently
Strengthens chemically-treated hair
Protects against the sun and environmental pollutants
Prevents drying of hair
Keeps the hair color longer
Paraben-free
Great packaging
Cons
Expensive
Contains sulfate
The Paul Mitchell Color Protect Shampoo contains sunflower extract, which protects against sun damage. It gently cleanses the scalp, nourishes and moisturizes color-treated hair, improves hair health, strengthens hair, and makes it super soft and shiny. It is paraben-free and requires a small amount to cleanse and add life to dull and lifeless colored hair.
Pros
Preserves color
Protects against sun damage
Strengthens hair
Cleanses gently
Hydrates and moisturizes
Boosts hair shine
Paraben-free
Cons
Contains sulfates
May leave a residue in hair
Expensive
The Davines Nounou Shampoo is formulated for dry, brittle, and damaged color-treated and chemical-treated hair. It locks moisture, restores shine, boosts hair health, and prevents hair fall.
It contains Fiaschetto Tomato that adds nourishment from the roots to the hair tips. This hydrating shampoo is sulfate-free, paraben-free, and makes hair healthy, shiny, and bouncy.
Pros
For color-treated hair
Heals dry, brittle, and damaged hair
Hydrates and moisturizes
Contains Fiaschetto Tomato for added nourishment
Restores shine
Makes hair healthy
Sulfate-free
Paraben-free
Cons
Expensive
Not suitable for highly sensitive skin
The Essential Oil Labs Argan Oil Shampoo rejuvenates dull, dry, damaged, and chemical-treated hair. It contains organic and natural Moroccan argan oil that hydrates dry hair.
Other ingredients like avocado oil, jojoba oil, coconut oil, camellia seed oil, almond oil, and botanic keratin provide deep conditioning and make the hair smooth, silky soft, detangled, bouncy, and glossy. It is sulfate-free and paraben-free. All the ingredients are sourced sustainably and are free of chemicals, additives, and fillers.
Pros
Color-safe
Organic and natural Moroccan argan oil hydrates dry hair
Contains avocado oil, jojoba oil, coconut oil, and almond oil
Provides deep conditioning
Adds instant shine and makes hair soft
Restores hair health
Sulfate-free
Paraben-free
Sourced sustainably
Free of chemicals, additives, and fillers
Cons
These are the 15 best shampoos for color-treated hair. Here is a checklist of what you should look for while buying a shampoo for colored hair.
How To Choose The Best Shampoo For Color-Treated Hair
To choose the best overall shampoo for color-treated hair, you must check the following:
Color-Safe – Check the bottle to see if the shampoo is color-safe. Color-safe shampoos are specially formulated to prevent the stripping of color from hair. Such shampoos also prevent fading and keep the color vibrant for a long time.
Moisturizing – Coloring often makes the hair dull, dry, and lifeless. Buy a shampoo that also hydrates and moisturizes hair. It will make your hair soft to touch and make it look super shiny.
Protects From Sun Damage – Check if the shampoo contains antioxidants that protect the hair from UV damage. UV rays tend to strip color and cause fading. A good shampoo that protects from UV damage will make the hair color last longer.
Smoothening – Along with softness, you need that extra dose of smoothening effect in your color-treated hair. It will help you brush your hair with ease and not cause hair fall due to tangles.
Free Of Harmful Chemicals – Harmful chemicals, like parabens and sulfates, are a strict no-no. You must take care of your hair and scalp. Check the ingredients label for any skin irritants or those that you could be particularly allergic to. Avoid using shampoos that will potentially cause harm to your skin.
Budget-Friendly – This list provides drugstore to luxury shampoos for color-treated hair. Choose the one that fits your budget and can give you the results you want.
Rebekkah O'Neill, Master Stylist, says, "If you're spending the money on having your hair colored, you want to take care of it right? Aftercare is such an important part of taking care of your color. Washing with a shampoo designed for color-treated hair will not only stop your color from fading faster but always keep it looking healthy and vibrant. Opting for a sulfate-free shampoo will prevent the color fading, as sulfates dry out the hair which lessens the life of your color.
Conclusion
Regular shampoos do not work for color-treated hair. You need a special shampoo to make your hair color stay longer. Be it a drugstore shampoo or a luxury brand shampoo, buy a color-protecting shampoo that hydrates, moisturizes, preserves hair health, and does not cause color fading. You will be able to flaunt your hair color (and healthy hair) without resorting to a haircut or recoloring the faded parts. Pick your favorite from the list. Have a perfect hair day every day!
Frequently Asked Questions
Is special shampoo necessary for color-treated hair?
Yes. Special shampoo or color-safe shampoos contain mild ingredients that keep the hair color vibrant and shiny. They do not strip the color from the tresses and make them look brassy. Also, special shampoos have conditioning properties that keep color-treated hair nourished and frizz-free.
What shampoo should not be used on colored hair?
Skip using a shampoo that contains sulfates. Sulfates or surfactants break through the cuticles and strip the hair. Also, avoid clarifying shampoos to retain the vibrancy and the luster of your colored tresses.
How often should I wash colored hair?
Wash your colored hair two or three times weekly to cleanse the scalp without wearing off the color.
Is sulfate-free shampoo good for colored hair?
Yes. Sulfate-free shampoos have color-enhancing properties. They gently cleanse your hair without fading the dye.
How do I make my hair color last longer?
•  Skip washing the hair immediately after coloring the tresses. Instead, wait at least 24 hours for the color to settle in. Do not shower in hot water.
•  Use color-safe hair care products and shampoos that contain alcohol and SLS.
•  Add hair mask and conditioning treatment to your weekly routine.
•  Skip heat styling the hair often.
•  Step out in the sun by covering your hair with a scarf or hat.
•  Avoid swimming in pools. The chlorine water tends to fade color faster.
Do shampoos for color-treated hair truly make a difference, or is any shampoo just fine?
Shampoos for color-treated hair prevent the cuticles from letting the color seep out. In addition, they have conditioning properties that add moisture and vibrancy to the colored hair. Regular shampoos usually contain harsh cleansing agents that fade the color and make the tresses appear dull and dehydrated. Therefore, color-safe shampoos make a difference.
Is baking soda a safe alternative to shampoo for color-treated hair?
No. Baking soda is highly alkaline. As a result, it damages the hair and fades the color. Therefore, baking soda is not a safe alternative to a color-safe shampoo.
Recommended Articles
Best Natural Shampoos For Color-Treated Hair
Best Shampoos For Red Color-Treated Hair
Best Drugstore Shampoos and Conditioners For Colored Hair
Best Shampoos And Conditioners For Colored Hair