6 Best Shampoos For Curly Hair Available In India
Bring back the natural definition and bounce of your curls with the right hair care products at hand.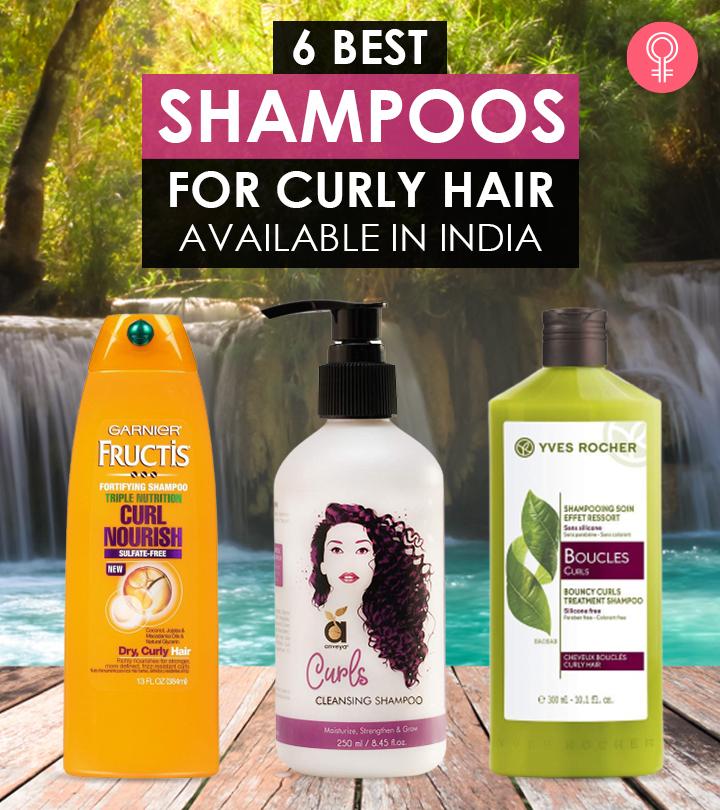 Shampoos play a crucial role in maintaining the health of the hair. Therefore, it is essential to invest in suitable products that understand your hair needs. If you have curly hair, it is best to invest in a shampoo that helps tame frizz, add bounce, prevent dryness, and enhance the texture of your hair. Scroll down to check out the 6 best shampoos for curly hair available in India.
6 Best Shampoos For Curly Hair Available In India
The Moms Co. Natural Protein Shampoo strengthens the hair and prevents dandruff, hair fall, itchiness, and dryness. This plant-based shampoo helps remove chemicals and other toxins from the scalp. It contains a nourishing blend of ingredients with excellent moisturizing, smoothening, and protective properties.
While the hydrolyzed wheat and silk proteins retain moisture and strengthen the hair, the beetroot extract – rich in antioxidants, potassium, and vitamins A and C – promotes blood flow and nourishes the scalp. The gentle coconut-based cleansers cleanse your hair and prevent protein loss. This shampoo is free of harsh additives, chemicals, preservatives, parabens, and fragrances, which are commonly used in regular shampoos.
Pros
Gentle
Mild fragrance
Paraben-free
Sulfate-free
Mineral oil-free
No synthetic fragrances
Cons
Tangles the hair
Not suitable for extremely dry and frizzy hair
Price at the time of publication: ₹257
The L'Oreal Paris EverCurl Hydracharge Sulfate/Free Shampoo for curly hair is gentle and helps prevent frizz. It nourishes and hydrates the scalp and hair without weighing your curls down. This shampoo is mild and cleanses your hair and scalp without stripping the natural oils. It contains coconut oil that delivers deep moisture and keeps your curls defined for up to 48 hours. This shampoo does not contain sulfates, surfactants, and salt and is safe to be used on colored hair.
Pros
Mild formula
Lightweight
Pleasant fragrance
Sulfate-free
Salt-free
Color-safe
Cons
Price at the time of publication: ₹1850
The Curl Up Curl Moisturising Shampoo gently cleanses the scalp while retaining the natural hair oils. The shampoo has a moisturizing blend of ingredients like argan oil that adds softness and shine to dull hair and chia seed extracts that strengthen the hair. The coconut cleansers gently remove impurities from the scalp. This 100% paraben, sulfate, and silicone-free shampoo is specially curated for Indian curls.
Pros
Mild formula
Dermatologically tested
Pleasant fragrance
Sulfate-free
Paraben-free
Silicone-free
Cruelty-free
Cons
Not suitable for colored hair
True Frog Shampoo For Curls is packed with essential ingredients like Chia seeds extract, Linseed extract, Beetroot extract, and Quinoa protein. This shampoo is designed to take excellent care of curls. Linseed extract enhances curl definition, whereas Beetroot extract moisturizes the hair and protects the hair from heat. Quinoa protein effectively adds shine to the hair and protects the hair color. Finally, Chia seed maintains the natural texture of the hair by controlling frizz.
Pros
Paraben-free
No sulphates
Vegan
Non-toxic
Cons
Not sufficiently moisturizing
The BBLUNT Curly Hair Shampoo is formulated with coconut water and jojoba oil to nourish all types of curly hair. The shampoo has UV protection properties to protect your curls from heat and pollution damage. This chemical-free formula leaves hair clean and healthy and makes it thoroughly hydrated while boosting shine.
Pros
 Natural ingredients
 Color-safe
 Paraben-free
 Sulfate-free
 Suitable for all curl types
Cons
None
The Anveya Curls Cleansing Shampoo is specially formulated for Indian curly hair. It contains botanical ingredients like soy amino acids that help repair damage and wheat amino acids that improve elasticity, enhance texture, and strengthen the hair. The Arginine Complex reduces breakage and makes the hair stronger, while the Ferment oil Hair Complex nourishes and protects the hair from external damage. The coconut milk seals moisture, soothes the scalp, and prevents frizz.
Pros
Color-safe
Suitable for all hair types
Sulfate-free
Paraben-free
Silicone-free
Cons
Mentioned below are some essential points to consider before choosing the best shampoo for curly hair.
How To Choose The Best Shampoo For Curly Hair
Curly hair tends to get dry and frizzy quickly due to the use of sulfate-based shampoos that strip off the natural oils. Therefore, investing in a sulfate-free shampoo is important.
Deep moisturizing shampoos that contain soy or milk proteins work well on curly hair. They help in taming frizz and add definition to curls.
Curls look fresh and lively when they have bounce and body. Therefore, look for a volumizing curl-enhancing shampoo that makes curly hair look healthy and well maintained.
Curly hair requires more care as compared to other hair types. This is because curls tend to get frizzy, rough, and dull quickly. Hence, it is necessary to use a suitable curl-enhancing shampoo that understands your hair needs. We have listed some of the best shampoos for curly hair that provide shine, smoothness, and bounce while preventing frizz and dullness. Go on and pick the best product from the list.

Recommended Articles
The following two tabs change content below.