11 Best Shampoos For Dry And Damaged Hair To Prevent Hair Breakage – 2023
Try these shampoos to restore the shine, softness, and health of your damaged hair.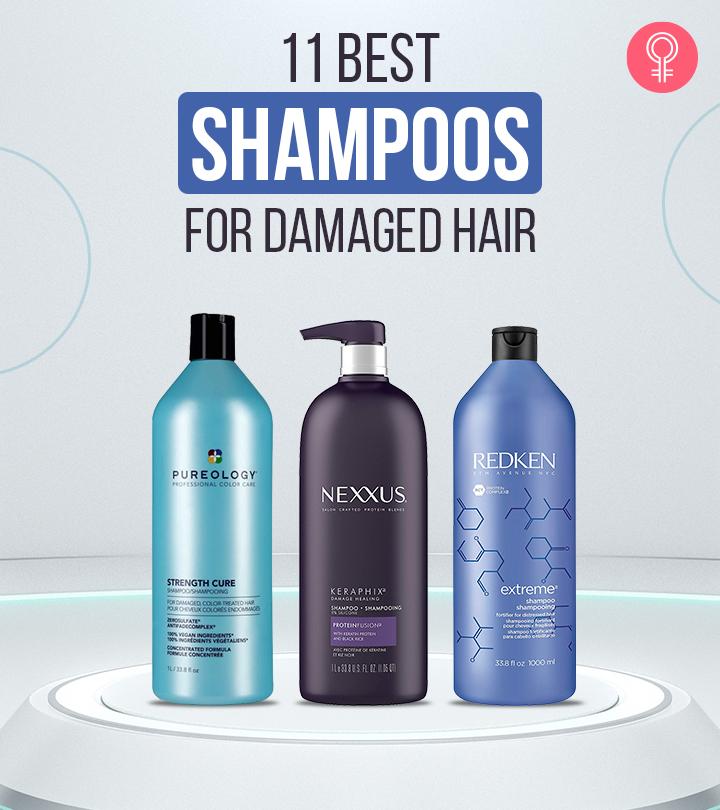 Taking care of damaged hair requires a complete regimen, but it all starts by picking up the best shampoo for damaged hair. Factors like heat styling, pollution, chemical products, stress, aging, and improper diet make hair weak and prone to damage. And this is where you can start using strengthening and repairing shampoo to bring back your damaged hair to life.
Tere Pruett, certified trichologist, says, "Using any type of chemical on the hair can cause the hair to have less strength. Always maintain proper protein in the hair, after all, our hair is made of about 88% protein."
The best shampoos for damaged hair are enriched with ceramides, lipids, nourishing oils, antioxidants, and various proteins that fix your hair, making them shiny, soft, and healthy. They are gentle and restorative and need not be paired with preconditioners. Scroll down to find the 11 best shampoos for damaged hair.
These Are The 11 Best Shampoos For Damaged Hair That You Must Try In 2023
The REDKEN Extreme Shampoo is one of the best shampoos for dry, damaged hair that is loaded with proteins and other essential nutrients to nourish distressed hair. It improves hair health and reduces breakage, and split ends. The shampoo contains arginine that conditions the scalp and sepicap to strengthen the hair roots and prevent hair fall.
The soy protein in the formula locks in moisture and boosts hair volume, while ceramides restore natural shine and prevent breakage. This product also contains an RCT Protein Complex to keep the hair hydrated and moisturized, preventing it from turning brittle. The shampoo claims to reduce breakage by up to 75% with regular use and keep the hair soft, smooth, and detangled. Check out the tester's experience of using the REDKEN Extreme Shampoo in this video.
Key Ingredients: Argenine, Sepicap, Soy Protein, Ceramides, and RCT Protein Complex
Pros
Reduces hair breakage
Protein-rich
Prevents split ends
Cleanses hair roots
Detangles frizzy hair
Cons
Price at the time of publication: $7
The Nexxus KERAPHIX Shampoo helps improve hair resilience. It contains PROTEINFUSION Complex and keratin that deeply condition, nourish, and strengthen damaged hair. The black rice extract helps minimize breakage. This shampoo hydrates and softens the hair strands and minimizes frizz to make them appear voluminous and healthy. So, go test it out to make your hair soft and shiny!
Key Ingredients: Keratin, Black rice, and PROTEINFUSION Complex
Pros
Safe for color-treated hair
Provides deep conditioning
Heals damaged strands
Strengthens hair roots
Silicon-free
Pleasant fragrance
Clinically proven
Cons
Not suitable for oily hair
Price at the time of publication: $18.97
The L'Oreal Paris Elvive Dream Lengths Restoring Shampoo has a creamy formula that thoroughly cleanses and freshens the hair. It contains vitamins B3 and B5 to strengthen the hair and reduce split ends and castor oil that fortifies the scalp and hair to nourish them without weighing your hair down.
This shampoo moisturizes the hair and protects it from heat damage up to 450°F. It has a refreshing candy-like fragrance with notes of pomegranate, milk sorbet, and caramel orchid. You can check out multiple customer reviews on Amazon to learn more about this product.
Key Ingredients: Castor oil and Vitamins B3 and B5 
Pros
Repairs split ends
Vitamin-infused
Softens the hair
Paraben-free
Safe for colored hair
Affordable
Detangles hair
Cons
Price at the time of publication: $3.99
The OGX  Extra Strength Damage Remedy Shampoo smoothens and strengthens even coarse hair. It contains a blend of coconut oil, the essence of tiare, and vanilla bean extract to provide intense hydration to revive and repair damaged hair strands.
This shampoo is ideal for taming frizz and flyaways as it helps soften your hair while adding shine and bounce. It has a refreshing fragrance – a blend of coconut, white peach, and shea butter scents – that leaves your hair smelling irresistibly good after every wash. If you want a detailed visual analysis of the product, check out this hair care enthusiast's review.
Key Ingredients: Coconut oil, Essence of tiare, and Vanilla bean extract
Pros
Contains natural ingredients
Paraben-free
Sulfate-free
No harsh chemicals
Suits all hair types
Smoothens hair
Affordable
Cons
Price at the time of publication: $6.57
The Moisture Retention Shampoo by SheaMoisture fortifies and repairs damaged hair. It contains shea butter to condition the hair and scalp, argan oil to restore shine and improve hair elasticity, and mineral-rich sea kelp to nourish and smoothen the hair. This organic shampoo provides intense hydration and improves luster and hair strength. It is best for type 3 and 4, damaged, transitioning, and natural hair. Amazon reviewers recommend the product due to its organic formulation that makes your hair soft and manageable.
Key Ingredients: Shea butter, Argan oil, and Sea kelp
Pros
Paraben-free
Sulfate-free
Contains botanical extracts and natural oils
Contains organic ingredients
Mineral oil-free
Cruelty-free
Petrochemical-free
Phthalate-free
No animal testing
Propylene glycol-free
Cons
Price at the time of publication: $10.49
The Moroccanoil Moisture Repair Shampoo is formulated with antioxidant-rich argan oil and keratin to repair damaged hair. This highly enriching formula aids in restructuring distressed or damaged hair with keratin proteins to give your hair a boost of nourishment and strength. The shampoo is gentle on the hair and effectively deeply cleanses the scalp to enhance hair's manageability.
The fatty acids in the formula help in healing and strengthening damaged hair strands to prevent them from causing breakage. The formula also prevents dead and split ends and caters to restoring the elasticity, vitality, shine, and moisture of your hair. The shampoo gives your hair a healthier look and feel.
Pros
Antioxidant properties
Prevents breakage and dead ends
Keratin-infused
Nourishes and moisturizes
Restores elasticity
Ideal for damaged hair
Lathers richly
Sulfate-free
Phosphate-free
Paraben-free
Suitable for color-treated hair
Pleasant fragrance
Cons
May cause slight hair loss
Price at the time of publication: $26
The Living Proof Restore Shampoo is a therapeutic, conditioning leave-in treatment that transforms dry and damaged hair. It is formulated with Healthy Hair Molecule that conditions the hair and mild amino acids that gently cleanse without drying. These two ingredients work together to restore and repair damaged cuticles and repel dirt and oil to keep the hair cleaner for a long period.
Key Ingredients: Healthy Hair Molecule and Amino acids
Pros
Paraben-free
Sulfate-free
Phthalate-free
Silicone-free
Safe for chemically treated hair
Color-safe
No animal testing
Reduces hair breakage
Cons
Price at the time of publication: $29
This shampoo by ApHogee is an everyday color-safe product for damaged hair. It is infused with hydrolyzed vegetables, wheat, and soy proteins, emollients, and essential vitamins that restore scalp and hair health, improve shine, and hydrate and protect the fragile hair strands. The shampoo gently cleanses permed, relaxed, and colored hair without drying. It also protects the hair from UV damage to ensure it feels soft, silky, and healthy.
Key Ingredients: Vegetable, soy, and wheat proteins
Pros
Restores shine
Strengthens hair
Pleasant smell
Affordable
Maintains pH balance
Suits extensions and weaves
Cons
Price at the time of publication: $11.91
The Virtue Recovery Shampoo is a high-power hair treatment that improves hair texture, softness, and overall health. It contains alpha keratin that binds to the damaged hair, filling the cracks to strengthen, stabilize, and soften the hair.
The hydrolyzed quinoa in the formula enhances color, retains moisture, and restores shine, while the baobab seed oil hydrates the hair. The shampoo also contains antioxidant-rich grapefruit extract to improve hair vibrancy. It helps reverse damage caused by heat styling, color, and chemical treatment. So what are you waiting for? Test it out today!
Key Ingredients: Alpha keratin, Hydrolyzed quinoa, Baobab seed oil, and Grapefruit extract
Pros
Contains organic ingredients
Improves elasticity
Enhances hair texture
Sulfate-free
Paraben-free
Gluten-free
Cruelty-free
No synthetic color
Phthalate-free
Cons
Strong fragrance
Expensive
Price at the time of publication: $74
The BONDI BOOST Rapid Repair Shampoo is packed with the goodness of natural and organic ingredients. The formula contains a natural functional complex and chamomile extract, which seals the hair cuticles and aids in strengthening the hair.
Panthenol helps in boosting the hair's elasticity and manageability, while macadamia nut oil, a rich source of fatty acids, intensely nourishes and conditions your hair. These natural and organic functional ingredients help in enhancing your hair's overall condition by repairing split ends and preventing breakage. The nourishing ingredients in this formulation make it one of the best. Several reviewers recommend using this product if you struggle with split ends and rough texture.
Pros
Repairing and restorative properties
Prevents split ends
Gentle formula
Boosts hydration
Best for damaged and brittle hair
Cruelty-free
Vegan
PETA certified
Silicone-free
Sulphate-free
Paraben-free
Sodium chloride-free
Ethoxylate-free
Paragon-free
Propylene glycol-free
Petrochemical cleansers-free
Phthalates-free
No DEA
Free from artificial colors
Safe for keratin and color-treated hair
Safe for pregnant and lactating mothers
Clinically proven
Cons
Low lather
Makes hair greasy
Price at the time of publication: $23.95
The Damage Remedy Restructuring Shampoo by AVEDA has a gentle formula that restructures and revitalizes damaged hair. It contains organic ingredients like quinoa protein, coconut oil, glycerin, linseed oil, citric acid, and babassu oil that thoroughly cleanse without drying the hair and give it an instant and lasting shine.
The rich blend of oils hydrates your hair, while the quinoa protein fortifies weak hair to prevent breakage. This shampoo repairs your hair from within, keeping it soft, silky, and bouncy. It is gentle enough for everyday use and has a refreshing fragrance – a blend of bergamot, mandarin, ylang-ylang, and other plant essences.
Key Ingredients: Quinoa protein, Coconut oil, Glycerin, Linseed, and Babassu oils
Pros
Contains natural ingredients
Frizz control
Helps in damage reversal
Cruelty-free
Pleasant natural aroma
Cons
None
Price at the time of publication: $29.63
When it comes to finding a shampoo for dry and damaged hair, the most important thing is to find one that is specifically designed for this purpose. You want to look for a shampoo that contains nourishing ingredients like hyaluronic acid or biotin, which can help to deeply hydrate and condition your strands. We have listed a few pointers to keep in mind before you make your purchase.
Things To Look For In A Shampoo For Dry And Damaged Hair To Prevent Hair Breakage
Ingredients: You want to make sure the shampoo you choose contains ingredients that will help to hydrate and nourish your hair and give thermal protection. Look for shampoos that contain natural oils like coconut oil, jojoba oil, olive oil, avocado oil, tea tree oil, or argan oil, as well as other hydrating ingredients like aloe vera or shea butter. These ingredients will help restore moisture in your hair shafts, making them less prone to breakage.
Protection: Dry and damaged hair can often be caused by environmental factors like heat styling or UV exposure. Look for a shampoo that includes ingredients like collagen, hydrolyzed wheat protein, ginseng extract, bamboo extract, and silk amino acids that protect your hair from further damage.
Sulfate-free: Sulfates are harsh detergents that can strip away natural oils from your scalp and hair, leaving them dry and brittle. Choose a sulfate-free shampoo with pro-vitamin B5 to help preserve your hair's natural moisture balance.
Use: There are shampoos that are meant for daily use, as well as those that are meant for more intensive treatment. Choose the one that best suits your needs.
Budget: It is also important to consider your expenses when selecting a shampoo for dry and damaged hair. There are many high-quality options available at all price points. However, if you are on a strict budget, there are still several excellent shampoos that can effectively address your concerns.
Personal Preferences: Keep in mind your personal preferences when choosing a shampoo for dry and damaged hair. Some people prefer products with a light scent, while others prefer unscented formulas. Ultimately, the best shampoo for you is the one that meets your needs and leaves your hair looking and feeling its best.
Reviews: Once you have found a few potential shampoos, it is time to start reading reviews. See what other people with dry and damaged hair have to say about the products you are considering. Pay attention to both positive and negative reviews, and look for common themes. This will help you narrow down your choices and choose the best shampoo for your needs.
Why Trust StyleCraze?
Shiboli Chakraborti is a certified skin care coach who loves trying out different hair care products. She believes the best shampoos for damaged hair are a must-have for anyone looking to strengthen and repair their hair and bring them back to life. She has carefully researched the products and combed through online reviews to pick the best ones for her readers. These shampoos are made with nourishing oils, ceramides, lipids, antioxidants, and proteins to fix your hair and make them shiny and healthy.
Frequently Asked Questions
Can extremely damaged hair be repaired?
Yes, if you take steps to nourish your hair properly and prevent new damage.
How can I repair my damaged hair fast at home?
Follow a proper hair care routine and using the right products and nourishing oils to ensure fast healing.
Does cutting off damaged hair help it grow?
No. Cutting the hair can only get rid of the damaged hair and split ends. Hair growth is related to the roots – you need to nourish the roots to promote hair growth.
How long does it take for damaged hair to grow out?
You may see results in 3-4 months. However, it may take longer to completely repair and regrow damaged hair.
Can a salon fix my damaged hair?
Yes, intensive hair treatments provided in salons can help repair your hair. However, you need to be regular with the treatments.
Is a keratin treatment good for damaged hair?
The result may vary, depending on the hair type and the extent of the damage. However, keratin treatment may make the hair less frizzy, shiny, and manageable.
Recommended Articles