13 Best Shampoos For Dry & Damaged Hair, According To An Expert (2023)
Cleanse and revive dry hair with these gentle and extra-nourishing formulas.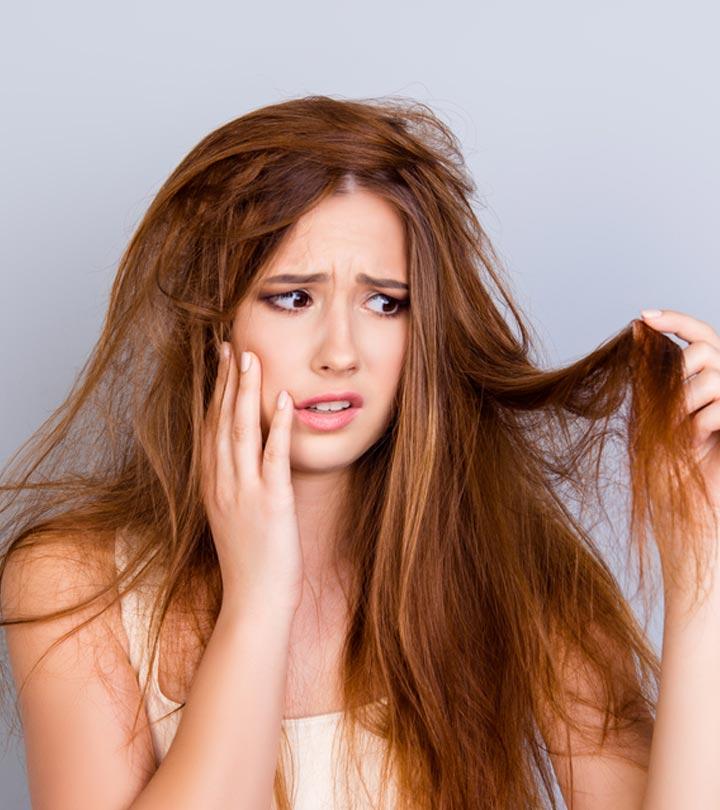 Climatic conditions, excessive washing, and styling can cause your hair to become dry and brittle. To repair this, you will need the best shampoo for dry hair. These shampoos are specially formulated to help repair the damage caused by the abuse of nature and rampant use of chemicals, hair products, and styling. Using specialized dry hair shampoos can also be a long-term solution to improve your hair health. Dry hair can look dull, frizzy, and overall just too bleh and may also affect your confidence and ruin your mood. If you are looking to avoid dry hair, might we suggest laying off hair gels and sprays as they can dry your hair in the long run. To know more about the best shampoo for dry hair, you can check out our list.
13 Best Shampoos For Dry & Damaged Hair You Need To Try (2023)
Do you need a reliable shampoo that will help you manage your frizzy hair regularly? Biolage Hydra source Dry Hair Shampoo is just the one for you. Being out in the sun often can dehydrate your hair, making it frizzy. Whatever the reason is, this shampoo for dry, frizzy hair gently cleanses, your hair, giving you 15x better moisturized tresses right after first use. Get softer and shinier hair with this aloe vera-infused shampoo for dry hair. Pro tip: Pair it with a detangling solution for the best results.
Pros
Paraben-free
Boosts moisture balance
Formulated with aloe vera
Produced using renewable energy
Not tested on animals
Cons
Keep your curls moisturized and hydrated! Carol's Daughter Coco Creme Curl Quenching Shampoo is your everyday solution for cleaning, nourishing, and moisturizing your curls. Whether you have dry hair or coil-like curls, this shampoo will not let you down. It is formulated with nourishing ingredients like coconut oil, coconut milk, mango butter, and murumuru butter, giving you all the best properties of each of these natural ingredients. This hydrating shampoo for dry hair will provide you with a party-ready look every time! Pro tip: If you have curly hair, pair this shampoo with Carol's Daughter conditioner and mask for best results. Check out this video to know more about the reviewer's experience with this nourishing hair treatment.
Pros
No parabens
No sulfates
No artificial colors
Instant intense moisture
For dry, curly, and coiled hair
Formulated with fairly purchased and sustainably sourced coconut oil
A little goes a long way
Cons
The product may be very thick.
If you feel that your hair has become dull and does not have its natural charm anymore, Nexxus Therappe Ultimate Moisture Shampoo For Dry Hair is your go-to! This clinically backed skincare product is crafted with a PROTEINFUSION blend of elastic protein and green caviar that moisturizes every strand of your hair, restoring its nutrients. By securing your hair surface, hydrating it completely, and safeguarding natural protective barriers for further care, this shampoo helps lock in moisture for an easy 24 hours. It restores the flexibility of your dry hair, giving you the freedom to try any hairstyle you want.
Pros
Silicone-free
Long-lasting shine
Replenishes hair fiber
Formulated with caviar and protein complex
Cons
Some people may not like the coconut fragrance
Protein rich products can cause more damage if overused
This triple-action hydration formula is perfect for keeping your hair quenched. L'Oreal Paris Ever Creme Moisture Care System not only keeps your hair hydrated but also provides replenished vital nourishment, leaving you with lush, shiny hair. It works so well that you will make it your regular shampoo to have a good hair day, every day. To add a cherry on top, this is a vegan shampoo, making it the best choice for all the animal lovers. The company claims that this shampoo system with its matching conditioner will lend you healthier-looking hair right after first use.
Pros
Vegan
Dye-free
No parabens
Sulfate-free
No harsh salts and heavy waxes
Contains natural botanicals
No gluten ingredients
Formulated with apricot oil
Cons
Are you looking for a good shampoo for dry, damaged hair? Get smooth hair on the outside and hair nourishment from within, using this DOVE Nutritive Solutions Daily Moisture Shampoo. It is formulated with a pro-moisture complex that will lend you soft, hydrated, and manageable hair, making it easier to create different hairstyles. Plus, it will make your hair 10 times more resilient to breakage due to grooming. It is perfect for people who want shampoos for damaged hair and dry hair because it will give you healthier hair over a period of time. Pro tip: You can get the best results if you pair it with Dove Nutritive Solutions Daily Moisture Conditioner.
Pros
Lightweight
For all hair types
PETA certified cruelty-free
Suitable for men and women
Comes in a 100% recycled bottle
Infused with a pro-moisture complex
Cons
Do you have curls that are sometimes really hard to manage? Worry no more! You can wash your curls gently using this Aunt Jackie's Curls & Coils Oh So Clean! Moisturizing And Softening Shampoo. Whether you have thick, coarse coils or wavy hair, this shampoo will detangle your strands and deeply moisturize your dry hair. Have a relaxing hair bath using this oil-based shampoo for dry hair that is formulated with a blend of nourishing ingredients like coconut oil, extra virgin olive oil, and shea butter. It will help your hair become soft and easier to comb. This moisturizing hair product is suitable for those with sulfate allergies.
Pros
No mineral oil
No petrolatum
Sulfate and paraben-free
Keeps tresses hydrated and clean
Cons
Now there is a perfect shampoo even for people who have sensitive skin! If you feel that your hair is becoming dry lately, try this hypoallergenic shampoo designed for dry and frizzy hair. The revitalizing shampoo formula contains nourishing ingredients like vitamin E and sea algae extract that delivers hydration for hair without blocking or removing moisture. It leaves a 24-hour sweet, ocean breeze fragrance on your hair. Get shiny and revitalized natural hair using this moisturizing shampoo for dry hair.
Pros
Hypoallergenic
pH-balanced formula
Provides 2x more moisture
Climate pledge-friendly
Comes in a recycled bottle
Cons
May not be suitable for oily hair
Your hair's shine and luster can be restored using the right shampoo and its matching conditioner. Garnier Whole Blends Replenishing Shampoo will help nourish your hair from root to ends, without weighing the strands down. This replenishing hair treatment is formulated with a blend of virgin pressed olive oil and leaf extracts of olive, this shampoo will hydrate your hair and deliver a radiant glow. The antioxidant oleuropein present in the leaf extracts strengthens and moisturizes your hair. Simply use this restorative hair product on dry, brittle hair and get a long-term solution.
Pros
Paraben-free
Silicone-free
Partnered with TerraCycle
Suitable for everyday use
Sustainably sourced virgin pressed olive oil
Free from animal testing
Cons
Maintaining frizzy and dry curls can be exhausting. But Redken 5th Avenue NYC All Soft Mega Shampoo will make your hair soft and shiny so that you don't have to spend hours combing your hair and managing it. This is the best shampoo for coarse, dry hair as it provides hydration and moisturization. It is enriched with sacha inchi extracts, aloe vera, RCT protein complex, and cactus gel that deeply nourish your hair even in its driest condition. You will be party-ready instantly with this super hydrating and moisturizing shampoo for dry hair.
Pros
Gentle formula
Nourishes hair
Contains RCT protein complex
Climate pledge-friendly
Cons
Might not be suitable for colored hair
There are many hairstyles you can create with your thick or curly hair but brittle, coarse, or dry hair can be hard to manage. Try this Joico Moisture Recovery Shampoo For Dry Hair that will hydrate and moisturize your tresses. It is formulated with nourishing ingredients like jojoba seed oil and sea kelp that make your hair soft and shiny. Your hair will become more nourished and flexible, allowing you to try different styles without breakage. It is one of the best shampoos for dry hair as it gently cleanses your hair and replenishes moisture in every strand that lasts for 24 hours.
Pros
Minimizes frizz
Long-lasting
Fruity fragrance
For all hair types
3x less breakage
Cons
Might be slightly thin in consistency
This Kerastase Paris Nutritive Bain Magistral Shampoo is formulated with Benzoin (resin) that helps recreate nutrients in your hair. It is one of the best shampoos for dry hair as it not only builds resistance in the hair from within but also lends a shiny glow on the outside. Best of all, your hair will not dry or break, thanks to the Irisome 4600PPM present in this shampoo. The strengthening shampoo also contains xylose that will offer full heat protection when you go out in the sun, whether to the beach or for a morning jog.
Pros
Heat protection
Restores nutrition balance
For all hair types
Eliminates impurities
Cons
What better than a shampoo that hydrates your hair and your dry scalp! The OGX Extra Strength Damage Remedy + Coconut Miracle Oil Shampoo revives and repairs dry, frizzy hair, and tames flyaways, giving you hydrated and smooth tresses. Apart from coconut oil, this repairing hair care product also contains tiare essence and vanilla bean extracts that soften the hair, add bounce, leaving the hair healthy and silky. The creamy coconut, peachy, and shea butter fragrance tops the entire hair game. So go ahead with this one as this healing hair care solution is highly effective.
Pros
 Lightweight
 Sulfate-free
 Refreshing fragrance
 Instant results
 Suitable for dry, frizzy, fine hair
 Color-safe
 Cruelty-free
Cons
As the name suggests, this shampoo is formulated with rose oil, which makes it a natural shampoo that hydrates your hair and delivers a lustrous shine. Plus, it has proven efficacy in promoting scalp health and giving your hair a fuller look. Whether you have recently done a keratin treatment or have colored your hair, you can use this chemical-free shampoo as it is suitable for all hair types. Organically crafted with a pH level of 5.5 to 6.5, your hair will be provided with good nourishment, leaving you with hydrated and healthy hair.
Pros
Color-safe
Natural ingredients
Environmental-friendly
Not tested on animals
For fine and dry hair
Paraben, sulfate, and gluten-free
Cons
Might be too concentrated
With the right shampoo, managing frizzy and dry hair can become quite easy. If you are confused about what to choose, check this guide out.
How To Choose The Right Shampoo For Dry Hair
Before choosing the right shampoo for dry hair, you need to understand the basics of your hair and the type of healing you need. Select the best shampoo for your dry hair by understanding the different types of dry hair.
Naturally frizzy hair: If you have had frizzy and puffy hair since childhood, you can use a long-lasting shampoo that conditions and moisturizes your hair. A shampoo that delivers 24-hour sheen and softness is the one for you.
Climatic frizz: Hot climatic conditions may cause your hair to become dry, creating split ends and causing breakage. Shampoo with natural ingredients that hydrate your hair from root to the tip will be a perfect choice. Some common natural ingredients are coconut, argan oil, shea butter, jojoba, aloe vera, vitamins, green tea, herbal essences, murumuru butter, etc.
Brittle hair: Your hair quality could be compromised because of factors like lack of nutrients, proteins, moisture, or even newly formed unhealthy habits. Choose a nutrient-rich, natural shampoo that boosts hair growth and provides intensive hair repair from within.
Scalp dryness: Whatever affects your hair also directly affects your scalp and shaft. The dryness may cause flaking, dandruff, itchiness, rashes, etc. You can heal your dry scalp by using shampoo with hypoallergenic, anti-dandruff, hydrating properties.
Why Trust Stylecraze
The author, Kirtana Divakar, is a hair care enthusiast with a knack for narrowing down the best haircare products for different purposes that emerge on the market. For this article, she has compiled the list of the best shampoos for dry hair after in-depth research of numerous product formulations and customer reviews from trusted platforms. These products are specially formulated with gentle ingredients to repair hair damage and nourish and hydrate dry hair while cleansing it thoroughly.
Frequently Asked Questions
Can shampoo designed for dry hair cause hair loss?
No. A shampoo for dry hair hydrates your hair, moisturizes every strand, gives your hair a fuller look, and slowly promotes hair growth.
What causes hair dryness?
If you are experiencing hair dryness, it could be because of the following reasons:
•  Excessive use of harsh shampoos
•  Not using a conditioner
•  Using heat styling tools without heat protectant
•  Frequent usage of chlorine water
•  Using hard water
•  Nutritional deficiency
How can I hydrate my hair?
To hydrate your hair, look for potent ingredients in your smoothing hair care products such as olive oil, coconut oil, aloe vera, shea butter, murumuru butter, etc.
What is the best vitamin for damaged hair?
For restoring damaged strands, these are the best vitamins:
•  Biotin
•  Vitamin E
•  Vitamin C
•  Iron
•  Zinc
•  Vitamin D
Why is my hair so dry no matter what I do?
The primary cause of extremely dry and damaged hair is using the wrong shampoo. Washing your hair with the wrong shampoo can deplete your hair of its natural moisture. Sulfates and parabens are harsh agents that can harm your hair. Choose a shampoo with gentle ingredients for dry hair to avoid this.
What are the signs of dry hair?
If you have dry hair, your hair can become:
•  Frizzy
•  Brittle
•  Dull and lifeless
•  Split ends
•  Rough
•  Lackluster
How do salons make your hair so soft?
Various treatments are available at a salon to make your hair soft and shiny. The most common ones are using hair smoothening shampoos and conditioners, blow drying, and serums.
Recommended Articles