11 Best Shampoos For Eczema That Prevent Dandruff & Flakes
Reduce dryness, itchiness, and redness with hydrating shampoos that treat skin sensitivity.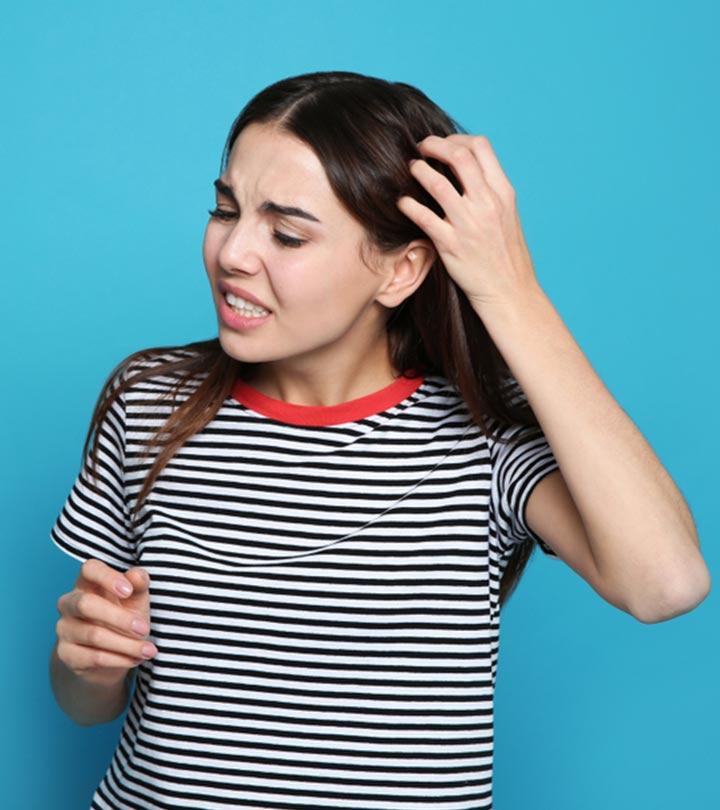 Eczema is characterized by redness, itchiness, dryness, and scaliness of the skin or scalp. To prevent your scalp from getting sensitive over time, it is a good idea to invest in the best shampoo for eczema. As this condition can also happen in the form of psoriasis or seborrheic dermatitis, you should keep a close eye on your skin health. Some of its symptoms are inflamed scalp and crusting. We have reviewed the best shampoos for eczema to help you get rid of this condition. Keep scrolling!
11 Best Shampoos For Eczema To Keep Dandruff At Bay
Bid adieu to tear-streaked, stingy eyes with this tear-free and mild scalp cleanser cum body wash from CeraVe. While dermatologists originally formulated this shampoo for baby hair, it works wonders for adult hair as well, especially if you suffer from eczema or intense dandruff. Key ingredients like ceramides and hyaluronic acid deeply nourish the scalp and empower it to fight dryness to keep flaking and dandruff at bay. It also contains niacinamide that maintains your skin's delicate barrier. To add more goodness to this shampoo for scalp eczema, it is hypoallergenic, dermatologist-recommended, and non-irritating.
Pros
Provides scalp hydration
Tear-free formula
Free of fragrance
Phthalates, sulfates, dye, and parabens-free
Accepted by the National Eczema Association
Cons
May not be effective for severe cases of eczema.
Price at the time of publication: $8.12
Tea tree oil is known to reduce itchiness and flakiness, and this very ingredient makes the Puriya shampoo and conditioner for eczema effective if you have a dandruff-prone scalp. It is infused with arnica, sage, and rosemary that help gently cleanse the the scalp of flakes and nourish brittle, damaged hair. The shampoo effectively removes the natural oils that make your hair look flat without stripping it off its natural moisture. It is suitable for curly, fine, color-treated hair, and you can also use it for your toddler or pet as it suits a delicate scalp as well.
Pros
pH balanced
Contains plant-rich ingredients
Safe for all hair types
Suitable for pets and kids
Free of questionable ingredients
Cons
May not treat thick patches of flake
Price at the time of publication: $24.29
If you've been dealing with seborrheic dermatitis for quite a while, it is recommended to use a medicated shampoo for eczema that contains zinc. The Free & Clear eczema hair shampoo is infused with 2% zinc pyrithione that fights the fungi that cause seborrheic dermatitis. With a maximum OTC strength, you'll witness a quick reduction in the symptoms of dandruff within a few applications of this atopic dermatitis shampoo. It is ideal for sensitive scalps and damaged hair as it is free of dyes, lanolin protein, formaldehyde releasers, and parabens. Go through this video review for a detailed understanding of the product.
Pros
Anti-fungal properties
Treats seborrheic dermatitis
Doesn't contain cocamidopropyl betaine, sulfates, phosphates
Free of proteins, gluten, and parabens
Dermatologist-tested
pH balanced
Cons
May not lather adequately
Contains alcohol
Price at the time of publication: $16.79
If you're looking for ways to treat eczema on the scalp naturally, one of the best ways is to pick a shampoo that boasts natural ingredients. The Sphagnum shampoo for eczema of the scalp enriches your scalp and hair with peat mud, humic acid, fulvic acid, and hymatomelanic acid to promote collagen production, balance skin pH levels, and heal micro wounds, respectively. Eczema strips the scalp of the many natural minerals, and this supplies those minerals and amino acids along with its antioxidant properties to treat the underlying causes of eczema. It deeply nourishes, hydrates, and saves your scalp from eczema flare-ups.
Pros
Laboratory tested and certified
Free of coal tar
Contains natural ingredients
Anti-inflammatory properties
Heals micro wounds
Cons
Price at the time of publication: $19.9
This concentrated shampoo for eczema is the dream product you've been waiting for to get rid of the flaky bad guys minus the stink of chemicals. Eczema disturbs the scalp's pH balance, but this shampoo helps restore a healthy pH balance of 5.5 while retaining vital minerals and oils in the scalp. With a list of oh-so-incredible and rare ingredients from manuka healing honey and cehami, to organic aloe vera, this organic shampoo for eczema helps promote collagen growth. It also helps in healing and moisturizing your scalp while providing anti-inflammatory benefits. When you use this soothing formula for an extended period of time, it helps reduce the appearance of scars and blemishes. Check out this video for a detailed review of the product.
Pros
98% natural
Hypoallergenic
Not tested on animals
Contains no SLS, parabens, sulfates, dyes
Fragrance-free
Suitable for both oily and dry hair
Cons
Price at the time of publication: $99.95
Salicylic acid is among the best scalp eczema remedies, and this magical ingredient makes the Neutrogena T/Sal therapeutic shampoo an effective one. It is composed of maximum strength 3% salicylic acid, which helps break down buildup and provides itchy scalp relief. It combats skin issues like psoriasis, seborrheic dermatitis, and dandruff even after you rinse the shampoo off. Its use extends to the face and the whole body, which is useful if you have both skin and scalp eczema. Since it is formulated to be gentle on the hair and skin, you can use it every day if you have a severe case of eczema or other similar conditions.
Pros
Suitable for everyday use
Doubles as body and face wash
Dermatologist-recommended
Alcohol-free
Color and preservative-free
Free of fragrance
Cons
May not be suitable for dry scalp
Price at the time of publication: $7.49
If your toddler has an eczema-prone scalp, this is one of the best shampoos for scalp eczema that can curb the condition before it aggravates. The Mustela Stelatopia Foam shampoo packs a wealth of hair-loving ingredients like avocado and sunflower oil distillate that hydrate, protect, and repair the skin barrier to reduce flakiness. It helps relieve itchiness for both babies and adults. Most people who have dandruff-related conditions have a sensitive scalp. And if that's the case with you, you can count on this shampoo since it is gentle enough for regular use.
Pros
Composed of 99% plant-based ingredients
Tear-free
Soap-free
Recognized by the National Eczema Association
Pediatrician and dermatologist tested
Hypoallergenic
Suitable for dry scalp and hair
Unscented
Cons
May not be helpful for extreme flake buildup
Price at the time of publication: $15.59
What makes this remedy one of the best shampoos for eczema on the scalp is its unique fusion of natural ingredients that aid in scalp treatment while relieving itchiness and dryness. The key ingredients like manuka honey, coconut oil, apple stem cells, tea tree oil, Australian cehami, and aloe vera render countless benefits while restoring the health of the scalp. It also boosts hair growth and offers anti-bacterial, anti-fungal, and anti-inflammatory benefits that help fight conditions like eczema, psoriasis, and seborrheic dermatitis. If you're looking for a shampoo that keeps dandruff at bay while hydrating and nourishing the scalp, this eczema scalp treatment shampoo is worth investing in.
Pros
Promotes hair growth
Aids in moisture retention
Has a hair restorative effect
Color safe
Paraben and sulfate-free
Fragrance-free
Cons
Contains cocamidopropyl betaine which may irritate the eyes
Price at the time of publication: $20.39
The DHS eczema shampoo contains 2% pyrithione zinc, making it one of the most effective medicated shampoos for eczema. It helps fight dandruff and improves the symptoms of seborrheic dermatitis. It also brings down the redness and itchiness of the scalp. Since it has hydrating properties, it is well suited for dry and damaged hair. Effective yet gentle, this is a good shampoo for eczema on the scalp that is highly recommended by dermatologists.
Pros
Suitable for dry and damaged hair
Soothes the scalp
Controls itching and redness
Dermatologist-recommended
Cons
Some may find the scent too pungent.
Not suitable for colored hair.
Price at the time of publication: $14.43
One of the favorites among people with eczema and similar scalp conditions, the Healthy Hair Plus shampoo is enriched with flake fighting ingredients like keratin, peppermint, jojoba, amino acids, and zinc. While it reduces dandruff, it also treats and heals sores and bumps. Emu oil and jojoba oil have anti-inflammatory effects and pacify itchiness and scaliness. If you have skin eczema, the good news is that it doubles as a body and face wash.
Pros
Relieves itchiness and flakiness
Can also be used as body and face wash
Suitable for both oily and dry hair
Free of parabens
Cons
Contains sulfate
Contains alcohol
Price at the time of publication: $15.99
If you're looking for a shampoo that's closest to natural remedies for dandruff-related scalp problems that pampers your hair, this shampoo from Nature Sustained is an ideal solution. Concocted with makrut lime, soap nut, pineapple, India laurel leaf, and elephant apple, it deeply nourishes the scalp. It also contains natural probiotics that help sustain a healthy bacteria biome in the scalp and equip it to fight bad bacteria. You get a rich lather out of this shampoo, and the best thing is that the soap nut gives it a natural yet rich foam that would no harm to your hair.
Pros
pH balanced
Hypoallergenic
Suitable for all hair types
Sulfate-free
Cruelty-free
Cons
Price at the time of publication: $24.95
Let's move on to a brief yet useful buying guide on how to buy the right eczema shampoo that remedies your condition.
How To Choose The Right Eczema Shampoo?
Conditions like eczema, psoriasis, and seborrheic dermatitis are often an outcome of fungal or bacterial infection. So, when you're looking for a shampoo that helps treat and heal your scalp condition, some of the common ingredients to look for are zinc, tea tree oil, coal tar, and salicylic acid. These ingredients are known to attack bacteria and fungi and can bring back a healthy, flake-free scalp.
Most of the active ingredients that kill eczema causing bacteria and fungi can be harsh to your scalp. This is why it is recommended to opt for a shampoo that makes up for the harshness with a healthy dose of soothing ingredients like coconut oil, jojoba oil, aloe vera, tea tree oil, and hyaluronic acid among others.
Eczema-causing agents primarily attack the skin barrier and throw the pH value of the scalp off balance. This is when shampoos for eczema that also restore the pH balance come to your rescue. You'll find in the description of the product if the shampoo works on the pH of your scalp, thus making it easier to choose the right shampoo.
Scalp infections call for medicated shampoos. This is why it is essential to opt for a shampoo for eczema that has been clinically tested and is dermatologist recommended or approved.
If you have sensitive skin that acts up when exposed to certain ingredients, it is best to ensure that the shampoo is hypoallergenic. While suffering from eczema is an exhausting experience in itself, suffering an allergy will only add to your troubles, which is why it is best to be careful that you're using the best hypoallergenic shampoos that are crafted for a sensitive scalp.
Since harsh chemicals are known to aggravate flake buildup and itching for eczema-prone scalp, you should make it a point to purchase a shampoo that is free of parabens, sulfates, phthalates, alcohol, artificial colors, dyes, etc.
While using a good shampoo that works for eczema can be a gamechanger, you might need to take some extra precautions to ensure that you have complete control over your scalp health. Read ahead to find out what more you can do to treat eczema on your scalp.
How Can I Treat Eczema On My Scalp?
Use hair products such as shampoos and creams that are specifically formulated with soothing ingredients like salicylic acid, tea tree oil, zinc pyrithione, coal tar, etc. that are known to improve the symptoms of eczema, psoriasis, and seborrheic dermatitis.
Keep a check on your diet and other products that you use on your scalp to determine what causes flare ups. You can also observe seasonal changes and if a particular time of year aggravates your condition. Making a few changes in your lifestyle and avoiding these factors may help.
Make it a point to see a dermatologist when the symptoms worsen over time. This could indicate a chronic infection of the scalp, which might need medications. Symptoms to look out for are— yellow or white discharge, pus discharge, blisters, severe itchiness that cause bleeding and a burning sensation.
Why Trust StyleCraze?
The author of this article, Medha Deb, is a skin and hair care expert whose aim is to provide you with the answers to all your skin and hair issues like an eczematous scalp. She recommends using these shampoos to manage eczema and prevent your scalp from becoming dry, itchy, red, and scaly. She chose these products because they have soothing ingredients with pH regulating properties and are dermatologist-tested and approved.
Frequently Asked Questions
Does anti-dandruff shampoo help with eczema?
If the anti-dandruff shampoo contains zinc pyrithione, salicylic acid, or similar ingredients that are generally used in OTC shampoos, the shampoo might help with eczema.
Does tea tree shampoo help with eczema?
Tea tree oil is known to relieve mild to moderate dandruff, a common symptom of eczema. However, not everyone would find a tea tree shampoo to be effective.
Is sulfate-free shampoo good for eczema?
Yes, because sulfate may aggravate itching, redness and can be a bad choice for sensitive skin if you have eczema, psoriasis, seborrheic dermatitis, or any other similar scalp condition.
Can shampoo cause eczema?
While a shampoo can't cause eczema by itself, some of the shampoos that contain certain toxins like sulfates and phthalates can make it worse for you.
Is Head and Shoulders good for eczema?
If you're looking for over-the-counter alternatives to prescription shampoos, Head and Shoulders is an option worth considering.
Recommended Articles