12 Best Shampoos To Tame Frizz And Flyaways (2022 Update)
Pamper your hair with nourishing formulas that keep frizz and split-ends away.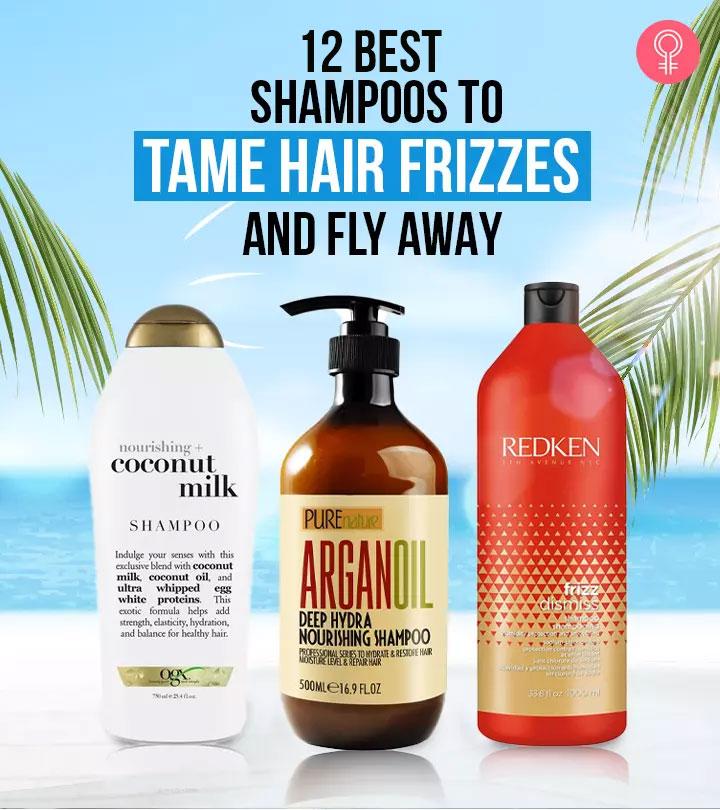 Frizzy hair makes your hair texture feel really uneven. The hair stands up independently or curls without aligning with the surrounding hair. This is where the best shampoo for frizzy hair comes in handy. This shampoo tames flyaways and smoothens your hair. They make hair sleek and healthy. In this post, we bring you a curated list of the 12 best shampoos that prevent the building of static charge in your hair and make your hair manageable.
12 Best Shampoos For Frizzy Hair
The Olapex No. 4 Bond Maintainance Shampoo hydrates dry, frizzy hair. It repairs and protects the hair from everyday stress and tames frizziness by relinking the broken bonds. The Olapex formula strengthens the disulfide bonds of the hair strands, repairs the broken bonds, and stabilizes them to provide immediate results. This pH-balanced (6-6.5) shampoo restores the internal strength and moisture level of the hair to add shine. This video will give you a better insight into the product.
Key Ingredients 
Sunflower Seed Extract: It strengthens the hair, prevents hair breakage, and reduces split ends. It contains vitamin E that protects the hair from environmental and free radical damages and oleic and linoleic acids that form a protective barrier to retain moisture, making the hair manageable.
Rosemary Leaf Extract: It not only stimulates hair growth but prevents premature graying, making the hair healthy.
Hyaluronic Acid: It moistens and nourishes the hair from root to tip, volumizes it, and adds luster.
Pros
Vegan
Nut-free
Paraben-free
Gluten-free
Cruelty-free
Sulfate-free
Phthalate-free
Phosphate-free
Safe for daily use
Cons
The Moroccanoil Moisture Repair Shampoo with luxurious formula hydrates dry, rough hair. Its antioxidant-rich ingredients protect the hair from free radicals. This shampoo renews and repairs damaged cuticles and maintains the moisture balance. It tames frizziness and reduces split ends. It smoothens the hair, adds shine, and makes it more manageable in a single wash.
Key Ingredients
Argan Oil: It is rich in fatty acids, such as linoleic and oleic acids, that lubricate the hair shaft and protect its moisture barrier. It has powerful antioxidants, including vitamin E, that safeguard the hair and scalp against environmental assaults and reduce irritation and itching.
Avocado Oil: It is rich in oleic acid and monounsaturated fatty acids that penetrate deep into the hair shafts and moisturize them deeply. It also strengthens the hair from the roots and prevents breakage.
Silk Amino Acid: It protects the hair from moisture loss and makes it silky soft.
Jojoba Seed Oil: It is packed with vitamins, minerals, antioxidants to supply essential nutrients to the hair while protecting it from environmental and chemical aggressors.
Pros
No harsh chemicals
Adds shine
Paraben-free
Phosphate-free
Sulfate-free
Cons
Expensive
May cause allergic reactions
If you want a shampoo with a creamy rich lather, try the OGX Nourishing + Coconut Milk Shampoo. The exclusive blend of high-quality proteins with nourishing oils enhances the natural strength of the hair, improves elasticity, and restores hydration to the dry, limp hair. This shampoo settles unruly hair and fights frizz to make your hair shiny, luscious, and healthy. Watch this video for a thorough understanding of the product.
Key Ingredients
Coconut Milk: It is rich in lauric acid that penetrates deep into the hair shaft and strengthens the cuticle. The high protein profile of coconut milk strengthens the hair, prevents breakage, and repairs frizz. The natural fatty acids condition your hair and reduce hair loss and damage.
Whipped Egg Protein: It nourishes the hair and promotes hair growth. It is considered a 'superfood' for adding luster to dry limp hair.
Coconut Oil: It nourishes the hair and tames frizz.
Pros
Adds shine
Strengthens the hair
Nourishes the hair
Sulfate-free
Safe for daily use
Cons
Might make the scalp greasy
The Garnier Fructis Sleek and Shine Fortifying Shampoo contain a protein that strengthens your hair. The exclusive combination of citrus protein, vitamins, and minerals from fruit and plant-derived extracts offer long-lasting frizz control. This shampoo is infused with essential fatty acids that moisturize the hair, improve hair elasticity, control frizz, and restore shine. It also contains powerful antioxidants that protect the hair from free radical damage.
Key Ingredients
Apple Fruit Extract: The phenolic compounds and antioxidants in the apple extract nourish and protect the hair. It adds shine to dry hair.
Active Fruit Protein: Vitamin C in citrus fruits helps build collagen and strengthens the hair.
Argan Oil: The fatty acids in this 'liquid gold' provide a protective barrier to seal in hair moisture and make it visibly healthy.
Pros
Vegan
Cruelty-free
Paraben-free
Provides UV protection
Detangles the hair
Long-lasting
Cons
None
The Pure Nature Argan Oil Deep Hydra Nourishing Shampoo hydrates and restores the moisture level of dry, limp hair. The rejuvenating and reviving botanical extracts nourish and strengthen the hair while the natural ingredients make your hair easily manageable and add incredible shine. This shampoo also tames frizziness and smoothens the hair.
Key Ingredients
Moroccan Argan Oil: It is an excellent emollient that activates the natural fatty acids to protect the hair moisture barrier. It also acts as a conditioner to soften the hair, tame frizz, and reduce split ends. The vitamin E and fatty acids protect the hair from oxidative and environmental aggressors.
Hydrolyzed Wheat protein: It thickens the hair, adds nourishment from root to tip, restores hair shine, and revives damaged hair.
Pros
Cruelty-free
Protects the hair from UV rays
Adds shine
Prevents split ends
Thickens and strengthens the hair
Unisex
Cons
The L'Oreal Paris Ever Pure Frizz-Defy Shampoo with an elixir blend of natural oils protects the hair from humidity and provides long-lasting frizz control. This sulfate-free shampoo with a fresh aromatic fragrance hydrates and softens the hair.
Key Ingredients
Marula Oil: It contains 60% more antioxidants than any other emollient oils and protects the hair from environmental aggressors. It is packed with fatty and amino acids that strengthen the hair roots. It also contains vitamins C and E that safeguard the hair from environmental and chemical toxins.
Pros
Sulfate-free
Color-safe
Gentle formula
Suitable for daily use
Protects the hair from humidity
Salt-free
Surfactant-free
Paraben-free
Sulfate-free
Cons
None
If you want extra nourishment while taming your unruly locks and frizz, try the Davines Love Smoothing Shampoo. This professional-grade vegan shampoo hydrates the hair. It contains natural emollients that improve hair elasticity and strengthen the roots for visibly healthy tresses.
Key Ingredients
Minuta Olive Extract: It is abundant in fatty acids and vitamin E that nourish, soften, and moisturize the hair. Vitamin E helps promote hair growth, strengthens the hair, and protects it from environmental damages.
Pros
Protects the hair from toxins
Vegan
Cons
None
The Redken Frizz Dismiss Shampoo fights frizz and enhances hair shine. It smoothens the hair and protects it from humidity. This shampoo is safe for daily use and free of chemicals, sodium chloride, and sulfates.
Key Ingredients
Moringa Seed Oil: The oleic acid in moringa seed oil makes it a potent cleanser. It boosts keratin production to strengthen the hair and prevent breakage. This oil protects the hair from heat and chemical treatments. The behenic acid adds shine and softens the hair.
Pros
Sodium chloride-free
Sulfate-free
Color-safe
Gentle formula
Safe for daily use
Cons
None
The Livingproof No Frizz Shampoo produces rich creamy lather to fight frizz and keep your hair strong and healthy. It is powered by a healthy hair molecule that creates an invisible shield around the hair to block humidity without weighing it down. This shampoo smoothens the hair and helps repel dirt, oil and dandruff.
Key Ingredients
Polyfluroester: It tames frizz and helps prevent static charge accumulation due to friction of dry hair. This polymer has a low refractive index that imparts high gloss and shine to the hair.
Pros
Blocks humidity
Strengthens the hair
Paraben-free
Phthalate-free
Color-safe
Sulfate-free
Silicone-free
Safe for chemical-treated hair
Cruelty-free (PETA certified)
Vegan
Lightweight
Volumizes the hair
Cons 
None
The Matrix Biolage Smoothproof Shampoo smoothens and softens the tresses making it visibly healthy. It calms and nourishes unruly hair without being greasy or weighing it down. The elixir blend of natural oils and natural botanical extracts make the hair more manageable. This shampoo polishes the hair and encapsulates it in a protective shield. It smoothens the hair even in 97% humid weather and adds shine up to 72 hours.
Key Ingredients
Camelia Seed Oil: It is rich in palmitic and omega 6 linoleic fatty acid that keep the hair moist and supple. It strengthens the hair from the roots and adds shine.
Hydrogenated Castor Oil: It penetrates into the hair follicles to promote hair growth. It also moisturizes the scalp, reduces dandruff, and smoothens the hair.
Salicylic Acid: It is a potent beta-hydroxy acid (BHA) that dissolves dead cells from the scalp and keeps it dandruff-free.
Pros
Lightweight
Adds shine
Pleasant smell
Humidity-resistant
Paraben-free
Detangles the hair
Color-safe
Cons
None
The John Frieda Frizz Ease Beyond Smooth Frizz-Immunity Shampoo provides long-lasting frizz resistance. The immunity complex penetrates deep into the hair, strengthens the roots, and helps combat the porosity of frizzy hair. This shampoo builds an internal barrier and enhances frizz immunity with every use. The botanical extracts help improve hair texture and make the hair manageable.
Key Ingredients
Coconut Oil: This ultra-soothing ingredient with fatty acids act as a protective barrier to prevent moisture loss from the hair. It strengthens the root, reduces hair fall, and helps tame unruly, frizzy hair.
Pros
Gentle formula
Color-safe
Gluten-free
Cons
If you want to manage dandruff and pesky frizziness, try the Head & Shoulders Smooth & Silky Anti-Dandruff Shampoo. The natural botanical extracts moisturize the hair and keep the scalp 100% flake-free with 24-hour frizz control. This shampoo with rich lather nourishes the hair and relieves dry, itchy scalp.
Key Ingredients
1% Pyrithione Zinc: This OTC ingredient helps remove dandruff and treat dry scalp. It relieves itching, redness, soreness, and inflammation. Its antibacterial and antimicrobial properties reduce scalp infection and protect the hair from oxidative damage.
Pros
Paraben-free
Sulfate-free
Dye-free
Long-lasting
Safe for regular use
Color-safe
Cons
None
These are the 12 best shampoos to control frizziness and tame unruly hair. Let's now understand why you should choose a frizz-control shampoo.
Benefits Of A Frizz Control Shampoo 
Hydrates, softens, and smoothens the hair
Helps improve hair health
Reduces hair fall and promotes hair growth
Blocks humidity
A proper hair care routine is important to tame frizzy hair. These shampoos not only fight frizz but also moisturize and strengthen the hair. So, what are you waiting for? Pick your favorite shampoo from our list and flaunt silky smooth hair.
Frequently Asked Questions
Does shampoo make the hair frizzy?
Shampooing the hair with harsh chemicals may make it frizzy. Shampoo with natural emollients and hydrating ingredients tames flyaways and prevents frizz.
How to get rid of frizzy hair after shampoo?
Using a conditioner after shampoo reduces frizziness.
Can we shampoo every day?
Shampooing every day may wick off its moisture. It is advisable to shampoo your hair 2-3 times a week.
Recommended Articles