9 Best Shampoos For Hair Growth To Add To Your Routine In 2023
Enhance your hair quality and promote growth with these formulas loved by all users.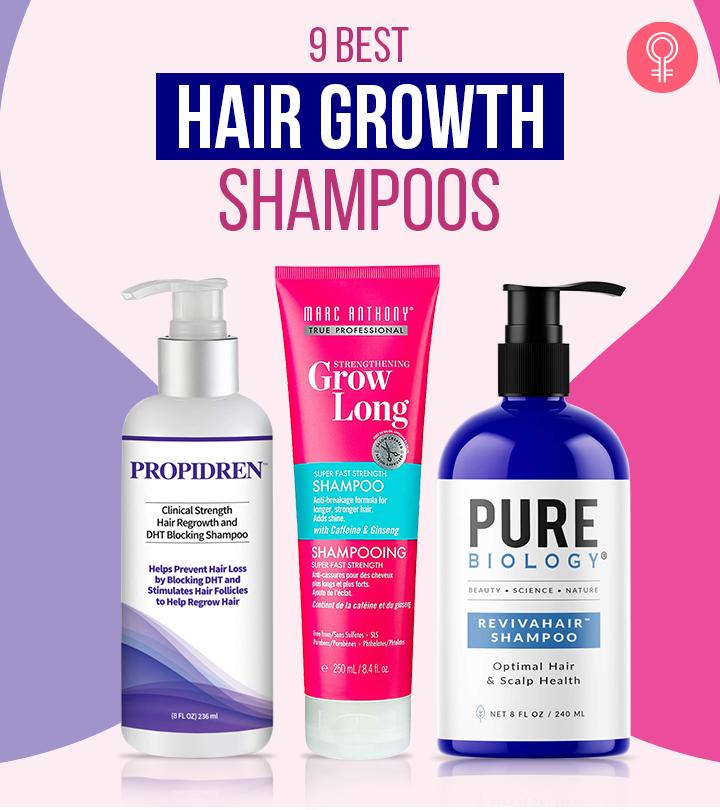 People search for the best shampoo for hair growth because they lose hair quite quickly or have their hair thinning quite fast. This is a common occurrence due to environmental factors like dust and pollution. Shampoos play a vital role in cleaning and fortifying your hair and improving the overall health of your hair. Here is our list of the 9 best shampoos for hair growth.
9 Best Hair Growth Shampoos For Every Hair Type
The Watermans Grow Me Shampoo could be your answer to fuller-looking hair. Its formula is enriched with four top natural DHT blockers (as DHT is a common cause for hair loss) that combat hair loss and deep clean your scalp. These ingredients are hydrolyzed lupin protein, niacin, caffeine, and rosemary extract.
This antioxidant-rich shampoo also contains vitamins H, B7, B6, C, and E, along with argan oil and allantoin. These enable hair growth and strengthening and protect the scalp and hair against damage. Additionally, these ingredients collectively impart scalp-healing benefits and reduce flakiness, dandruff, and itchiness. You can also use this formula as an instant fix for your hair extensions and weaves.
The formula is free from sulfates and parabens. Leave the formula on your scalp for two minutes to allow it to activate. Shampoo as usual and rinse. Here is an informative video that tells you more about the product.
Key Ingredients: Lupin protein, biotin, vitamins (B3, B6, B7, E, and H), allantoin, caffeine, rosemary extract
Pros
Sulfate-free
Paraben-free
Phosphate-free
Contains no palm oil
Cruelty-free
Vegan
Suitable for all hair types
Pleasant fragrance
Adds shine to hair
Defines curls
Cons
None
Price at the time of publication: $18.99
The Pure Biology Revivahair Shampoo is specifically designed to treat acute hair loss, enable natural hair growth, and volumize and thicken hair in both men and women. It is an ideal choice as an everyday hair cleanser. It is enriched with biotin, keratin, natural extracts, amino acids, argan oil, and vitamins B and E that act as a great hair growth complex. These ingredients have been clinically proven to reduce hair breakage and hair loss.
The shampoo's Amino Kera NPNF Keratin Complex provides deep conditioning and moisturizing benefits. It also strengthens damaged hair. The shampoo's 3HC Hair Stimulation Complex promotes cell stimulation and strengthens the hair follicles.
It also contains green tea and saw palmetto that acts as effective DHT blockers and enhances natural hair growth. Rosemary oil helps treat hair thinning and alopecia. This product is an ideal treatment for hair loss, damaged hair, and split ends.
This shampoo suits all hair types. It is cruelty-free, paraben-free, and made of non-GMO ingredients.
Key Ingredients: Natural extracts, amino acids, biotin, keratin oil, argan oil, vitamins B and E, green tea, saw palmetto, rosemary oil, amino kera NPNF keratin complex, 3HC hair stimulation complex
Pros
Non-GMO
Cruelty-free
Paraben-free
Pleasant fragrance
Softens hair
Revitalizes scalp
Cons
May cause scalp itching
Not safe for gluten-sensitivity
Price at the time of publication: $30.99
The Keranique Scalp Stimulating Shampoo is designed to provide relief from thinning hair. It is a nutrient-rich, deep cleansing formula with a rapid hair growth system that stimulates the scalp and revitalizes hair follicles. Its keratin complex and panthenol (pro-vitamin B5) make hair feel ultra-light and buoyant. Additionally, the shampoo removes any build-up of dirt and impurities by deep cleansing the hair follicles.
The shampoo boosts hair elasticity and protects hair from environmental damage. It is free from sulfates and parabens. It also is cruelty-free. The product protects both the cuticle and the keratin fiber. For more information about the product, click this video.
Key Ingredients: Keratin, panthenol (pro-vitamin B5)
Pros
Soothes the scalp
Removes build-up
Reverses cuticle damage
Detangles hair
Smoothens hair
Makes hair ultra-light
Boosts hair elasticity
Retains shine
Hydrating
Sulfate-free
Paraben-free
Cruelty-free
Cons
None

Price at the time of publication: $15.97
The Propidren Clinical Strength Hair Regrowth and DHT Blocking Shampoos employ a powerful combination of ingredients for healthy hair regrowth and hair loss. It contains aloe vera and seaweed extracts that provide moisturizing and healing benefits to your scalp.
This hair growth shampoo uses saw palmetto as a DHT blocker. Its other essential vitamins and minerals nourish hair. The keratin-producing biotin in the shampoo improves hair elasticity and adds a  protective layer around the hair strands. Biotin also renews scalp cells to make hair more vibrant. The product is suitable for all hair types and can be used by both men and women.
Key Ingredients: Saw palmetto, biotin, aloe vera, and seaweed extracts
Pros
Pleasant fragrance
Softens hair
Cruelty-free
Imparts shine
Vegan
Suits all hair types
Moisturizes scalp
Cons
Price at the time of publication: $39.99
The Hairfinity Advanced Haircare Gentle Cleanse Shampoo is specifically created to repair and strengthen damaged, over-processed, and brittle hair. Its Capilsana Complex (an exclusive blend of MSM, biotin, bioactive hydrolyzed collagen, and horsetail) is proven to reduce hair breakage by 82%.
This hydration cleanser helps clear impurities and build-up from your scalp and hair without stripping off the natural moisture. It also contains UV-protectors and strong antioxidants that enhance hair thickness and prevent hair loss.
The product is free of sulfates, parabens, silicones, phthalates, petroleum, and mineral oil. Check this video to learn more about the product.
 Key Ingredients: Hydrolyzed collagen, MSM, horsetail, aloe vera, marigold extract, chamomile flower extract, biotin, vitamin C, vitamin E, essential oils (lavender, cedar, cinnamon, rosemary, thyme, peppermint)
Pros
Softens hair
Adds shine
Pleasant fragrance
Controls frizz
Tames curls
Reduces dandruff
Moisturizes hair
Sulfate-free
Paraben-free
Phthalate-free
Mineral oil-free
Petroleum-free
Silicone-free
Cons
None

Price at the time of publication: $19
The Redken Extreme Length Shampoo With Biotin is a hair strengthening cleanser designed for damaged hair. This product (and others in the Extreme Length system) is proven to help you achieve 6 inches of hair growth per year and reduce hair breakage by 81%. It works by revitalizing hair from the root to the tips. It is infused with biotin that helps you attain your maximum hair length goals while effectively cleansing and strengthening your hair. 
Key Ingredients: Biotin and castor oil 
Pros
Pleasant fragrance
Makes hair manageable
Reverses hair damage
Reduces hair breakage
Cons
Price at the time of publication: $6.6
The Shapiro MD DHT Blocking Shampoo comes with a patented anti-hair loss formula. It contains ingredients that are clinically proven to dial down the effects of hormones responsible for hair loss. This dermatologist-created formula contains 3 naturally-derived active ingredients of saw palmetto berry extract, epigallocatechin-gallate, and caffeine that are potent DHT blockers. The saw palmetto berry extract has anti-androgenic properties. Epigallocatechin-gallate protects the hair follicles from radiation. Caffeine may stimulate hair growth.
It prevents hair thinning and promotes hair regrowth. This hair growth shampoo is designed to provide fuller and thicker hair and is suitable for both men and women. It is free of parabens and sulfates. It also is cruelty-free.
Pros
Adds shine
Cruelty-free
Paraben-free
Sulfate-free
Naturally-derived ingredients
Cons
Price at the time of publication: $39.95
The Garnier Fructis Grow Strong Fortifying Shampoo is designed to make every inch of your hair 10 times stronger. It contains active fruit proteins made from a brand-exclusive blend of citrus proteins, vitamin B3, vitamin B6, and plant and fruit extracts. Its apple extract is rich in polyphenols, antioxidants, and essential vitamins and minerals that deliver extensive benefits to your hair. Additionally, the ceramides in the shampoo lend protection against heat and chemical damage. The shampoo fortifies the hair follicles and results in silky tresses. It also is paraben-free.
Key Ingredients: Active fruit protein, apple, ceramides
Pros
Pleasant fragrance
Detangles hair
Softens hair
Restores hair texture
Paraben-free
Cons
Can be drying
Contains sulfates
Price at the time of publication: $15
If you are struggling with dehydrated, brittle, and thinning hair, the Marc Anthony True Professional Strengthening Grow Long Shampoo could be the best bet. Its ultra-nourishing and gentle formula containing caffeine, ginseng, and vitamin E revitalizes every single hair strand. It encourages healthier, longer, and stronger hair. It also makes hair supple and prevents split ends and breakage. This shampoo is free of sulfates.
Key Ingredients: Caffeine, ginseng extract, vitamin E
Pros
Sulfate-free
Nourishes scalp
Anti-breakage formula
Adds shine
Pleasant fragrance
Reduces frizz
Hydrating
Cons
None
Price at the time of publication: $8.99
Conclusion
Choosing the best shampoo for hair growth can be tricky. But once you pick the right shampoo, the results may surprise you. We believe this post has helped you with the same. Choose the right product for you and see your hair get back its glory.
Why Trust Stylecraze
The author of this article, Shiboli Chakraborti, is a passionate hair care enthusiast who constantly endeavors to provide the best products for her readers. She understands how a stressful lifestyle is contributing to hair loss. She has gone through numerous customer testimonials online and assembled this list of the choicest shampoos for hair growth out there. These shampoos are vegan, free of harsh chemicals, soften your hair, and suitable for all hair types, making them a must-have in one's collection.
Frequently Asked Questions
Do hair growth shampoos really work?
Hair growth shampoos most often promote the natural texture and length of your locks. They have known to show results in most people.
What causes hair to stop growing?
Various reasons ranging from genes, age, hormonal imbalances to stress can stop hair growth. While some forms of hair loss can be treated with a hair growth shampoo, others may need medications and advanced treatment options.
At what age does hair stop growing?
There is no definitive age when hair stops growing. This aspect largely depends on genetics. However, hair growth usually stops after reaching a particular length. Once the hair growth cycle ends, hair usually breaks off, sheds, or is trimmed.
Does coconut oil help hair grow?
Coconut oil might help provide moisture, strength, and shine to your hair. There is no concrete evidence to show that coconut oil helps with hair growth.
Can hair grow back after thinning?
This also would depend on the cause for hair thinning. If genes are responsible for the same, the hair may not grow back by itself. Consult a professional for more information in this regard.
Can I use hair growth shampoos daily?
Yes, you can use hair growth shampoo every day but make sure to wash it away thoroughly to avoid product buildup on your tresses.
Recommended Articles