7 Best Shampoos For Thinning Hair Due To Menopause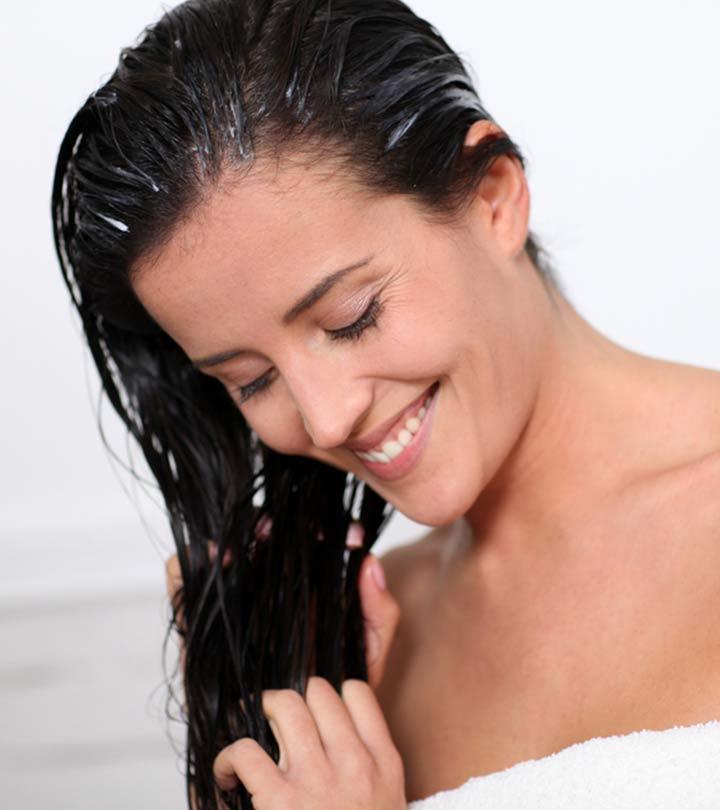 Menopause can be a challenging time for most women, and subsequently, for those around them as well. During this period, a woman  may find it extremely hard to cope with the changes happening inside of her, so family and friends in her life must be patient and help her get through this confusing time. Although menopause is a biological process, there are plenty of physical symptoms as well.
Hot flashes are one of the most common symptoms of menopause, along with severe mood swings, disturbed sleep, and a constant lack of energy. Other symptoms include vaginal dryness and weight gain. However, one of the most surprising changes associated with menopause is thinning hair. It occurs almost suddenly, and women are left clueless as to how to prevent more hair loss. For many women, hair fall and thinning hair due to menopause is a major cause of concern. It can also directly affect a person's confidence levels. But with the right care and the best shampoos and conditioners formulated for thinning hair, one can fight hair loss like a pro.
Here are the 7 best shampoos and conditioners for thinning hair due to menopause.
7 Best Shampoo And Conditioner Combos To Try For Thinning Hair During Menopause
Yes, thinning hair can come as a rude shock for many women. But, fret not! You can keep your hair thick and strong with this miracle duo by Pura D'or. Tested and proven to reduce hair thinning, these products boost hair strength, increase volume, reduce breakage and hair damage. The shampoo is enriched with ingredients like red Korean seaweed, black cumin seed oil, nettle leaf extract, among others, which keep your scalp hydrated and prevent it from drying. The conditioner, on the other hand, comes with an enhanced aloe vera formula, which keeps the hair tangle-free and strengthens brittle strands. Furthermore, apple extracts in the conditioner nourish the hair while its bioactive blend makes the hair silky and luxurious. 
Pros
Made with natural preservatives
A blend of 17 proprietary ingredients in the shampoo
Contains argan and amla oil
Helps stimulate hair follicles
No harmful chemicals
Extremely hydrating
Gluten, parabens, and cruelty-free
Cons
The conditioner takes a lot of time to wash off
Slightly expensive
Similar Products
Running your fingers through your hair and realizing just how thin it's becoming? It's a sad feeling, don't we know it. But, it doesn't have to be a bitter feeling because you can do something about it with this fantastic shampoo and conditioner combo by Watermans. Enriched with biotin, caffeine, and argan oil, this shampoo is formulated especially for strengthening and replenishing weakened hair. It works from ground zero by making hair follicles strong and improving scalp circulation, which directly leads to an increased hair density. The conditioner softens, moisturizes, and revitalizes hair. Along with this, it protects the hair, making it strong from the root to the tip. These products work wonderfully for all hair types and textures. It is not only recommended for women with thinning hair due to menopause but also for men suffering from premature hair loss. 
Pros
Composed of trademarked "Grow More" formula
Natural DHT blockers
Increases hair density
Improves scalp condition
Sulfate-free
Contains anti-hair loss activity formula
Reduces hair fall
Cons
Doesn't detangle hair properly
Similar Products
Now, here's a product worth reading about. Designed primarily for grey, blonde, bleached, or highlighted hair, this silver brightening shampoo and conditioner set will keep your hair shining, luxurious, and thick. If hair thinning due to menopause is what you're worried about, put all your worries aside as this shampoo is formulated with green tea extracts and folic acid, which strengthens and conditions the hair. At the same time, CoQ10 fights against heat damage and harmful environmental pollutants. The enriching macadamia nut oil moisturizes the hair and scalp without leaving it greasy. So, let your natural whites grow out, and keep your silvers sexy.
Pros
Reduces thinning of hair
Controls hair fall
Formulated especially for grey, blonde, white, and colored hair
Affordable
Cons
Doesn't work too well on black, brown, and brunette hair
Similar Products
If you have heard the saying, "good things take time", it might have well been created for this fantastic shampoo and conditioner combo. This shampoo and conditioner will prevent hair loss, improve hair elasticity drastically, strengthen hair from the follicles, and add volume to your hair. The shampoo comes with biotin treatment, hydrolyzed keratin, and several other nutrient-rich botanicals for healthy, luscious hair. The biotin DHT blocker conditioner prevents hair from thinning as it blocks DHT, a major cause of thinning hair in women due to menopause. Full of essential vitamins required for thick and healthy hair, this set of shampoo and conditioner fights hair fall like a pro. However,  if you are expecting immediate results, this shampoo and conditioner kit is not for you. Always remember that good things come to those who wait.
Pros 
Ideal for all hair types
Suitable for men and women
Luxury herbal ingredients
Anti-hair loss
Blocks DHT (which causes hair fall)
Fortifies individual hair strands
Softens bleached and colored hair
Cons
Takes a long time for results to show
Conditioner takes some time to wash off
Slightly expensive
Similar Products
Are you on the hunt for the best shampoo for thinning hair? If yes, get your hands on this beauty by Thick Tails. It blocks DHT for hair growth right after the first use. But what is DHT? DHT is activated in the body due to hormonal imbalances caused by menopause, and DHT is one of the biggest reasons for hair thinning in women. This shampoo and conditioner with DHT blockers keep your hair healthy, right from the root to the tip. Watch each strand of your hair flourish under the love of enriching ingredients like saw palmetto, caffeine, vitamin B5, and biotin as they keep your hair healthy, strong, and shiny.  These products will also extend the life of your color-treated hair.
Pros
Contains hyper-anagen complex, which stimulates hair growth
Anti-hair loss treatment formula
Fills out empty patches on the head
Keeps color-treated hair healthy
The conditioner has a non-drying formula
Paraben, sulfate, and cruelty-free
Cons
Takes at least 90 days for visible results
Similar Products
Gift yourself the joy and beauty of thick and strong hair with this incredible shampoo and conditioner gift set by Botanical Hair Growth Lab. It is not only designed for women with thinning hair due to menopause, but it also fights androgenetic alopecia and tackles the problem of postpartum hair loss as well. If you are a firm supporter of all things natural, this product boasts of a never-ending list of essential natural ingredients like aloe vera leaf juice, apple stem cell extract, chamomile flower extract, green tea extract, argan oil, and rosemary oil to name a few. This anti-hair loss scalp stimulating organic formula will not disappoint you.
Pros
Natural anti-hair loss formula for both men and women
Contains more than 15 natural ingredients
Enriched with vitamins
Pure and natural ingredients
No SLS
No parabens
Cons
Expensive
Some may find the smell overpowering
Biotin Hair Shampoo for Thinning Hair is a great cleansing formula suitable for all hair types. It is infused with botanical extracts to nourish your hair from root to tip. The keratin zinc pyrithione shampoo cleanses your scalp neatly and improves the appearance of the hair. This shampoo works well for color-treated hair as well.
Pros
Works well for dry scalp
Contains natural oils
Unisex product
Clarifying formula
Sulfate-free
Paraben-free
Cons
Yes, menopause can be difficult, and it can be hard to deal with all the changes that come with it, especially thinning hair. But with the help of this list of best shampoos for thinning hair, hair fall should be the least of your concerns. So, don't let menopause put a pause in your life, go out, enjoy your life, and have fun. Let us know if you liked any of these products. Write to us about how you dealt with thinning hair during your menopause. We are eager to know. Till then, take care of yourself and your beautiful hair.
Recommended Articles: