7 Best Shampoos For Natural Red Hair, According To Reviews – 2023
Sweat it out and practice for hours with sturdy and durable sports equipment.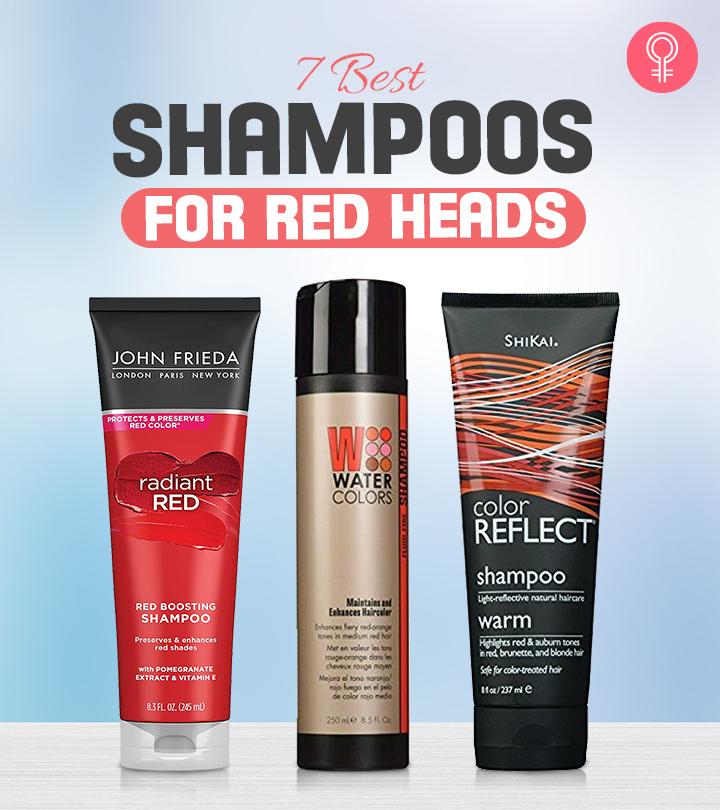 Only 2% of the world's population have natural red hair. This hair color has more of the pigment pheomelanin than the dark pigment eumelanin. The best shampoos for natural red hair maintain the vibrancy and intensity of this hair color. Red hair color is most prone to fading and looking dull or lifeless, all thanks to water quality, sun damage, styling treatments, and products.
Even those that are redheads by choice, to maintain the color of your mane, you must invest in quality products that are safe for color-treated hair, especially red hair. To help you maintain the fiery vibrancy of your red hair, we have put together a list of the best shampoos for natural red hair. So, go ahead and take a quick look!
7 Best Shampoos For Red Heads Available On Amazon
Whether you are a natural redhead or have your hair dyed in fiery shades of red or copper tones, the Davines Alchemic Shampoo Copper is the one for you. Its vitamin B enhanced formula moisturizes your hair and scalp and protects your hair color. It also enhances shine and keeps your mane looking vibrant and fresh.
Pros
Moisturizing
Adds shine
Paraben-free
Sulfate-free
Silicone-free
Cons
None
Price at the time of publication: $32
Rock that red color on your hair for longer than usual with the John Frieda Radiant Red Red Boosting Shampoo. Its anti-fade technology works beautifully for natural redheads too! The formula is enriched with pomegranate extract and vitamin E to boost softness and smooth the hair with every wash. Use this regularly or once a week to gently clarify your scalp while preserving your hair color. Before buying, have a look at this video for more details.
Pros
Softens the hair
Adds shine
Anti-fade technology
Budget-friendly
Cons
None
Price at the time of publication: $9.99
This 3-in-1 formula by Tressa Water Colors cleanses, conditions, and refreshes your hair color in one step. Use this sulfate-free formula to maintain the natural vibrancy of your red hair and prevent the color from fading away. This Fluid Fire is best suited for people with medium to darker auburn red hair. The rich foaming formula nourishes your strands and adds shine to them.
This shampoo generally washes away easily without setting roots and if you want a subtle retouching of the redness in your hair, mix it with your regular shampoo.
Pros
Sulfate-free
Nourishes
Adds shine
Paraben-free
Gluten-free
Cons
None
Price at the time of publication: $18.65
Maintaining that salon-fresh hair color is no longer a big deal! The CHI Color Illuminate Shampoo enables color preservation and color balance in just a step. It directly deposits rich red auburn tones in a single wash. The moisturizing formula is enriched with Silk Amino Complex, which contains ceramic, silk, and amino acids. It reaches deep into your hair cuticles to moisturize your strands to leave them well-nourished.
Pros
Deep moisturization
Sulfate-free
Gluten-free
Paraben-free
Cons
None
Price at the time of publication: $26.19
This extra-mild shampoo by Shikai has a plant-based formula that gently cleans your hair with each wash. The water-soluble red henna extracts add a highly reflective tinted coating to your strands to make them shine. This pH-balanced shampoo intensifies the red color of your hair, while the natural sunflower extract (Heliogenol™) and a UV filter make the color last longer than usual. This non-greasy formula relieves dry scalp and is also suitable for sensitive skin.
Pros
Adds brilliant shine
pH balanced
Non-greasy
Extra-mild
Low-detergent
Budget-friendly
Cruelty-free
Cons
None
Price at the time of publication: $9.99
Refresh and brighten all shades of red with this daily use shampoo. The formula is enriched with Vitamin E, sunflower seed extract, silicone, and wheat protein. It also contains Equalizer 4 Color Protection Complex that protects your hair color from fading. This mild formula is recommended for daily use for all redheads.
Pros
Color-replenishing
Mild formula
Moisturizing
Value for money
Cons
Price at the time of publication: $22.95
The Kerastase Bain Chromatique Reflection shampoo has UV filters and vitamin E to protect your strands from oxidative aggressions that cause color fading. The Système Capture Advanced in the formula captures pigments in the fiber to protect your hair color for 40 days. The zinc gluconate in the formula locks the color deep within the hair fiber, while the linseed oil polishes and smoothes the hair fiber leaving it smooth and shiny for maximum light reflection.
Pros
Prolongs the color
Nourishing
Makes hair supple
Adds shine
Cons
None
Price at the time of publication: $69.38
Whether your hair is naturally red or is chemically treated with lush red color, there are a few factors you would want to consider while choosing a shampoo to keep the brightness and your hair healthy. Red hair is one of the easiest shades to fade. So, along with minimizing your time under the sun and using the right strategies, it is also vital that you choose a shampoo that cleanses your scalp well yet keeps your hair color vibrant. Here are some essential factors when choosing a shampoo for natural red hair.
How To Choose The Best Shampoo For Natural Red Hair
Everyday styling and environmental aggressors can leave your hair dull and brittle. Therefore, choose a shampoo infused with hydrating ingredients like coconut oil, aloe vera, or argan oil. They refresh and replenish moisture in your hair and protect your red hair.
Stay Away From Harsh Chemicals
Regular shampoos contain harmful chemicals like silicones, drying alcohols, parabens, and sulfates, which hinder the vibrancy of your hair. When choosing a shampoo, ensure it does not have any ingredients to preserve your natural red hair color.
Look for a shampoo with antioxidant-rich vitamins like vitamins A, B, and C, which strengthen and prevent your hair from damage. Strong hair ensures your strands are protected against irritation, damage, breakage, or fading.
The harmful UV rays of the sun can take a toll on your hair's health and leave your red color looking dull. Instead, choose a shampoo infused with black Spruce bark or sweet almond oil, which can naturally nourish your help while protecting it from the sun's harmful UV rays. You can also go for shampoos that are infused with built-in UV protection formulas as well.
Damage Repairing Ingredients
Look for shampoos that are infused with damage-repairing ingredients. For example, certain ingredients like coconut milk, aloe vera, and plant-based oils restore shine and volume to your hair. These ingredients also reduce the chances of hair breakage or split ends.
Our hair is a big part of our physical identity, no matter what length or color we choose to wear it at. If you belong to the rare group of people that have natural red hair or are a redhead by choice, we suggest you invest in shampoos specially formulated for to maintain the color of your strands. Look for products that are devoid of chemical formulations and are sulfate-free. The products listed here are all moisturizing shampoos that not only maintain the red of your hair but also add shine and life to your tresses.
Why Trust StyleCraze?
The author of this article, Shiboli Chakraborti, is a certified skin care coach who is also passionate about hair care. After thorough research and going through multiple reviews and user feedback on online forums, she has listed these best shampoos for natural red hair. These are all chosen based on factors like the absence of harmful chemicals, nourishing properties, and their ability to maintain the natural vibrancy of the red hair color.
Frequently Asked Questions
Do you need special shampoo for red hair?
Yes, it is advised that you use a special shampoo that protects your colored or natural red hair.
How often should redheads wash their hair?
It is best to wash your hair once a week to protect the color, but if you are using the correct shampoo, you can go up to three washes per week.
Does red hair change with age?
Yes, natural red hair fades with age and changes color.
What happens if you put purple shampoo on red hair?
If you use purple shampoo on your red hair, it will help you eliminate the yellow and orange streaks in your hair and tone your natural red color.
What does red hair look like when it ages?
When red hair ages, it will turn golden-blonde due to a few streaks of gray hair and then finally turn completely silvery gray.
Recommended Articles