15 Best Shampoos To Treat Your Oily Scalp And Greasy Hair – 2023
Regulate scalp oil with balancing shampoos that gently cleanse your hair and remove build-up.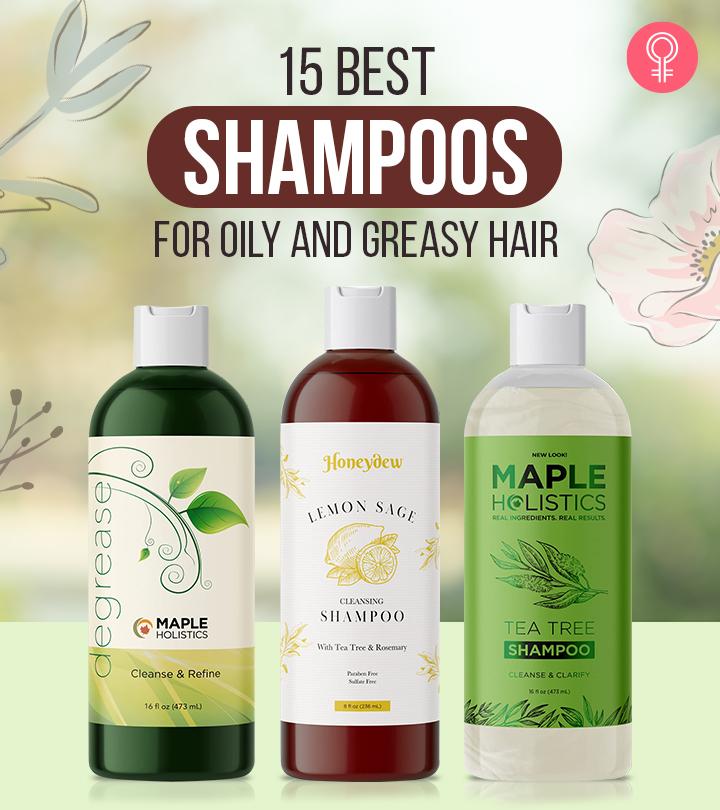 If your hair gets greasy a few hours after shampooing, you might need to wash your hair more often than otherwise. However, excessive washing will only make your scalp produce more oils and make your hair sit flat again. What you really need is the best shampoo for oily hair to maintain a balance between oil regulation and cleansing of the scalp. As uncomfortable as a greasy scalp, it mainly results from hormonal changes and dust build-up. Using a mild cleanser infused with sulfate helps gently remove the excess oil. Here are 15 shampoos crafted especially for oily hair that will help you keep your scalp clean and breezy for long.
15 Best Shampoos For Oily And Greasy Hair
The BIOLAGE Cooling Mint Scalp Sync Shampoo removes excess oil from your scalp while offering a cooling and soothing sensation. It contains mint leaf extracts with relaxing and antibacterial properties and helps soothe the scalp by keeping inflammation at bay. This non-greasy, anti-inflammatory shampoo deeply cleanses the scalp and hair by removing excess oil, dirt, and impurities so that your hair does not become greasy too quickly It also balances the natural pH of the scalp to leave it healthy and clean.
Key Ingredients: Mint leaf
Pros
Imparts a cooling sensation
Controls oil production
Suitable for daily use
Suits all hair types
Cons
May cause scalp irritation
The Lemon Sage Oily Hair Shampoo is a balancing and clarifying product that helps in reducing excessive sebum production. Its natural formula removes oil and dirt from the hair follicles to leave them clean and nourished. This, in return, offers you healthy and bouncy hair that is oil-free.
This fortifying shampoo contains nourishing and mild ingredients like the essential oils of lemon, rosemary, and tea tree that effectively remove dandruff. It also contains argan oil that helps strengthen the scalp and maintains optimum moisture levels. The traditional herbs in the shampoo enhance cell growth, eliminate flakiness, and revive hair without causing any redness or itchiness. This herbal purifying shampoo has a fresh scent and is suitable for colored hair. Online reviews have praised the product for adding body to the hair and revitalizing the scalp.
Key Ingredients: Lemon, rosemary, and tea tree essential oils
Pros
Adds volume
Moisturizes hair
Gentle formula
Pleasant fragrance
Color-safe
Suits all hair types
Sulfate-free
Paraben-free
Cons
No products found.
The Nexxus Hydra-Light Weightless Replenishing System Shampoo gives you perfectly bouncy hair that does not get weighed down. This hydrating shampoo is equipped with a solid combination of nature and science, which is why it supplies moisture to your hair without making it greasy or sticky. It has the goodness of deep-sea minerals that deeply nourish and hydrate your hair while retaining moisture, leaving it bouncy and lively. This lightweight moisturizing shampoo also contains proteins derived from nourishing ingredients. These proteins are essential for maintaining your hair health. Click here to check out a detailed personal review of this product.
Key Ingredients: Coconut oil, sea salt, and citric acid
Pros
Lightweight
Silicone-free
Pleasant fragrance
Cons
The Maple Holistics Degrease Moisture Control Shampoo gently washes away oil, dirt, and impurities to leave your hair and scalp clean and revived. This nourishing and soothing shampoo regulates the sebum levels and adds freshness and volume to your hair. It is made with a blend of revitalizing ingredients like lemon and basil oil that detox the scalp and reduce oiliness to leave you with refreshed scalp and hair. Rosemary and cypress promote blood circulation and strengthen the hair follicles while reducing flaking and itching on the scalp.
The shampoo also contains nourishing additives like peach kernel oil rich in vitamins and fatty acids and jojoba oil that increases hair elasticity, strengthens the hair, and enhances its texture. All in all, this shampoo moisturizes your hair so that it looks healthy, soft, and shiny. It is suitable for sensitive scalp and color-treated hair as well.
Key Ingredients: Rosemary essential oil, lemon essential oil, and jojoba oil
Pros
Prevents hair fall
Adds volume
Gentle formula
Strengthens hair
Improves hair texture
Prevents frizz and breakage
No harmful additives
Suitable for color-treated hair
Cons
None
The Maple Holistics Tea Tree Shampoo is a clarifying cleanser enriched with healthy scalp care ingredients, making it perfect for oily and greasy scalp. The nourishing formula enriched with tea tree oil gently cleanses your scalp and helps in removing flakes. It has a mild fragrance of lavender and rosemary that refreshes your senses. Here's a review video featuring a tester's experience of using the shampoo to help you get a better understanding of the product.

Key Ingredients: Tea tree essential oil
Pros
Adds volume and shine
Mild formula
Removes flakes
Paraben-free
Sulfate-free
Cruelty-free
Vegan
GMO-free
Synthetic color-free
Synthetic fragrance-free
Cons
The Honeydew Shampoo For Oily Hair is a clarifying scalp treatment infused with a nourishing formula that offers you healthy and lustrous hair. The blend of lemon essential oil and cypress essential oil deep cleanses the scalp to remove impurities, dirt, and grime. A combination of jojoba, rosemary, and basil oil moisturizes the hair and adds volume. It works miraculously for all hair types. Multiple reviewers have stated that this clarifying shampoo can be used regularly without any worry about your scalp getting dry.
Key Ingredients: Jojoba oil, Evening primrose oil, and Lavender essential oil
Pros
Made with natural ingredients
Mild formula
Contains 100% pure oils
Eliminates frizz
Adds volume
Vegan
Cruelty-free
Paraben-free
Refreshing fragrance
Cons
Not suitable for colored hair
The Planative Charcoal Shampoo helps to detoxify your hair and scalp to revive the texture of your tresses and make them oil-free. This deep cleansing shampoo is made with activated charcoal that unclogs the hair follicles to balance oil production and promote healthy hair growth. Charcoal works by pulling out the dirt, oil, and impurities to prevent buildup that may otherwise cause your hair to weigh down. It also imparts a soothing effect to keep your scalp problem-free and hydrated.
This volumizing shampoo helps in shine control and adds softness to your hair. It also prevents hair thinning and revives hair with a boost of volume. It is a great product to prevent hair damage as it contains nourishing ingredients like jojoba oil, almond oil, and avocado oil. These oils are rich in vitamin E that prevents hair fall by nourishing the scalp and makes your hair look fuller and thicker. The product has also attracted numerous positive reviews, owing to its high quality and visible results!
Key Ingredients: Charcoal, jojoba oil, almond oil, and coconut oil
Pros
Sulfate-free
Promotes hair growth
Mild formula
Suitable for colored hair
Suitable for sensitive scalp
Cons
The Head & Shoulders Instant Oil Control Shampoo is an ideal solution to get rid of dandruff or flakiness and reduce oiliness on your hair and scalp. This two-in-one shampoo is enriched with mango and citrus extracts that make the hair smell good, balance scalp pH, and provide volume to hair. Its dermatologically approved formula helps reduce scalp irritation and treats dermatitis. This shampoo is safe to use on color-treated hair. However, conduct a patch test on a small part of your tresses before committing to the product for consistent use.
Key Ingredients: Zinc pyrithione
Pros
Hydrates hair
Balances scalp pH
Pleasant fragrance
Imparts a cooling effect
Cons
None
The Paul Mitchell Shampoo Two has a color-safe formula that leaves your scalp and hair fresh and shiny. This deep-cleansing, lemony fresh clarifying shampoo helps minimize oil production and makes your scalp less oily over time. The formula is infused with aloe vera and rosemary extracts that soothe the scalp. Wheat germ oil in the shampoo strengthens the hair and makes it frizz-free. It also removes the dulling buildup from the scalp while leaving your hair squeaky-clean. The shampoo also gives volume and body, adding a refreshing sensation to your hair.
Key Ingredients: White ginger flower, wheat germ oil, and aloe vera
Pros
Volumizes hair
Tames frizz
Color-safe formula
Paraben-free
Vegan
Cruelty-free
Refreshing fragrance
Cons
None
The Neutrogena Anti-Residue Shampoo has a clarifying formula that can remove up to 90% of the dulling residue left behind by shampoos, conditioners, and other hair styling products. The non-irritating formula rinses away all the residue, leaving your scalp and hair clean. It is suitable for color-treated hair. Washing your hair once a week with this residue-free shampoo will give you desirable results.
Key Ingredients: Glycerin, castor oil, and citric acid
Pros
Boosts hair volume
Non-irritating formula
Suitable for all hair types
Safe for color-treated hair
Artificial color-free
Cons
The Natures Craft Apple Cider Vinegar Shampoo helps revive your hair and scalp. It deep cleanses your scalp and eliminates oil and impurities from the follicles to promote healthy hair growth. Your hair feels fuller, fresher, and cleaner with every hair wash. This shampoo contains organic apple cider vinegar that balances the natural pH of the scalp to keep it healthy. Jojoba oil helps nourish your hair and strengthens the hair follicles to give you smooth, soft, and shiny tresses. Patchouli oil prevents the damage caused by pollution and the sun and uplifts your senses. The botanical keratin smoothens and strengthens your hair. This safe-to-use shampoo is free from harmful additives like silicones, sulfates, and parabens. It adds volume and shine to your hair while rejuvenating it.
Key Ingredients: Keratin, jojoba, d-panthenol, and apple cider vinegar
Pros
Balances scalp pH
Prevents buildup
Adds volume
Adds shine
Paraben-free
Sulfate-free
Silicone-free
Cons
None
The Shea Moisture Bamboo Charcoal Deep Cleansing Shampoo has a gentle, effective, and deep cleansing formula that lifts away dirt, impurities, excess oil, and product buildup. It leaves your scalp with a soothing sensation. The formula is enriched with bamboo charcoal, African black soap, willow bark extract, and tea tree oil. Together, these ingredients invigorate revitalize the scalp and hydrate the hair.
Key Ingredients: African black soap, bamboo charcoal, tea tree oil, and shea butter
Pros
Removes flakiness
Color-safe
Sulfate-free
Cruelty-free
Paraben-free
Phthalate-free
Mineral oil-free
Cons
Might weigh your hair down
The TRUSS Equilibrium Shampoo is a daily cleanser that controls and balances excess oil on the scalp. This shampoo is infused with amino acids that repair split ends and make hair healthy and strong. The weightless formula adds more volume to your tresses and replenishes the scalp while making your hair look vibrant and robust. Additionally, the shampoo reduces frizz and keeps your hair soft. This shampoo can be used irrespective of hair type, length, or texture to get rid of the extra oil.
Key Ingredients: Panthenol, Avocado oil, argan oil, vegetal complex, and pracaxi oil
Pros
Hydrates hair
Repairs split ends
pH-balanced
Color-safe
Adds shine
Suitable for everyday use
Cons
None
L'Oreal Paris Elvive Extraordinary Clay Shampoo sweeps away oil and impurities from your hair and scalp to leave them clean and grease-free. This cleansing shampoo contains citramine that helps in removing product buildup and hard water residue from the scalp, while vitamin E strengthens the tresses. The shampoo can be used regularly without worrying about your hair becoming extremely dry.
This shampoo helps you enjoy clean, refreshed, and revitalized hair. The removal of excess oil and impurities, along with the strengthening benefits of vitamin E, contribute to a healthier-looking mane that can boost your overall confidence.
Key Ingredients: Citramine and vitamin E
Pros
Moisturizing formula
Minimizes greasiness
Imparts glossy shine
Mild fragrance
Cons
None
The Tea Tree Oil Shampoo by Cherioll has a gentle formula that strengthens brittle hair, makes it manageable and promotes healthy hair growth. The rich-foaming shampoo has a lotion-like consistency that penetrates the roots and offers thorough scalp cleansing. It is formulated with jojoba oil, aloe vera extract, and almond oil that nourish the scalp and leave it fresh and rejuvenated. It effectively cleanses away all the dirt and grease and reduces scalp-irritation and dandruff. The shampoo works on all hair types and textures, and is suitable for both men and women of all ages. Use this shampoo 3-5 times a week for best results. By incorporating this root-lifting shampoo into your routine, you can add volume and lift to your hair, making it more manageable and vibrant.
Key Ingredients: Peppermint, tea tree oil, aloe vera, green tea extract, and coconut oil
Pros
Suitable for all hair types
Silicone-free
Gentle formula
Plant-derived ingredients
Cons
None
These are the best shampoos that will help treat your oily scalp and greasy hair. But there are certain factors you need to consider before buying a shampoo for oily hair. Let's understand them!
How To Choose The Best Shampoo For Oily Hair –A Buying Guide
Amidst highly hectic schedules, washing your hair every day to eliminate all the excess oil can be quite a tedious task. To reduce the excess scalp oil production, you need to get your hands on the right shampoo and get the best results. Here is what you should look for a shampoo that is exclusively meant for an oily scalp:
Check The Label: Look for product labels that mention words like volumizing, balancing, or strengthening. Products that mention these words won't add extra moisture to your scalp and are more effective in eliminating excess sebum and oil.
Avoid Hydrating Shampoos: Steer clear of shampoos with highly hydrating, moisturizing, and smoothening formulations. These products tend to add more moisture to your scalp, aggravating grease on your scalp and hair.
Pick Clarifying Cleansers: Choosing the proper formulation plays a vital role in oily scalp treatment. Non-moisturizing formulations are specially designed to remove excess oil. Use a clarifying shampoo occasionally for deep cleansing. But remember to use it in moderation to avoid scalp dryness or irritation.
Oily hair and greasy scalp are common concerns faced by many. Here are some remedies put together to help you treat the same.
How To Treat Oily Hair
Stress, hormonal issues, unhealthy diet, genetics, lack of personal hygiene, or scalp infections can be the prime factors contributing to an oily and a greasy scalp. But you can treat the same with the following tips.
Try using a combination of 2 shampoos – one for your scalp and another for the length of your hair. This combination will help you achieve a better cleansing effect.
Wash Your Hair Thrice A Week
Washing your hair frequently is one of the primary ways to treat an oily scalp. The pores secrete oil from your glands and make your scalp greasy and oily. Washing your hair often with a suitable product will prevent your scalp from excessive oil buildup and keep your hair healthy.
The way you shampoo also plays a significant role in reducing the excess oil from your scalp. Dilute the shampoo with water, lather it up, and gently massage it onto your scalp. Rinse your hair well and make sure no product is left behind. Also, avoid using hot water while cleansing your hair.
Do Not Apply Conditioner To Your Scalp
Applying a conditioner to your scalp is a big NO-NO. Using a conditioner on your scalp makes it greasy and triggers hair fall and bacterial growth. Instead, apply conditioner from the mid-length of your hair towards the end of the strands.
Maintaining a healthy diet plays a significant role in managing your scalp health. Avoid oily or fried foods. Replace all the saturated fats with healthy fats and carbs. Including omega-3s in your diet is helpful as they promote scalp health and reduce oil secretion. Eat green vegetables and fruits as they keep your scalp healthy.
Buy Products Meant For Oil-Free Scalp
There are products available on the market that are exclusively meant for those who have oily scalp. Invest in products that address your hair concerns. Look for hair products that do not contain benzoyl peroxide, sodium lauryl sulfate, selenium sulfide, sodium sulfacetamide, and ketoconazole.
The grease and dirt accumulated in your brush must be cleared away.  Your hairbrush may also carry product residue, and using the same brush on your hair for days will only add excess grease and dirt to your scalp. Clean your brushes at least once or twice a week to get rid of all the product residue, oil, and dirt.
Avoid Using Heat Styling Tools
Putting down your straightening iron or curling tongs can be difficult. But note that frequent use of these styling tools can cause potential damage to your hair. The heat produced from styling products can cause breakage or strip away essential oils from your hair in the long run. This can cause your scalp to overproduce oil again, making it feel heavy and greasy.
Why Trust StyleCraze?
The author of this article, Oyendrila Kanjilal, is a certified skin care coach and hair care enthusiast who loves keeping a tab on different beauty products. She has researched the best shampoos for oily hair and browsed through online reviews to curate the perfect list for her readers. Oyendrila's well-researched article features shampoos that are of high-quality and suitable for daily use. Not only do the shampoos add volume to your hair but are also safe to use if your hair is color-treated.
Frequently Asked Questions
What shampoo treats greasy hair?
For greasy hair, an oil-balancing or oil-control shampoo is recommended. A mild oil-balancing shampoo can be used daily to prevent your hair from becoming oily.
How often should I shampoo if I have oily hair?
If you have oily hair, you need to shampoo every alternate day. But use a mild shampoo to keep your scalp from secreting more oils.
Why is my hair getting oily so fast?
Excess sebum secretion can cause your hair to get oily or greasy too fast. Optimum sebum production is necessary to keep your hair healthy. But when produced in excess, it can make your hair look greasy or slick.
How do I stop my hair from going greasy overnight?
You cannot prevent your hair from getting greasy overnight. This process takes time and requires using suitable products. However, you can try incorporating oil-absorbing products into your hair care routine to help manage the excess oil. One effective option is to use a dry shampoo at night before sleeping, as it can absorb some of the excess oil and refresh your hair.
What should I eat/avoid to keep my hair from getting too oily?
Include foods rich in zinc, vitamin B, and vitamin E to reduce hair oiliness. Reducing intake of sugar, milk products, oily foods, and salt also helps.
Can an oily scalp cause hair loss?
Yes, an oily scalp can cause hair loss as excessive sebum production can make your hair follicles too greasy. This causes the pores to get clogged, which ultimately leads to hair loss.
Why does my hair get greasy after a day of washing?
Excessive sebum production is to blame. This happens when you shampoo your hair too often and massage your scalp too much while washing. Doing so activates the sebum glands and they produce more oil and make your hair greasy.
Recommended Articles