10 Best Shampoos For Oily And Greasy Hair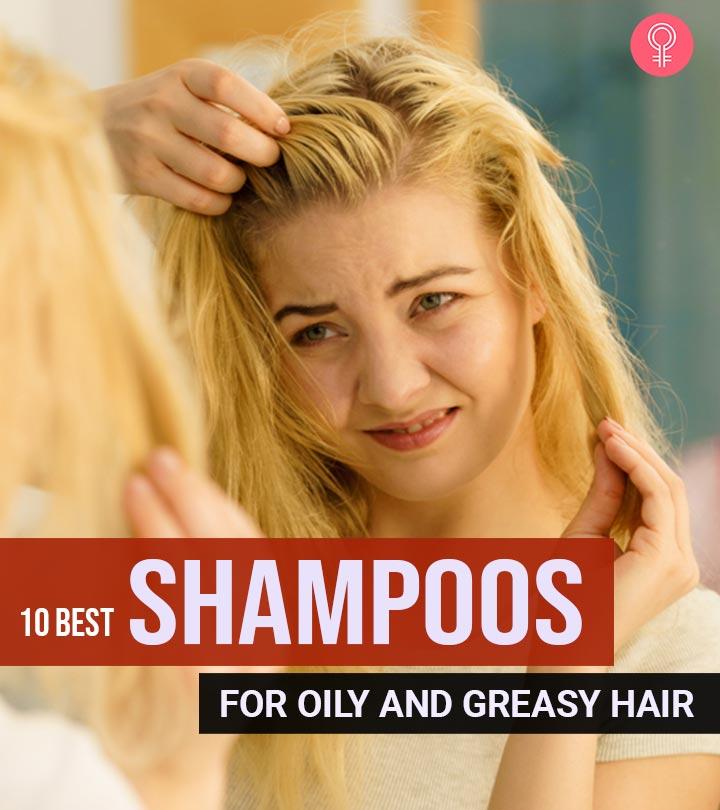 Do you have oily or greasy hair that requires daily washing? Does that result in your hair losing its bounce and charm? If so, you have landed in the right place! Oily scalp and hair can be caused by several factors such as hormonal changes, exposure to chemicals or colorants, damage to the hair cuticles, and excess build-up of dirt, oil, and impurities caused by infrequent hair washing.
A clarifying shampoo that contains ingredients like sulfates is recommended for getting rid of oil and grease from your tresses. Such shampoos eliminate dirt and impurities thoroughly from the scalp and hair to make them clean and oil-free. Additionally, it is suggested to wash your hair every alternate day to get rid of oiliness. If you want to know which shampoo you should go for to revive your oily hair, keep scrolling!
10 Best Shampoos For Oily Hair
No products found.
Nexxus Hydra-Light Weightless Replenishing System Shampoo gives you perfectly bouncy hair that does not get weighed down. This hydrating shampoo is equipped with a solid combination of nature and science, which is why it supplies moisture to your hair without making it greasy or sticky. It has the goodness of deep-sea minerals that deeply nourish and hydrate your hair while retaining moisture, leaving it bouncy and lively. This lightweight moisturizing shampoo also contains proteins derived from nourishing ingredients. These proteins are essential for maintaining the health of your mane.
Pros
Lightweight formula
Reinvigorates oily hair
Hydrates the hair
Nourishes the hair
Silicone-free
Pleasant fragrance
Cons
Lemon Sage Oily Hair Shampoo is a balancing and clarifying shampoo that helps in reducing excessive sebum production. Its naturally greasy formula removes oil and dirt from the hair follicles to leave them clean and nourished. This, in return, offers you healthy and bouncy hair that is oil-free. This fortifying shampoo contains nourishing and mild ingredients like the essential oils of lemon, rosemary, and tea tree that effectively remove dandruff, and argan oil that helps in strengthening the scalp and maintaining an optimum level of moisture. The addition of traditional herbs works to enhance cell growth, eliminate flakiness, and revive hair without causing any redness or itchiness. Its soothing effects keep the scalp healthy and speed up the hair growth process. Moreover, this purifying shampoo is suitable for colored hair. It helps in adding body to your hair and revitalizing the scalp.
Pros
Adds volume
Moisturizes the hair
Relieves itchiness
Gentle formula
Does not leave behind a residue
Revitalizes the scalp
Soothes the scalp
Pleasant fragrance
Cons
BIOLAGE Cooling Mint Scalp Sync Shampoo removes excess oil from your scalp while offering a cooling and soothing sensation. It contains mint leaf extracts that have relaxing and antibacterial properties and help in soothing the scalp by keeping inflammation at bay. This shampoo deeply cleanses the scalp and hair by removing excess oil, dirt, and impurities so that your hair does not become greasy too quickly. It also balances the natural pH of the scalp to leave it healthy and clean.
Pros
Imparts a cooling sensation
Deeply cleanses the scalp and hair
Softens the hair
Suitable for daily use
Cons
May cause scalp irritation
Maple Holistics Degrease Moisture Control Shampoo gently washes away oil, dirt, and impurities to leave your hair and scalp clean and revived. This nourishing and soothing shampoo regulates the sebum levels and adds freshness and volume to your hair. It is made with a blend of revitalizing ingredients like lemon and basil oil that detox the scalp and reduce oiliness to leave you with a refreshed scalp and hair. Rosemary and cypress promote blood circulation and strengthen the hair follicles while reducing flaking and itching on the scalp. It also contains nourishing additives like peach kernel oil that is rich in vitamins and fatty acids and jojoba oil that increases hair elasticity, strengthens the hair, and enhances its texture. All in all, this shampoo moisturizes your hair so that it looks healthy, soft, and shiny. It is suitable for sensitive scalp and color-treated hair as well.
Pros
Regulates sebum production
Prevents hair fall
Adds volume
Gentle formula
Nourishes the hair
Strengthens the hair
Improves hair texture
Prevents frizz and breakage
No harmful additives
Suitable for color-treated hair
Cons
Prevent your scalp and hair from becoming greasy with Klorane Oil Control Shampoo. It increases the gap between hair washes by leaving your hair oil-free yet moisturized for longer. This weightless shampoo is made with plant-based ingredients that are rich in a compound called Scopoletione that naturally balances the oil production to leave your scalp and hair clean and non-sticky. This purifying formula works intensely to wash off build-up, dirt, and oil from the scalp so that your hair looks bouncy, light, and smooth.
Pros
Moisturizes the hair
Silicone-free
Paraben-free
Lightweight
Gentle formula
Earthy fragrance
Cons
Does not leather up well
Daily use can cause irritation
L'Oreal Professionnel Serie Expert Citramine Pure Resource Shampoo sweeps away oil and impurities from your hair and scalp to leave them clean and grease-free. This cleansing shampoo contains vitamin E that moisturizes your hair and citramine that helps in removing product build-up and hardwater residue from the scalp. It can be used regularly without worrying about your hair becoming extremely dry.
Pros
Nourishes the hair
Moisturizes the hair
Removes build-up
Imparts a gloss shine
Mild fragrance
Cons
None
Planative Charcoal Shampoo helps in detoxing your hair and scalp to revive the texture of your tresses and make them oil-free. This deep cleansing shampoo is made with activated charcoal that unclogs the hair follicles by exfoliating them to balance oil production and promote healthy hair growth. Charcoal works by pulling out the dirt, oil, and impurities to prevent the formation of build-up that causes your hair to weigh down. It also imparts a soothing effect to keep your scalp problem-free and hydrated. This volumizing shampoo not only adds shine and softness to your hair but also prevents hair thinning and revives it with a boost of volume. It is a great product to prevent hair damage as it contains nourishing ingredients like jojoba oil, almond oil, and avocado oil. These oils are rich in vitamin E that prevents hair fall by nourishing the scalp and makes your hair look fuller and thicker.
Pros
Sulfate-free
Prevents hair damage and breakage
Promotes hair growth
Mild formula
Suitable for colored hair
Suitable for sensitive skin
Cons
May causes itching on the scalp
Suave Naturals Daily Clarifying Shampoo gently removes excess oil and dirt from your hair and scalp to leave them clean and problem-free. This clarifying shampoo works by penetrating the hair shaft to eliminate product build-up and residue that can make your hair look dull and lifeless. Its pH-balancing formula helps in maintaining the health of the scalp and leaves your hair refreshed and volumized. Its hypoallergenic formula keeps your hair moisturized without stripping away its natural oils, thus preventing problems like dryness, itching, and flaking.
Pros
Leathers well
Hypoallergenic
Adds shine
Adds volume
Moisturizes the hair
Mild formula
Lightweight
Cons
Fragrance does not last long
Natures Craft Apple Cider Vinegar Shampoo helps in reviving your hair and scalp to improve their texture and strength. It deeply cleanses your scalp and eliminates oil and impurities from the follicles to promote healthy hair growth. Your hair feels fuller, fresher, and cleaner with every hair wash. This shampoo contains organic apple cider vinegar that balances the natural pH of the scalp to keep it healthy. Jojoba oil – which is rich in vitamin E – helps in nourishing your hair and strengthening the hair follicles to give you smooth, soft, and shiny tresses. Patchouli oil prevents the damage caused by pollution and sun and uplifts the senses. Botanical keratin smoothens and strengthens your hair. This safe-to-use shampoo is free from harmful additives like silicones, sulfates, and parabens. It adds volume and shine to your hair while rejuvenating it.
Pros
Balances the scalp pH
Nourishes the hair
Strengthens the hair
Prevents build-up
Adds volume
Adds shine
Softens and smoothens the hair
Paraben-free
Sulfate-free
Silicone-free
Cons
Overuse may cause oiliness
Head & Shoulders Instant Oil Control Shampoo is an ideal solution to get rid of dandruff or flakiness and reduce oiliness on your hair and scalp. This two-in-one shampoo is enriched with mango and citrus extracts that not only make the product smell good but also offer benefits like thorough cleansing, pH balancing, and providing body to your hair. Its dermatologically approved formula helps in reducing scalp irritation and treating dermatitis. This shampoo is safe to use on color-treated hair.
Pros
Treats dandruff
Hydrates the hair
Balances the scalp pH
Pleasant fragrance
Imparts a cooling effect
Cons
Regular use may cause greasiness
Oiliness and greasiness can take a toll on your hair's health by making it look dull and lifeless. Excessive oil can also cause hair and scalp concerns like breakage, thinning, flaking, and itching. These shampoos work perfectly to solve all the problems related to oily hair. So, grab a shampoo from the ones listed above to make your hair shine!
Expert's Answers For Readers' Questions
Does shampoo get rid of greasy hair?
For greasy hair, an oil-balancing or oil-control shampoo is recommended. A mild oil-balancing shampoo can be used daily to prevent your hair from becoming oily. These shampoos work by thoroughly removing the impurities and oil from the scalp without supplying much moisture to your hair. However, excessive shampooing can cause the sebaceous glands on your scalp to secrete more oil, thus making your hair even oilier. Therefore, limit your hair washes to 3-4 times a week.
How often should I shampoo if I have oily hair?
If you have oily hair, you need to shampoo it every alternate day. But, make sure to use a mild shampoo to prevent your scalp from starting secreting more oils.
Why is my hair getting oily so fast?
The prime reason for your hair becoming oily or greasy too fast is excessive secretion of sebum. Optimum sebum production is necessary to keep your hair's health intact as it offers moisturization and smoothness. But when produced excessively, it can make your hair look greasy or slick.
How do I stop my hair from going greasy overnight?
You cannot prevent your hair from getting greasy overnight. This process takes time and requires using suitable products. However, you can try using a dry shampoo at night before sleeping as it can absorb some of the excess oil.
What should I eat to stop oily hair?
You can reduce the intake of sugar, milk products, oily food, and salt to reduce oiliness. Include foods that are rich in zinc, vitamin B, and vitamin E to reduce oiliness.
Can oily scalp cause hair loss?
Yes, an oily scalp can cause hair loss as excessive sebum production can make your hair follicles too greasy. This causes the pores to get clogged, which ultimately leads to hair loss.
Why does my hair get greasy after one day of washing?
The main reason for your scalp and hair becoming greasy after just one day of washing is excessive sebum production. This happens when you shampoo your hair too often and massage your scalp too much while washing. This activates the sebum glands to produce more oil and make your hair greasy.
Recommended Articles