8 Best Shampoos For Relaxed Hair
Best shampoo options that work perfectly to manage and enhance your relaxed hair.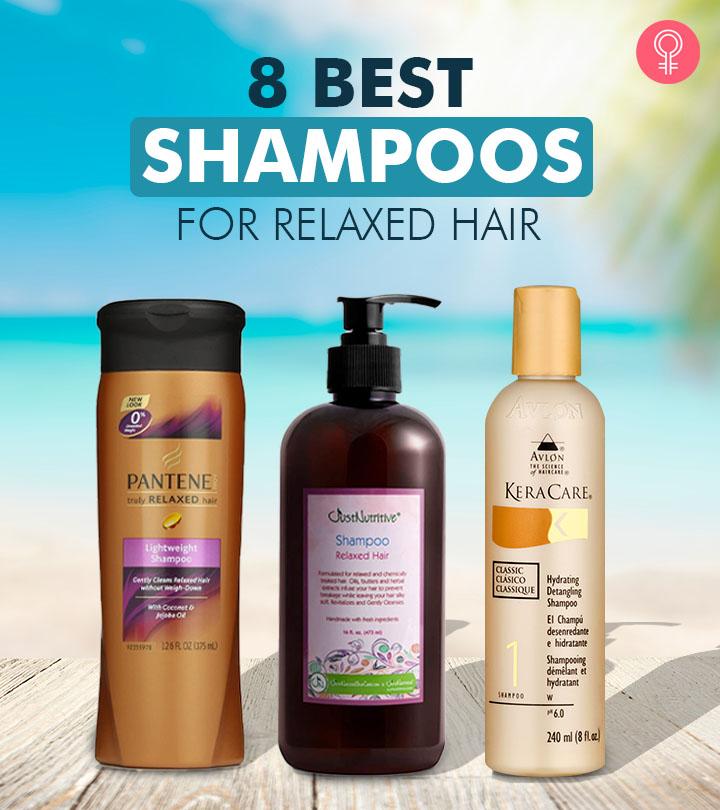 Curly hair is stunning, but you can always transform your hair into relaxed hair if you are looking for a new style. A relaxed hair is a process where you transform your curly hair into straight hair using a chemical cream. But to maintain this hairstyle, you need to use the best shampoo for relaxed hair. This transformation is permanent to prevent frizz and flyaways. It also makes your hair manageable. This article provides a collection of 8 best shampoos to manage your relaxed hair. Check them out. Scroll down!
8 Best Shampoos For Relaxed Hair
Pros
Color-safe
Prevents flyaways
Reduces split ends
Sulfate-free
Non-drying
Cons
Price at the time of publication: $18.57
Pros
Suitable for all hair types
Pleasant fragrance
Sulfate-free
Gentle formula
Cons
Price at the time of publication: $10.99
Pros
SLS-free
SLES-free
Paraben-free
Prevents hair breakage
Gentle formula
Cons
Price at the time of publication: $30.99
The Elasta QP Shampoo For Relaxed Hair is specially formulated with extra-gentle cleansing agents to nourish the hair without being dry. It strengthens relaxed and color-treated hair. This shampoo improves hair manageability and detangles the hair. It contains vitamin-rich olive oil that moisturizes the hair and restores balance. The gentle formula conditions the scalp and smoothens the hair.
Pros
Detangles the hair
Conditions the scalp
Smoothens the hair
Unisex
Gentle formula
Cons
Contains added fragrance and color
Price at the time of publication: $23.99
Pros
Lightweight
Unisex
Color-safe
Protects the hair from damage
Smoothens the hair
Cons
Contains SLS, SLES, EDTA, and sodium chloride
Price at the time of publication: $15.55
The Curly Hair Solutions Treatment Shampoo contains a concentrated blend of panthenol and magnesium, which strengthens the hair and improves its elasticity. It strengthens the hair and allows it to stretch without breaking.
This shampoo also contains vitamin B5 and silk amino acids that soften and repair damaged hair. It can be used on colored, chemically relaxed, and permed hair. This pH-balanced shampoo rebuilds and fortifies the hair by repairing the damage. It is cruelty-free, water-based, biodegradable, and silicone-free.
Pros
Biodegradable
Cruelty-free
Silicone-free
pH-balanced
Strengthens the hair
Gentle formula
Cons
Contains added fragrance and sulfates
Price at the time of publication: $35.91
The Zotos Quantum Clarifying Shampoo is formulated with a dual chelating system that breaks down minerals, chlorine, and hard water deposits on the scalp and hair. It is made with Quantum's advanced EQL-3 complex, which is a blend of vitamin E, vegetable protein, polyquaternium-10, and sweet almond extract. These enriching ingredients repair, restore, protect, and condition the hair. It should be used before chemical services as it strengthens the hair.
Pros
Strengthens the hair
Color-safe
Cons
Contains SLS, added fragrance, and color
Price at the time of publication: $13.18
Pros
Phthalate-free
DEA-free
TEA-free
Controls frizz
Unisex
Color-safe
Sulfate-free
Gluten-free
Paraben-free
Silicone-free
Cons
Price at the time of publication: $59.9
Here are some tips on how to pick the right shampoo for your relaxed hair.
How Should You Choose A Shampoo For Relaxed Hair?
Ingredients: Pick shampoos with moisturizing and fortifying ingredients like keratin, coconut oil, jojoba, and aloe vera. These ingredients not only condition relaxed hair but also repair damaged hair and protect it. Opt for shampoos with organic ingredients over chemicals like SLS, parabens, and silicones that might worsen your hair condition.
Added Features: Shampoos specifically formulated for relaxed hair will detangle the hair, preventfrizz, and control humidity. Opt for these shampoos as they make the hair more manageable.
Formula: Choose shampoos with mild formulas. Relaxed hair is sensitive and prone to damage. Gentle formulas cleanse the scalp and hair without any irritation.
Read on to know how you can care for and maintain relaxed hair. 
How To Take Care of Relaxed African Hair
Pick the right relaxer. There are two types of relaxers – lye and non-lye relaxers. Lye relaxers have a high pH level that might cause irritation. Relaxers also contain chemicals that might not suit your hair or skin type. Consult a stylist to know which relaxer is suitable for you.
Deep condition your hair once a week. Relaxing your hair chemically might make it dull, damaged, and prone to breaking. Deep conditioning treatments will strengthen the hair and improve its overall texture.
Oil your hair regularly. Oiling your hair with coconut, argan, or castor oils will fortify and nourish it. They have antioxidant properties that protect the hair from damage.
Stop overusing heat styling tools. Heat styling tools will damage your chemically relaxed hair even more.
Get regular trims to keep your hair healthy and fresh. This also prevents split ends and breakage.
Use hair products specially formulated for relaxed hair. These shampoos contain nourishing ingredients like keratin, aloe vera, and oils, which strengthen weak and chemically processed hair.
Wash your hair once a week. Relaxed hair is prone to excess sebum production, and product residue might clog the scalp pores. Cleansing your hair once a week will clear your scalp and prevent dryness, damage, or infections.
Get constant touch-ups on your new hair to prevent hair breakage. The amount of touch-up required depends on your hair type. Check with your hairstylist to know how often you should get it done.
Why Trust StyleCraze?
The author of this article, Shiboli Chakraborti, is a certified skin care coach and well-versed in hair care. Here, she lists the best shampoos for relaxed hair that tame curls and reduces frizz. She conducted a thorough research of the ingredients used in the shampoos and spent hours reading user feedback before curating this list of the best options for her readers. The recommended formulas are lightweight, prevent hair breakage, and come with a pleasant fragrance that uplift the senses.
Frequently Asked Questions
Can you wet relaxed hair every day?
Washing your relaxed hair daily is not beneficial. Instead, use a nourishing and moisturizing conditioner on your wash days to keep your hair hydrated thoroughly.
How often should you oil relaxed hair?
You can oil your relaxed hair weekly to give them proper nutrition.
What should you not use on relaxed hair?
Never use a narrow-tooth comb while brushing your relaxed hair. Avoid brushing your hair when they are wet. Finally, don't use heating tools on your loose hair without applying heat protectants on them.
How soon can I relax my hair after shampoo?
Before relaxing your hair, you should wait for at least 3-4 days. Experts believe a one week gap is the most ideal.
What type of shampoo is the best for relaxed hair?
A sulfate-free shampoo provides proper nourishment for the hair and scalp and doesn't irritate. The Roots Naturelle Redeem Moisturizing Shampoo is a sulfate-free shampoo that benefits every hair type.