8 Best Shampoos For Relaxed Hair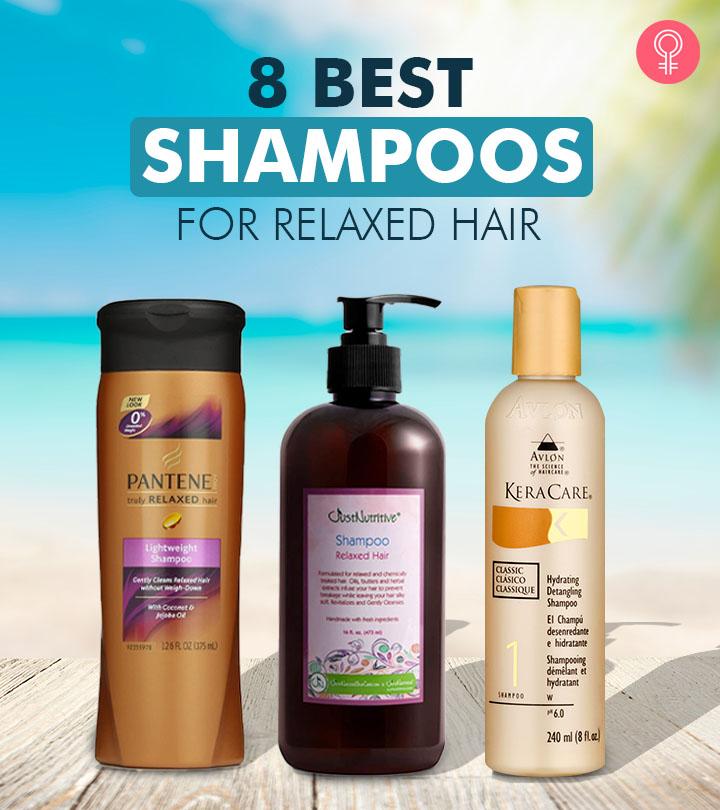 Curly hair, in all its glory, is stunning. But there is nothing wrong with switching up your curly locks for a more relaxed style. Relaxed hair offers a permanent solution to prevent flyaways, curb frizz, and improve hair manageability. The process involves using chemicals to rearrange the structure of curly hair by breaking the keratin bonds. It requires maintenance, so let's start with the basics: shampoo! In this article, we have listed the 8 best shampoos for relaxed hair. Scroll down to know more!
8 Best Shampoos For Relaxed Hair
The AvlonKeracare Hydrating Detangling Shampoo removes excess sebum from the hair and scalp without being dry. It is formulated with ingredients that reduce interfiber friction, making the hair smooth and soft. This shampoo repairs damaged hair and prevents fly aways and split ends. It also moisturizes the hair and makes it healthy. This sulfate-free product is ideal for color-treated and damaged hair.
Pros
Color-safe
Prevents flyaways
Reduces split ends
Sulfate-free
Non-drying
Cons
The Roots Naturelle Redeem Moisturizing Shampoo is formulated with shea butter and jojoba. It imparts a silky shine to the hair. This shampoo refreshes the scalp while softening and nourishing the hair. It is sulfate-free and ideal for all hair types, including African-American, relaxed, dry, fine, and thinning hair.
Pros
Suitable for all hair types
Pleasant fragrance
Sulfate-free
Gentle formula
Cons
The Just Nutritive Shampoo Relaxed Hair improves hair texture and appearance. It reduces dryness and roughness, making the hair soft, smooth, and moisturized. This shampoo contains oils, butter, and herbal extracts that replenish the hair with nutrients that restore hair shine and strength. It does not leave behind residues that clog the scalp pores. This gentle formula is free of harsh detergents like SLS, SLES, and parabens.
Pros
SLS-free
SLES-free
Paraben-free
Prevents hair breakage
Gentle formula
Cons
The Elasta QP Shampoo For Relaxed Hair is specially formulated with extra-gentle cleansing agents to nourish the hair without being dry. It strengthens relaxed and color-treated hair. This shampoo improves hair manageability and detangles the hair. It contains vitamin-rich olive oil that moisturizes the hair and restores balance. The gentle formula conditions the scalp and smoothens the hair.
Pros
Detangles the hair
Conditions the scalp
Smoothens the hair
Unisex
Gentle formula
Cons
Contains added fragrance and color
The Pantene Pro-V Truly Relaxed Hair Lightweight Shampoo cleanses relaxed hair without weighing it down. It contains jojoba and coconut oils that tame frizz and prevent breakage. The rich oil-based formula smoothens the hair and protects it from damage. This shampoo is unisex and suitable for color-treated hair.
Pros
Lightweight
Unisex
Color-safe
Protects the hair from damage
Smoothens the hair
Cons
Contains SLS, SLES, EDTA, and sodium chloride
The Curly Hair Solutions Treatment Shampoo contains a concentrated blend of panthenol and magnesium, which strengthens the hair and improves its elasticity. It strengthens the hair and allows it to stretch without breaking.
This shampoo also contains vitamin B5 and silk amino acids that soften and repair damaged hair. It can be used on colored, chemically relaxed, and permed hair. This pH-balanced shampoo rebuilds and fortifies the hair by repairing the damage. It is cruelty-free, water-based, biodegradable, and silicone-free.
Pros
Biodegradable
Cruelty-free
Silicone-free
pH-balanced
Strengthens the hair
Gentle formula
Cons
Contains added fragrance and sulfates
The Zotos Quantum Clarifying Shampoo is formulated with a dual chelating system that breaks down minerals, chlorine, and hard water deposits on the scalp and hair. It is made with Quantum's advanced EQL-3 complex, which is a blend of vitamin E, vegetable protein, polyquaternium-10, and sweet almond extract. These enriching ingredients repair, restore, protect, and condition the hair. It should be used before chemical services as it strengthens the hair.
Pros
Strengthens the hair
Color-safe
Cons
Contains SLS, added fragrance, and color 
The GKHair Moisturizing Shampoo is formulated with organic and natural ingredients that restore broken hair bonds and repair thermally damaged hair. The keratin proteins, vitamins B5 and E, and linseed oil hydrate and strengthen the hair, curbing the effects of excessive styling.
This shampoo makes the hair smooth, silky, and soft. It can also be used on color-treated hair as it protects hair color by forming a protein layer on the hair, increasing its vibrancy. This shampoo repairs hair damage caused by harsh chemicals and heat. It removes unwanted oil and impurities from the scalp and hair. This sulfate-free product also controlsfrizz. It does not contain phthalates, DEA, TEA,gluten, parabens, and silicones.
Pros
Phthalate-free
DEA-free
TEA-free
Controls frizz
Unisex
Color-safe
Sulfate-free
Gluten-free
Paraben-free
Silicone-free
Cons
Here are some tips on how to pick the right shampoo for your relaxed hair.
How Should You Choose A Shampoo For Relaxed Hair?
Ingredients: Pick shampoos with moisturizing and fortifying ingredients like keratin, coconut oil, jojoba, and aloe vera. These ingredients not only condition relaxed hair but also repair damaged hair and protect it. Opt for shampoos with organic ingredients over chemicals like SLS, parabens, and silicones that might worsen your hair condition.
Added Features: Shampoos specifically formulated for relaxed hair will detangle the hair, preventfrizz, and control humidity. Opt for these shampoos as they make the hair more manageable.
Formula: Choose shampoos with mild formulas. Relaxed hair is sensitive and prone to damage. Gentle formulas cleanse the scalp and hair without any irritation.
Read on to know how you can care for and maintain relaxed hair. 
How To Take Care of Relaxed African Hair
Pick the right relaxer. There are two types of relaxers – lye and non-lye relaxers. Lye relaxers have a high pH level that might cause irritation. Relaxers also contain chemicals that might not suit your hair or skin type. Consult a stylist to know which relaxer is suitable for you.
Deep condition your hair once a week. Relaxing your hair chemically might make it dull, damaged, and prone to breaking. Deep conditioning treatments will strengthen the hair and improve its overall texture.
Oil your hair regularly. Oiling your hair with coconut, argan, or castor oils will fortify and nourish it. They have antioxidant properties that protect the hair from damage.
Stop overusing heat styling tools. Heat styling tools will damage your chemically relaxed hair even more.
Get regular trims to keep your hair healthy and fresh. This also prevents split ends and breakage.
Use hair products specially formulated for relaxed hair. These shampoos contain nourishing ingredients like keratin, aloe vera, and oils, which strengthen weak and chemically processed hair.
Wash your hair once a week. Relaxed hair is prone to excess sebum production, and product residue might clog the scalp pores. Cleansing your hair once a week will clear your scalp and prevent dryness, damage, or infections.
Get constant touch-ups on your new hair to prevent hair breakage. The amount of touch-up required depends on your hair type. Check with your hairstylist to know how often you should get it done.
It is imperative to have a good hair care regimen when you chemically straighten your hair. These shampoos contain enriching ingredients that replenish and repair your tresses. So, what is stopping you from checking them out? Get to it now!
Recommended Articles
The following two tabs change content below.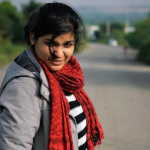 Anjali Sayee is a writer and an introvert. From studying Aeronautical Engineering and wanting to design her own airplane to writing articles on hairstyles, she has been on quite a journey. She believes that hair is one of the key factors that define a woman's personality. To quote her, "What's the first thing they do in the movies to show a personality change? Change the hair – because it has a life of its own." She's here to help you find the hairstyle you need. This bookworm is a self-professed Wholocker, a talented drummer, and an amateur photographer.