8 Best Shampoos For Seborrheic Dermatitis Available In India
Unique assortment of shampoos that eliminate itching and flaking in the scalp.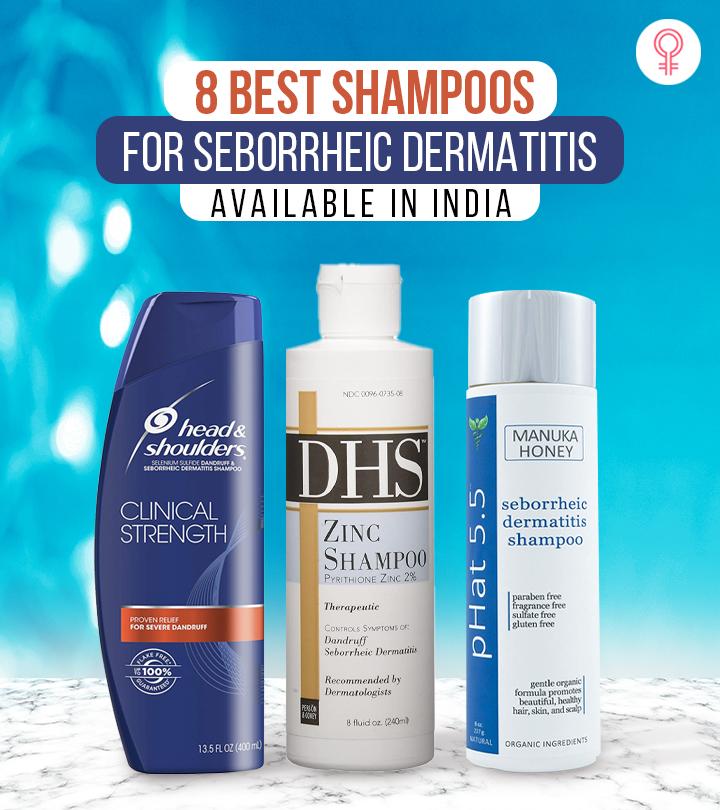 Do you experience scalp irritation like itching and flaking? It might be a sign of seborrheic dermatitis. This condition is characterized by red patches and greasy, yellow scales that cause dandruff, severe itching, and discomfort. Hence, it needs to be treated immediately with antifungal hair products containing ingredients like selenium sulfide, ketoconazole, and pyrithione zinc.
Although it is recommended to seek a doctor's advice in case of severity, the 8 best shampoos for seborrheic dermatitis in India will help you tackle the problem effectively. Scroll through and pick the shampoo that suits you the best.
8 Best Shampoos For Seborrheic Dermatitis In India – 2021 Update
The head &shoulders Clinical Strength Shampoo is the best shampoo for seborrheic dermatitis in India. It contains 1% selenium sulfide that offers relief and protection from dandruff. This medicated shampoo fights scalp issues from the first wash. It reduces flakes, redness, and itching while tackling the root causes. The pH-balanced formula is gentle on the hair and should be used at least twice a week for best results.
Pros
pH-balanced
Gentle
Dermatologist recommended
Cons
Price at the time of publication: ₹7111
The Person & Covey DHS Zinc Shampoo is recommended for relieving flaking and itching caused by dandruff and seborrheic dermatitis. The gentle formula is infused with 2% pyrithionezinc that provides instant relief from irritating symptoms. This shampoo reduces inflammation and nourishes the scalp. The powerful and rich formula offers long-lasting results.
Pros
PABA-free
Gentle
Long-lasting effects
Cons
Price at the time of publication: ₹15.32
This shampoo from pHat 5.5 helps treat symptoms of seborrheic dermatitis and seborrheic keratosis. The shampoo is enriched with manuka honey, coconut oil, aloe vera, and other natural ingredients that nourish the scalp and attack the root cause of the problem. It cleanses the hair of dry skin, oil buildup, dirt, and dry flakes and keeps it moisturized, relieving itchiness and discomfort.
This sulfate-free formula protects the scalp from corrosion and irritation. It maintains the natural pH level of the scalp and hair, maintaining a perfect balance of oil and moisture in the hair and scalp. The concentrated shampoo has no water and nourishes the scalp with organic nutrients, enhancing its health.
Pros
Paraben-free
Sulfate-free
Gluten-free
Fragrance-free
Cons
Price at the time of publication: ₹18.98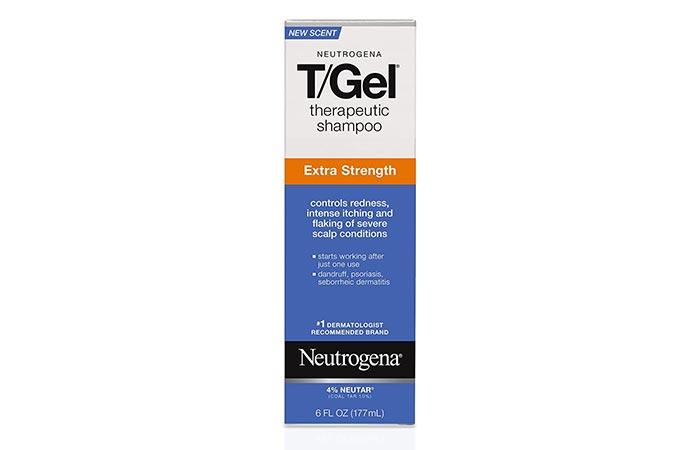 The Neutrogena T/Gel Shampoo is a therapeutic formula for scalp conditions like seborrheic dermatitis, dandruff, and psoriasis. It is infused with Neutar (1% coal tar) that controls flakes and itching for long periods. The rich amber formula cleanses the hair and scalp gently, while the added conditioners leave your locks soft and manageable. This dermatologist-recommended shampoo is powered with twice the amount of active ingredients as the original T/Gel formula to control the most stubborn hair and scalp conditions.
Pros
Alcohol-free
Gentle
Suitable for everyday use
Cons
Price at the time of publication: ₹1970.0
Selsun Daily Anti-Dandruff Shampoo For Dry Scalp is specially formulated to reduce flakes and itching from the scalp. The shampoo is for daily use. It controls excessive oiliness, targets fungi-causing dandruff, controls flakes, clears away the build-up of flakes, and relieves from itching & irritation. This shampoo is enriched with 1% selenium sulfide and GalFusion Gentle Care. The pH-balanced shampoo is ideal for both men and women.
Pros
Sulphate-free
Paraben-free
Fresh fragrance
Easy-to-use
Cons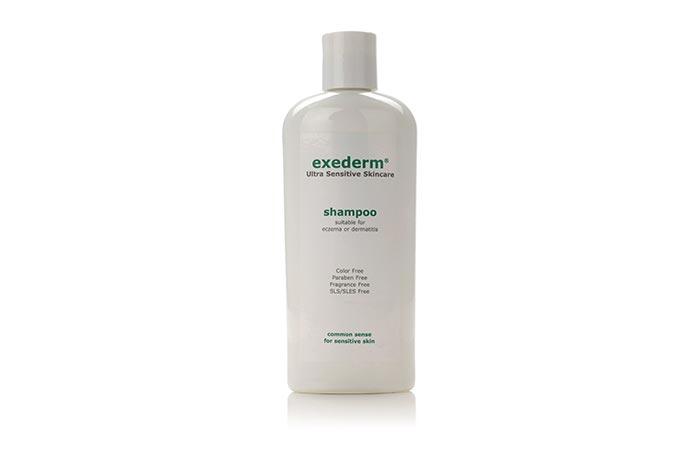 The exederm Shampoo is a low-foam product that cleanses the scalp and hair gently without causing itching or irritation. The non-irritating formula is suitable for conditions like dandruff, eczema, and seborrheic dermatitis. It is free of SLS (Sodium Lauryl Sulfate) and CAPB (Cocamidopropyl Betaine) that are potential allergens. This shampoo works well on damaged, sensitive scalp.
Pros
Ultra-sensitive
Non-irritating
Gentle
Suitable for everyday use
Fragrance-free
Dye-free
Paraben-free
SLS-free
Propylene glycol-free
Cocamidopropyl betaine-free
Coal tar-free
Cons
Price at the time of publication: ₹27.94
The Tar Excel Hair Wash is a foaming shampoo specially formulated for seborrheic dermatitis and dandruff control. The formula contains 1% coal tar that helps remove dead cells from the epidermis or top layer of the scalp and slows down the rate of skin cell growth. This, in turn, helps reduce dryness and scaling. This shampoo restores the scalp's health and controls symptoms of dandruff, itching, scaling, inflammations, psoriasis, and seborrheic dermatitis. The added conditioners moisturize the scalp and keep the hair healthy and shiny.
Pros
Fragrance-free
Paraben-free
pH-balanced
Added conditioners
Cons
None
Selsun is a medicated anti-dandruff shampoo with 2.5% selenium sulfide that has dual-action benefits to control and treat dandruff. It targets the fungus that causes this condition and cleanses the scalp of the buildup of flakes and dead skin cells. The shampoo relieves itching and irritation caused by dry skin and prevents the recurrence of dandruff or fungal infections. It has a mild and improved fragrance.
Pros
Smells good
pH-balanced
Paraben-free
Sulfate-free
Cons
Overuse may cause hair loss.
There are some key considerations to keep in mind while choosing a shampoo to treat seborrheic dermatitis. Keep scrolling to find out what they are.
How To Choose The Best Shampoo For Seborrheic Dermatitis
Antifungal Ingredients: Seborrheic dermatitis is caused by yeast, and to combat this condition, choose a shampoo containing antifungal ingredients like pyrithione zinc, selenium sulfide, or ketoconazole. An all-natural shampoo may not be potent enough to tackle a stubborn condition, but tea tree oil is a good natural ingredient for treating seborrheic dermatitis. Oil-based products are an absolute no-no since they increase the oil-rich environment in which yeast grows easily.
Hydration: Seborrheic dermatitis causes drying of the skin. Choose a shampoo that can be used daily without stripping the scalp of its natural oils. A shampoo rich in moisturizing agents will also help replenish lost natural oils and water washed away during the cleansing process. Follow up with a hydrating, moisturizing, and antifungal conditioner.
OTC Or Prescription Hair Products: Sometimes, over-the-counter products are all that are required to fight seborrheic dermatitis. But, if the condition turns severe, consult a doctor. Prescription shampoos usually contain higher concentrations of antifungal ingredients, along with anti-inflammatory agents like steroids, that soothe the reactions caused by yeast.
Essential Oils And Vitamins: A therapeutic shampoo with natural essential oils and vitamins will soothe scalp irritation caused by dandruff and seborrheic dermatitis. Vitamins provide nourishment to the hair, enhancing its overall health.
Seborrheic dermatitis is not to be taken lightly. It is a fungal infection caused by excessive oil secretion in the scalp. It causes severe itching, redness, and embarrassing flaking of the skin. Don't waste time and take your pick from our recommended list of the 8 best shampoos for seborrheic dermatitis to give your hair and scalp the immediate attention they need.
Recommended Articles:
Best Scalp Shampoos Available In India
The following two tabs change content below.