The 11 Best Shampoos For Weaves You Need To Use In 2023
Harmless, specialized cleansing solutions to care for your weaves without damaging them.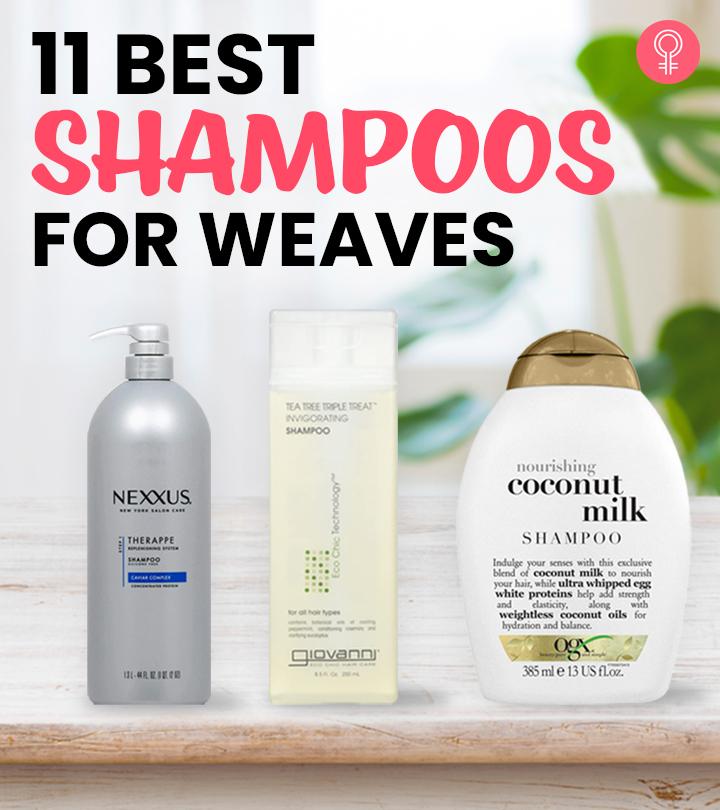 Hair weaves can be sewn in, glued, or even clipped to hair to extend hair length or add extra volume. They are crafted after special care and skill, so you might as well use the best shampoos for weaves to prolong their shelflife. Whether you are feeling for straight hair, curls, or wavy wigs, these shampoos are essential for a neat look. Find the best out of these 11 shampoos for your weave.
Top Picks
11 Best Shampoos For Weaves
Pros
Sulfate-free
Paraben-free
Nourishes the hair
Strengthens the hair
Increases hair elasticity
Imparts shine
Makes the hair super soft
Has a pleasant tropical scent
Suitable for everyday use
Contains all-natural ingredients
Cons
Contains DMDM Hydantoin
May cause brassy tones in blonde highlights
Price at the time of publication: $29.84
The Pureology Hydrate Shampoo is a color-protecting shampoo that hydrates, strengthens, and revitalizes dry, damaged hair. This shampoo helps you achieve healthy, vibrant, and soft hair anytime, anywhere. The key ingredients in the product are jojoba, green tea, and sage that keep your hair moisturized and soft. The blend of patchouli, ylang-ylang, and bergamot fragrances keeps your hair fresh all the time, even when you are out at work. The multi-weight proteins, AntiFade Complex and Advanced Hydrating Micro-Emulsion Technology protect the color vibrancy of the hair and keep it hydrated. This shampoo is suitable for normal to thick hair types and works well for virgin weaves.
Pros
Sulfate-free
Vegan-friendly
Color-safe
Moisturizes the hair
Makes the hair soft
Nice fragrance
Cons
May make the scalp dry and itchy
May dry out the hair
Price at the time of publication: $9.0
Pros
Sulfate-free
Contains natural ingredients
Moisturizes the hair
Makes the hair soft
Safe for color-treated hair
Makes the hair manageable
Cons
Overpowering smell
May make the hair greasy/oily
Price at the time of publication: $5.74
Pros
Revitalizes the hair cuticles
Moisturizes the hair
Makes the hair soft
Cons
Contains sulfates
Contains formaldehyde
Has a chemical smell
Price at the time of publication: $15.98
Pros
Contains organic ingredients
Moisturizes the hair
Imparts shine
Cons
Contains sulfates
May cause scalp breakouts
Price at the time of publication: $4.52
Pros
Vegan-friendly
Color-safe
Imparts shine
Suitable for all hair types
Keeps the hair scalp fresh and cool
Cons
Price at the time of publication: $8.29
Pros
Sulfate-free
Gentle
Color-safe
Pleasant fragrance
Cons
Price at the time of publication: $37.0
The Nexxus Therappe Shampoo is a silicone-free product and suitable for normal to dry hair types. It helps replenish the moisture inside the hair fiber strands. The shampoo is infused with protein and caviar complex that lock in moisture and keep your weave soft and supple for 24 hours. It enhances the hair's smoothness and restores its natural movement by treating it with essential nutrients that help rehydrate the hair strands. This shampoo is suitable for colored weaves.
Pros
Silicone-free
Color-safe
Lathers well
Imparts shine
Cons
Price at the time of publication: $36.99
Pros
Moisturizes the hair
Makes the hair soft
Imparts a nice fragrance
Cons
Price at the time of publication: $16.98
The SheaMoisture Raw Shea & Cupuacu Frizz Defense Shampoo is best suited for greasy weaves and wavy textures. It contains Amazonian cupuacu butter, raw shea butter, and pistachio, and passiflora oils that replenish moisture in the hair and make it soft and smooth. This shampoo smoothes and protects humidity-prone hair and also tames flyaways. It is great for protein-sensitive hair.
Pros
Paraben-free
Sulfate-free
Mineral oil-free
Cruelty-free
Gluten-free
Suitable for protein-sensitive hair
No synthetic colors or fragrances
Cons
Thin and runny consistency
Price at the time of publication: $24.42
The Hairfinity Beneath The Weave Scalp Purifying Shampoo is a gentle shampoo that calms, detoxifies, and cleanses natural hair bound in weaves. The scents of peppermint and tea tree oil cool and invigorate the scalp and soothe itching and irritation. The cooling formula penetrates the weaves to get rid of excess oil and buildup without stripping the hair and scalp of natural moisture. The shampoo is suitable for all hair types, including color-treated hair.
Pros
Sulfate-free
Paraben-free
Silicone-free
Phthalate-free
Mineral oil-free
Petroleum-free
DEA-free
No synthetic dyes
Soothes itching
Safe for color-treated hair
Cons
None
Price at the time of publication: $38.99
Now that we have gone through the list of the best shampoos for weaves, here's a comprehensive buying guide to help you choose the best one for your hair.
Buying Guide – Things To Consider Before Buying A Shampoo For Weaves
You need to know your hair type before zeroing in on a shampoo.
Frizzy Hair: If you have frizzy hair, you need a shampoo that softens it. Go for a shampoo that also comes with a conditioner. This will help in revitalizing the moisture in your hair strands.
Fine Hair: This type of hair tends to get oily faster than other hair types. Hence, avoid using creamy shampoos and opt for gentle and volumizing shampoos.
Coarse Or Dry Hair: If you have dry hair, you need to condition your hair to prevent drying and itching in your scalp. Go for a creamy moisturizer and shampoo.

Remember to read the labels even if the product/brand claims that it is excellent for weaves. Ensure that there are no harsh ingredients like alcohol, sulfates, triclosan, parabens, and synthetic fragrances, as they may destroy the hair weaves. Prefer shampoos that contain natural and organic ingredients.
Choose a shampoo with a pH between 4.5 and 5.5 to prevent stripping your scalp of nutrients.
Weaves are generally sourced from two kinds of materials – synthetic fibers and real human hair. They can be further divided into the following:

Synthetic Weaves: These weaves are made of low-grade acrylic materials, which are used to mimic human hair. They are versatile but are easily damaged through friction and heat. Choose a sulfate-free shampoo when using a synthetic weave to prevent the overall composition from being ruined.
Futura Weaves: These are also a type of synthetic weave made of heat-resistant fibers. These fibers can withstand heat up to almost 400oF and last long. This type does not need shampoos that contain moisturizing agents or oil because these hair strands already have a sheen. If you want to wash your Futura weave, use a baby shampoo or a low-lather shampoo.
Human Hair Weaves: These weaves are made entirely from human hair that has been harvested and sanitized before being processed as a hairpiece. These hair strands are superior to their synthetic counterparts, and they tend to appear more natural. The material quality is similar to that of real hair. The best shampoos for human hair weaves are those that are sulfate-free and nutrient-rich. Avoid chemically laden shampoos as they can destroy the natural luster of the hair. Go for organic or natural shampoos.
Virgin Hair Weaves: These weaves last the longest as compared to the other types. They are also the most reliable hair weaves on the market. Use nourishing shampoos for virgin hair weaves. Maintaining the perfect balance of moisture is also critical, so go for shampoos that contain conditioning agents to make your hair soft and supple. Unlike human hair weaves, the virgin hair weaves are not chemically processed or stylized. Hence, you get to enjoy the original texture.

There are mainly five types of hair weaves:

Peruvian Weaves: This is one of the most sought after types mainly because of its versatile texture. The hair is a mixture of American and African styles. The overall style feels natural and relaxed, as well. It is also lightweight, luxurious, and free-flowing.
Indian Weaves: These weaves have the thickest texture and a natural luster. They are generally suitable for women with thick and textured hair. There are various styles you can choose from – wavy, straight, or curly.
Malaysian Weaves: These weaves are very soft, smooth, and blend well. They are easy to manage and have luster.
Eurasian Weaves: These weaves are a blend of European and Asian styles. They have a thick texture and are smooth and silky.
Brazilian Weaves: This is one of the best hairstyles for women of American-African origin. It has a fuller texture and is thick and smooth.

If you want your weaves to last long, you need to keep them clean and moist. The following are some tips to follow when washing your weave.

How To Wash Your Weave Properly

Detangle Your Weave And Comb It

There's no denying that weaves tend to tangle, so you should start by brushing your hair to get rid of any tangles or knots. Detangle your hair gently without breaking the strands. Start combing slowly from the hair roots to the ends and continue doing so until the hair is smooth and tangle-free.

Wet your hair with lukewarm water. You can run the shower water directly on the hair. Do not rub your scalp and hair – let the water flow through the hair smoothly.

Use a generous amount of shampoo between your weaves and also the scalp. Massage your hair in downward strokes. If you need more shampoo due to excess scalp buildup, rinse your hair, and repeat the procedure.

Rinse And Condition Your Hair

Use the conditioner both on the weave and the natural hair beneath it – all the way to the scalp. Keep it on for at least five minutes.

Rinse your hair and ensure that you have eliminated all traces of the shampoo and conditioner. Dry your hair with a towel or allow it to air-dry.

You have indeed come to the right place if you have gotten a weave recently and are looking for a good hair care routine. The most important thing you need to keep in mind while maintaining weaves is using high-quality shampoos. The best shampoos for weaves will prolong their shelf life. The products reviewed above are free from synthetic chemicals, colors, fragrances, increase hair elasticity, and impart shine. They make your hair soft and are suitable for everyday use. Consider your hair type and go through the ingredients list before choosing the best shampoos for weaves.

Why Trust StyleCraze?

The author of this article, Shiboli Chakraborti, is a hair care enthusiast and loves reviewing different hair products. Selecting a shampoo for weaves might be tough. She has therefore, carefully researched and reviewed many shampoos in this list and curated the final article for her readers. The author believes that the shampoos chosen will nourish your hair while enhancing its strength.

Frequently Asked Questions

How often should I wash my weave?

Wash your weave twice or thrice weekly.

Should you oil your weave?

No. Do not oil your weave to prevent damage. Instead, apply oil to your scalp to lock and retain the moisture.

How can I keep my weave silky?

Wash your weave the right way with a suitable shampoo and conditioner, and apply a serum to keep your weave silky.

Can you wash the weave with dish detergent?

No, the harsh ingredients in detergent can ruin the weave.

How do I keep my weave healthy?

• Use silicon serum or spray to keep your hair silky, shiny, and detangled.
• Begin brushing your weave at the tips twice daily.
• Never go to bed with damp hair and weave.
• Spray a leave-in conditioner, then gently brush your weave.




The following two tabs change content below.