15 Best Shampoos & Conditioners For Color-Treated Hair – 2023
Eliminate dirt and pamper your dyed tresses with naturally nourishing formulas.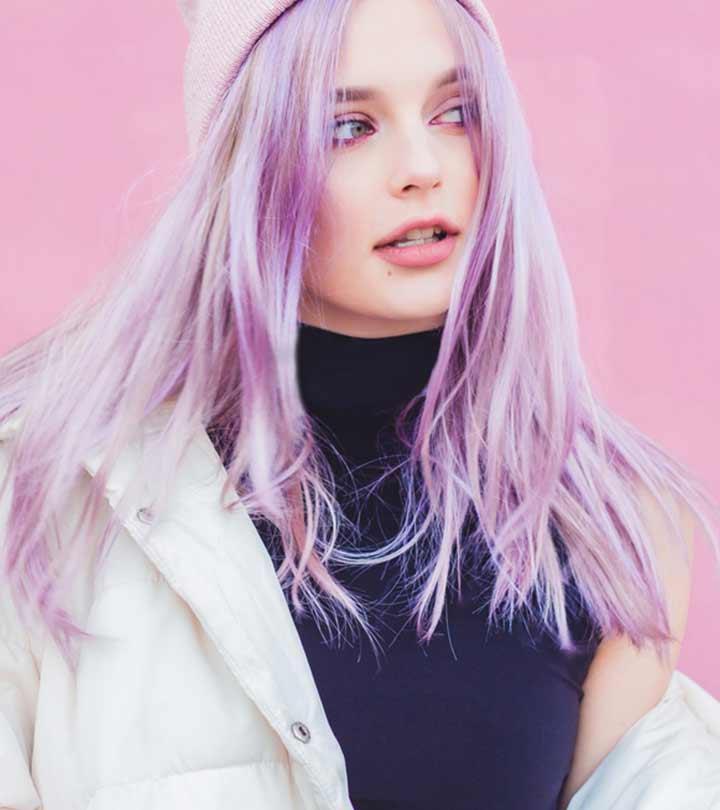 The idea of pampering your hair in a whole new color that transforms your look is simply fascinating. But in addition to choosing the right color, you also need to find the best shampoo and conditioner for colored hair before you take the plunge. Whether it's a beautiful brown or fiery red, it's necessary to preserve those precious hues while ensuring your color-treated hair is receiving the right amount of nourishment. Unfortunately, not every shampoo or conditioner will suit your new texture, and some might even comprise harmful chemicals that are doubly adverse for colored hair. They can strip your strands of natural moisture and radiance, which is why you would be well-advised to ditch them for more appropriate products. The shampoos and conditioners we've rounded up for you here contain nourishing ingredients that are super-compatible with colored hair, forming a protective shield over your hair shafts and keeping them safe. They allow you to pamper your hair right at home without having to spend a fortune at the salon for simple upkeep. To help you with your search, we have 15 shampoos and conditioners with high reviews that are ideal for color-treated hair in every way. Read on to find your favorite pick!
15 Best Shampoos And Conditioners For Colored Hair You Must Try In 2023
On the top of our list is the highly acclaimed color-safe shampoo and conditioner from L'Oréal Paris. Infused with rosemary extracts, this sulfate-free shampoo for color-treated hair protects hair by providing ample moisture and nourishment, while the conditioner reduces frizz. Neither the shampoo nor the conditioner contains any sulfates, parabens, or gluten, making it a safe shampoo and conditioner for dyed hair. Ideal for maintaining your vibrant locks, this popular drugstore duo helps repair damaged and dry hair. Many reviewers mention that the product treats damaged hair, tames frizz, and makes the tresses smooth and shiny.
Pros
Pleasant fragrance
Sulfate-free
Paraben-free
Does not contain gluten, salts, or dyes
Keeps color pure up to 4 weeks
Inexpensive
Cons
May not help reduce frizz
This shampoo and conditioner is a savior for colored hair. A formula containing ingredients like pro-vitamin B5 and vitamin E, helps maintain the texture and enhances the vibrancy of colored hair. It contains sweet almond oil, known for its deep conditioning and moisturizing properties, and coconut oil, which is rich in fatty acids and known to penetrate, condition, and soften colored hair, leaving it smooth and frizz-free.
Pros
Contains pro-vitamin B5
Contains vitamin E
Formulated with keratin
Travel-friendly packaging
Delightful caramel fragrance
Cons
More product may be required for those with greasy and oily hair
Are you tired of your hair being unmanageable because of constant re-coloring? Well, fret no more, because this argan oil shampoo and conditioner duo is the ideal solution to all your colored hair problems. Enriched with avocado and jojoba oil, the shampoo and conditioner nourishes your hair and reduces frizziness, breakage, and split ends. Its hypoallergenic formula contains no artificial colors, sulfates, parabens, or silicone, and brings your hair back to life. The shampoo has botanical keratin, a hydrolyzed pea protein that repairs damaged hair, making it stronger and healthier. The color-enhancing conditioner contains natural ingredients like shea butter, organic pomegranate, hibiscus, and silk amino acids, which protect the color from bleeding and provides it with the nourishment and sheen it needs.
Pros
 Cruelty-free
No parabens
No sulfates
No artificial colors
Suitable for dull and dry hair
Travel-friendly packaging
Cons
May not be suitable for all hair types
Your search for a volumizing shampoo and conditioner that will give you fuller and thicker hair ends here! This clinically tested formula gives colored hair a lustrous bounce that is worth flaunting. Apart from removing dirt, oil, and other environmental residues, it also is specifically beneficial for those suffering from thinning hair. Enriched with honey extract, almond oil, and almond extracts, it is safe for color-treated hair.
Pros
Suitable for oily hair
Provides moisture and nourishment to color-treated hair
Lightweight formula
Reduces hair thinning
Dermatologically tested
Cons
Protect color-treated hair with this Moroccan oil shampoo and conditioner. It is touted to be one of the best shampoos and conditioners for color-treated hair and is recommended by hairstylists all over the globe. It is absent of salts, parabens, gluten, and drying alcohols, and helps preserve your dyed hair while providing ample moisture and controlling frizziness. It contains UV protectants along with vitamins and antioxidants that nourish your hair and protect it from the damaging effects of using blow dryers and curling irons.
Pros
No sulfates
No parabens
Frizz control
Controls frizz
UV protection
Cons
Some may find it slightly drying.
This shampoo and conditioner pair is a trusted friend for colored and chemically-treated hair. The shampoo contains natural ingredients like hydrogenated castor oil, hydrolyzed wheat protein, and coconut oil, known for maintaining moisture in the hair shafts and preventing hair breakage. It helps keep your hair vibrantly glorious and lustrous, without the use of harsh chemicals like parabens. The conditioner contains sweet almond oil and aloe barbadensis leaf juice, which work towards strengthening the hair and maintaining its sheen and gloss.
Pros
Paraben-free
Free from salts
Suitable for all hair types
Moisture-locking formula
Dermatologically tested
Cons
Contains disodium laureth sulfosuccinate – a synthetic sulfate.
Made specifically for blonde and grey hair, this is a good shampoo and conditioner for bleached hair. It is a neutralizing formula that gets rid of brassy and yellow hues while maintaining rich colors. This praised pair will give you salon-quality hair with every wash and is free of sulfates, parabens, and gluten. It contains essential amino acids and antioxidants, which protect the color and strengthens the hair shaft. Rich in vitamin B7, it also maintains the hair's natural pH balance, ensuring healthy-looking hair.
Pros
Paraben-free
Sulfate-free
Gluten-free
Rich in vitamin B7
Cruelty-free
pH-balanced formula
Cons
May not be suitable for other hair colors besides grey and blonde.
For a long-lasting shine and an added sheer for colored hair, you must try the PURA D'OR Color Harmony Purple Shampoo And Conditioner. Keeping in mind the specific needs of bleached or platinum blonde hair, it maintains and manages the hair's vibrant color and texture. It contains argan oil, taro, and bamboo extracts, which help revitalize lackluster hair, manage split ends, and protect it from everyday damage and pollution, all while giving it a glossy, luxuriant sheen.
Pros
Suitable for bleached, blonde, and grey hair
Paraben-free
Sulfate-free
Shine-boosting
Suitable for all hair types
Cons
Some may find the scent overpowering.
No products found.
Bid farewell to dry colored and bleached hair and say hello to vibrant, salon-styled hair. This nourishing formula protects your hair from everyday damage and protects colored hair by protecting its radiance for up to 40 washes! It contains super nourishing ingredients like quinoa and elastin protein that helps in hair strengthening and provides long-lasting moisture and hydration.
Pros
Lasts up to 40 washes
Sulfate-free
Silicone-free
Enticing fragrance
Cons
May not be suitable for oily hair.
Your soul may be untamed, but your hair should not be. Gently cleanse, manage, and soothe color-treated hair with this keratin safe shampoo and conditioner duo. Enriched with argan oil, keratin, and African Manketti oil, this gentle cleansing formulation also contains vitamin E, amino acids, and antioxidants, which hydrate and moisturize damaged, color-treated hair. Using these products will leave your hair with a delightful bounce and an unmatched shine and maintains over 82% of hair color for up to 18 washes. Online reviewers love the product because it also ensures heat protection while blow drying your hair.
Pros
Maintains over 82% of hair color up to 18 washes
Contains vitamin E
Antioxidant-rich
Contains African manketti oil and keratin
Cons
May not be suitable for all hair types.
Coarse and lackluster hair will be a thing of the past with the WELLA Invigo Color Brilliance Shampoo And Conditioner! Infused with ingredients like lime caviar and vitamin E, this salon shampoo for color-treated hair manages the oxidization process, ensures better color retention, and aids in enhancing its vibrancy. It is also pH-optimized, helping close cuticles, and provides color protection that lasts up to 7 weeks. It is specially formulated for individuals with coarse, colored hair and works wonders to manage a rough hair shaft and make it more smooth and manageable. 
Pros
Contains lime caviar and vitamin E
pH-optimized
Suitable for coarse hair
Smoothes frizzy hair
Cons
Some may find the scent pungent.
Use the GK hair moisturizing, color protection shampoo and conditioner, and make heads turn everywhere you go. It contains natural seed oils, plant extracts, and natural grain extracts, which offer restorative care. The ingredients fortify the hair and make it healthier. If this wasn't convincing enough, it is also infused with Juvexin that ensures that your hair is left feeling soft, glossy, and frizz-free. Ideal for normal to dry hair, it is also cruelty, paraben, and silicone-free.
Pros
Infused with Juvexin
Contains aloe vera extracts
Cruelty-free
Paraben-free
Silicone-free
Dye-free
Cons
Were you looking for a herbal alternative to take care of your chemically-treated and colored hair? If yes, this color-protect shampoo and conditioner team is going to be your perfect match. Enriched with 100% pure natural hemp oil, this pair will nourish and replenish your hair with the moisture and hydration it needs. It contains lemon peel extracts that help in the exfoliation of dirt and other pollutants. It also has sunflower seed oil and radish root ferment, which reduces frizz and provides nourishment to the cuticles. 
Pros 
100% vegan
Contains herbal ingredients
Gluten-free
Paraben-free
THC-free
Cons
Some may find the consistency too thick.
This color-protecting shampoo and conditioner set is all you will ever need to keep your hair looking luxuriously lovely. Made from plant-based ingredients like organic lavender, geranium, grapefruit, it seals hair color and sheen with every wash. It also contains non-petroleum minerals, which make your hair 5 times stronger. It keeps the hair soft and shiny, while protecting the color for an extended period.
Pros
Plant-based ingredients
Cruelty-free
100% vegan
Responsible packaging
Makes hair 5x stronger
Cons
May not be suitable for those with an extremely sensitive scalp.
If every day is a bad hair day with lifeless and color-faded hair, the Manic Panic shampoo and conditioner will come to your rescue. This sulfate and paraben-free pair will extend the longevity of your hair color. Enriched with a clean and detoxifying formula, the sunflower seeds, organic ginseng root extract, rosemary extract, and sage extracts boost tissue growth, leaving you with healthy and happy hair. The shea butter in the formulation will add moisture and gloss and bring your hair back to life with bounce, shine, and volume.
Pros
Sulfate-free
Paraben-free
Cruelty-free
pH-balanced
UV protection
Fade-resistant
Cons
Some may find it slightly expensive for the quantity provided.
And there you have it! Our list of the 15 best shampoos and conditioners for colored hair. There are so many options, but which is the right one for you? Read on to find out how you can choose the best shampoo and conditioner for your hair.
How To Buy The Best Shampoo And Conditioner For Colored Hair
Keep the following things in mind when choosing a shampoo and conditioner best suited for your hair.
Hair texture
Keeping your hair texture in mind is crucial while assessing which shampoo and conditioner is best suited for your colored hair. Hair texture falls anywhere between fine, medium, and thick or coarse, and depending on that, you can make your pick of the best shampoo and conditioner for colored hair. Individuals with fine hair should opt for products that contain volumizing ingredients like collagen, hydrolyzed wheat protein, and root extracts for hair to appear thicker and fuller. On the other hand, if you have thick, coarse hair, you can choose color protection shampoos with ingredients like coconut oil, hydrolyzed protein, and shea butter to make your hair more manageable and help seal in the moisture.
Type of color used
Depending on the hue and tinge, many shampoos and conditioners are made explicitly keeping them in mind. For darker dyes like blacks and browns, a non-sulfate shampoo and conditioner will suffice. But if you have dyed your hair blonde, or a gorgeous grey, you should look for shampoos that neutralize the brassy and yellow tones and brighten the color.
Scalp condition
Ranging from oily, dry, to normal – your scalp condition can adversely affect the well-being of your hair. Pick a shampoo and conditioner that suits your scalp condition so that your hair can thrive. If you have an oily scalp, stick to shampoos and conditioners free of dyes and opt for clear and non-milky ones as they might irritate your scalp. For those with a dry scalp and color-treated hair, it is advisable to pick shampoos and conditioners with coconut oil, tea tree, and apple cider vinegar to provide your scalp the moisture it needs.
pH level
If you have colored hair, it is essential to choose shampoos and conditioners with a low pH level. This helps in keeping the hair cuticles closed and preserving color.
Sulfate-free
Sulfates are a big no-no when it comes to colored hair, and using them may make your hair color bleed and result in faded, lifeless hair color. So, don't forget to choose shampoos and conditioners that have little to no sulfates.
How To Use A Shampoo And Conditioner For Your Hair
Step 1: Thoroughly dampen your hair with lukewarm water.
Step 2: Pour a coin-sized amount of shampoo onto your palms and gently massage and cleanse the hair from root to tip.
Step 3: Rinse the shampoo entirely off the hair with lukewarm water.
Step 4: Repeat steps 2 and 3 if required.
Step 5: Pump some conditioner onto your palms and massage it into your hair, avoiding the roots.
Step 6: Leave it on for the duration mentioned on the bottle.
Step 7: Rinse your hair again with lukewarm water.
Step 8: Towel dry your hair for best results. 
Why Trust StyleCraze?
The author, Kirtana Divakar, is passionate about hair care and writes research-based product reviews for Stylecraze. For this article, she reviewed a wide range of shampoos and conditioners that are best suited for colored hair and analyzed hundreds of user reviews to curate this list. The products she has rounded up for you enhance the vibrancy of colored hair and help maintain the new texture.
Frequently Asked Questions
Is it safe to use regular shampoo and conditioner on dyed hair?
While you can use regular shampoo and conditioner, experts don't recommend it. They may not do a satisfactory job of preserving hair color as they contain non-color friendly ingredients like sulfates that will fade your gorgeous hair color in time.
How often should one wash color-treated hair?
With colored hair, you should try to minimize washing your hair as much as possible. This will help maintain the vibrancy of your hair color and preserve it. Irrespective of your hair type, washing 2-3 times a week would suffice.
Does color conditioner damage the hair?
No. However, color conditioners that contain harmful ingredients can damage the hair, making it weak and brittle.
How long do shampoo and conditioner last?
Shampoo and conditioner can last 2-3 years once opened and 3-4 years unopened.
Can shampoo and conditioner change hair color?
Yes, the harsh ingredients in shampoo and conditioner can react with hair dyes to change the color of your hair and cause uneven coloration.
Can I use color protection shampoo on normal hair?
Yes, you can use color protection shampoo on normal hair.
Recommended Articles