17 Best Shampoos And Conditioners For Every Hair Type – 2022
Give your hair the care it deserves - cleanse and condition it with formulas loved by all!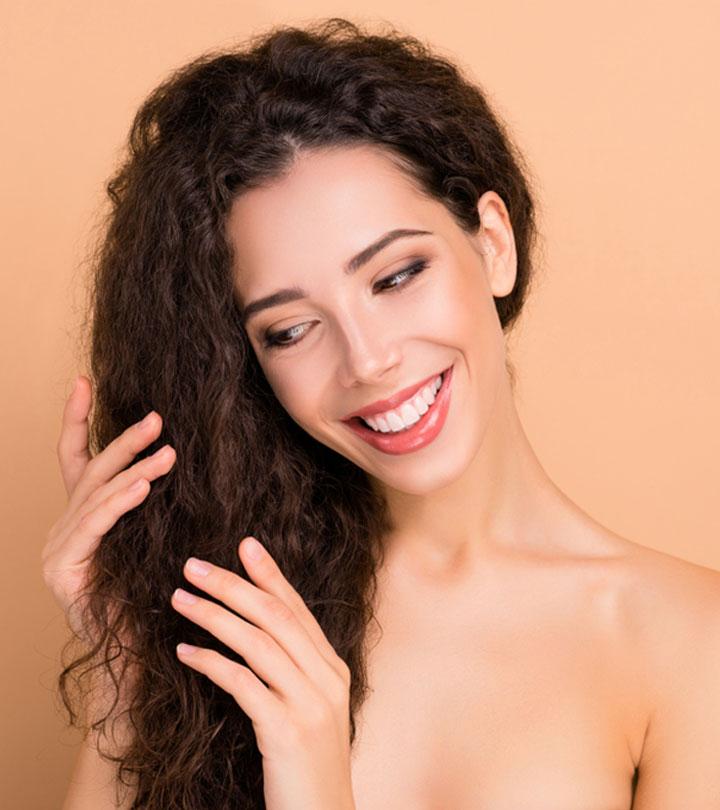 When looking for shampoos and conditioners, not everything will do for your gorgeous hair. You must look for the best shampoo and conditioner for your hair because caring for it is not as simple as you may think it is. You put your hair through a lot when you repeatedly style it with colors and hot tools and whatnot. Your hair needs some love, care, and a lot of pampering. This is when shampoos and conditioners come into play. While many manufacturers claim to make the best shampoo and conditioner for your hair, you may be confused or inclined with the name brand that you've been bombarded with. However, this may not be in the best interest of your hair. To help you with this mystery, we have done some searching and have shortlisted 17 of the best shampoos and conditioners for you to pamper your hair with.
Top 17 Best Shampoos And Conditioners For Your Hair – 2022
Want to neutralize brassy tones in your hair? Then this shampoo and conditioner set is perfect for you! Whether you have bleached, blonde, silver, highlighted brown, or any other color-treated hair, these hair products will keep your tresses healthy. They are infused with purple dye and hibiscus, which can neutralize brassy orange and yellow tones in your hair and keep it moisturized and hydrated. Use this shampoo and conditioner combo 2-3 times a week and leave the products on for a few minutes before rinsing your hair thoroughly. These rich and creamy formulas will seep deep into your locks, giving you long-lasting shiny and silky tresses. Check out this video on YouTube for a detailed understanding of the product.
Pros
Vegan
Gluten-free
Lightweight
Smells great
Free of sulfate, harsh salts, and paraben
Cons
May not be suitable for people who are allergic to hibiscus
Get this organic shampoo and conditioner set that contains Moroccan argan oil, which works as a natural moisturizer for your hair. It will help keep your tresses healthy and strong, along with leaving your scalp and hair hydrated. The shampoo also contains aloe and coconut extracts that nourish your locks, while the conditioner has shea butter as one of the primary ingredients. These elements make the shampoo and conditioner set 100% natural with an irresistible aroma. This pack is ideal for all hair types, including color-treated and heat-damaged hair. With no chemicals in the making, this set helps in cleansing your scalp by washing away all the dirt and oil, leaving you with shiny, soft tresses.
Pros
Vegan
Sulfate-free
Non-greasy
Paraben-free
Not tested on animals
Cons
Get this award-winning shampoo and conditioner combo to get rid of frizzy hair and prevent color fading. Suitable for most hair types, this set restores moisture in your hair, leaving you with strong, shiny, and silky tresses. These high-performance formulas are the perfect blend of juicy peach, organic rose oil, and hydrolyzed quinoa that provide nourishment and hydration, maintaining the texture of your hair. This shampoo and conditioner set will not harm your color-treated tresses as the products do not contain paraben, sulfate, gluten, phthalates, and drying alcohol. If you want to know more about this product, check out this video on YouTube.
Pros
Long-lasting
Cruelty-free
Fruity floral fragrance
Value for money
Doesn't weigh hair down
Cons
May not be suitable for extremely dry scalp
Want to repair your dry, damaged hair? Then, opt for this set of conditioner and shampoo infused with honey, which is known for its healing properties. These formulations also contain the natural blend of royal jelly and propolis extracts that helps mend your damaged and dry hair while also reducing breakage and split ends. You will achieve lustrous and strong strands, along with a mind-blowing scent. These creamy formulas help lock in your hair's natural moisture and nourish your scalp, leaving you with natural healthy tresses with every use. Go ahead and check out this YouTuber's video for more details about the product.
Pros
Portable
Affordable
Paraben-free
Reduces frizz
Gentle for everyday use
Cons
May result in slightly sticky hair
Increase bounce and add volume to your thin and fine hair with this Love Beauty And Planet shampoo and conditioner set. Made of naturally derived plant-based ingredients such as coconut water and mimosa flower, this combo gently detangles your knots and cleanses your scalp and hair. These organic formulas are safe for all hair types, including color-treated tresses. The conditioner and sulfate-free shampoo work together to make your hair healthy and strong.
Pros
Vegan
Cruelty-free
Soothing scent
Lightweight formula
Free of parabens, silicones, dyes, and phthalates
Cons
Hair may feel slightly greasy
Tired of dealing with itchy and dry scalp? Try this shampoo and conditioner duo that will give you long-lasting scalp relief and dandruff-free hair. Infused with coconut oil, the volumizing shampoo gently cleans and hydrates your dry scalp, while the conditioner restores moisture to lend you strong, nourished strands. Your hair and scalp will experience a royal treatment with this set of hair products that are ideal for all hair types and help balance your scalp health. Use these products to wash your hair, which can be every day, to achieve shiny and silky soft hair.
Pros
Lightweight
Produces rich lather
Irresistible coconut scent
Free of dyes and paraben
Sulfate-free conditioner
Cons
May not be suitable for extremely oily scalp
Looking for natural shampoo and conditioner? Then get these hair products that are specifically made for dry, damaged hair, including heat-styled and chemically-treated hair. This combo of shampoo and conditioner is formulated with natural ingredients and essential oils such as Jamaican black castor oil, peppermint, apple cider vinegar, shea butter, and natural oils. Jamaican black castor oil is loaded with reparative omegas that repair your damaged strands and promote healthy hair growth. In addition to that, peppermint stimulates your scalp and makes your hair stronger, while apple cider vinegar maintains pH balance in your hair to achieve a natural shine. All these natural ingredients in this shampoo and conditioner set will give you shiny and silky smooth tresses, which become stronger and healthier with every wash.
Pros
Color-safe
Smells good
Not tested on animals
Shea butter conditions hair
Natural oils minimize split ends
Free of parabens, formaldehyde, phthalates, petroleum, and sulfate
Cons
Remove brassiness from your hair with this shampoo and conditioner set particularly made for bleached, gray, color highlighted, and blonde hair. Featuring purple pigment, this set helps reduce brassiness by balancing the yellow and orange tones and enhancing the brightness of your silver or gray tresses. These products are infused with macadamia nut oil that improves elasticity and deeply moisturizes dry, rough, and coarse hair. At the same time, the CoQ10 in the formulas keeps your hair healthy by protecting it from damage due to styling tools and other environmental factors. This set also contains folic acid and green tea extract that nourish, hydrate, and strengthen your locks.
Pros
Non-greasy
High-quality
Cruelty-free
Great fragrance
Value for money
Cons
May not be suitable for sensitive skin
Are you losing moisture from your hair? Get this good shampoo and conditioner kit that will deeply hydrate your hair, delivering 2X more moisture to make your tresses beautiful and strong. This combo is perfect for dry, damaged hair as it can make it shiny, smooth, and healthy from root to tip. Your strands will stay protected against heat and environmental damage, thanks to these damage-defying formulas that are rich in antioxidants and help reduce protein loss. These hair products can be used on all hair types, including color and chemically-treated hair.
Pros
Produces rich lather
Lightweight
Paraben-free
Provides long-lasting shine
Ensures effortless detangling of hair
Cons
May take some time to rinse off the conditioner from hair
Achieve healthy and thick hair with this set of shampoo and conditioner that cleans chemical build-up, dandruff, and dirt from your hair and also detoxifies your dry scalp. These products help restore the lost nutrients and repair your weak, damaged hair to make it strong and healthy. These formulas contain argan oil, biotin, aloe vera, and coconut oil that help retain the smoothness of your tresses and balance the pH level in your scalp. They are also enriched with cassava root that provides nourishment and hydration and vitamin B5 and E, keratin proteins, and fatty acids that strengthen your mane.
Pros
Vegan
Hypoallergenic
Reduces split ends
Helps in hair growth
Not tested on animals
Sulfate and paraben-free
Helps restore proteins and amino acids
Cons
Get this amazing combo of shampoo and conditioner to lock in moisture for 24 hours and repair your dry hair. Suitable for normal to dry hair, these products deeply nourish your tresses and make them stronger. These formulas contain caviar complex and elastic protein that make your hair shiny and silky soft. You will achieve a salon-worthy look with these hair products that will revitalize your mane while lending suppleness and flexibility with every wash. Use these hair shampoo and conditioner products on your wet hair and rinse thoroughly after application.
Pros
Color-safe
Silicone-free
Does not weigh hair down
Delivers long-lasting shine
Cons
May not be suitable for extremely sensitive scalp
Looking for at-home keratin treatment products? Go for these great shampoo and conditioner products that will stimulate your scalp and add volume to your hair. This set cleans out scalp build-up and protects against any external damage, shielding your hair's natural keratin protein. You will be left with frizz-free, healthy, and moisturized hair and nourishes the scalp with this combo. Plus, it makes your hair more manageable, no matter the hair type. These formulas contain amino complexes that thicken the hair shaft and repair split ends, while ingredients like hydrolyzed Ceratonia siliqua seed extract, Panax ginseng root extract, and Arctium majus root extract restore shine and strength.
Pros
Cruelty-free
High-quality
Provides hydration
Anti-breakage protection
Free of sulfate, dyes, paraben, and phthalate
Cons
Are your conditioner and shampoo weighing your hair down? Then what you need are these lightweight hair products that restore natural strength in your weak, over-processed tresses and provide protection against damage. This shampoo and conditioner set is perfect for curly hair that is kinky, coiled, or even loose as the main ingredient, almond milk, restores softness, and hydrates your curls deeply. This combo also contains aloe vera, almond oil, shea butter, and proteins to strengthen and protect your hair against dirt, heat, and other environmental stressors.
Pros
Durable
Makes hair voluminous
Value for money
Not tested on animals
Free of mineral oil, petrolatum, and sulfate
Cons
Achieve healthy hair growth with this set of high-quality shampoo and conditioner that gently cleanses and conditions your hair and scalp, leaving you with thicker and fuller hair. They are infused with biotin, zinc, and keratin that boost hair growth, while pea sprouts add volume. These products are suitable for all hair types, including color-treated, fine, thick, dry, damaged, and thin. Using these products together will make your hair shinier and voluminous with every wash and give you visible results in a month.
Pros
Portable
Everyday use
Refreshing scent
Weightless conditioner
Cons
Looking for the best sulfate-free hair products? Then this set of shampoo and conditioner is perfect for you! It does not contain sulfate and, thus, is safe to use to make your hair healthy and nourished. These products help lock in moisture and hydrate each strand to prevent damage against heat or environmental changes. This combo cleans your hair and scalp deeply, removing build-up and impurities such as dirt and oil. They will make your hair shiny and dandruff-free with every wash while also removing greasiness from oily hair. These hydrating shampoo and conditioner products will not weigh your hair down; but instead, provide bounce, leaving you with shiny and silky soft tresses.
Pros
Smells great
Easy to apply
Ideal for everyday use
Reduces frizz
Value for money
Cons
May not be suitable for super-fine hair
Protect your color-treated, damaged, dry, and keratin-treated hair with this popular shampoo and conditioner set that cleanses and provides smoothness. This combo delivers natural keratin protein to your hair that helps strengthen and nourish your tresses and also ensures healthy hair growth. Suitable for all hair types, these products contain a blend of three proteins that reduce flyaways and frizz to give you soft and shiny hair.
Pros
Sulfate-free
Long-lasting
Nice fragrance
Sodium chloride-free
Cons
May make your hair slightly greasy
Restore smoothness and repair your damaged hair with this shampoo and conditioner combo that contains argan oil of Morocco. This set makes your hair silky smooth and nourishes your scalp. Formulated with naturally sourced ingredients and real botanicals, these products are 90% naturally made with purified water and limited processing. You will not only notice better results after a few washes but also experience a mind-blowing aroma that will last long. This combo has a wonderful fragrance of exotic spices, fizzy citrus, and creamy vanilla that will leave you with a refreshing feeling all day long.
Pros
Affordable
Color-safe
Paraben-free
No colorant
pH-balanced
Cons
May not be suitable for extremely dry hair type
Before you decide on a product, do take a look at our buying guide that will help you choose wisely.
Buying Guide
How To Choose The Right Shampoo And Conditioner
Long-lasting shine: Pick a shampoo and conditioner combo that will provide long-lasting shine and smoothness. If your hair products fail to provide shine all day long, then it is time to switch to another brand.
Natural: Try to choose hair products that are made of natural ingredients. It helps protect your hair against harmful chemicals that may damage your tresses and dry your scalp.
Removes build-up: Shampoo and conditioner should deeply clean and condition your hair. They should remove scalp build-up caused by dirt, oil, or chemical treatments.
Suitable for all hair types: Pick shampoos and conditioners that are made for all hair types. If the texture of your hair changes due to color or chemical treatments, such hair products will protect your tresses and prevent color fading.
How To Use Shampoo And Conditioner
The application of  shampoo and conditioner is quite easy:
Step 1: Wet your hair properly
Step 2: According to the volume and length of your hair, you should decide the amount of shampoo required for your hair. Take the required amount and gently massage your scalp.
Step 3: Rinse your hair thoroughly.
Step 4: Apply conditioner, but a lesser amount than shampoo.
Step 5: Glide your fingers through the ends of your hair to evenly spread the product. Leave it on for 2-3 minutes.
Step 6: Rinse it thoroughly.
Benefits Of Shampoo And Conditioner
Using shampoo and conditioner will help you get rid of knots and split ends.
They make your hair healthier, silkier, smoother, and shinier.
Shampoo and conditioner together help clean and nourish your scalp and hair.
They also protect your beautiful mane from heat damage and environmental stressors.
Shampoo and conditioner add volume to thin hair and make thick hair bouncy and frizz-free.
Why Trust StyleCraze?
The author of this article, Kirtana Divakar, is a hair care enthusiast who loves writing comprehensive articles on products that nourish hair. She has carefully read online reviews of the best shampoos and conditioners before curating StyleCraze's list. This list comprises products that smell great, lightweight, and are free of harsh salts. Not only are these shampoos and conditioners budget-friendly and suitable for every hair type, but they'll also make your hair look silky, shiny, and frizz-free.
Frequently Asked Questions
Does shampoo and conditioner cause hair loss?
Using the right shampoo and conditioner does not cause hair loss. You should choose products that suit your hair type.
Can shampoo and conditioner cause an itchy scalp?
They might cause an itchy scalp if you are allergic to any ingredients infused in them or if those products are not suitable for your hair type and texture.
Are 2-in-1 shampoo and conditioner products good for your hair?
It is better to purchase shampoo and conditioner separately as a 2-in-1 product might lead to greasy hair.
How much shampoo and conditioner should you use?
Shampoo should be used according to the volume and length of your hair, while conditioner should be used in a lesser amount than shampoo.
Which is the best shampoo and conditioner?
The products on the list are some of the best shampoos and conditioners but we would recommend Pantene Pro-V Daily Moisture Renewal Shampoo And Conditioner because this set is paraben-free and delivers 2 times more moisture to make your hair healthy, shiny, and strong.
Recommended Articles