10 Best Shampoos For Every Asian Hair Type To Try In 2023
Cleanse your hair with gentle shampoos that effectively nourish the tresses.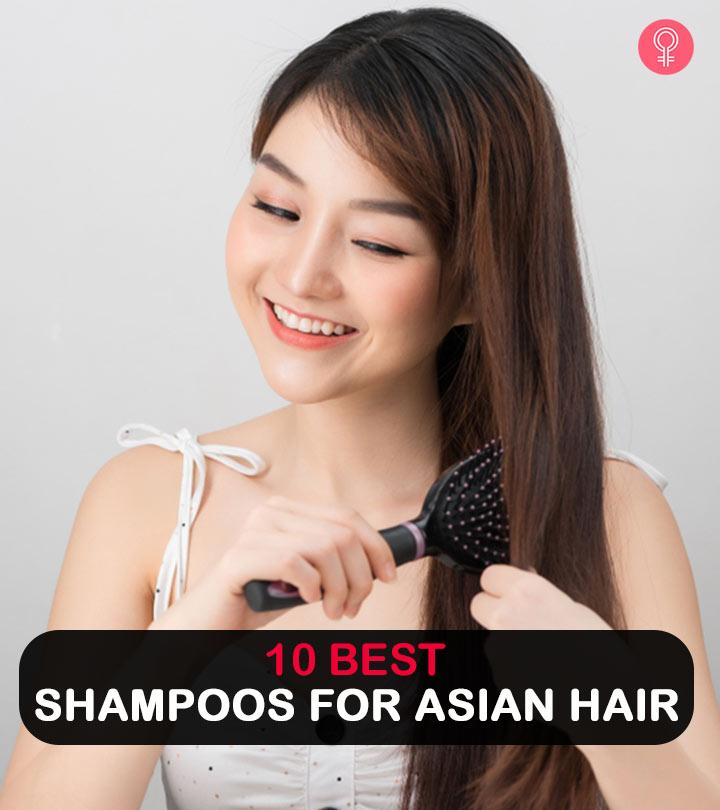 The diversity of Asian hair is immense, and everyone has a unique texture. Thus, finding the right shampoo can be challenging. We have brought you the best shampoos for Asian hair. Although straight, Asian hair has different textures ranging from fine to coarse. You could have brittle, fine, or even thick hair, and being aware of your scalp issue, hair type, and texture is so important to pick the right shampoo.
We have got you a list of the 10 best shampoos for Asian hair. Take a look!
The 10 Best Shampoo For Every Asian Hair Type
Pros
Nourishes the hair
Adds shine
Makes the hair manageable
Prevents graying
Treats dandruff
Relieves headache
Prevents hair fall
Cons
None
Price at the time of publication: $22.99
The Orofluido Asia Zen Control Shampoo is formulated with tsunami oil, bamboo, and rice oil. These ingredients help enhance hair strength and flexibility. Pantheon locks in hair moisture, and corn starch conditions the hair. This gentle formula prevents breakage, eliminates split ends, and reduces frizz. It is unisex and suitable for all hair types.
Pros
Gentle formula
Enhances hair strength
Reduces frizz
Prevents breakage
Eliminates split ends
Unisex
Cons
None
Price at the time of publication: $17.86
The Daeng Gi Meo Ri Ki Gold Premium Shampoo is formulated with green tea and changpo. These ingredients are rich in antioxidants that help in toxin and heavy metal removal. Panthenol softens the hair and helps retain hair moisture. This shampoo has a medicinal, herbal aroma and is suitable for all hair types.
Pros
Mild formula
Suitable for all hair types
Unisex
Softens the hair
Cons
None
Price at the time of publication: $32.0
Pros
Refines the scalp
Repairs damaged hair
Unisex
Cons
Price at the time of publication: $23.94
The Shiseido Tsubaki Extra Moist Shampoo from Japan is formulated with high-quality oils and Tsubaki flowers. These ingredients, rich in oleic and linoleic acids, are absorbed into the hair easily. This shampoo softens and smoothens the hair and is safe on color-treated hair.
Pros
Moisturizes the hair
Softens the hair
Pleasant fragrance
Color-safe
Cons
Price at the time of publication: $37.94
Pros
Nourishes the hair
Prevents hair loss
Strengthens the hair
Cons
Price at the time of publication: $16.35
The PhytoWorx Hair Recovery Shampoo is formulated with plant stem cells that help in hair regrowth and prevent hair loss. It also contains ginger root extract and aloe vera juice that protect the scalp. The licorice extracts help reduce infections and hair allergies. This shampoo is safe for color-treated hair and free of SLS and parabens.
Pros
Prevents hair loss
Safe for color-treated hair
SLS-free
Paraben-free
Cons
Price at the time of publication: $44.99
The Kracie Ichikami Shampoo is formulated with Japanese botanicals that help repair damaged hair. The cuticle-soothing formula prevents cuticle peeling. This shampoo strengthens the hair and has a fresh aroma of wild cherry blossoms. It is free of silicone and sulfates.
Pros
Prevents cuticle peeling
Suitable for daily use
Pleasant fragrance
Strengthens the hair
Silicone-free
Sulfate-free
Cons
None

Best For Reducing Dandruff:
RYO Shampoo
Pros
Reduces hair loss
Soothes itching on the scalp
Mineral oil-free
No synthetic pigments
Cons
None
Price at the time of publication: $20.58
The Shiseido Super Mild Shampoo is formulated with vitamin E. It protects the hair from drying and friction. This shampoo smoothens the hair and makes it silky. It is unisex, suitable for all hair types, and has a mild fragrance.
Pros
Gentle formula
Smoothens the hair
Mild fragrance
Unisex
Suitable for all hair types
Cons
Price at the time of publication: $15.74
Asian hair is a very unique type. It comes with its own hair challenges that need special formulas to treat and repair. If you find it puzzling to get the right shampoo for your Asian hair, check out the guide below. We have jotted down some important features that you must consider before committing to a shampoo for Asian hair.
What To Consider When Buying Shampoos For Different Asian Hair Type
Cleansers: Asian hair doesn't absorb moisture easily because of its low porosity. This is why this hair type always looks oily. To tackle this, use deep cleansing ingredients like rice oil, bamboo oil, or vitamin E content shampoo. This will reduce the oiliness of your scalp. However, use these shampoos only once or twice a week to prevent over-drying the hair strands.
Anti-frizz Property: Asian hair, as mentioned before, doesn't absorb moisture which is why the stands remain dry from the inside even if they look oily on the outside. This causes frizz. Ingredients like avocado oil, coconut oil, tsunami oil, rice oil, shea butter, and other natural contents are more helpful to keep hair moisturized from the inside and thus, minimize frizz.
Organic Ingredients: Look for shampoos that are made from natural ingredients. The natural ingredients promote hair growth and strength. Go for formulas made with nourishing ingredients like cocoa butter and jojoba oil. They are undoubtedly better than chemical-filled shampoos in terms of quality and safety.
Anti-hairfall Property: Hair fall is one of the most common problems for Asian hair. So, invest in a shampoo that contains essential oils like lavender, peppermint, and tea tree which reduce hair loss and enhance hair growth.
Color-safe formula: Opt for color-safe, color-toning, or color-depositing shampoos that work well with your hair type. If you've brown or red hair, regular shampoos will work great. On the other hand, purple shampoos do well when applied to blonde hair and prevent it from turning yellow.
Frequently Asked Questions
Should I shampoo Asian hair every day?
No. Wash Asian hair with shampoo two or three times a week. However, if you live in a very humid climate, you can shampoo more frequently, but make sure to use a hydrating shampoo.
How can I improve my Asian hair?
Brush your hair twice a day to improve the growth and texture of Asian hair. Use a hair mask once a week to help with oil control and boost volume.
How do you keep Asian hair from getting greasy?
Follow these steps to keep your Asian hair from getting greasy:
• Wash your hair 3-4 times a week to prevent oil buildup.
• Apply dry shampoo in between washes to combat oil accumulation.
• Use a soft, natural bristle brush to comb your hair regularly.
• Use a sulfate-free shampoo to retain the natural oils and prevent the overproduction of oil.
• Rinse your hair with apple cider vinegar to eliminate the scalp buildup.
Will washing my hair every day make hair grow faster?
No. Washing hair daily weakens the strands and causes increased hair fall.
How do Asians get thicker hair?
The cuticle layer in Asians has compact cuticle cells. So, they have thicker hair. In addition, Asians apply nutritious oils like argan, jojoba, coconut, or olive oils to nourish and stimulate hair growth.

Best Shampoo Brands For All Hair Types
Best Shampoos And Conditioners For Every Hair Type
Best Hair Growth Shampoos And Conditioners
Best Shampoos And Conditioners For Curly Hair