14 Best Shampoos For Curly Hair That You Must Buy In 2023
Chemical-free, gentle shampoos that tame your delicate curls without any damage.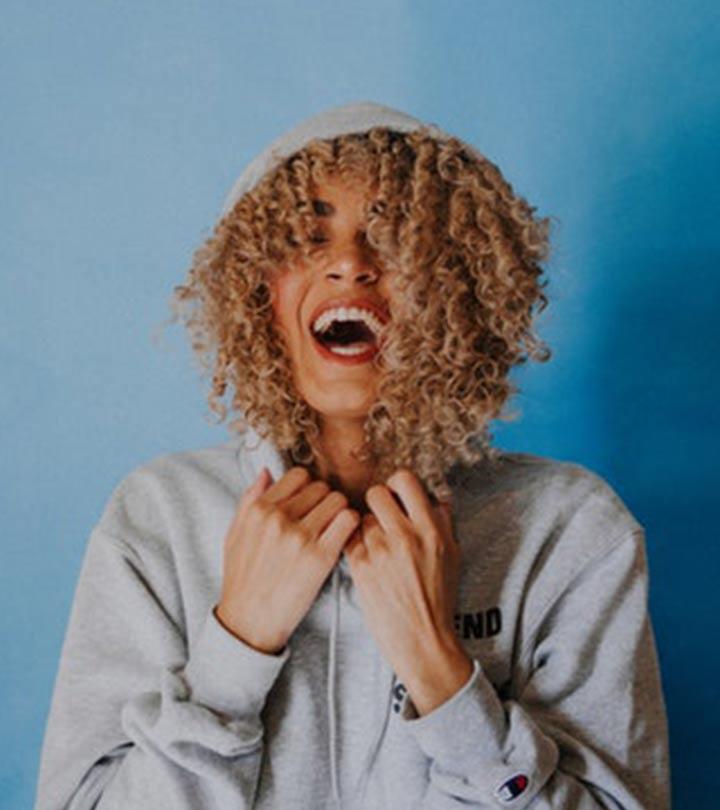 Curly hair needs a lot of care and attention, and everyone's curly hair journey involves a lot of trial and error. There are a lot of products available in the market that will meet your personal hair preferences, needs, and curl type. However, if you want to tame those wild hair strands, you need to use the best shampoos for curly hair. These curl-enhancing shampoos should be free from sulfates and alcohol because these ingredients can leave your hair even more dry, stringy, and unhealthy.
Let's keep scrolling through to check out our list of the 15 amazing shampoos for curly hair.
How To Wash Curly Hair
Since shampooing can dry out your hair, and curly hair often leans towards drying out easily, it is essential that you know how to shampoo your hair while preserving moisture. Follow the tips below to ensure that you're on top of your shampoo game.
1. Pre-Condition
Apply conditioner or oil on dry hair 10-15 minutes before you shampoo so that you can minimize moisture loss when you lather up.
2. Dilute
You must always dilute your shampoo before you apply it to your hair. This will make it less dehydrating and also help in forming more lather.
3. Be Gentle
Do not get busy rubbing and scrubbing your hair and scalp. Rub your hair gently in between your palms and use the pads of your fingertips to massage your hair gently.
4. Post-Condition
Although you did start with conditioning, it is essential that you seal the deal as well to lock the moisture in your hair. Since you are conditioning twice, it is important that you invest in a good one and lots of it because you'll be running out of conditioner much faster than shampoo.
5. Air-Dry
Do not attack your hair with a towel to get the moisture out. This will create friction and dry out your hair more than necessary. Instead, gently squeeze the water out of your hair with a towel and then let it air-dry. If you are in a hurry, use the blow dryer on the cold setting to get the job done faster.
Let's now take a look at the best curl maintenance shampoos for curly hair.
14 Best Shampoos For Curly Hair
This professional shampoo stands out because of its excellent and consistent results. It is a gentle cleanser made especially for curly and wavy hair. It defines the curls while taming frizz. The formula contains wheat protein and organic aloe blend, which help hydrate dry and parched hair. The shampoo has a refreshing citrus aroma from certified organic lemon, bergamot, orange, and other plant and flower essences.
Pros
Makes your hair incredibly soft
Cleanses scalp well
A little product goes a long way
Brings out your curls
Adds intense shine
Cons
Price at the time of publication: $25.0
This hydrating shampoo is formulated with naturally derived ingredients like tomato fruit ferment, shea butter, avocado oil, and quinoa extract. These nourishing ingredients hydrate your curls, increase softness, and enhance the body of curls. The unique blend of ingredients keeps your hair healthy, fresh, and hydrated until the next wash. This shampoo offers high performance for all hair types.
Pros
Allows uniform curl formation
No added preservatives
Free of harsh chemicals
98% naturally derived ingredients
Gluten-free and cruelty-free
Cons
Price at the time of publication: $28
If you are looking for an all-natural shampoo to help tame your curls, you should give Mamaearth's Happy Heads Shampoo a shot. The dermatologically tested shampoo is packed with natural ingredients, such as amla, biotin, and natural protein and helps in keeping your curls in place. It helps in reducing frizz and keeps your tresses moisturized from root to tip. This hair growth-promoting shampoo for curly hair helps reverse hair loss and promote new hair growth.
Pros
Improves scalp health
Ideal for sensitive skin
Nourishes your hair
Restores strength to the roots
Dermatologically tested
Cons
Price at the time of publication: $16.8
[ Read – Mamaearth Happy Heads Shampoo Review ]
Hydrate your dry and moisture ridden hair with Aphogee's Curlific Textured Hair Wash. It is a pH-optimized shampoo that contains a high amount of protein for strength, elasticity, and shine. The formula contains quinoa protein and keratin to help hydrate and detangle even the most unruly hair and offer restorative care. This shampoo is ideal for all curly hair types.
Pros
Creamy lather
Makes your hair soft and more manageable
Tames unruly hair and flyaways
A little product goes a long way
Cons
Price at the time of publication: $20.11
If you have chronically dry hair with zillions of tangled coils, this hair softening shampoo is the perfect product for you. It contains a powerful blend of moisturizing ingredients like coconut oil, shea butter, and extra virgin olive oil. These keep your curls soft, silky, and hydrated and enable you to comb your tresses easily. Multiple reviews also mention that the product deep cleanses the hair and significantly reduces hair fall and excess oil from the scalp. This drugstore detangling shampoo helps condition your curls thoroughly and gently cleanse away dirt and impurities.
Pros
Rich, creamy lather
Softs dry ends
Suitable for curls, coils, and waves
Free of sulfates, parabens and mineral oil
Cons
Price at the time of publication: $6.97
Jessicurl Gentle Lather Shampoo uses natural cleansing agents to cleanse your scalp without stripping away its natural oils. It creates a luxurious lather, leaving your hair looking soft, silky, and shiny.
Pros
Does not weigh your hair down
Artificial fragrance-free
Suitable for all hair types
Creamy consistency
Cons
Takes time to deliver results
Price at the time of publication: $16.95
Keep your hair hydrated and nourished with the Attitude Curl amplifying Shampoo. The pH-balanced shampoo is loaded with chamomile extract and coconut oil that enhance your hair, make it smooth, and define your curls. It has a peach and vanilla fragrance that makes you feel refreshed. In addition, the dermatologically-tested shampoo eliminates frizz from your hair.
Pros
EWG verified
Dermatologically tested
Hypoallergenic
Paraben-free
Silicone-free
PEG-free
Formaldehyde-free
Vegan
Cruelty-free
Cons
Price at the time of publication: $18.76
This sulfate-free shampoo is suitable for cleansing extremely dry and damaged curls. It contains organic shea butter, sea kelp, and argan oil. These natural moisturizing ingredients deeply condition your hair and scalp. They impart mineral-rich nutrition to your hair, improving its elasticity and strength with use. The color-safe shampoo claims to restore shine and smoothness for transitioning hair.
Pros
Suitable for chemically treated hair
Lathers well
A little product goes a long way
Lightweight formula
Cons
Price at the time of publication: $10.49
This advanced anti-frizz shampoo is formulated to help your curls withstand extreme heat and humidity. It eliminates static and controls other frizz-causing factors. The curl-friendly formula contains a blend of emollients like shea butter, murumuru butter, and ceramides that help repair hair and smoothen the strands. It also helps in cleansing the hair without stripping oils. The shampoo's patent anti-frizz nanotechnology with silk proteins seals the cuticle, preventing breakage and frizz.
Pros
Imparts nutrients
Improves the hair texture
Suitable for all curl types
Establishes curl definition
Provides UV protection
Cons
Price at the time of publication: $22
Get the grimy stuff off your scalp with the help of this clarifying shampoo. It contains an exclusive blend of mandarin orange extract that cleanses your scalp gently of oily build-up and sea kelp that helps maintain proper scalp moisture levels. This shampoo is perfect for everyday use and helps add curl definition and volume. The best part about this shampoo is that it clears hard water residue with use.
Pros
Free of sulfates
Lathers well
Hair feels fresh and clean
Adds volume to flat hair
Cons
Price at the time of publication: $15.45
Cleanse and condition your curls simultaneously with L'Oreal Paris EverCurl Hydracharge Cleansing Conditioner. It claims to provide 48-hour frizz control and curl definition. The formula contains a concentrated blend of naturally-derived surfactants that provide luxurious lather. It makes each strand stronger, healthier, and more resilient with use. It also contains aromatic hibiscus and rosemary extracts that invigorate the senses, making your hair wash experience more delightful.
Pros
Makes your hair more manageable
Provides humidity control
Cleanses scalp well
Cons
Price at the time of publication: $29.35
This moisturizing shampoo contains jojoba, macadamia, and coconut oil that provide triple nourishment to your hair for stronger, bouncier, and healthy curls. This shampoo deeply replenishes each strand from root to tip and eliminates frizz for the perfect curl definition.
Pros
Free of sulfates
Cleanses scalp well
Smoothes the curls
Strengthens the roots
Cons
Price at the time of publication: $7.99
If you want to use a chemical-free shampoo enriched with the goodness of organic ingredients, this shampoo is the best product for you. It adds ample volume to your hair. It also imparts softness and shine to your hair, leaving it looking healthy and refreshed. It contains scalp and hair-friendly ingredients that do not strip away the natural oils. It cleanses your scalp thoroughly and eliminates dirt and grime.
Pros
Soothes your scalp
Reduces breakage
Nourishes damaged locks
Promotes new hair growth
Cons
Price at the time of publication: $14.99
This revitalizing shampoo for curly hair is a dream for those who want their tresses to smell like a million dollars. It also delivers 20-hour humidity control. It defrizzes your locks and adds volume and definition to flattened curls. In just one use, you will be left with perfectly defined, voluminous, bouncy, and irresistible curls.
Pros
Moisturizes your hair
Lathers well
Hydrates dry and limp hair
Has a fruity fragrance
Cons
Can make your hair greasy
Price at the time of publication: $19.99
Why Trust StyleCraze?
Pooja Karkala, the author of this article, is a hair care enthusiast who understands that curly hair requires a lot of attention and the right shampoos. With so many products available on the market, she has carefully chosen the best one for her readers after thorough research and review. She recommends using curly hair shampoos that are free from sulfates and alcohol because these ingredients can leave the hair even more dry, stringy, and unhealthy.
Frequently Asked Questions
How often should you wash curly hair?
Wash your curly hair not more than twice weekly.
Can we use dry shampoo for curly hair?
Yes, you may use dry shampoo for curly hair to avoid washing it frequently.
What should curly hair shampoo not have?
Curly hair shampoo should not contain sulfates, parabens, formaldehyde, silicones, and other harmful chemicals, which damage the hair.
Is it OK to wet curly hair everyday?
No, washing curly hair everyday will remove the scalp's natural oil making it dry.
Are shampoo bars good for curly hair?
Yes, a shampoo bar with curl-friendly ingredients, like coconut oil, aloe vera, argan oil, and shea butter, will nourish the hair and keep your locks healthy.
Recommended Articles: