10 Best Shampoos For Dry Scalp (2022), According To Reviews
Moisturize your scalp and enjoy itch and dandruff-free days with these hair care essentials.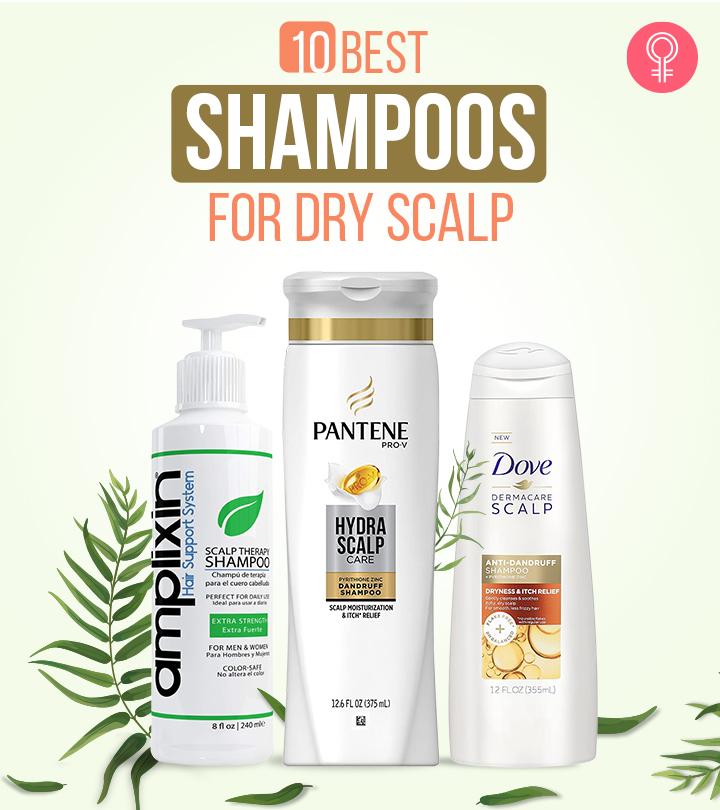 A dry scalp calls for moisture and smooth cleansing, and the best shampoo for dry scalp helps you achieve that. The cause for this condition is many, like weather transitions, usage of excessive hair dye, and other sensitive skin problems like dermatitis. Deep nourishing with oils is essential, and even damage-free cleanser formulas are also available for gentle care of your scalp. To avoid the above issues from ruining your hair and scalp, go through our list of the 10 best shampoos that work nicely on skin devoid of nutrient oils and moisture.
10 Best Shampoos For Dry Scalp Available Right Now
Nizoral A-D Anti-Dandruff Shampoo is one of the best dry shampoos for a flaky scalp. This shampoo fights breakouts and itchiness. It contains an active ingredient called ketoconazole, which is an anti-fungal agent that binds to your hair's natural protein to kill dandruff. It is suitable for adults, adolescents, and pregnant women.
Use this shampoo to wash your hair twice a week for 2-4 weeks. Once your scalp has cleared up, you can use it once every two weeks. You can check this YouTube video for more information about the product.
Pros
Fights dandruff
Reduces flaking and itchiness
Treats psoriasis sores
Suitable for all hair types
Cons
May cause an allergic react
May dry out your skin
No products found.
Neutrogena T/Gel Therapeutic Shampoo provides significant relief from a dry and itchy scalp. It moisturizes your scalp and alleviates inflammation. This shampoo has an original creamy formula. It contains Neutar (1% coal tar) that is proven to control flaking and itching on the scalp for hours after it's rinsed out. This is a clinically proven and dermatologist-recommended product that has soothing properties to heal a flaky scalp.
Use this shampoo thrice a week or as directed by the doctor for desired results. You will see visible results after six weeks of following the routine. If you are still unsure about purchasing, you can check out a review of this product on YouTube.
Pros
Treats dry and itchy scalp
Moisturizes your scalp
Eliminates dandruff
Cons
May cause skin or scalp irritation
Excessive use may cause hair follicle problems.
Stains dyed hair
If you are frantically for a shampoo that is right for your itchy and dry scalp, the As Am I Dry & Itchy Scalp Care Shampoo is an ideal remedy. It is free from sulfates and parabens. This shampoo is enriched with zinc pyrithione, olive oil, and tea tree oil. Tea tree oil works wonders to reduce scalp dryness. It effectively fights dandruff and seborrheic dermatitis. Zinc pyrithione is also an active ingredient that eliminates dandruff.
This shampoo gives the best results if you follow your doctor's instructions or apply it at least twice a week. You can check out this YouTuber's review of the product if you require more convincing.
Pros
Relieves dryness and irritation
Reduces redness
Hydrates the hair
Cleanses and moisturizes the scalp
Cons
Overuse leads to hair breakage
Another great shampoo for a flaky scalp is the Amplixin Scalp Therapy Shampoo. This shampoo is specially formulated with tea tree oil and peppermint oil to treat dryness and flakiness on the scalp. It is infused with the perfect combination of red clover, bio-mimetic peptides, and caffeine that help in stimulating the scalp to slow down hair loss. It nourishes your hair and is suitable for all hair types. It is also good for people with psoriasis and seborrheic dermatitis.
The shampoo is ideal for daily use as it is infused with aloe vera, tea tree oil, caffeine, and rosemary extract.
Pros
Contains natural oils
Reduces hair loss
Sulfate-free
Paraben-free
Cruelty-free
Suitable for all hair types
Cons
May cause an allergic reaction
The next shampoo on the list that acts as a life-saver to solve your dry scalp issues is the Maple Holistics Tea Tree Special Formula Shampoo. Tea tree oil works like a miracle to treat dryness on the scalp and has both anti-fungal and anti-bacterial properties. This shampoo is also enriched with natural ingredients like lavender and rosemary oils that help retain the moisture of your scalp.
Use this shampoo twice a week to see a visible improvement in your scalp.
Pros
Washes away dandruff and flakes
Makes your hair look healthy
Boosts hair growth
Eradicates head lice
Hypoallergenic
Sulfate-free
Cons
May cause an allergic reaction
Burning or stinging sensation.
Selsun Blue Itchy Dry Scalp Dandruff Shampoo is a super hydrating shampoo that provides essential nutrients to your hair like vitamins B5 and E. The active ingredient in this shampoo is 3% salicylic acid that fights dryness and flaking and protects your hair. It treats dandruff and itchiness like a pro. Your hair is left with a shinier and healthier appearance after each wash.
You can use this shampoo twice a week for desired results.
Pros
Moisturizes the hair
Fights dandruff
Suitable for color-treated hair
Suitable for all hair types
Cons
Causes irritation on broken or inflamed skin
Avlon Keracare Dry & Itchy Scalp Anti-Dandruff Moisturizing Shampoo deeply cleanses and moisturizes your hair. This is the best choice if you have a dry scalp and 4C hair treatment. The active ingredient in this shampoo is zinc pyrithione that stops flakiness from coming back. As this shampoo can dry out your hair a little, it works best when combined with the Keracare Dry & Itchy Scalp Conditioner.
Consult a dermatologist before using this shampoo.
Pros
Cleanses hair
Eliminates flakiness
Moisturizes the hair
Fights dandruff
Treats itchiness
Cons
Thin consistency
Unpleasant fragrance
Avalon Organics Tea Tree Mint Scalp Normalizing Shampoo is s carefully balanced blend of plant-based botanicals and tea tree, mint, eucalyptus, and chamomile oils that give you a comfortable scalp and shiny hair. This shampoo makes your hair softer and healthier. It also makes it more manageable. Avalon Organics Tea Tree Mint Scalp Normalizing Shampoo is sulfate-free, paraben-free, and has zero synthetic fragrances or colors.
Use this shampoo twice a week to get the best results.
Pros
Softens the hair
Soothes the scalp
Makes hair more manageable
Vegetarian
Cruelty-free
Paraben-free
Sulfate-free
Phthalate-free
No preservatives
No synthetic colors or fragrance
Cons
Dove Dermacare Scalp Anti-Dandruff Shampoo relieves all the flakiness and itching on your scalp. It contains rich fruit extracts and other active ingredients like water, cucumber, and aloe juice. The shea butter and coconut oil in this pH-balanced shampoo moisturize dry hair.
Use this shampoo twice a week to get flake-free hair and scalp.
Pros
Relieves scalp irritation
Reduces redness
Smoothens the hair.
No visible flakes with regular use
Pleasant fragrance
Cons
Contains parabens and SLS
Pantene Pro-V Daily Moisture Renewal 2 in 1 Shampoo & Conditioner contains a blend of nutrients and antioxidants to nourish your hair and scalp. It gently cleanses the flakes from your scalp and hydrates your hair from within. It rejuvenates your hair from root to tip in one simple step. It is especially great for people with a dry and itchy scalp.
You can use this shampoo-cum-conditioner twice or thrice a week as per your requirements.
Pros
Free from harsh ingredients
Reduces flaking
Softens dry and damaged hair.
Removes build-up from the hair and scalp
Cons
Does not condition the hair
Now you know all about the best shampoos for dry scalp, all you need to do is pick your favorite from these. To combat those flaky white foes on your scalp, you can try out one of these shampoos and fall in love with your hair all over again!
Why Trust StyleCraze?
The author, Oyendrila Kanjilal, is a hair care enthusiast. She believes that your hair and scalp need special attention to look healthy and prevent dandruff growth. So, she went through various platforms and hundreds of user reviews to provide you with the best shampoo for dry scalp. These shampoos help combat dandruff, reduce irritation and flakes, and treat itchy and dry scalp.
Recommended Articles