Best Shampoos For Frizzy Hair Available In India
I have Super frizzy hair and I was born with it so believe me when I say frizzy hair is really unmanageable. But over the past few years I have successfully started to control the amount of frizzyness in my hair and i manage frizzy hair at home. Frizziness just ruins everything so it's very important to take proper care for frizzy and dry hair by using the right shampoo for dry hair.
Best Shampoo for Frizzy Hair in India – Top 7
So let's have a look at the best shampoos for frizzy hair
1. Matrix Biolage Ultra Hydrating Shampoo
This is rated one of the best shampoo for frizzy hair and dry hair as well!
*The smell of this shampoo is great and has a light fruity smell which is very soothing and stays for a very long time.
*This shampoo helps in getting rid of the frizz and it also moisturizes your hair.
*This shampoo is great for dull and dry hair as it gives shine to the hair.
*This shampoo reduces hair fall.
*This shampoo helps to get rid of the oil from the scalp in just one wash
*A little goes a long way so small quantity is enough to rinse your hair


 [ Read: Dry Hair Home Remedies ]
2. L'Oreal Absolute Repair Shampoo
This is the loreal shampoo for dry hair and frizz control that will never fail you!
*This shampoo is best to remove frizzyness from the hair
*This salon range shampoo is very good as it makes hair soft and adds an instant shine to the hair.
*This shampoo is thick in consistency so you can apply it easily
*For best results use a conditioner along with the shampoo as you can see the results even faster.
*This quantity is enough to last for 2 months
*This shampoo has a mild smell which I simply love


 [ Read: Natural Remedies For Frizzy Hair ]
3. Herbal Essence Hello Hydration Shampoo


* Herbal Essence has launched shampoos for different types of hair, for me the hello hydration has worked as I have curly and frizzy hair
*This shampoo is very reasonable and does its job
*My hair feels hydrated for a long time
*This shampoo has a faint smell which is not very strong and I love it
*This shampoo will last for around 2-3 months


4. Dove Intense Repair Shampoo
This can also most certainly be counted as the best shampoo for dry hair in India that also controls frizz as well.
*This shampoo is very affordable and helps reduce frizziness in your hair
*The hair feels soft after use
*This shampoo helps reduce split ends
*The shampoo smells good
*The dove range of shampoos itself is very trust worthy so give this shampoo a try and see how it works on your hair.


[ Read: Top Biotique Shampoos In India ]
5. Pantene Silky Smooth Care Shampoo
Pantene's Silky Smooth Care Shampoo is, by far, one of the best frizz-controlling shampoos that I've used. The product's Pro-V Formula, enriched with the goodness of oils, helps nourish and strengthen your hair, thicken it, and improve its texture while maintaining the right moisture balance and taming frizz.
*It improves your hair's texture and protects it from damage.
*Keeps hair hydrated and shuts out humidity.
*Leaves your hair looking smooth and feeling silky.
*Tames frizz.
*Has a pleasant fragrance.
*Efficiently cleans hair.
*Budget-friendly and a little goes a long way.


6. John Frieda Frizz Ease Shampoo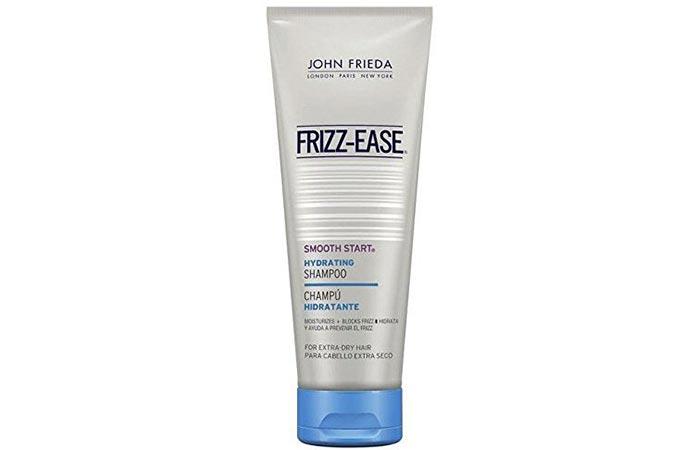 *This shampoo is the first shampoo that comes to my mind to block the frizziness in my hair
*This shampoo lives by its word of removing frizzyness and flyaway's
*It makes your hair very manageable
*This shampoo lathers easily
*It gives instant shine to the hair and smells great.


7. Tony and Guy Frizz Soothing Curl Shampoo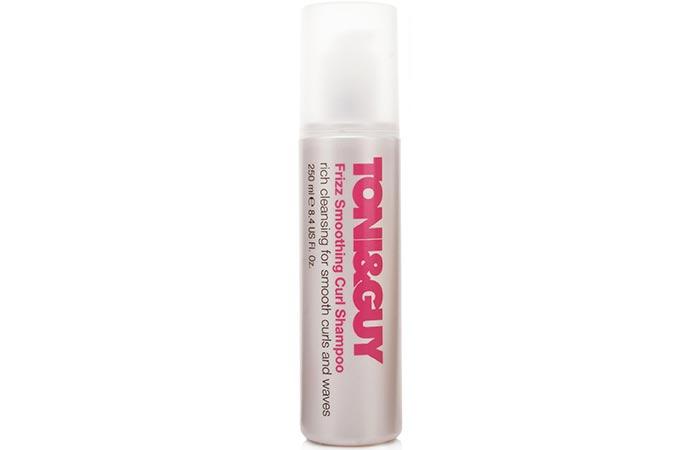 *This shampoo helps define your natural curls
*The shampoo is cream based which is easy to handle
*This shampoo helps in hydrating your hair and removes the frizz from your hair.
*My curls seem very defined and smooth after using this shampoo

*Subject to Availability
Hope this article that listed out the best shampoos for frizzy hair was informative. So, which shampoo you will like to pick for treating the frizziness of your hair? Share your thoughts with us.
Recommended Articles:

The following two tabs change content below.