14 Best Shampoos For Seborrheic Dermatitis: Reviews + Buying Guide
Have healthy, clean, and beautiful hair while ensuring you control scalp inflammation.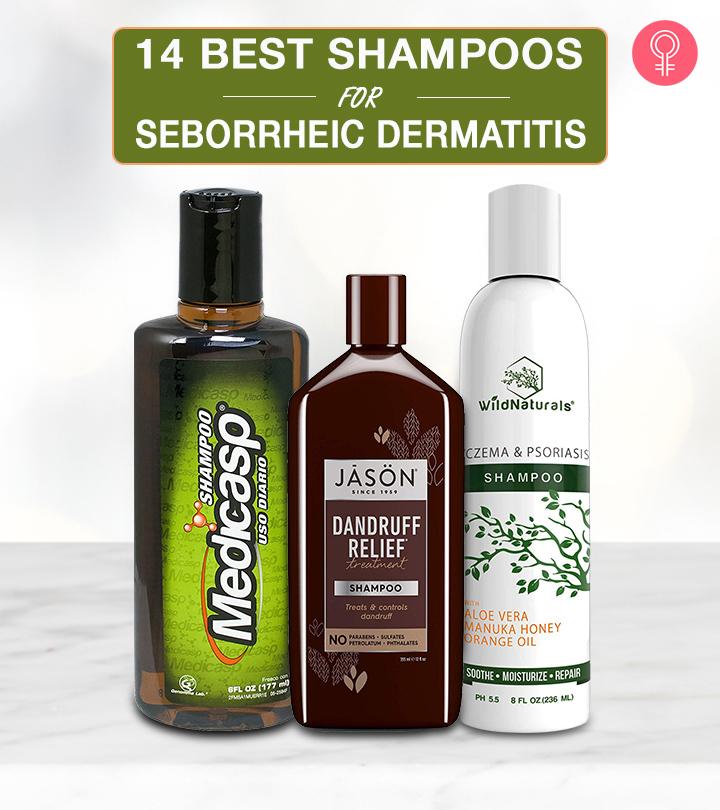 Seborrheic dermatitis is a dermatological condition affecting your scalp characterized by symptoms like redness, flakiness, itchiness, and stubborn dandruff. This chronic inflammatory condition is due to improper diet, genes, lifestyle disorders, and hormonal imbalances. Using the best shampoo for seborrheic dermatitis might help control the severity of the condition. If you want to get rid of those stubborn flakes, read this article to find out the best shampoo for seborrheic dermatitis. Scroll down!
14 Best Shampoos For Deborrheic Dermatitis
Nizoral A-D is one of the highest-rated over-the-counter anti-dandruff shampoos available. This clinically-proven formula contains 1% ketoconazole, which is effective as an antifungal ingredient. It helps treat stubborn dandruff by binding with natural hair proteins. It is a medicated luxurious shampoo with a clean, fresh aroma that not only helps relieve flaking, scaling, and itching associated with seborrheic dermatitis but also leaves your hair smelling great. You can use this twice a week in between your regular shampoos to control dandruff.This ketoconazole shampoo also helps prevent hair loss associated with hormonal imbalances, stress, and an improper diet.
Pros
10x more effective to kill fungus than regular anti-dandruff shampoos
Controls hair loss associated with dandruff
Clinically-proven formula
Leaves the hair soft, clean, and smelling fresh
Safe for color-treated, chemically processed, or gray hair
Reduces itching and redness of the scalp
Works faster than regular anti-dandruff shampoos
Eliminates dryness of the scalp
Cons
None
The dermatologically approved Neutrogena T/Gel Therapeutic medicated shampoo helps treat a dry, itchy, flaky scalp. This shampoo contains 0.5% coal tar that slows down the skin turnover rate while removing dead cells and flaky dandruff from the scalp. It is gentle enough for using on a sensitive scalp regularly. It helps relieve seborrheic dermatitis and chronic scalp psoriasis as it is a clinically proven formula that continues to work for hours even after rinsing. Use it twice a week or as prescribed by the doctor. Massage it gently onto the scalp until it forms a lather, wait for few minutes, and rinse.
Pros
Dermatologist recommended
Approved by National Psoriasis Foundation
Relieves itching and flaking
Gentle for sensitive scalp
Works well against eczema and psoriasis
Safe for colored and chemically treated hair
Reduces inflammation
Gentle for daily use
Cons
Strong chemical smell
Contains sulfates
The DHS Zinc Shampoo contains 2% pyrithione zinc. It is a clinically proven formula that has antibacterial, antimicrobial, and antifungal properties. This clinical strength shampoo kills the fungus that causes seborrheic dermatitis. It provides relief from itchy, flaky, dry scalp. Pyrithione zinc is one of the OTC ingredients that help reduce antifungal activity.
Pros
Clinically proven formula
Prevents recurrence of scalp itching
Reduces dandruff flakes
Reduces soreness and inflammation
Perfect for all scalp types
Cons
Contains sulfates
Heavy synthetic fragrance
Head and Shoulders Shampoo is a popular choice to alleviate dandruff and itchy scalp. Its dermatologist-recommended and clinically proven formula reduces fungal growth. The active ingredient of this clinical strength shampoo is 1% selenium sulfide. This ingredient actively deals with severe dandruff and is effective against seborrheic dermatitis and other related symptoms like itching, flaking, redness, and inflammation. Selenium sulfide targets specific Malassezia irritants, which are fungi that cause dandruff. Using the shampoo twice a week or as directed by the physician can give you the desired results. Have a look at this video to learn more about the product.
Pros
Clinically proven formula
Dermatologist recommended
Targets dandruff-causing fungi and reduces their cell growth
Moisturizes hair
Camphor oil soothes hair follicles
Suitable for eczema
Safe for colored and chemically treated hair
Cons
Contains sulfates
Unpleasant smell
May leave the hair dry.
The Selsun Blue Anti-dandruff shampoo is known to reduce seborrheic dermatitis by almost 80%. The active ingredient is 1% selenium sulfide that targets the fungus that causes dandruff. This shampoo is pH-balanced to reduce dandruff and provide relief from irritation, itchiness, and redness. It contains aloe vera leaf juice with proteolytic enzymes that soothe your scalp, remove dead cells, and leave the hair soft and manageable after every wash.
Pros
Medicated shampoo
Moisturizes hair
Suitable for daily use
Reduces dry, brittle hair
Suitable for all hair types
Can be used for colored or chemically treated hair
Cons
Contains synthetic ingredients.
May cause allergic reactions.
Contains sulfates
Medicinal smell
The BIOLAGE Scalpsync Anti-Dandruff Shampoo is infused with 1% pyrithione zinc that helps remove dandruff flakes and treats dry, flaky skin. It provides relief from itching scalp, redness, soreness, and inflammation. This OTC anti-dandruff shampoo is infused with mint that has antifungal and antibacterial properties. These cleanse the scalp from within and impart a cooling sensation. This salon-quality anti-dandruff shampoo is safe for color-treated hair. It also may help relieve scalp bumps.
Pros
Cleanses scalp
Antifungal and antibacterial properties
Safe for color-treated hair
Reduces scalp bumps
Removes scalp debris
Deep cleansing effect
Seals in the moisture
Smells great
Cons
Contains sulfates
Contains parabens
Leaves hair greasy
The As I Am Dry And Itchy Scalp Care Shampoo is a 100% vegan formula that balances and restores scalp health. The active ingredient of this therapeutic shampoo is 1% zinc pyrithione. It reduces inflammation, fights against dry and itchy scalp, and removes all the scalp debris. The infusion of olive, tea tree, linseed, and peppermint oils exhibits antifungal properties that reduce dandruff flakes. The oil also has omega-3 fatty acids that provide relief from itchy scalp. The peppermint oil soothes an irritated scalp. Use this therapeutic anti-dandruff shampoo twice a week for healthy hair. Here is an informative video that tells you more about the product.
Pros
Removes scalp debris
Reduces tangles and combing damage
Moisturizes the scalp
Removes environmental pollutants
Paraben-free
Sulfate-free
Refreshing smell
Best for winters
Cons
None
The MG217 Psoriasis Medicated Conditioning Shampoo contains 3% coal tar that suppresses fungal growth and reduces inflammation. This medicated over-the-counter shampoo slows down dandruff cell growth, controls further build-up, and sheds dead cells from the top layer of the skin. This is a perfect line of treatment for psoriasis and seborrheic dermatitis and leaves your scalp feeling clean and well nourished. For more information about the product, click this video.
Pros
Medicated conditioning shampoo
Controls itching and flaking
Removes scalp debris
Relief from the symptoms of scalp diseases
Prevents recurrence of dandruff
Recognized by National Psoriasis Foundation
Cons
Contains parabens
Contains sulfates
Tar smell
The Medicasp Coal Tar Anti-Dandruff Shampoo is a gel therapeutic formula that contains 0.5% coal tar. It reduces the symptoms of seborrheic dermatitis, psoriasis, and stubborn dandruff. This fast-acting medicated shampoo provides relief from itchy scalp, soreness, inflammation, and controls excess sebum production. This clinical strength shampoo targets colonized Malassezia (the fungus responsible for dandruff) and stops it from further progressing. Apply this shampoo twice a week or as directed by the doctor. Massage gently, and leave it on for a few minutes, followed by thorough rinsing.
Pros
Gel formula
Reduces itching and irritation
Anti-inflammatory properties
Controls excess sebum formation
Reduces redness
Cons
Contains sulfates
Expensive
The Solimo Therapeutic Dandruff Shampoo is made of 2.5% coal tar solution USP (0.5% coal tar) that controls the symptoms of dandruff, seborrheic dermatitis, and psoriasis. The coal tar formula reduces the development of dandruff cells, stops the colonization of the fungus, and removes debris. The luxurious lather and soothing smell make you feel fresh.
Pros
Paraben-free
Cruelty-free
Leaves a refreshing smell
Removes dead cells
Budget-friendly
Reduces inflammation
Cons
Contains sulfates
Not suitable for those with thin hair.
The Neutrogena T/Sal Therapeutic Shampoo is ideal for reducing flaky dandruff, which is a common complaint of psoriasis, seborrheic dermatitis, and other scalp disorders. This shampoo contains salicylic acid that targets particular dandruff cells, blocks excess sebum formation, and gently sloughs off the dead skin and debris from the scalp. The antifungal property of 3% salicylic acid provides immediate relief from itching and flaking, leaving your scalp and hair clean and fresh.
Pros
Works great for eczema, psoriasis, seborrheic dermatitis
Odorless
A clear gel formula
No dyes or preservatives
Maximum relief from itchy scalp
Cons
Expensive
Could be harsh for thin hair.
The Jason Dandruff Relief Treatment Shampoo is a gentle cleanser. It provides nourishment to each hair strand while removing dandruff flakes, and controls mild dermatitis and psoriasis. The shampoo is a unique combination of salicylic acid (2.2%) and sulfur (2.4%) that provide relief from itchiness and redness while the botanical infusions of rosemary, olive oil, and jojoba oil soothe, heal, and moisturize the scalp. Using the shampoo at least three times a week provides promising results.
Pros
Medicated shampoo
Contains botanical extracts
Treats scalp itchiness and redness
Soothes hair
Moisturizes and nourishes the scalp from within
Simple, safe, and gentle ingredients
Certified organic ingredients
Contains natural oils
Paraben-free
Sulfate-free
Cons
Not for those with thick hair.
Medicinal smell
Contains alcohol
The Wild Naturals Shampoo soothes, nourishes, and restores the pH balance of the scalp by removing dead cells and dandruff flakes. It also reduces itching, dryness, redness, pain, and swelling. The highly concentrated formula is infused with aloe vera, manuka honey, orange oil, and cehami extract that reduce inflammation, pain, and swelling. The formula also promotes collagen synthesis, reduces scars, and strengthens hair follicles. You can replace your regular shampoo with this chemical-free coconut oil formula.
Pros
Natural ingredients
Suitable for eczema, psoriasis, and seborrheic dermatitis
No harsh chemicals
Fragrance-free
Sulfate-free
Paraben-free
Dye-free
Preservative-free
Safe for sensitive skin, children, or babies
High-quality ingredients
Soothing and moisturizing
pH-balanced at 5.5
Provides a protective barrier
Natural light foaming extract
Cons
Not suitable for those with Afro or American hair types.
The Seborrheic Dermatitis Shampoo is a natural anti-dandruff solution that has manuka honey as the active ingredient. This variant of honey is native to New Zealand and has amazing antibacterial, antifungal, antimicrobial, and anti-inflammatory properties. The strong healing abilities of this variant treat eczema, psoriasis, and seborrheic dermatitis. Other promising ingredients in the shampoo include aloe vera, coconut extract, and orange peel oil. These act as anti-inflammatory ingredients to soothe irritation and redness and leave hair feeling clean and soft after every wash. The pH-balanced formula acts as a protective barrier to heal and protect the scalp.
Pros
pH-balanced
Effective for scalp diseases
Cruelty-free
Sulfate-free
Gluten-free
Paraben-free
Phthalate-free
Organic, natural ingredients
Improves hair texture
Moisturizes the scalp
Value for money
Safe for daily use
Eco-friendly
Cons
Not suitable for all hair types.
These are the top shampoos for treating seborrheic dermatitis. In the following section, we will discuss how you use these shampoos for effective results. Read on!
Tips For Effective Use
Follow the doctor's instructions when using a medicated shampoo for effective results. The instructions may vary based on the severity of the symptoms and other underlying conditions.
Try to alternate between your regular shampoo and the therapeutic shampoo. This helps maintain a balance between nourishment and removing dandruff flakes.
Use olive oil to treat dandruff. Massage the oil over your scalp and cover it with a cap for 10-15 minutes. Follow with the shampoo.
Massage the medicated shampoo to form a gentle lather, and leave it on for a few minutes. Follow by rinsing and applying conditioner.
Not all shampoos that claim to treat seborrhoeic dermatitis may be effective. The following buying guide can help you pick an effective shampoo.
How To Pick The Right Shampoo For Seborrheic Dermatitis
An anti-dandruff shampoo should contain salicylic acid, selenium sulfide, ketoconazole, pyrithione zinc, or coal tar among the active ingredients. These help remove stubborn dandruff.
You can choose natural botanical extracts like coconut oil, olive oil, honey, ginger extract, tea tree extract, and other essential oils to cleanse the scalp and moisturize it from within.
Use OTC ingredients that are easily available without a prescription for daily or alternate use.
Pick a chemical-free, paraben-free formulation for the most effective results. 
Why Trust Stylecraze?
Oyendrila Kanjilal, the author of this article, is a hair care enthusiast who passionately searches for products reviews across websites. In this article, she enlists the best shampoos for managing seborrheic dermatitis. User friendly, pH balanced, and budget-friendly are a few of the many factors she has considered before shortlisting these products for her readers. You can read the details of these products before buying one to suit your needs.
Frequently Asked Questions
Can I use normal shampoo with seborrheic dermatitis?
No. Seborrheic dermatitis is a serious scalp condition. Using a normal shampoo for this chronic inflammatory condition can worsen your scalp health and dry it further. You need to wash your hair daily or every other day with an anti-dandruff shampoo containing 2.5 % selenium sulfide or 1 to 2% pyrithione zinc. It will soothe your scalp and eliminate stubborn dandruff.
What shampoo do dermatologists recommend for seborrheic dermatitis?
The Neutrogena T/Gel Therapeutic Shampoo is a dermatologically approved product for seborrheic dermatitis. It slows the skin's turnover rate while eliminating flaky skin.
How often should I wash my hair with seborrheic dermatitis?
Wash your hair daily with a formula containing 2.5% selenium sulfide or 1 to 2% pyrithione zinc until the symptoms improve. Then, slowly limit washing your hair to only once a week.
What is the root cause of seborrheic dermatitis?
The root cause of seborrheic dermatitis is an inflammatory reaction to Malassezia. It is a microscopic organism that stays on our skin and overgrows. The immune system reacts to it and leads to an inflammatory response. The results are flaky, red scalp filled with dandruff.
Does shampoo worsen seborrheic dermatitis?
No. A medicated or anti-dandruff shampoo helps control seborrheic dermatitis. However, washing your hair with regular shampoos can damage your infected scalp.
Can poor hygiene cause seborrheic dermatitis?
No. Poor hygiene is not the actual reason for seborrheic dermatitis. However, improper diet, genes, and hormonal imbalances are contributing factors. Also, washing your hair scarcely can develop dandruff on your scalp.
Does sunlight help seborrheic dermatitis?
Exposure to sunlight can be beneficial to some patients suffering from seborrheic dermatitis. This is because the UV rays kill the yeast that overgrows on the skin. But in some instances, extreme exposure to sunlight can trigger the symptoms.
What kills seborrheic dermatitis on the scalp?
Shampoos with zinc pyrithione, selenium sulfide, ketoconazole, sulfur, and salicylic acid may help treat seborrheic dermatitis on the scalp.
Recommended Articles