10 Best Shampoos For Thin Hair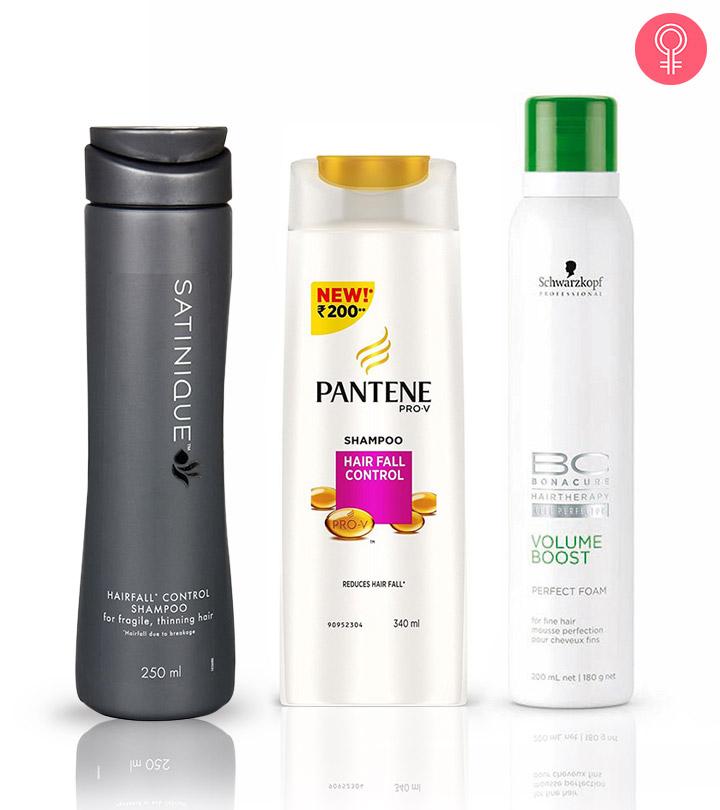 Are all those times that your grandmother nagged you to apply oil, braid your hair, and stay away from hair coloring coming back to you in the form of regret? Do you wish you had listened to her advice? Don't worry, it's not too late! You can still save your tresses from falling apart by using these shampoos for thin hair.
But before scrolling down to view the products, make a note that thin hair can be a sign of deteriorating health. Your hair can be thinning because of:
Chemical abuse
Hormonal imbalance
Hypothyroidism
Genetic factors
Aging
To avoid hair thinning, one needs to maintain a healthy diet and also use suitable hair products. An ideal shampoo for thin hair needs to:
be mild and sensitive on your scalp
strengthen your roots
generate new hair
reduce dandruff
add volume
Here's a rundown of the top 10 shampoos for thin hair.
Top 10 Shampoos For Thin Hair
Biotique Body Building Shampoo will transform your frail hair into healthy tresses. With ingredients like amla, bhringraj, reetha, walnut bark, muskroot, and Himalayan water, this shampoo promises stunning results and makes your hair thick and lustrous. This pH balanced shampoo prevents further hair loss and acts as a mild cleansing agent to pamper your sensitive scalp.
Pros
Filled with natural goodness
Very mild
Improves hair texture
Adds volume and thickens your hair
Keeps your hair soft
Provides required proteins for a healthy scalp
Affordable price
Cons
Might take time to show results
Not for dry hair
Price at the time of publication: ₹11.78
The St Botanica Go Volume Shampoo gently cleanses your hair and scalp while locking volume. It is enriched with Brahmi extract, wheat protein, pea protein, apricot oil, olive oil, green tea, kigelia, Moroccan argan oil, vetiver, calendula, and zinc. This shampoo improves your scalp health, thickens your hair, and adds shine.
Pros
SLS-free
Cruelty-free
Paraben-free
Silicone-free
Phthalate-free
Mineral oil-free
Cons
None
This is an angel in a bottle! St. Botanica Volumizing Shampoo is everything you were looking for in a shampoo. It contains natural ingredients like oat extract, sunflower seed oil, lavender oil, jojoba oil, avocado, rosemary oil, and other natural extracts. It contains Pro-Vitamin B7 Biotin and Collagen formula, which ensures every strand looks thicker and fuller and gives your hair a healthy shine. This product works wonders on any hair type but works best on fine hair.
Pros
Contains natural ingredients
Sulfate- and paraben-free
Minimizes split ends and breakage
Thickens and adds volume within first few applications
Improves the condition of your hair
Smoothens and adds shine
Instant results assured
Cons
Price at the time of publication: ₹44.42
Satinique Hairfall Control Shampoo helps in reducing hair fall and stimulates your scalp to generate new hair. It contains a combination of Enerjuve with the goodness of ginseng, eclipta alba extracts, and mulberry leaf extracts. These ingredients help in blood circulation in the scalp and accelerate hair growth.
Pros
High-quality ingredients
Reduces hair fall within days
Thickens hair strands
Reduces split ends and breakage
Cons
Might make your hair frizzy initially
[ Read – Satinique Anti Hair Fall Shampoo Review ]
Giovanni Root 66 Max Volume Shampoo contains medicinal herbal extracts of horsetail plant that gives maximum healing power to thinning hair. Horsetail extracts are used as a healing ingredient to prevent baldness, chronic hair fall, and other hair and skin related problems. The ingredients in this shampoo create volume in your hair. It promises to cleanse your scalp and add life to dry and brittle hair. It provides strength to the hair, preventing further breakage.
Pros
Strengthens roots
Reduces hair fall
Contains organic ingredients
Adds luminous shine
Cruelty-free
SLS- and paraben-free
Cons
Expensive
Availability issues
Pantene Pro-V Hair Fall Control Shampoo promises better and improved hair in just 14 days of usage. With its Keratin Damage Blockers Technology that helps in prevention of hair fall up to 98%, this shampoo ensures thicker and stronger hair in no time. It cleanses the oily residue from the scalp that obstructs hair growth and imparts a healthy shine to your locks.
Pros
Knocks out all the oil and other pollutants
Improves hair texture and thickens your locks
Prevents breakage and split ends
Affordable
Cons
Matrix Biolage Advanced Fiberstrong Shampoo is a mild cleansing product made especially for thin and brittle hair. If you are suffering from hair breakage, this is the best product for you. With its Intra-Cylane formula, this shampoo repairs damaged follicles and strengthens your hair from within. With regular usage, this shampoo will improve your hair and strengthen your follicles until they are 12x stronger.
Pros
Works wonders on sensitive scalp
Revives hair growth
Cleanses scalp well
Smoothens the hair from root to tip
Makes each hair strand stronger
Cons
Not suitable for dry hair and scalp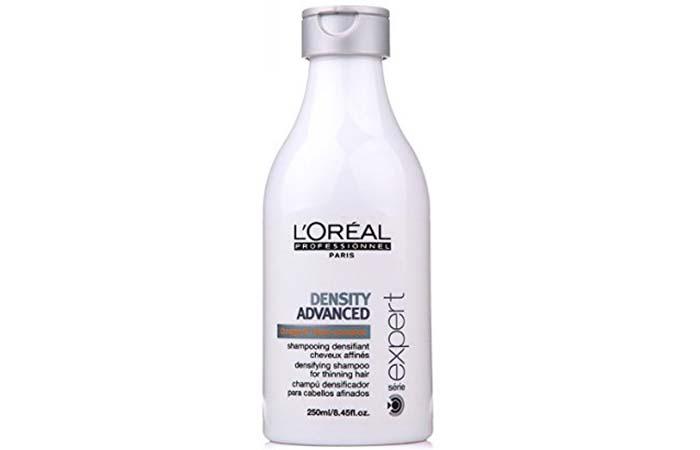 L'Oreal Paris Density Advanced Shampoo, with its Omega 6 Nutricomplex formula and enriched with vitamin B6, helps in adding volume to thin hair. It thickens each hair strand with its rich lipid compounds. It leaves your hair with extra density and improved texture. It cleanses the scalp and imparts a healthy shine.
Pros
Adds volume and gives a fuller look
Improves hair texture
Contains a hair stimulating formula
Strengthens hair from within
Imparts healthy shine
Cons
Contains too many chemicals
Dalan d'Olive Volumizing Shampoo contains the goodness of olive oil that serves as a perfect hair modifier. This organic shampoo contains rich ingredients like Aegean olive oil and natural rice protein that help volumize your hair. It also claims to show noticeable changes within one week of usage. This product is made specially for dull and lifeless hair.
Pros
Deeply nourishes your hair from within
Adds volume to your hair
Gently cleanses the scalp
Promotes blood supply to the scalp
Paraben- and sulfate-free
Cons
Might make your scalp oily
[ Also Read – Park Avenue Beer Shampoo Reviews ]
Since it is a paraben- and SLS-free product, Khadi Honey & Lemon Juice Shampoo is an ideal product if you want to use Ayurvedic and subtle hair shampoos. If you are bothered by thin and oily hair, this is the best way to get rid of your problem. This organic herbal shampoo cleanses your scalp and provides the required nutrients to improve and revitalize hair growth.
Pros
Suitable for thin, oily hair
Contains Ayurvedic ingredients
Provides nourishment
Cleanses scalp thoroughly
Improves scalp health
Cons
Might make your hair dry or rough
You saw which shampoos work best for thin hair. The following buying guide helps you make a better purchase decision.
What To Consider While Buying A Shampoo For Thin Hair
It is recommended to go for shampoos with natural ingredients such as milk protein, soy protein, and essential oils of almond and olive. These natural ingredients are gentle and provide body or structure to the hair. Avoid opting for shampoos that contain preservatives, parabens, alcohol, and fragrances. Preservatives are used to increase the shelf life of any product, whereas parabens may have cancer-causing agents. Ingredients like alcohol can strip off natural hair oils and make them dry, while fragrances can cause scalp irritation and sensitivity. You can instead go for shampoos with mild alternatives like lauryl glucoside, disodium laureth sulfosuccinate, etc.
Our hair and scalp's standard pH value is 5.5. Hence, it is recommended to look for a shampoo with the same pH value. Any shampoo with a pH value greater than this can make hair follicles brittle and cause hair thinning.
Hair thinning shampoos are meant for different hair types. Hence, choose accordingly. Go for a shampoo that is meant for your specific hair type.
Choose a shampoo depending on your hair texture too. For curly hair, opt for a sulfate-free shampoo that also moisturizes hair to keep the curls intact. For straight hair, opt for a keratin shampoo with volume-boosting abilities.
There's always a solution if you look around keenly. So, without worrying or breaking down, look out for the best solution on this list to solve your hair woes. Try any of these products and comment below to let us know about your experience.

Recommended Articles:
Best Shampoos For Hair Growth Available In India
Top Volumizing Shampoos Available In India
Best Shampoos Available In India
Best Hair Thickening Shampoos Available In India
Best Shampoos For Dry And Damaged Hair In India
The following two tabs change content below.