15 Best Shampoos For Thinning Hair (2023) + Buying Guide
Minimize hair loss and boost hair growth with gentle and chemical-free shampoos.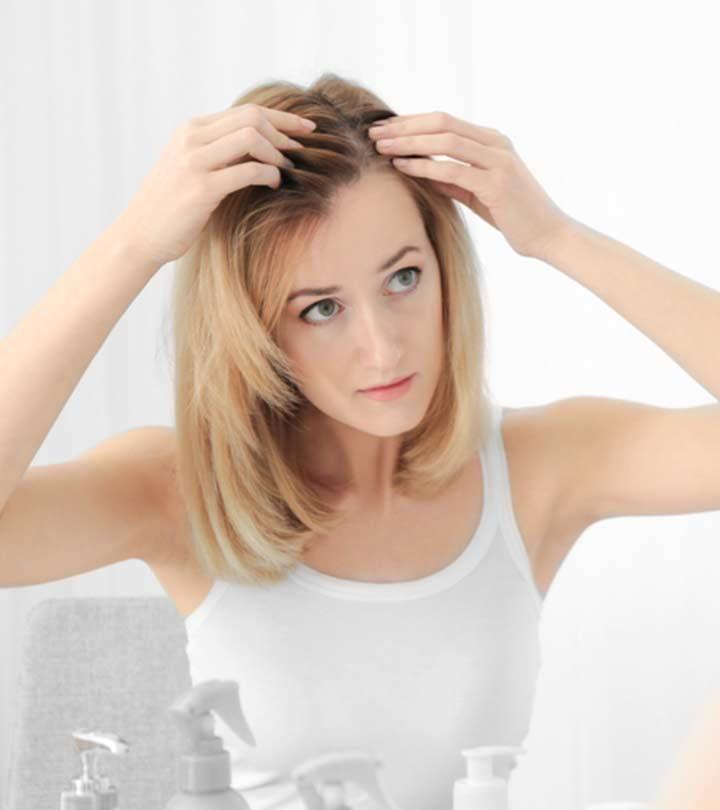 To retreat hair loss, we often begin by choosing the right shampoos for the hair type and issue. For example, if hair thinning is your major concern, you need the best shampoos for thinning hair. A good shampoo will cleanse all dirt, build-up, and oil from your hair without altering your natural moisture levels. It will also leave your hair feeling fresh and healthy for better hair growth naturally. That's how shampoos can give a vitality boost to your hair and transform your otherwise falling, dull hair into lively, healthy hair. Some formulae also contain specific ingredients to induce the growth of new hair strands by stimulating the hair follicles.
For you to beat the hair thinning problem effortlessly, we have jotted down the 15 best shampoos for thinning hair below. Check them out and pick one for yourself to get thick, voluminous hair.
15 Best Shampoos For Thinning Hair In 2023
So gentle that your scalp will love it! From delivering a thickening effect to cleansing your hair gently enough to create an ideal environment for your tresses to grow, Viviscal is a must-try for hair thinning. Nourishing your scalp and hair with the goodness of zinc, keratin, and biotin, the formula also contains naturally-sourced and clinically-tested ingredients such as grape seeds and pea sprouts for intense conditioning. Give it a try! Take a look at this video of a reviewer's experience with the product to know more.
Pros
Infused with keratin, biotin, and zinc
Safe to use daily
Ensures healthy-looking hair
Enhances hair texture and improves elasticity
Suitable for damaged, color-treated, fine, dry, and thin hair
Cons
More like a nourishing tonic for your scalp and hair to revive back to its stunning glow! PURA D'OR is blended with biotin, niacin, argan oil, aloe vera, and more, making it an ideal moisturizing formula to reduce shedding and dullness and minimize breakage and limp strands. Clinically-tested to boost hair volume and a stunning shine to your tresses with every use, you don't have to worry about scanty hair remarks with this hair loss treatment in your kitty. You may check more about this product in this video that details a tester's experience of using it.

Pros
Leaves hair soft and silky
Locks in natural moisture
Detoxifies scalp and encourages healthy hair growth
Infused with biotin and niacin
Gentle, hypoallergenic, and vegan
Safe and protects color-treated hair
Sulfate-free, paraben-free, gluten-free, and cruelty-free
Cons
Runny consistency
Not recommended for very dry scalp
Hair thinning can be a nightmare if not treated at the right time! Hence, this biotin-rich thickening shampoo with B-complex growth formula is a must-try as it claims to tackle hair loss at the roots. Formulated to reduce shedding, block DHT, and also promote healthier-looking hair, this fortifying shampoo is ideal for both men and women. The product is not tested on animals, which makes it an ideal option for ethically conscious hair care enthusiasts. And the best part— it is infused with nourishing ingredients such as coconut, aloe vera, rosemary, and saw palmetto to deliver the gentlest care. Yep, a volumizing therapy, anyone?
Pros
Hypoallergenic and color-safe
Sulfate-free and paraben-free
Eliminates split ends and dullness
Restores moisture and provides intense nourishment
Safe for daily use and sensitive scalp
Suitable for oily, brittle, bleached, and highlighted hair types
Cons
Dry hair users may have to follow up with a conditioner
Are you looking for a shampoo for color-treated thin hair? If yes, then Nioxin is ideal for you. Given how coloring or bleaching can result in a dry scalp, this intense cleanser with restorative properties helps revitalize and deeply nourish with rich humectants and European botanicals. The clinically tested formula is a great option for those dealing with light thinning and want to eliminate the tightness on their scalp, give it a try if you haven't already!
Pros
Strengthens hair structure
Adds volume and shine
Eliminates excess sebum-clogging follicles
Award-winning shampoo for thinning hair care
Infused with protein, vitamins, and amino acids
Suitable for chemically-treated hair
Cons
Not ideal for chronic hair loss
Is hair loss getting out of control? Or are you noticing more and more hair on your hairbrush lately? Then you must try BosleyMD's Nourishing Shampoo ASAP. Ensuring the lack of toxins, such as DHT that causes hair loss, it gently cleanses and leaves your scalp deeply nourished to add a bounce to your hair. Creating an ideal environment for your scalp and tresses to heal and grow healthy— this nourishing shampoo is a must-try. Additionally, no animal testing has been conducted on the product to determine its efficacy.
Pros
Gentle formula
Suitable for men and women
Conditions hair and scalp intensely
Paraben-free, sulfate-free, and phthalate-free
Ideal for color-treated hair, thinning, and fine hair
Cons
Beat hair thinning with castor oil, biotin, argan oil, saw palmetto, and caffeine blended in this rejuvenating shampoo by Lipogaine! These botanical ingredients work together to not only tackle hair loss but also strengthen your scalp and nourish the tresses intensely. Also, are you dealing with hair breakage or weak strands? Then you'll love this shampoo even more as it improves elasticity too. Try it!
Pros
Gentle formula
Sulfate-free and color-safe
Ideal for men and women
Suitable for all hair types
Improves manageability and adds volume
Reduces shedding and restores scalp vitality
Trusted brand for more than a decade
Cons
Not just any other cleanser, this one is infused with a nutrient-rich formula such as Keratin Amino complex, which not only tackles hair loss but also leaves hair manageable and frizz-free. That's not all, this clinically tested shampoo provides intense hydration to the scalp, promotes hair growth, and prevents future damages too. Also, it won't strip your hair and scalp of natural moisture while cleansing! Still, want to stick to your old shampoo now?
Pros
Cruelty-free mild cleanser
Reduces breakage and revives weak follicles
Strengthens hair and improves elasticity
Adds volume, shine, and smoothness
Weightless, sulfate-free, and paraben-free
Ideal for deep cleansing and nourishment
Cons
Not recommended if you are sensitive to smell
Let the volume increase, the healthy way with this thickening shampoo by Biolage. Quit living with thin hair when this cleanser claims to transform your tresses to healthy and beautiful locks instantly. Infused with zinc PCA, gluco-omega, and biotin that cleanses all the impurities blocking the follicles, it also leaves the hair healthy-looking and gorgeous. Additionally, the product is not tested on animals, which makes it a perfect option for people who seek cruelty-free formulas. Now, why would you miss something so simple yet satisfying?
Pros
Gentle cleanser
Paraben-free product
Reduces hair loss
Controls frizz and enhances volume
Suitable for thin hair
Cons
A cleanser that pampers your hair— not kidding! Just Nutritive Hair Loss Therapy Shampoo stays true to its name with its therapeutic formula. Infused with plant-derived ingredients such as arnica, saw palmetto, plantain, horsetail, chia oil, vitamin B5, borage, and more, watch your hair revive and look healthier and stunning with every use. And unlike other shampoos that may strip your hair of its natural moisture, this one will deeply nourish and help your tresses grow denser and beautiful. Don't believe us? Try it!
Pros
Suitable for all hair types
Strengthens scalp and hair
Pampers from roots to tips
Reduces hair fall and cleanses clogged pores
Stimulates blood circulation for healthy growth
Sulfate-free, paraben-free, alcohol-free, soy-free, and silicone-free
It contains no artificial fragrances or colors.
Cons
Volume alert! This thin-to-thick shampoo by Jason does not joke when promising a volume boost. Formulated with hair-strengthening ingredients such as biotin and panthenol, consider your hair gently cleansed and manageable in no time. Giving your thin and fine hair a boost to look denser, healthier, and flaunt-worthy, get ready to unfurl your gorgeousness with confidence wherever you go!
Pros
Cruelty-free product
Weightless formula
Trusted shampoo brand since 1959
Cleanses excess dirt and sebum effortlessly
Reduces breakage and improves elasticity
Sulfate-free, phthalate-free, and paraben-free
Cons
Let's block that DTH out! Given how DTH is responsible for hair loss, this nourishing shampoo contains DTH blockers and saw palmetto, which helps reduce hair loss and promote hair growth. It also contains biotin, a well-known hair-strengthening ingredient to improve elasticity and protects your hair from growing weak or brittle. A great combo for those dealing with severe hair thinning, Propidren Shampoo guarantees results within 3 months! Give it a try.
Pros
Provides intense nourishment
Boosts new skin cells and hair growth
Leaves hair healthy, vibrant and fuller-looking
Vegan and cruelty-free product
Cons
Biotin rules! Yep, when it comes to giving your hair a volume and strengthening boost, you'll need a formula rich in biotin to witness a noticeable difference. HoneyDew Biotin Shampoo, for instance, claims to reinforce and improve your hair structure as well as reduce shedding. Plus, it also contains all-natural ingredients such as argan oil, tea tree oil, B5, zinc, and more that block DTH production, leaving an ideal environment for your hair to grow. A powerful treatment but gentle on your hair and scalp, your cleanser can't get more enriching than this.
Pros
Nourishes follicles intensely
Leaves hair thicker and denser
Sulfate-free and paraben-free
Hypoallergenic, ethically-made, and cruelty-free
Safe and suitable for all hair types
Cons
Not just biotin, this volumizing shampoo is infused with provitamin B5 and 7 botanical extracts too! Ideal for all hair types, this one not only boosts volume but also strengthens, protects, and promotes healthy hair growth. And what makes it different from other shampoos is that it neutralizes hard water and styling product effects too, which can also harm your scalp and tresses. Transforming your hair from dull to dazzling with every use, Mokita Naturals Regenerate Volumizing Shampoo is a must-try for all.
Pros
Prevents breakage
Repairs damaged hair
Color safe and controls frizz
Nourishes intensely from roots to tips
Restores scalp health and cleanses gently
Vegan and cruelty-free product
Sulfate-free, paraben-free, phosphate-free, and alcohol-free
Cons
More volume, fewer greys— sounds like a great deal for your thin hair, right? Middle age can be taxing for your hair and bring along several issues like hair loss or shedding due to stress, menopause, postpartum recovery, and more. Hence, this shampoo with natural oils claims to boost volume and strengthen hair follicles and fibers. Also, this mild cleanser with hyper-anagen complex, caffeine, saw palmetto, and biotin ensures to reduce greying by adding pigment and protecting collagen as well. Still, want to miss it?
Pros
100% cruelty-free
Prevents breakage
Protects and extends color vibrancy
Improves texture and elasticity
Blocks DTH and stimulates hair growth
Intensely moisturizes and balances sebum production
Safe and gentle for daily use
Silicone-free, paraben-free, and sulfate-free
Cons
Lastly, this strengthening cleanser with soothing, purifying, and ultra-cleansing properties that'll make you fall in love with your hair instantly! Infused with essential oils such as orange, rosemary, lavender, and natural pfaffia extract, it ensures purified and healthy-looking tresses and scalp with every use. Antioxidant-rich moisturizers in the shampoo protect collagen to boost elasticity and reduce breakage. The formula has proven efficacy because a test conducted by the brand showed that 88% people felt their hair became more strengthened while 81% noted that their tresses achieved enhanced resilience. Also, it claims to revive and protect the hair's strength to boost thicker and denser tresses as well. Yep, those are all the good reasons why you should give Triphasic Strengthening Shampoo a try!
Pros
Gentle cleanser
Ideal for daily use
Stimulates microcirculation
Maximizes nutrients supply to the scalp
Energies scalp to boost hair growth
Paraben-free, silicone-free, and SLS-free
Suitable for both men and women
Cons
Now, who's ready to boost that volume! There you go, those were the 15 best shampoos for thinning hair in 2023. Do you need more assistance with buying? Or tips on how to use it? We've explained it in our buying guide below.
Buying Guide
How To Choose The Right Shampoo For Thinning Hair?
Check out the following features before adding the shampoo to your cart:
Hair Type: Always inspect if the shampoo is suitable for your hair and scalp, or else you will end up worsening the hair loss even more. Thinning hair shampoos are formulated according to hair types such as dry, oily, color-treated, damaged, etc.
Gentle & Nourishing Cleansing: If you have thin or scanty hair, then gentle cleansing is ideal for you. Given that your hair is already weak and prone to breakage, a mild and nourishing cleanser will not cleanse without harming the follicles but also nourish to replace the lost moisture and sebum.
Hair Loss Control: A volumizing shampoo will not necessarily control hair loss. So, if hair loss is also a concern, then check if the shampoo is formulated to reduce shedding and prevent breakage.
Stimulates Hair Growth: If you want to witness satisfying results, you must check if the shampoo can stimulate hair growth as well to enjoy thicker and denser volume with every use. Opt for a shampoo with advanced technology or a breakthrough formula for hair growth that has been proven to work.
Chemical Free Formula: Lastly, the shampoo should be 100% chemical-free! Harsh chemicals like sulfates, paraben, SLS and more, can strip your hair of natural oils, moisture and worsen thinning. So, look out for these chemicals before choosing the shampoo.
Tips On How To Use A Shampoo For Thinning Hair
To maximize the effects of shampoo for thinning hair, leave it on your scalp and hair for a minute or two, and let the formula work its magic. Most of these volume-boosting or hair growth shampoos are infused with rich and active ingredients that clean and provide nourishment too. Hence, you should leave it on for a while, massage it gently in a circular motion if need be, before rinsing it out.
Why Trust StyleCraze?
The author of this article, Krati Darak, is a hair care enthusiast. She loves keeping up with the latest hair care products. To save her readers time and energy, she has tried multiple shampoos and come up with the list of the best shampoos for thinning hair. These shampoos contain ingredients that cleanse the hair of all grime and stimulate the growth of new and thick hair.
Frequently Asked Questions
Does Shampoos For Thinning Hair Work?
Yes, they do work. Shampoos for thinning hair such as Viviscal Shampoo, Keranique Shampoo, Just Nutritive Therapy Shampoo, Mokita Naturals Regenerate Volumizing Shampoo, and ThickTails Shampoo are some of the best shampoos known for volume boost, hair control, and hair growth in 2023.
Can Hair Grow Back After Thinning?
If hair thinning is due to stress, DTH production, or external damages, then topical solutions like shampoos with biotin, saw palmetto, and other ingredients can help stimulate hair growth. However, if it is genetic, then it is advisable to consult a dermatologist.
How Can I Stop My Hair From Thinning And Falling Out?
You can reduce hair thinning by maintaining a hygienic cleansing routine and a healthy diet. Also, your hair routine must include nourishing, conditioning, and hair-friendly products that'll help your scalp and tresses grow healthy, naturally.
Is baby shampoo good for thinning hair?
Yes, baby shampoo is good for thinning hair. They don't contain any harmful chemicals that can strip off the moisture in your hair causing more hair loss. However, these shampoos may not be beneficial in boosting hair growth.
How often should you wash thinning hair?
If you have thinning hair, wash your hair 3-4 times a week with a mild shampoo to remove any dirt or product buildup. Instead of rubbing your hair into the shampoo, mildly massage your scalp in a circular motion and let it slide into your locks.
What is better for thinning hair – biotin or collagen?
Collagen has the better claim for being impactful in hair growth. Collagen provides strength to the scalp and hair which helps in growth and lengthening. Biotin helps in providing key energy used to power hair production.
Is dry shampoo bad for thinning hair?
Yes, dry shampoo can be bad for thinning hair. Dry shampoo can take away the moisture and natural oils from your hair. Lack of moisture can lead to hair breakage, clogged follicles, or hair loss.
Recommended Articles