Top 10 Shampoos For White Hair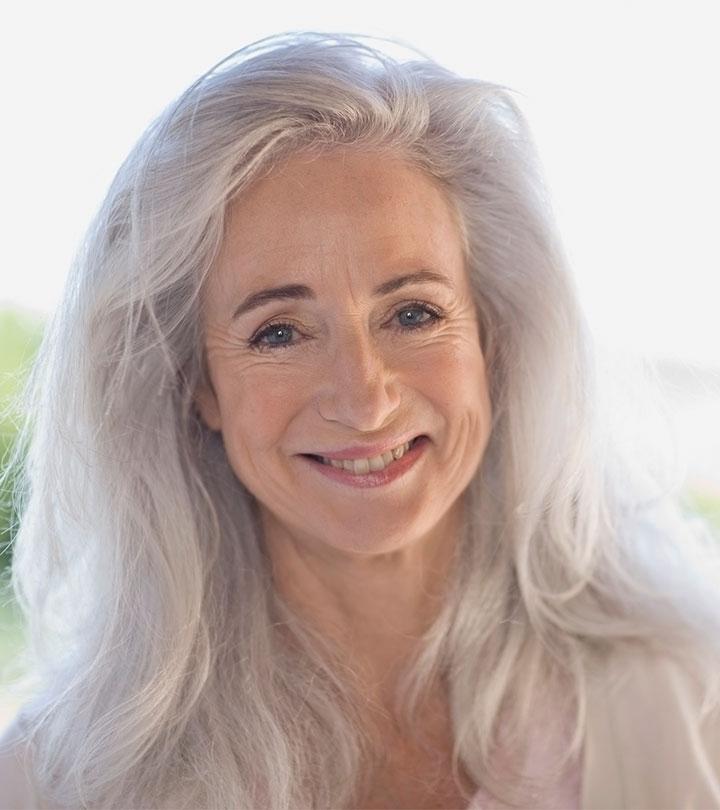 Black hair, black clothes, black shoes – aren't they boring and monotonous? Probably when someone points at your white hair, you can say, "No honey, these are wisdom highlights." Be it natural or colored, white hair can make you stand out. But to maintain the shine, you need a nearly perfect shampoo that provides the necessary nourishment required to maintain white hair – and not just any regular shampoo.
Hence, it is important to know about the exclusive white hair shampoos available in the market. Here, I have put together a list of shampoos that add shine to lackluster gray or white hair.
Top 10 Shampoos For White Hair
Klorane Anti-Yellowing Shampoo is a gentle hair care product infused with cornflower extracts that help remove the yellowish hue. It maintains the color and enhances the radiance of white or gray hair. It is formulated to transmute the dull white hair strands and leave your hair looking glossy and luminous. It is perfectly safe for platinum blonde or ash blonde tones. It also makes your hair soft, making it easy for styling. You can see the difference in a couple of washes.
Pros
Makes your hair extremely soft
Rich and creamy texture
Lathers well
Fabulous fragrance
Gentle for daily use
Cons
Might not reduce the brassiness completely
Price at the time of publication: ₹40.0
Jhirmack Silver Brightening Shampoo is specially created for all shades of white and gray hair. If you are worried about dull and dry white hair, you can use this shampoo to enhance the radiance and remove uneven discoloration. This shampoo is formulated to neutralize the brassiness and yellow tones and lift the natural whiteness. It contains green tea and folic acid that improve the elasticity of your hair and condition it from root to tip. Along with that, it also contains macadamia nut oil that moisturizes and hydrates rough and dry hair.
Pros
Contains CoQ10, which protects your hair from styling heat and environmental pollutants
Strengthens your hair
Removes frizz and dryness
Keeps your hair looking young and vibrant
A small amount goes a long way
Cons
Might make your hair greasy
Price at the time of publication: ₹20.1
This violet pigmented shampoo is best for cool toned hair colors as it removes the unwanted brassiness or yellowness from the hair. If you have a combination of gray and brown hair, it removes the warm and dull tone and adds shimmer to enhance the bright cool color. On applying this shampoo, your white or gray hair may begin to shine and appear to look metallic. This shampoo claims to give a polished effect to every hair strand. The Color Freeze formula promises to lock the pigments that help make your hair shine for extended periods.
Pros
Removes brassiness and yellow tinge effectively
Intensely softens your hair
Has great fragrance
Almost instant results
Does not weigh down your hair
Cons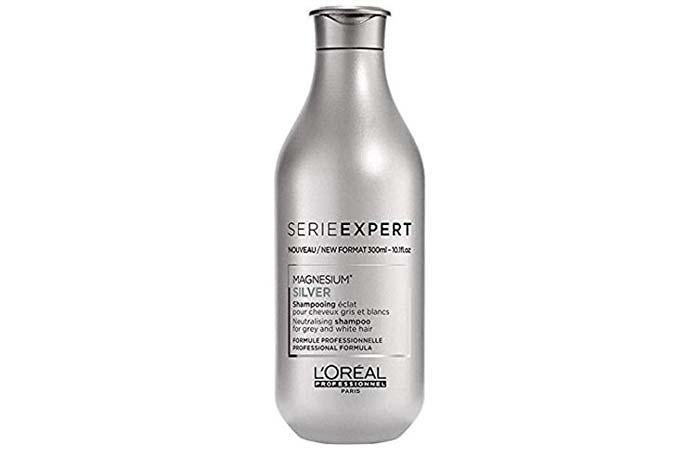 This deep violet clarifying shampoo contains anti-yellowing agents that help neutralize the yellowish hue and maintain a healthy white color. Along with brightening, this formula also nourishes your hair and protects each hair strand from fading. It claims to give your hair immense shine and silkiness.
Pros
Gives luminescent shine to your hair
Removes yellow tinge
Suitable for any hair type
Delivers results effectively as promised
Cons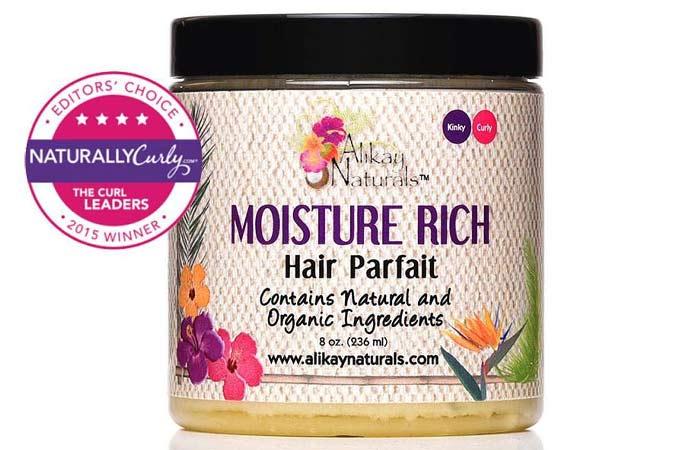 Schwarzkopf Professional BC Q10 Time Restore Shampoo is a micellar shampoo for mature and fine hair. It is infused with Nutrifiller technology that boosts hair's natural keratin synthesis and eliminates visible signs of aging. The Cell Perfector Technology and Cationic Polymers rejuvenate the hair, making it smoother and softer. The shampoo is infused with sugar tensides that are gentle on cleansing while keeping the natural moisture intact. It also improves hair strength and elasticity, giving you gorgeous hair.
Pros
Micellar Shampoo
Sulphate-free
Mild fragrance
Available in other variants
Cons
Inconsistent results for some
Are you vexed with the high chemical content in shampoos? Worried if they might cause more damage to your hair? If yes, try this shampoo as it contains rich exotic ingredients that fight the hues and tinges. Ogx Lavender Platinum shampoo contains lavender oil and chamomile extracts that brighten your locks and add luminous shine to your highlighted tresses. Ideal for white hair, this shampoo will enhance and lift the shade by removing any brassiness.
Pros
Makes your hair radiant
Contains fruit extracts
Has a fabulous fragrance
Leaves your hair feeling soft and smooth
Cons
Price at the time of publication: ₹15.86
This gentle shampoo contains natural ingredients like grapes, lemon, lavender, tangerine, and orange peel – all of which help condition and nourish your hair, giving it a healthy glow. As the brand name suggests, it indeed adds gleam and glow to hair. It claims to add moisture and strengthen your hair from the roots to the tips. It even protects your hair from further fading and dullness.
Pros
Eliminates yellowish hue
Neutralizes undertones
Keeps your hair healthy and moisturized
Makes your hair soft and manageable
Attractive aroma
Cons
Minimize hair greying with the Khadi Natural Hair Cleanser. This hair cleanser effectively strengthens your hair, prevents scalp dryness, and adds texture to the hair. Amla and reetha infused in the shampoo prevent greying of hair, while bhringaraj acts as an excellent hair tonic that boosts your hair.
Pros
Dermatologically tested
Clinically tested
Vegan
Cruelty-free
Suitable for all hair types
Unisex
Cons
Dry hair may become drier
It is a certified organic shampoo and contains lemon, eucalyptus, and other plant and flower-based extracts. It also includes coneflower, which is a color intensifier. This is a gentle shampoo that helps in neutralizing brassy tones and adds shine to gray and white hair. The highly organic ingredients in this shampoo show incredible results within a couple of washes.
Pros
Contains scalp and hair-sensitive ingredients
Makes your hair extensively soft
Adds radiant glow
Smells great
Require very little product per use
Cons
Highly expensive
Availability issues
Price at the time of publication: ₹73.19
This nourishing shampoo from Schwarzkopf contains a potent combination of purple and blue dyes that neutralize yellow undertones, restoring shine to your gorgeous salt and pepper tresses. This cleansing shampoo soothes the scalp and restores a pH balance of 4.5. Additionally, it makes hair manageable and frizz-free, thereby improving your hair texture and adding life to it.
Pros
SLS/SLES free
Gentle cleansing
Long-lasting results
Restores 4.5 pH
Cons
Price at the time of publication: ₹13.93
Try these fantastic products and transform your lifeless white hair.
Comment below to let us know about your experience.

Recommended Articles: