10 Best Shapewear For Bodycon Dresses For That Hourglass Look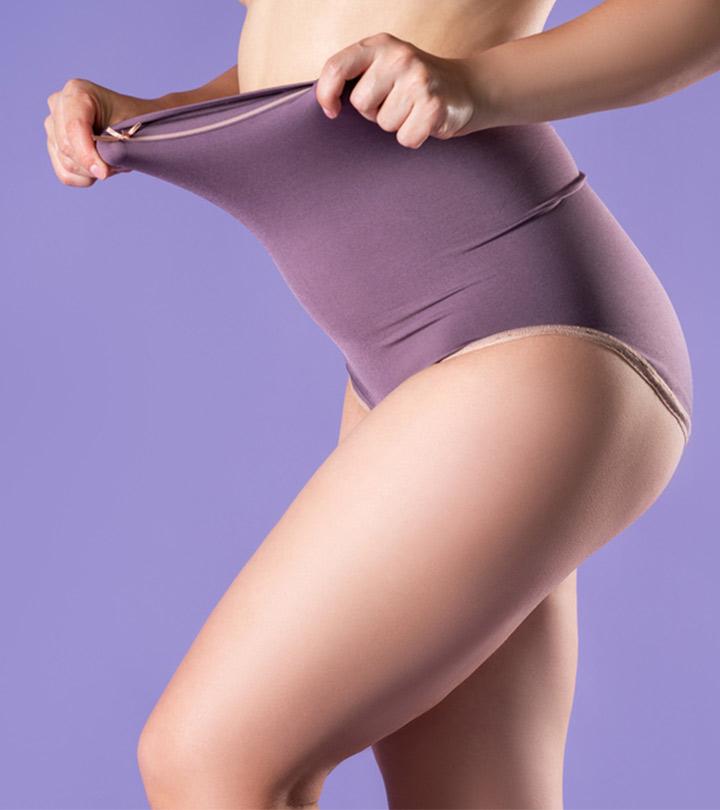 Looking good in any outfit comes with a lot of effort, from hair to makeup, to the proper undergarments; it takes an arsenal to look like a goddess! It's easy to feel a little overwhelmed with form-fitting bodycon dresses since they will hug all your curves. Hence, you will want an undergarment that evens your silhouette and helps you achieve the perfect hourglass look.
Before we go ahead, you must know that shapewear does not make you look skinny. Rather, it flattens any imperfections you don't want to focus on and makes you feel confident. If you are new to using the best shapewear for bodycon dresses, then we have got you covered! In our list of the 10 best shapewear for bodycon dresses, we have collected and showcased the best quality shapewear that goes fabulously with bodycon dresses. You can also check out our buying guide to know more about selecting the perfect shapewear for you. Read on to learn more!
10 Best Shapewear For Bodycon Dresses For A Curvy And Sexy Look
If you want to look fit and toned, this body shapewear for bodycon dress is great. You can wear the bodysuit for the whole day without feeling any discomfort or feeling like you're suffocating. This way, you can flaunt your figure without feeling like you're going to faint. The ShaperX open bodysuit targets the midsection of your body. It comes with a high waist design, which makes it perfect for bodycon dresses. It also has a zipper closure at the front that makes it easy to wear. The shapewear is made from mesh elastic fabric, which makes it breathable and stretchy. The non-slip shoulder straps ensure that the shapewear holds together. Since it's an open bust design, it cinches your upper and lower abdomen by providing compression as well as tummy control; also, it helps with good alignment and posture. Lastly, the shapewear has a double hook design at the back making it pretty secure.
Pros:
Extremely easy to wear and remove
Provides a comfortable fit
Made from breathable fabric
Doesn't dig into the skin
Cons:
The lace may not be of premium quality
Toned thighs and tummy are every woman's dream, and by using the Spanx Shapewear for Women Tummy Control, you can make that dream a reality. The high-waisted shorts are made from 54% nylon and 46% spandex, ensuring an optimal fit that is comfortable and breathable. The stay-put high waistband won't roll down when you move or when you sit. Also, the unique high-waist shaping system ensures that your tummy, thighs, and hips look curvy and smooth. You can wear this seamless shapewear under bodycon dresses, skirts, and formal pants.
Pros:
Available in regular and plus sizes
Generous coverage
Stay-put waistband
Premium quality
Cons:
May not offer the best back support
This best shapewear for under bodycon dress hits a bit different because it provides optimum shaping without being long, and it is high-waisted. The waistline goes way above the naval and does an amazing job and smoothing out the waist and hips. This is an amazing body short because it reduces folds and bulges, giving you a seamless silhouette and a long posture. The boning structure is breathable and comfortable, without a girdle attached, so you can move and breathe easily. The nylon and elastane fabric is super soft and gentle on the skin. The high-waist line prevents any muffin top situations.
Pros:
Perfect for all-day use
Doesn't roll or slip up
Breathable
Supportive
Cons:
Must not be used a waist trainer
This beautiful and smooth waist thong panty shapewear is perfect for any season, especially the warmer months. The fabric is polyester or spandex and it is of premium quality, so it will keep you moisture free and cool throughout the day. The shapewear also provides optimal midsection and back support, which means you will receive relief from back pain. In addition, the Hoffer 328 Women Waist Thong Panty Shapewear is a great option for women who want to flatten their tummy and give their butt a natural lift as well. This shapewear is perfect for bodycon, summer, and cocktail dresses.
Pros:
Breathable
Midsection and back support
High waist design
Provides a fit and feminine silhouette
Cons:
The fabric may have a distinct synthetic smell
This is one shapewear that you should not overlook, especially if you want to wear a bodycon dress. The fabric is a mixture of pure latex (at the core) and premium quality spandex/cotton, making it extremely comfortable and breathable. The Nobility shapewear bodysuit provides the perfect hourglass silhouette and must not be overlooked. You can also use it for posture correction as a waist trainer because it has a dual hook and zipper compression design. The tight 3-layer midsection is another reason you can wear it for posture correction.
Pros:
Suitable for postpartum wear
Comfortable and breathable
Adjustable
It has a tight hold
Firm Compression
Cons:
It may not be suitable for beginners
The structured form of this easy up full slip is quite popular with women of all ages. It looks fabulous under a bodycon or a cocktail dress. The fabric content is 81% nylon and 19% lycra, which provides a smooth and comfortable feel. In addition, it has an ultra-firm control slip that offers a sculpted look for your figure, especially under a bodycon dress. It can also be worn under strapless dresses and open neck style because the bodysuit has a hook and eye gusset, making it convenient to wear and take off.
Pros:
Built-in bra
Multiple strap options
Sculpting
Ultra-firm control slip feature
Cons:
The elastic at the bottom may restrict movement
If you are someone who wants decent coverage and appreciates good design, then you will love this shapewear for bodycon dresses. The body fabric is 69% and 31% spandex. The crotch lining is 100% cotton; hence, you can wear it all day long without experiencing any irritation or discomfort. This firm control bodysuit targets the tummy, waist, and back, so it smooths your silhouette without adding any extra bulk. It also has 2-ply shaping panels, increasing opacity under dresses, pants, and skirts while providing the best shape.
Pros:
100% crotch lining
Gentle on the skin
2-ply panels
Built-in bra support
Cons:
The shoulder straps may dig into the skin
This elegant shapewear is the best undergarment for a bodycon dress because of the 90% polyester and 10% spandex fabric, which keeps you cool and comfortable throughout the day. The slip provides full-body coverage and smooths out any bumps by providing a toned silhouette. It also has a light foam padded hidden bra and a silicone elastic band along the edge for extra durability and support. This slip can also be worn under skirts, trousers, and cocktail dresses.
Pros:
Provides full-body coverage
Removable straps
Inbuilt bra
Silicone elastic along the bottom hem
Cons:
Must not be machine washed
The Irisnaya Women Shapewear Bodysuit has a special and effective boning structure, making it a great undergarment choice for dresses and skirts. The fabric is a combination of nylon and spandex, so it is breathable and comfortable. It is quite versatile and can be used for waist training, formal and casual occasions because it provides a natural voluminous shape without looking bulky.
Pros:
Provides a slimming hourglass silhouette
Delivers tummy, bust, and waist support
Strong material
Adds volume without looking bulky
Cons:
It may not be suitable for women with large bust sizes
This is a perfect body shaper because it emphasizes all the right curves while flattening parts you want to hide. The fabric is made from 95% nylon and 5% spandex, making it soft and comfortable on the skin. The pull-on closure makes it easy to wear and remove, as well as adjustable straps provide sufficient support to the bodysuit so it won't slip when you move. Also, the shapewear has a double-layered thick waist knitting, which doesn't feel stuffy and provides adequate support to the abdomen and flattens any love handles.
Pros:
Double layered thickened waist knitting
Adjustable shoulder straps
Pull-on closure
Suitable for dresses, skirts, and office wear
Cons:
It may not be suitable for short dresses
Shapewear has many features and benefits that you must consider before deciding on the one that suits your needs. Now that you know the best ones that are available online, it's time to look at some of the main components before choosing the perfect shapewear for you. Keep reading our buying guide to know more!
How To Choose The Best Shapewear For Bodycon Dresses
The days of wearing shapewear by choosing a size down are long gone. Instead, experts suggest that you wear bodysuits that are true to your size. If you wear anything tighter, it may result in pain, soreness, and stiffness. If you are looking for shapewear that will smoothen and flatten any bulges, look for firm fabric like spandex. Don't size down on your shapewear as it will only make you uncomfortable and cause breathing problems.
If you are looking for shape and smoothening, then look for medium constriction. For a complete hourglass figure, look for high-level constriction. Medium constriction is the best option for women who have to wear shapewear often. High-constriction shapewear is good for occasions that last for 2-3 hours; any more than that, and you may experience soreness, dizziness, and shortness of breath.
All shapewear may not fit you the same way, so you can pick the type that suits your body type the best. Here are some examples:
Apple figure – A shaping camisole or underbust shapewear is a great choice as it will provide the needed lift and support.
Pear shape – A thigh shaper is perfect for this figure; you can choose an open bust or an underbust thigh shaper. This way, it is high on the waist and shapes your tummy, thighs, and hips.
Athletic figure – This figure needs shapewear that adds volume and curves. So, you have to look for a bodysuit that has a corset design and a solid boning structure, along with a high-rise and butt lifting feature.
Shapewear is definitely not a daily undergarment, but it is required when you want to dress to the nines, especially if you want to wear that sexy figure-hugging body-con dress! Just like a fancy bra, your shapewear can be flattering and feminine. Hence, you need to do your research and look for a piece that suits your body shape and the outfit you want to wear. Hopefully, our list of the 10 best shapewear for bodycon dresses will help you find the perfect one that makes you look and feel good. Happy shopping!