Best Shea Butter Moisturizers For Soft And Youthful Skin
Nourish and soothe your dry, dull skin with these plant-based moisturizers.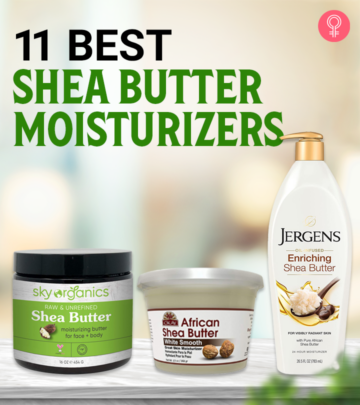 Shea butter is one of nature's most wonderful gifts for our skin. It is abundant in fats, vitamins, and many more nutrients that help to nourish your skin. To get the best results, you must use the best shea butter moisturizer! Shea butter moisturizers are incredibly effective and soothing, and they get absorbed into the skin quickly. They are also anti-inflammatory, anti-aging, and UV-protective. The 11 best expert-recommended shea butter moisturizers are listed in our article. Check them out!
11 Best Shea Butter Moisturizers Your Skin Will Love
The Unrefined African Shea Butter is 100% pure handmade by co-ops of Ghanian women in West Africa. It is fresh and made from the most recent harvests of shea nuts. This product offers visible results like relieving eczema symptoms and skin irritation, while deeply moisturizing dry, cracked skin, boosting collagen production, and fading scars and stretch marks. It is a filtered, processed, and ready-to-use formula for your skin woes.
Since this shea butter is unrefined, its color varies slightly from batch to batch – ivory, pale yellow, gray, and green tint. It has a slightly smokey and nutty scent. It does not clog skin pores, cause breakouts, or trigger acne. Hence, it suits most skin types and can be worn in any season. You can also use it in DIY balms, salves, soaps, and skin/hair masks.
Pros
Gentle
Non-comedogenic
Spreads easily
Long-lasting
Vegan
Suitable for all skin types
Includes an eBook of DIY skin care recipes
Cons
Price at the time of publication: $17.5
This organic shea butter by Sky Organics deeply moisturizes, softens, and conditions dry skin. It is 100% pure, unrefined, and retains all active ingredients. This shea butter has proven efficacy to provide long-lasting moisture, deep nourishment, and a radiant glow to your skin. You can use it in your DIY face and hair masks. This product is free of adulterants and can be used on the face and body.
Pros
USDA-approved
Vegan
Cruelty-free
Can be used on the face and body
Adulterant-free
Cons
Price at the time of publication: $16.95
The Jergens Shea Butter is a warmly-scented, lightweight formula. It nourishes your skin and locks in moisture and natural sheen. This shea butter restores and repairs the moisture barrier of stressed skin. It is formulated with a unique Hydralucence blend and melts into dull and dry skin without leaving a sticky or greasy residue. This dermatologist-tested product provides long-lasting hydration and visibly enhances skin tone, texture, and luminosity with consistent use.
Pros
Lightweight
24-hour hydration
Mild fragrance
Adds radiance
Dermatologist-tested
Cons
None

Price at the time of publication: $19.41
The Perfect Body Harmony Raw Shea Butter comes from Ghana in a UV-protecting, double-walled jar. This product is made from the original Karite tree shea nut in Africa and is rich in vitamins A, D, and E, and F. Since it is unrefined shea butter, this product retains the essential antioxidants your skin needs. It is popularly used in DIY home-made products like soaps, lotions, lip balms, and bath washes. However, a patch test is recommended before using it to be clear of any unwanted side effects.
Pros
No adulterants
Suitable for irritated and sensitive skin
Non-comedogenic
USDA-certified
Reduces flare-ups
Non-greasy
Cons
Price at the time of publication: $29.99
The OKAY African Shea Butter is 100% natural and ethically sourced from Ghana. It is an excellent sunblock and a therapeutic additive. This product reduces inflammation, wrinkles, eczema, blemishes, wounds, and skin disorders (dermatitis), and is also ideal for sunburns. It deeply nourishes your skin and improves its elasticity.
This white ivory smooth shea butter is suitable for cracked skin, dry scalp, dead skin or calluses on feet, and reduces stretch marks. It seals in hair moisture, helps reduce frizz, prevents breakage, and protects the hair from heat and sun damage. The emollient-rich product also nourishes, replenishes, and heals your hair and skin. Massage it onto your face, body, and hair to absorb vitamins A and E and complex fats.
Pros
Pleasant smell
Non-comedogenic
Lightens the skin tone
Reduces stretch marks
Soothes skin cracks
Cons
Price at the time of publication: $6.39
The Raw Apothecary Shea Butter is an unrefined and all-natural product. It retains essential vitamins A, E, and fatty acids that repair damaged skin and offer sun and UV protection. Vitamins A and E moisturize and repair damaged skin and hair, and vitamin F rejuvenates the skin.
This soft butter can be used directly or in hair wax, body butters, lotions, or lip balms. Its active ingredients have proven efficacy to rejuvenate your hair strands and act as a UV-B shield. Despite its dense texture, this raw, ivory-colored shea butter spreads on your skin easily. It does not clog your pores or leave a greasy residue. This product is great for eczema, psoriasis, sunburn, wrinkles, crusty feet, minor cuts, bug bites, and other skin ailments.
Pros
Long-lasting
Chemical-free
Non-comedogenic
Dye-free
Sulfate-free
Paraben-free
Hexane-free
Cons
Might smell like chemical
Price at the time of publication: $17.95
This all-natural shea butter softens and moisturizes dry and itchy skin thoroughly. It penetrates deep into your skin to give intense, long-lasting nourishment. This product is rich in vitamins A and E and fatty acids that are proven to deliver visible results in rejuvenating your skin and hair.
It treats dry, itchy scalp, restores moisture balance in your locks, and gives you shiny, healthy hair. You can blend molten shea butter with coconut oil, aloe extracts, manuka honey, or other natural additives to formulate home-made packs, balms, salves, and potions for your skin and hair.
Pros
Non-sticky
Softens the skin
Long-lasting
Rejuvenates the skin
Suitable for all skin and hair types
Cons
Price at the time of publication: $13.95
The NOW Solutions Shea Butter has a natural and luxurious texture that is easily absorbed into the skin. It conditions all skin types and can also be used as a scalp moisturizer. This non-sticky, non-greasy formula is perfect for daily use. It is derived from the tree nuts of the Karite trees grown in Western and Central Africa. You can use this shea butter to make whipped body creams or butter at home by adding a few drops of your favorite essential oils.
Pros
Vegan
Preservative-free
Hexane-free
Cruelty-free
Absorbed easily
Non-comedogenic
No synthetic fragrance
Paraben-free
Phthalate-free
Petrochemical-free
Microbial pathogen-free
Suitable for all skin and hair types
Non-greasy
Non-sticky
Cons
Price at the time of publication: $16.49
The Shea Moisture African Black Soap Balancing Moisturizer deeply hydrates the skin while balancing oily and combination skin. It is specially formulated for acne-prone skin that breaks out into blemishes. The shea butter and black soap blend make this an excellent hand and body lotion. It contains organic shea butter, cocoa pod ash, tamarind oil extract, and tea tree oil. This ultra-rich formula also contains jojoba and avocado oils making it luxuriously hydrating. This moisturizer is also safe for sensitive skin that is prone to irritation, but perform a patch test prior to incorporating it into your routine. Check this video review to explore the reviewer's experience with the product.
Pros
Lightweight
Paraben-free
Ideal for all skin types
Cons
Price at the time of publication: $9.75
The Palmer's Shea Formula is made from sustainably-sourced raw shea butter. This body balm melts into your skin instantly upon massaging and softens it. This radiance-boosting, non-greasy formula treats the driest skin, especially around your elbows, knees, heels, and feet. It is loaded with antioxidant-rich emollients that create a protective moisture barrier on your skin and makes it soft and radiant.
The vitamin E rejuvenates your skin and combats free radical damage. This product also contains soybean oil and cocoa butter that prevents skin dehydration and UV damage. These high-quality plant-based ingredients improve the tone and texture of your face, hands, feet, and lips.
Pros
Paraben-free
Mildfragrance
Long-lasting
Non-greasy
Suitable for daily use
Ideal for rough skin types
24-hour moisture
Phthalate-free
Mineral oil-free
Gluten-free
Sulfate-free
Dye-free
Cons
Price at the time of publication: $7.68
The PlantOrigin Shea Butter is 100% pure, ivory-colored, and free of chemicals, parabens, GMOs, or additives. It is extracted from pure African shea nuts in Ghana. This moisturizer reduces wrinkles, boosts elasticity and collagen, and offers anti-aging and anti-inflammatory benefits. It contains natural SPF 6-10 and prevents sunburns and UV damage.
This shea butter is rich in vitamins A, E, and omega fatty acids that soften the skin and make it supple. Vitamin E seals moisture into the skin and provides barrier repair, making it ideal for stretch marks, scarring, and cellulite. Cinnamate is a potent anti-inflammatory and UVB absorber. The moisturizer prevents hyperpigmentation and diminishes age spots. It is loaded with polyphenols that increase skin elasticity and prevent fine lines, and stretch marks. This product can also be added to DIY skin care products like body butters, lotions, sunscreens, body washes, balms, or deodorants.
Pros
Long-lasting
Non-sticky
USDA-certified
Vegan cruelty-free
GMO-free
Paraben-free
Additive-free
Hexane-free
Hypoallergenic
Non-comedogenic
Suitable for scars
Includes an e-book with shea butter skin care recipes
Cons
Price at the time of publication: $17.99
These shea butter moisturizers are sustainably sourced and can be used on all skin types. They are packed with clinically proven natural actives that do not cause side effects when used on the face, skin, or lips. You can also use pure, unrefined shea butter products to make a nourishing hair pack.
But not all shea moisturizers are genuine, unrefined, or chemical-free. Read the following section to know what to look for while buying shea butter products.
How To Choose Good Quality Shea Butter
Color (Refined vs. Unrefined): Most products have shea butter written in their ingredient list. The easiest way to know if the shea butter is pure or 'real' is looking at the color. Unrefined shea butter is pale, off-white,or sometimes ivory-colored. Refined butter is unscented and has white-ish color. The unrefined shea butter has a nutty, almost chocolatey smell.
Extraction Process: Good quality shea butter is handmade. The extraction process from the fruit to become butter is long. The lesser heat you use, the better the quality.
Cold-pressed shea butter is more nourishing than heat-extracted products because heating strips off crucial active ingredients, which are retained in the cold-pressing method. However, cold-pressed shea products are expensive because the process takes a long time and is more laborious than the short heat extraction.
Consistency: Often, products that claim to have shea butter feel like cold cream. They may also smell nice and sweet. But here's the catch – if shea butter comes in the cream form, it is not raw or refined. It may have other ingredients like complex fats and mineral oils.
Raw shea butter is solid and firm under room temperature and melts at around 38℃. It feels smooth and buttery and melts onto your skin easily. Check the consistency of a shea butter product and do not just go by the label.
Ethical Sourcing: Pure shea butter is harvested in African countries like Ghana and Nigeria by the local tribal women. As a responsible customer, you must choose ethically sourced shea butter products that are imported directly from these countries. This empowers the hard-working women and encourages fair-trade practices. Ethically sourced shea products might be expensive, but their quality is not compromised.
If it is a moisturizer, remember to read the contents before using it. Beware of adulterants and look out for words like 'shea butter cream.' The best way to use a shea butter moisturizer is to apply it to damp skin. Its nutrients are best absorbed into your skin when used as an emulsion with water.
What are you waiting for? Pick a shea butter moisturizer from the above list, make it your skin care staple, and keep your skin healthy, supple, and youthful.
Why Trust Stylecraze?
Oyendrila Kanjilal, a certified skin care coach, has a keen interest in researching products and handpicking the best ones for her readers. This article enlists the best shea moisturizers based on her research and organic user reviews. Product quality, efficacy, and value for money are some of the criteria on which these products were shortlisted. In addition, her buying guide will help you choose the best one for your skin type.
Frequently Asked Questions
Is shea butter a good face moisturizer?
Yes. Shea butter has high concentrations of fatty acids and vitamins. It effectively boosts the natural moisture of your skin and makes it plump and soft.
Is shea butter a good moisturizer for dry skin?
Yes. Shea butter is a natural emollient that quickly seeps into dry skin and traps moisture. It creates a barrier between your dry skin and the free radicals in the environment.
Is shea butter moisturizer good for oily skin?
Yes. Shea butter balances the sebum production in your oily skin. This non-comedogenic ingredient is an excellent solution for people with acne-prone skin.
How often should I use shea butter moisturizer?
Use a shea butter moisturizer daily to achieve hydrated and healthy-looking skin.
How long does shea butter take to work?
Shea butter moisturizer immediately nourishes the skin. However, notice smoother and softer skin after three months and fewer dark spots after six months.
What are the side effects of shea butter moisturizer?
Usually, shea butter is safe for every skin type. However, if you have a nut allergy, shea butter may irritate your skin and cause redness, as the ingredient is derived from the nut of the shea tree.
Recommended Articles