15 Best SheaMoisture Hair Care Products You Need To Try
Intensely moisturize your hair and make it look soft and flowing with these shea moisture products.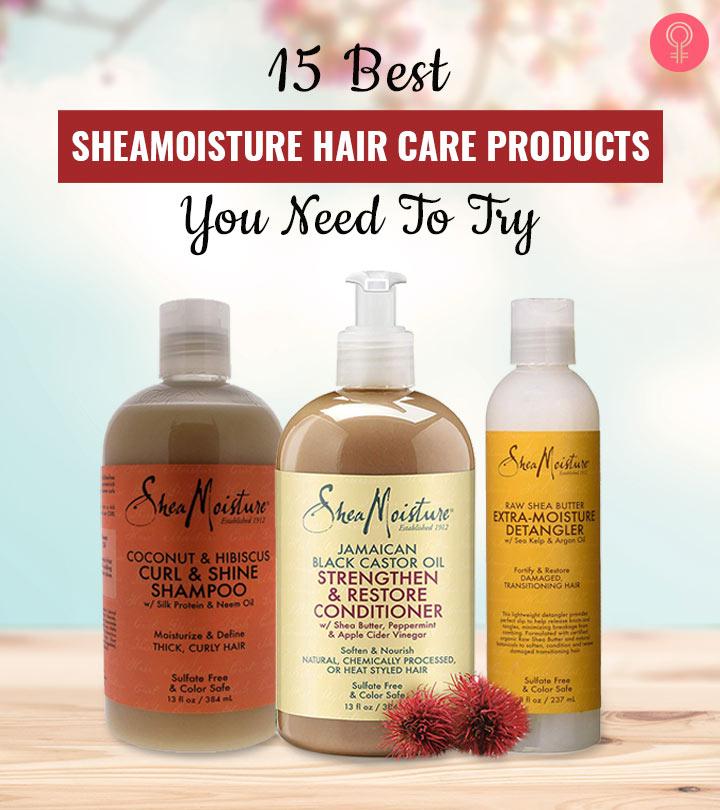 Enthusiasts of natural beauty products can hardly stop raving about the wonders of SheaMoisture, and rightly so. Here, we list some of best SheaMoisture hair care products being sold online today.
Started by Sofi Tucker, a widowed mother of 4, the high-end brand offers everything from skin and hair care products to luxury bath and body essentials for both men and women. Its biggest allure lies in the fact that the products are handcrafted by women in Africa. Vanessa Thomas, a Florida based Senior Cosmetic Chemist, says, "Shea Moisture has done a fine job at staying current with the new shift-to-clean beauty by utilizing a more natural, milder blend of surfactants that are Ecocert & Cosmos approved alternatives to Sulfates."
Let's take a look at some of their best products!
Top 15 SheaMoisture Hair Care Products
SheaMoisture Manuka Honey & Mafura Oil Intensive Hydration Shampoo is a sulfate-free formula. It gently cleanses the hair while infusing it with intense moisture and shine. It imparts essential nutrients for healthy hair.
It contains certified organic shea butter, honey, mafura, and baobab, all blended into a rich mixture of restorative oils to soften and rejuvenate your hair. It also contains antioxidant-rich African rock fig that helps boost hydration while protecting dry and distressed hair from environmental pollution.
Pros
Ideal for 4a, 4b, and 4c hair types
Revitalizes your hair
Restores moisture
Nourishes the scalp
Smoothes hair
Adds intense shine
Suitable for dry and damaged tresses
Cons
None
SheaMoisture Manuka Honey & Mafura Oil Intensive Hydration Hair Conditioner is a rinse-out conditioner. It instantly softens and detangles hair while infusing it with intense moisture and shine.
It contains nutrient-rich ingredients like organic shea butter, honey, mafura, and baobab. This botanical blend restores dry and brittle hair by nourishing each strand. It improves your hair texture and manageability. It boosts hydration while protecting your hair from dust and grime. It leaves your hair softer and shinier with every use.
Pros
Adds long-lasting shine
Hydrates your hair
Reduces frizz
Suitable for dry hair
Controls split ends
Cons
None
This reparative leave-in conditioner controls frizz and softens dry locks. It detangles your hair and protects it from breaking. It is perfect for those who regularly color, straighten, or heat style their hair. This conditioner is formulated to work on kinky, curly, or wavy natural styles.
It contains Jamaican black castor oil and certified organic shea butter to nourish, moisturize, and promote elasticity so that hair doesn't break when detangling.
This conditioner provides a protective layer that repairs split ends and dry hair ends. It also contains peppermint that stimulates the scalp for an invigorating and therapeutic experience. Check out the review of this product on YouTube to know why it is one of the best out there.
Pros
Repairs damaged cuticles
Restores moisture
Adds shine
Improves hair texture
Smoothes your hair
Cons
None
SheaMoisture Jamaican Black Castor Oil Strengthen, Grow & Restore Hair Serum is specially formulated for extremely dry and damaged tresses that are prone to falling. The serum restores strength, flexibility, and shine to dull and lifeless coils.
The formula contains Jamaican black castor oil that delicately heals damaged hair, while the moisturizing coconut oil smoothes curls to keep them tangle-free.
The peppermint oil invigorates the hair and scalp to improve hair health and promote hair growth. The product also contains apple cider vinegar that balances pH levels of your scalp to maintain overall hair health.
Pros
Softens your hair
Makes your hair more manageable
Leaves your hair feeling fresh and hydrated
Tames flyaways
Promotes hair growth
Cons
None
SheaMoisture Coconut & Hibiscus Curl Enhancing Smoothie is enriched with natural emollients to give you soft, silky, and defined curls. It is infused with certified organic shea butter, which helps reduce split ends and tames flyaways. It is suitable for dry, damaged, and over-processed hair. It adds a glorious shine and an enormous volume to dull and lifeless curls.
It is an all-natural leave-on styling cream specially formulated for wavy, curly, and coily hair. The coconut oil-infused in this moisturizing formula hydrates, nourishes, and protects hair against breakage while replenishing the lost oils and moisture. It also contains silk protein, an important ingredient that softens dry, unruly, frizzy locks, making them irresistibly smooth and healthy.
Pros
Gentle formula
Color-safe
Makes your hair more manageable
Strengthens your hair
Free of harmful chemicals
Cons
None
This strengthening and hydrating conditioner detangle and restore moisture without weighing your hair down. It restores lost moisture and nutrients to help maintain healthy hair shafts. It works for all curly hair types.
The product is formulated with Jamaican black castor oil and certified organic shea butter to nourish and strengthen brittle, damaged hair. It also reduces the appearance of breakage and shedding. The peppermint oil in the conditioner helps promote hair growth.
Pros
Adds shine to your hair
Leaves your hair rejuvenated
Suitable for colored and chemically processed hair
Reduces hair damage
Cons
None
SheaMoistureCoconut & Hibiscus Curl & Shine Shampoo is a natural, gentle, sulfate-free cleanser that leaves your hair soft, silky, and healthy. It is enriched with natural ingredients to hydrate and protect dry, damaged cuticles.
This formula helps replenish lost oils and protects hair from further damage. It also contains hibiscus flower extract, a natural emollient that soothes and smoothes distressed waves and curls. The silk protein helps transform your hair to gloriously silky curls.
This product contains neem oil, another potent ingredient that is effective in taming frizz and strengthening the roots. The certified organic shea butter used in this rich shampoo makes your curls incredibly soft and smooth.
Pros
Travel-friendly
Free of harsh chemicals
Cruelty-free
Suitable for all curly hair types
Strengthens the follicles
Cons
SheaMoisture High Porosity Moisture Correct Masque is formulated to protect your hair against dryness and damage. It locks in the moisture and keeps your hair hydrated and healthy for days. The formula is packed with ultra-nourishing mongongo and hemp seed oils that transform porous, over-processed, and damaged hair into soft, smooth, frizz-free curls and coils.
This mask seals in moisture, closes the cuticles, and forms a protective layer over your curls, leaving your hair bouncy and nourished.  The product is fortified with natural ingredients like baobab proteins, apple cider vinegar, and certified organic shea butter that smooth the hair shaft, leaving your hair moisturized, smooth, and manageable. It balances hair porosity to create tangle-free, nourished, silky, and smooth curls.
Pros
Deeply conditions your hair
Improves hair elasticity
Protects hair from damage
Helps hair hold essential moisture
Cons
None
SheaMoisture Raw Shea Butter Extra-Moisture Detangler is a lightweight formula that provides the perfect slip to help release knots and tangles in your hair. It minimizes breakage and frizz that could arise from combing.
It is specially designed to detangle and moisturize dry, damaged, and frizzy hair. It is formulated with certified organic raw shea butter and natural botanicals, like sea kelp extracts and argan oil, to soften, condition, and rejuvenate damaged hair.
Pros
Provides frizz-free curls
Smoothes dry ends
Sulfate-free
Restores shine
Cons
None
This deep conditioning mask ensures that your hair is well-nourished and hydrated.
The formula is loaded with superfruits that help treat damaged hair while providing anti-aging benefits. This emollient blend of superfruits and certified organic raw shea butter soften and smooth hair by providing it with ultra moisture.
The product also aids natural collagen production and fights dryness, ensuring long-lasting conditioning. The marula oil and biotin act as deep moisturizers, keeping hair healthy, silky, and renewed.
Pros
Very hydrating
Repairs damaged cuticles
Imparts shine
Controls breakage
Strengthens the roots
Cons
None
This lightweight-creamy conditioner softens and improves hair manageability. It is ideal for hair with low porosity, protein-sensitive curls, and coils that lack essential moisture.
The formula is infused with baobab, tea tree, spearmint, and clary sage oils that promote scalp health. It is also enriched with certified organic shea butter to provide nourishment and hydration to dull and lifeless tresses. The best part about this conditioner is that it provides lasting moisture without surface build-up.
Pros
Strengthens the curls
Promotes scalp health
Improves hair texture
Smoothes hair
Imparts shine
Cons
This unique styling lotion helps manage those stubborn flyaways. It protects your hair from breaking while restoring moisture and lustrous shine to dull, damaged, or chemically processed hair. It is color-safe and works perfectly for those who heat style their hair regularly. This lotion is suitable for all curly hair types.
It contains a nutrient-rich blend of oils and botanicals that help protect your hair against the damaging effects of high heat styling. With use, it increases hair's resistance to breakage.
Pros
Improves hair elasticity
Reduces breakage
Nice consistency
Controls split ends
Strengthens hair
Cons
None
This intense conditioning deep treatment mask infuses hair with moisture and essential nutrients that help maintain a healthy texture and shine. It contains certified organic shea butter, honey, mafura, and baobab oils that provide deep nourishment to your hair. It restores moisture and smoothes and fortifies follicles for stronger, healthier, and frizz-free hair.
Pros
Very hydrating
Nice consistency
Replenishes dry and damaged hair
Nourishes the follicles
Safe for daily use
Cons
This treatment masque deeply moisturizes and conditions dry, damaged, and brittle hair. It is perfect for revitalizing chemically treated hair. It is formulated with certified organic raw shea butter, sea kelp, and argan oil to restore natural lipids to damaged and damp-ridden hair. If you are looking for a reparative hair mask for dry hair that is safe for daily use, this is the one.
Pros
Creamy formula
Strengthens hair
Improves hair texture
Smoothes your locks
Color safe
Cons
Might leave a waxy coat on your scalp.
SheaMoisture African Water Mint Detox & Refresh Shampoo detoxifies and optimizes your scalp for healthy and manageable hair. It is formulated with certified organic shea butter, African water mint, activated charcoal, ginger, and opuntia extracts. These ingredients revitalize and refresh your hair by removing impurities and build-up while rehydrating and soothing the hair and scalp. 
Pros
Cruelty-free
Free of harmful chemicals
Promotes scalp health
Refreshes hair
Reduces frizz
Cons
None
Why Trust StyleCraze?
The author, Pooja Karkala, is a hair care enthusiast familiar with the world of SheaMoisture hair care products. This brand offers hair care products for men and women. She narrowed her search to the top fifteen SheaMoisture hair care products after conducting comprehensive research and analyzing numerous online user reviews. These products revitalize your hair, reduce frizz, smoothen hair, and minimize hair damage.
Frequently Asked Questions
Is SheaMoisture all-natural?
Yes, all the products of SheaMoisture are made with naturally derived ingredients and certified organic shea butter.
Do SheaMoisture hair products cause buildup?
Yes, SheaMoisture hair products may cause buildup if used excessively. The shea butter present in the products leaves residues and clogs hair follicles.
Can you use SheaMoisture products every day?
No. Although SheaMoisture products are free of harsh ingredients, it is recommended not to use all their products, like the shampoo and the conditioner, daily to avoid dry scalp.
How many times a week should you use SheaMoisture Shampoo?
Use the SheaMoisture shampoo once or twice weekly. Excessive use of shampoo can leave your hair dry and brittle.
Are SheaMoisture products only for black hair?
No. Shea Moisture products are specially formulated for curly or wavy hair types. Therefore, people with such hair types can use these products regardless of skin color.
Recommended Articles