11 Best Sheer Pink Nail Polishes Of 2023
Get a classy and minimal look with these handpicked elegant-looking pink nail colors.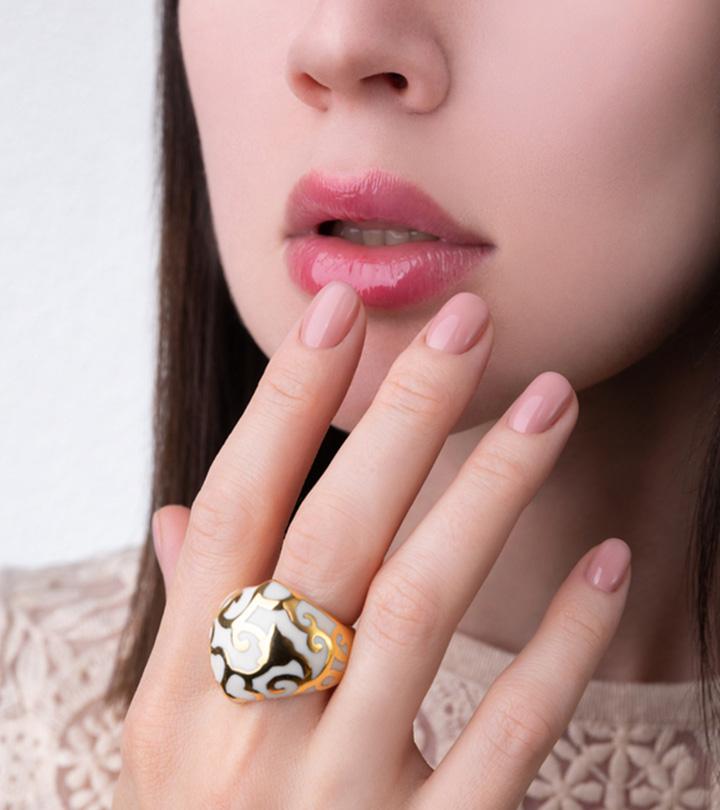 If you are someone who is open to nail paints of all shades and hues, try getting your hands on the best sheer pink nail polish out there. While dark colors can make your nails stand out, sometimes a subtle hint of elegance makes for a classier impact. Pink nail polish with its many shades is no wonder a must-have in your manicure and pedicure kit. From elevating your everyday look to brunch meet-ups or glamorous parties, there's a pink shade to match it all. However, sometimes, you can let your class and elegance speak for themselves with just the slightest hint of pink on your nails. Subtle, clean, and cheerful, it gives you that refreshing vibe without overdoing it. Giving you that perfect balance in between translucent and opaque paint, sheer pink nail polish can suit all your whims and fancies. To help you choose the right one, we have shortlisted the 11 best options in this article.
Top 11 Best Sheer Pink Nail Polishes To Wear Right Now
Pros
High shine finish
Durable color
Chip-resistant
Provides even application
Does not contain DBP, formaldehyde, and toluene
Cons
Might take longer to dry
For a noticeable color, you might need multiple coats.
Price at the time of publication: $6.49
Pros
Lasts for 7 days
Chip-resistant
Highly pigmented
Clean finish
Easy to remove
Cons
May not last long without the base coat and top coat
Price at the time of publication: $10.79
Pros
Fade-proof
Chip-resistant
Keeps nails nourished
Long-wearing for 10 days
Cons
Price at the time of publication: $6.65
Pros
Fade and chip-resistant
Bubble-free formula
Does not contain harmful chemicals
Included brush provides flawless application
Cons
May have a thin, watery consistency
Price at the time of publication: $6.9
Pros
Lasts for around 21 days
Non-chipping
Non-toxic
Low odor
Can be cured under LED or UV lamp for 60 to 120 seconds
Easy application
Perfect gel finish
Cons
Thick and sticky consistency
Takes time to dry
Price at the time of publication: $6.99
Pros
14-day wear
Color-changing formula
Sheer pink glitter nail polish
Does not chip or smudge
Lends natural-looking nails
Cons
Price at the time of publication: $5.99
Pros
Pigment-rich
Glossy finish
Quick-drying formula
Vegan and cruelty-free
Offers precise application
Free from harmful ingredients
Cons
Tends to peel or chip away
Price at the time of publication: $6.85
Pros
Fast-drying
Long-lasting
Cruelty-free and vegan
Buildable formula
Glass-like shine
Sheer pink with sparkles
Easy to remove
Cons
May not be chip-resistant
Price at the time of publication: $10
Pros
9 toxin-free formula
Long-wearing for 2 weeks
UV/LED curable polish
2-step nail system
Smooth consistency
Does not streak
Cons
The removal process might be a little time-consuming.
Price at the time of publication: $9.99
Pros
Long-wearing
Chip-resistant
Built-in UV filter
Vegan and cruelty-free
Flawless application
Includes high-quality stainless steel agitator
Cons
May take a long time to dry
Price at the time of publication: $14.99
Pros
Vegan
Gluten-free
8 toxin-free formula
Chip-resistant wear
Ultra-glossy finish
Smooth and even coverage
Cons
Price at the time of publication: $18
Pink is a vibrant color and is one of the best choices when selecting a unique nail paint shade to up your fashion and glamor quotient. There are various shades available in pink that can perfectly match your outfits. It could be a little confusing to choose the right nail paint, therefore, for your help, we are here with a short buying guide for selecting the best sheer pink nail polishes.
Points To Consider While Choosing The Best Pink Nail Polish
Although most nail paints contain similar ingredients, still there are some important ingredients that you must look out for including resin, nitrocellulose, polymer that offer a shiny texture and flexibility while strengthening your nails. Ethyl acetate, propyl acetate, butyl acetate, and isopropyl acetate make the polish easy to apply and help it dry relatively quickly. Benzophenone prevents the polish from changing color or fading when exposed to sunlight. Trimethyl pentenyl diisobutyrate, camphor, triphenyl phosphate, and ethyl tosylamide help the nail paint last longer. Finally, some dyes or pigments that are made with gentle and organic ingredients offer great coverage and pigmentation.
However, avoid using nail paints that contain harmful chemicals such as paraben, dibutyl phthalate, toluene, formaldehyde, formaldehyde resin, camphor, xylene, and lead.
You must look out for the lasting power of the pink nail paint that you are choosing. Nail paints that contain built-in UV filters, polymers, and high-quality stainless steel agitators have long-lasting power. A sufficient number of polymers encourage the durability of the nail paint. The colored lacquers included in the UV filters protect your nails from UV rays, preventing fading and yellowing.
Each coat needs to dry properly and as soon as possible. When choosing a nail polish, check the packaging to make sure that there is enough cellulose nitrate in the product.
You must check customer reviews before making an online purchase of a pink nail polish. Many customers write the pros and cons of the nail paints that they have used in order to educate other customers about the products and the brands. You can compare the reviews of different customers on various websites and place your order accordingly.
Chaitra Krishnan, the author of this article, loves all things makeup and keeps an eye on latest makeup trends. She curated this list of the best sheer nail polishes in pink after conducting thorough research. She checked shade options and evaluated the user feedback and reviews to shortlist the products. These polishes can elevate your look to the next level, be it glamorous lunches with your friends or a regular day out in the town.
Frequently Asked Questions
How do you keep sheer pink nail polish from streaking?
You can hold your nail polish brush at 45 degrees and coat your nails evenly with your sheer pink nail polish to keep the color from streaking. You can also use a nail primer before your color coat for a better finish.
Does pink nail color go with pink undertones?
Yes, pink nail polish color compliments pink undertones really well.
Does sheer pink color polish make hands look younger?
Yes, sheer pink nail polish has an elegant and youthful charm that makes your hands look younger.
Do sheer pink nails go with everything?
Yes, sheer pink nails go well with all outfits and occasions. You can wear this color in any season.
Are sheer pink nails professional?
Yes, the sheer pink nail color is a neutral shade; so, it is perfect for an office environment and is completely professional.
Recommended Articles