11 Best Sheer Pink Nail Polishes Of 2022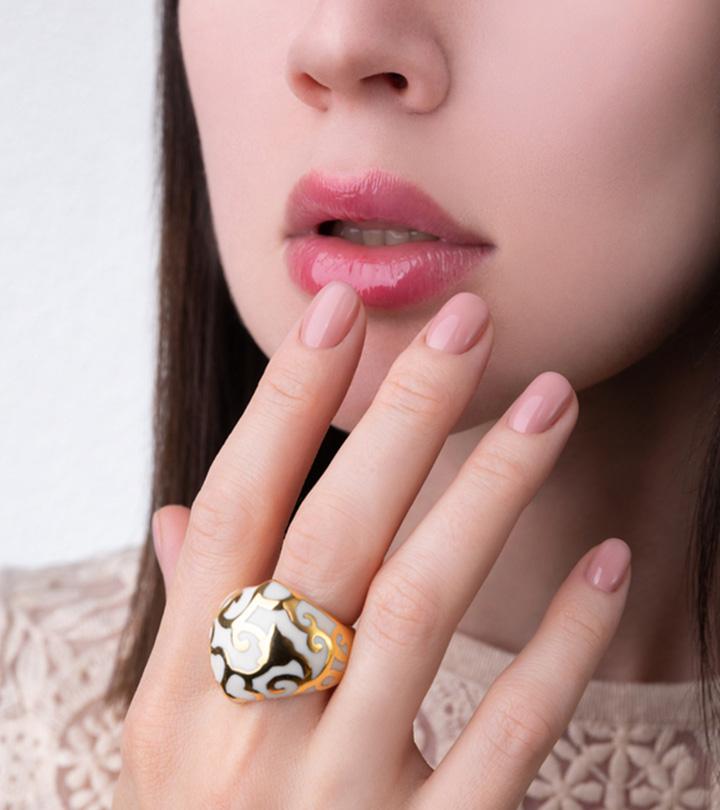 If you are someone who is open to nail paints of all shades and hues, try getting your hands on the best sheer pink nail polish out there. While dark colors can make your nails stand out, sometimes a subtle hint of elegance makes for a classier impact. Pink nail polish with its many shades is no wonder a must-have in your manicure kit. From elevating your everyday look to brunch meet-ups or glamorous parties, there's a pink shade to match it all. However, sometimes, you can let your class and elegance speak for themselves with just the slightest hint of pink on your nails. Subtle, clean, and cheerful, it gives you that refreshing vibe without overdoing it. Giving you that perfect balance in between translucent and opaque paint, sheer pink nail polish can suit all your whims and fancies. To help you choose the right one, we have shortlisted the 11 best options in this article.
Top 11 Best Sheer Pink Nail Polishes To Wear Right Now
Give your nails a healthy flush of natural shine with this cult-favorite light pink nail polish by essie. Loved by professional nail technicians and manicure experts, this classic color looks great on all skin tones and can be paired with any attire. This nail polish offers flawless sheer coverage and a glossy finish with just a couple of coats. It has good staying power, which means your manicure will last longer than average. The included easy-glide brush is a perfect size and fits all nail sizes while ensuring a smooth and streak-free application. For best results, apply a base coat and a top coat.
Pros
High shine finish
Durable color
Chip-resistant
Provides even application
Does not contain DBP, formaldehyde, and toluene
Cons
Might take longer to dry
For a noticeable color, you might need multiple coats.
For someone who likes to keep it subtle at all times, this neutral shade is a perfect choice for you. This soft beige pink nail polish, which is a nude hue with a hint of pink, helps you create a your-nails-but-better nail effect. Since this is a lacquer formula, you can rest assured that it will last longer. It provides up to 7 days of wear as long as you prep your nails with a base coat and top it off with a top coat. If you like to update your manicure every week, this formula works exceptionally well. One of the most popular OPI colors, this nail polish comes equipped with a unique ProWide Brush that offers a flawless finish.
Pros
Lasts for 7 days
Chip-resistant
Highly pigmented
Clean finish
Easy to remove
Cons
May not last long without the base coat and top coat
A nail polish that adds a touch of color and nourishes your nails with every application? Yes, please! Formulated with argan oil, Sally Hansen Color Therapy Nail Polish provides your nails deep nourishment and instant hydration, making your nails healthier over time. A few strokes of this polish will last as long as 10 days without fading or chipping away. A neutral, light pink nail polish delivers a sheer coat of color that makes your nails look natural and healthy.
Pros
Fade-proof
Chip-resistant
Keeps nails nourished
Long-wearing for 10 days
Cons
With Revlon Nail Enamel, all it takes is a single coat to give your nails super lustrous finish. This nail polish formula is ultra-smooth and glides effortlessly without creating tiny bubbles. Thanks to the Chip Defiant and anti-fade technology, the color will stay fresh on your nails for longer, making your nails always look like they have just been manicured. This barely-there nude-pink hue provides a sheer wash of color and glossy shine. The best part about this nail polish is it is made without harsh chemicals like formaldehyde, DBT, formaldehyde resin, camphor, and toluene.
Pros
Fade and chip-resistant
Bubble-free formula
Does not contain harmful chemicals
Included brush provides flawless application
Cons
May have a thin, watery consistency
Trust essie to come up with a pink nail color that will give your nails a natural-looking finish that is sheer yet noticeable. Inspired by haute couture, this gel couture is all things luxury. This formula utilizes a 2-step system, where the colored lacquer acts as the first step and the top coat as the second step. It gives you nails a gorgeous color and sheen like that of gel nail polish while ensuring long-lasting wear. In addition to that, this polish comes with a curve-hugging brush that provides precise and maximum coverage. So, how does it work? Start off by applying 2 coats of nail paint, followed by a coat of top coat, and you're done.
Pros
Gel-like shine
14-day wear
Easy to remove
Even coverage
Cons
Bubbles may occur sometimes
Does not come with the gel couture top coat
Achieving a beautiful salon-quality manicure can't get any easier than this! This formula goes on like regular nail polish and wears like a gel to give your nails a seamless coverage. All you have to do is apply a single coat of this clear pink nail polish on your nails and dry it within minutes by curing under UV/LED lamp to reveal a sheer pink hue with a mirror-like shiny finish. Although the shade is called Pink Nude, the color may slightly change as the temperature changes. A single application of this formula will last all of 14 days without smudging and chipping. Pro-tip: If you are looking for opaque coverage, you would want to apply more than 2 coats.
Pros
14-day wear
Color-changing formula
Sheer pink glitter nail polish
Does not chip or smudge
Lends natural-looking nails
Cons
A clear, natural-looking nail polish with a rosy pink tint – this sheer polish will give you rose pink nails that look flattering on all skin tones and is perfect for any occasion. This formula is loaded with pigments, so 2 coats are all you will need to attain a seamless coverage. All while it dries quickly to give a long-lasting manicured look. You could use this hue as it is for a see-through finish or pair it with White Tips when giving yourself a French manicure. This product features a Patented Gripper Cap that provides a comfortable hold while opening and applying polish, while the fan-shaped 600-bristle Genius Brush covers your cuticle for maximum coverage.
Pros
Pigment-rich
Glossy finish
Quick-drying formula
Vegan and cruelty-free
Offers precise application
Free from harmful ingredients
Cons
Tends to peel or chip away
Who says sheer pink polish colors have to be sparkle-free? This ultra-holographic seashell pink shade will give your nails a subtle pop of color with holographic micro flakes scattered across, resulting in a sparkly finish. While the pink shade in itself is pretty and feminine, the tiny flecks of sparkles in the formula add depth and pack a gorgeous punch. This jelly polish is buildable, meaning the color can be layered on for an opaque finish (3 to 4 coats), or you can wear it alone. Plus, this polish is a quick-drying formula, so no more worries about smudging or waiting for ages for it to dry.
Pros
Fast-drying
Long-lasting
Cruelty-free and vegan
Buildable formula
Glass-like shine
Sheer pink with sparkles
Easy to remove
Cons
May not be chip-resistant
We haven't met anyone who doesn't like pink nail polish colors! Whether you have long nails or short nails, this Jelly Pink will make your nails look pretty without looking #over the top. One of the best sheer pink gel nail polishes, this formula will give your nails a healthy glow. Apply the polish in thin layers for a barely-there hue or build it up for full coverage. This is a 2-step polish that does not require a base coat or too much buffing before application. A few coats of this formula and a top coat can make the polish last for upto 2 weeks. Plus, it helps repair and strengthens your nails with every application. The smooth consistency of the formula and the custom brush together ensures an effortless application process.
Pros
9 toxin-free formula
Long-wearing for 2 weeks
UV/LED curable polish
2-step nail system
Smooth consistency
Does not streak
Cons
The removal process might be a little time-consuming.
Sheer Mother of Pearl Pink is a beautiful sheer pink tint nail polish with a hint of violet luster and pearlescent finish. This high-performance nail enamel glides smoothly over your nails to lend long-lasting, chip-resistant wear. All while the built-in UV filter in the colored lacquer protects your nails from UV rays and prevents fading and yellowing. This light pink shade has a high-gloss sheen that shines much brighter and looks prettier when light falls on it. Your nails are surely going to love this polish as much as we do.
Pros
Long-wearing
Chip-resistant
Built-in UV filter
Vegan and cruelty-free
Flawless application
Includes high-quality stainless steel agitator
Cons
May take a long time to dry
We can't stop raving about Smith & Cult Nail Lacquer because of its high shine and buildable qualities. Whether you fancy one coat or multiple coats, this formula has you covered. This nail lacquer has excellent durability and lasts longer, provided you follow the right application technique. Moreover, this formula is safe to use as it does not contain harmful ingredients such as DPT, formaldehyde, toluene, formaldehyde resin, xylene, camphor, triphenyl phosphate, and ethyl tosylamide. This neutral shade will help you achieve cute pink nails, while the adorable little bottle will look good on your dresser. Make sure to prep your nails with a base coat for extended wear and finish off with a top coat to preserve shine and color.
Pros
Vegan
Gluten-free
8 toxin-free formula
Chip-resistant wear
Ultra-glossy finish
Smooth and even coverage
Cons
Now that you have gone through our list, you must have realized that there is an abundance of sheer pink shades in the market. This neutral shade is perfect for any occasion, whether it's your bridal party, a job interview, or a night out with your partner. So if you're all set to hop on this sheer pink nails bandwagon, here are the 11 best sheer pink nail polishes you could try. So, which pink shade is your most favorite? Let us know in the comments below!
Why Trust StyleCraze?
Chaitra Krishnan, the author of this article, loves all things makeup and keeps an eye on latest makeup trends. She curated this list of the best sheer pink nail polishes afre conducting thorough research. She checked shade options and evaluated the user feedback and reviews to shortlist the products. These polishes can elevate your look to the next level, be it glamorous lunches with your friends or a regular day out in the town.
Recommended Articles