11 Best Sheet Masks For Acne – 2023
Deal with acne, revitalize your skin, and make it smooth with these hand-picked sheet masks.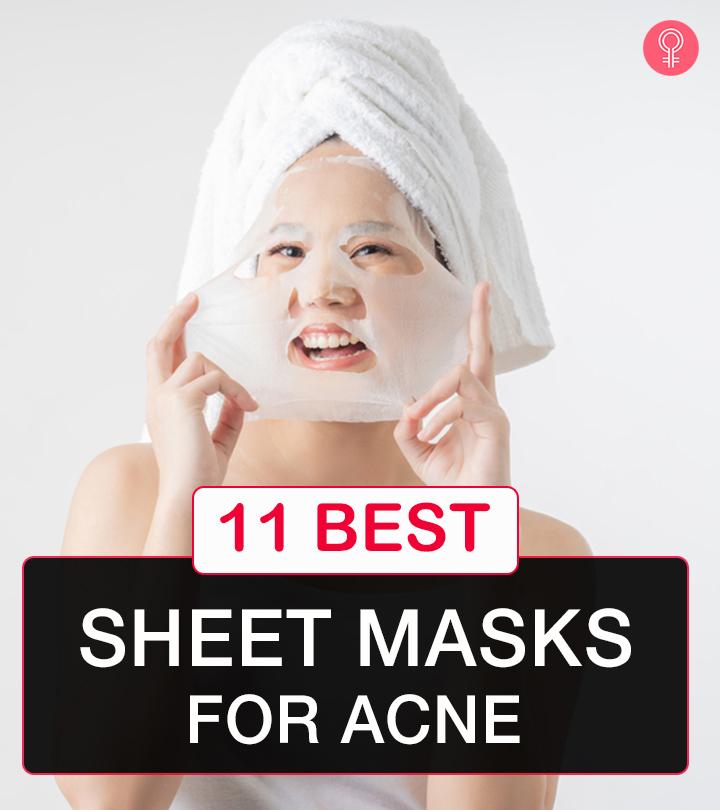 Sheet masks are popular for removing the traces of stress from the face and reviving tired skin. But they are more than just that. The best sheet masks for acne can help you deal with this pesky issue with ease.
Initially, sheet masks were considered a high-end skin treatment. However, now they are used to treat various skin conditions, such as dull, pigmented, and acne-prone skin. Special ingredients in these masks aid in relieving and minimizing inflammation and enlarged pores and preventing oil production. If you have a lot of breakouts and aren't sure which mask to pick, we have got you covered. In this article, we've compiled a list of sheet masks for acne that can prevent outbreaks and help reduce inflammation. Take a look.
11 Best Sheet Masks For Acne
This soothing face mask contains Hordeum Vulgare Seed Extract, Green Tea Bud Extract, and Barley Extract, preventing free radical damage while calming acne inflammations. It treats hyperpigmentation, lightens unwanted spots, cleanses impurities, making the skin appear bright, plump, and refreshing. The presence of hydrolyzed collagen slows skin aging, radiates, and awakens your tired, dull-looking skin.
Pros
Calming formula
Paraben-free
Gentle on the skin
Soothes acne-prone skin
Cons
None
Price at the time of publication: $6.99
Dr. Jart is considered one of the pioneers of K-beauty. This sheet mask soothes redness and inflammation caused by acne. It contains acne-fighting ingredients, such as salicylic acid, tea tree essential oil, and niacinamide, that control breakouts and excessive oil. It also contains glutathione, an antioxidant that evens out the skin tone and brightens and improves the appearance of blemishes and dark spots.
Pros
Ultra-fine microfiber sheet mask
Contains glutathione
Soothes redness and inflammation
Visible results
Cons
Price at the time of publication: $17.99
This one's quite the best for anti-acne treatment!. This sheet mask contains 0.5% salicylic acid and botanical extracts, such as papaya and lemon peel oil, that help treat acne and prevent breakouts. It helps clear dirt, oil, and impurities that clog your skin pores and keeps your skin feeling smooth and clear. It also contains parsley extract and witch hazel that calm the skin and help minimize irritation.
Pros
Paraben-free
Phthalate-free
Oil-free
100% vegetarian formula
No synthetic fragrances
Not tested on animals
Cons
The excess serum makes it difficult to remove the mask from the face.
The eye holes are smaller than standard sheet masks.
Price at the time of publication: $10.8
This is a P (pore) C (closing) mask. It claims to help minimize pores, especially enlarged pores, and clear dead skin cells and sebum from your skin. It contains volcanic ash, tea tree oil, and papaya extracts that clear your skin and help improve skin texture.
Pros
Paraben-free
No synthetic dyes
Benzophenone-free
Mineral oil-free
No animal-derived ingredients
Reduces blemishes
Cons
None
This sheet mask is meant for damaged skin. It contains skin-nourishing ingredients, such as Centella asiatica and vitamins A, C, and E, that nurture and rejuvenate your skin, keep it calm, and reduce hyperpigmentation. It boosts collagen development, which helps in post-acne recovery and reduces fine lines.
Pros
Drug-free formula
Not tested on animals
Paraben-free
SLS-free
Silicone-free
Subtle and pleasant fragrance
Non-irritating
Affordable
Cons
None
Price at the time of publication: $14.4
This is a quick and effective treatment for acne prevention, redness, dry, and dull skin. The mask contains tea tree oil extracts and other natural essences that help reduce acne and improve your skin. It does not contain any ingredient that might irritate the skin and is suitable for sensitive skin. The combo pack includes 7 tea tree oil sheet masks and 15 cleansing tissues.
Pros
Hypoallergenic ingredients
Oil-free minerals
Non-artificial coloring agent
Cruelty-free
Helps reduce dryness
Cons
None
Price at the time of publication: $10.99
This is a 100% all-natural cotton sheet mask that contains a potent formula to reduce acne, sebum production, and irritation caused by acne and other external factors. It contains snail filtrate or snail mucin that helps reduce dark spots and scarring. It also contains tea tree oil that supports oil control, clears acne, and reduces any blemishes caused the acne.
Pros
Paraben-free
Mineral oil-free
Silicon-free
No artificial pigments
pH level 6
100% natural cotton sheet mask
Cons
None

Price at the time of publication: $47.93
This is an advanced moisturizing and intense acne-clearing mask. It contains peppermint, sage, and papaya extracts and witch hazel that deeply cleanse the skin pores, remove traces of dirt and impurities, and regulate excess sebum production for an efficient skin detox. It refines the appearance of the skin pores and prevents any future breakouts.
Pros
Keeps the skin moisturized
Gentle exfoliation
Keeps skin smooth and clean
Doesn't irritate the skin
Cons
Contains PEG
May feel a bit sticky.
Price at the time of publication: $7.8
This sheet mask is made of natural bamboo fibers that are soaked in purifying ingredients like tea tree oil, chamomile, and cica extracts. It helps with redness reduction and inflammation and purifies your skin. It helps reduce acne breakouts, nourish your skin, and keep it bright and clear. It provides a quick moisture boost to your skin and is suitable for all skin types.
Pros
Paraben-free
Mineral oil-free
No harsh chemicals
No skin irritants
Cons
None
This sheet mask is infused with acne-fighting ingredients, such as salicylic acid, witch hazel, tea tree oil, tomatoes, and pumpkin. These ingredients help reduce acne and inflammation, preventing future breakouts and blemishes and improving skin texture. It also reduces blackheads, clears oil, and regulates sebum production to keep your skin clear. Learn more about the usage and practicality of this product from this reviewer's experience in this YouTube video.
Pros
100% natural cotton masks
Paraben-free
Silicone-free
96% natural ingredients
Not tested on animals
Cons
Price at the time of publication: $5.23
This is an all-in-one calming mask with healing properties for your skin that can efficiently handle any tantrums of your skin, especially acne. It contains a blend of herbal extracts that start working the moment you apply it on your face. It contains Willow bark extracts that exfoliate buildup; rosemary and tea tree oil thoroughly support pore cleansing, and Chamomile and Asiatic pennywort calm down your skin.
Pros
Naturally derived ingredients
Dermatologist-tested
100% cotton mask
Suitable for sensitive skin
Doesn't irritate your skin
Pleasant fragrance
Cons
Price at the time of publication: $19.9
These are our top picks for the best sheet masks for acne. If you have acne-prone skin, you need to be careful about what to put on it and what to avoid. Here are a few tips you can keep in mind whenever you are shopping for sheet masks.
How To Choose The Right Sheet Mask For Acne
Shawnda Dorantes, a skin care specialist, states "Those with acne-prone or sensitive skin should select masks labeled as non-comedogenic, oil-free, or specifically formulated for acne-prone skin. Avoid masks that contain potentially irritating or pore-clogging ingredients, such as heavy oils, fragrances, or alcohol." While picking a sheet mask for acne, always check the ingredients. Pick masks that have any of the following ingredients:
Tea: Tea-based face masks are usually helpful in calming acne and inflammation. These face masks are infused with vitamins C and E that help rejuvenate your skin cells.
Clay: Clay helps with oil-absorbing and removing dirt. If you have oily, acne-prone skin, clay-based sheet masks can help.
Salicylic Acid: This is one of the most common ingredients in sheet masks for acne or any other best acne treatments. It is anti-inflammatory in nature and prevents future breakouts.
Glycolic Acid: This AHA (alpha hydroxy acid) is another common ingredient in sheet masks for acne. It helps in mild exfoliation, which eventually helps clear acne and inflammation.
Charcoal: Sheet masks with activated charcoal work like deep cleansing masks for your face and prevent acne. However, use them sparingly.
You can also check for ingredients like hyaluronic acid, aloe vera, AHAs,  witch hazel, and amino acids. These are skin-soothing ingredients and help ease any irritation and itching associated with acne. They also keep your skin healthy. Make sure you do a patch test to check for allergic reactions before using any of these products.
Why Trust StyleCraze?
Shiboli Chakraborti, the author of this article, is a certified skin care coach. She is passionate about providing research-backed articles to her readers. She conducted in-depth research, analyzing the product specifications and reviews to provide the list of the best sheet masks for acne to her readers. Besides offering a glow to your skin, these masks prevent acne breakouts, reduce inflammation, and minimize oil production.
Frequently Asked Questions
Can I use sheet masks every day?
Yes, you can use sheet masks every day. Using sheet masks will clean and moisturize your face and will leave your face with an acne-free healthy glow. However, if the mask has abrasive ingredients like glycolic acid, use it once a week.
Should you use sheet masks in the morning or at night?
It is better to use sheet masks at night after cleansing your face. This will allow the ingredients to get absorbed thoroughly and work on your skin overnight.
Do I need to wash my face after using a sheet mask?
No, after removing the sheet mask gently tap on your face so that the serum is well absorbed into your skin. Follow up with a light moisturizer.
Should I refrigerate sheet masks?
Yes, you can refrigerate your sheet masks so that when you apply them, they are nicely chilled and you get a refreshing feel as you use them.
Do you apply sheet mask on skin while you have active acne?
Yes, you can apply a sheet mask while you have active acne. This will help sooth your face and give you some relief.
Recommended Article
Best Face Mask Sheets
Best Korean Sheet Masks For Acne
Best Sheet Masks
The Top Face MasksbFor Every Skin Type
Best Korean Face Masks For Acne