13 Best Sheet Masks In India – 2023 Update (With Reviews)
Your skin care regime is incomplete without a purifying product that caters to dryness.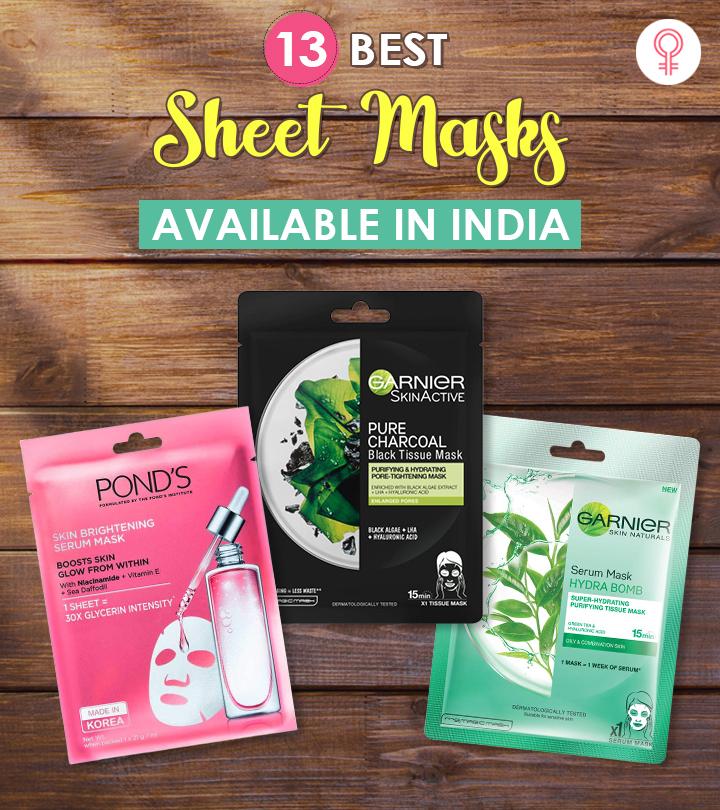 Are you looking for the ultimate treat for your skin? Try sheet masks! Their rising popularity has taken the skin care world by storm. Sheet masks are enriched with moisturizing natural botanical extracts that provide the ultimate hydration boost to your skin. To help you make the best choice, we have listed the 13 best sheet masks available in India. Scroll down to check them out.
13 Best Sheet Masks Available In India
The GARNIER SKIN NATURALS Serum Mask Hydra Bomb is one of the best sheet masks for oily skin that hydrates, strengthens, rebalances, and purifies it in just 15 minutes. It is infused with the goodness of green tea to control excess oil. The hyaluronic acid reduces open pores and fine lines. Regular use of this sheet mask ensures clear skin and a healthy glow.
Key Ingredients: Green tea extracts and Hyaluronic acid serum
Pros
Dermatologically tested
Non-comedogenic
Suitable for oily skin
Cons
THE FACE SHOP Lemon Citron is a brightening sheet mask that refreshes your skin while giving it an instant glow. This Korean sheet mask helps your skin regain its suppleness and smoothness. It is enriched with vitamin C-loaded lemon essence that restrains the production of melanin and lightens the skin tone. The shea butter and hydrating agents provide long-lasting hydration to your skin. This sheet mask has superior retention powers to ensure that the serum soaks into your skin and does not drip off.
Key Ingredients: Vitamin C, Lemon extract, and Shea butter
Pros
Paraben-free
Triethanolamine-free
Propylene glycol-free
Tar colorant-free
Mineral oil-free
Mild citrus fragrance
Cons
May cause irritation.
Not suitable for greasy skin.
The GARNIERSKINACTIVE PURE CHARCOAL Black Tissue Mask offers firmness and reduces enlarged pores. It is one of the best sheet masks for oily skin. The active charcoal draws out impurities and acts as a blackhead remover while cleansing your skin. The black algae extract and hyaluronic acid provide deep hydration to the skin. This sheet mask gently detoxifies the skin to soothe, purify, and moisturize it for an oil-free matte finish.
Key Ingredients: Charcoal, Black algae extract, LHA, and Hyaluronic acid
Pros
Dermatologically tested
Reduces appearance of fine lines and tightens pores
Suitable for sensitive skin
Paraben-free
Mineral oil-free
Cons
This sheet mask from LAKME comes with the goodness of 100% pure kiwi extracts to deeply moisturize, hydrate, and rejuvenate your skin for a fruit-kissed glow that lasts all day long. It gently exfoliates dead cells, eliminates dry skin patches, and brightens the skin tone. The breathable fabric smells delicious to give you aluxurious spa feeling at home and makes it one of the best sheet masks for glowing skin in India.
Key Ingredients: Kiwi extract
Pros
Fruity fragrance
Dermatologically-tested
Cons
The GARNIERSKIN NATURALS VITAMIN C SHOT sheet mask rejuvenates your skin while providing intense nourishment. The vitamin C enriched serum with dry algae energizes and brightens dull and tired-looking skin in just 15 minutes. It offers deep hydration and a long-lasting vibrant glow. This sheet mask is easy to use and provides a boost of natural goodness to your skin.
Key Ingredients: Vitamin C serum
Pros
Dermatologically-tested
Paraben-free
Value for money
Cons
Not suitable for sensitive or acne-prone skin.
The MINISO Rosemary Balancing Mask is enriched with botanical ingredients like honey, cucumber, aloe vera, charcoal, and olive for a hydrating therapy. Rosemary essence forms a protective layer to smoothen and nourish your skin. The anti-aging antioxidants improve the skin tone and firmness while reducing dark spots, puffiness, and pigmentation. The deeply moisturizing properties of this mask combat signs of fatigue for an instant fresh look.
Key Ingredients: Rosemary. Honey, Cucumber, Aloevera, Charcoal, and Olive
Pros
Botanical ingredients
Paraben-free
Reduces dark spots
Cons
Sticky
Size is not a good fit.
This sheet mask from LOTUS HERBALS is fortified with natural calendula extracts, which combat harmful bacteria, impurities, and toxins to protect your skin from free radical damage and everyday pollutants. The serum is easily absorbed by the skin to provide deep hydration. The cell renewal properties of this mask give an instant natural glow while making your skin smooth and supple.
Key Ingredients: Natural calendula extract
Pros
Paraben-free
Made of natural fiber
Alcohol-free
Cons
May cause irritation.
Does not fit properly.
This kaya youth Oxy-Infusion Brightening face mask brightens and smoothens your skin. It contains arbutin that reduces dark spots while controlling melanin production and protecting the skin against harmful UV rays. The witch hazel and soybean extracts repair the skin and increase elasticity while preventing premature aging, making it one of the best sheet masks in India. This face mask instantly nourishes and refreshes your skin.
Key Ingredients: Arbutin, Witch hazel, and Soybean extract
Pros
Developed by dermatologists
Paraben-free
Suitable for all skin types
UV protectant
Cons
None
This sheet mask, made with 100% fermented coconut jelly, fits on the face like a second skin to give it a naturally brighter finish.  It is fortified with botanical actives and oxidants like niacinamide, arbutin, and collagen to reduce dark spots and pigmentation, giving your skin a smooth, even tone. The goodness of bearberry, green tea, and mulberry reduces irritations, prevents premature aging, and provides deep hydration to your skin.
Key Ingredients: Red ginseng, Bearberry, Green tea, Mulberry, Niacinamide, Arbutin, Rosa canina, and Acai berry
Pros
Cruelty-free
Phthalate-free
Sulfate-free
Alcohol-free
Petroleum-free
Artificial color-free
Non-comedogenic
Non-allergenic
Dermatologically tested
pH-balancing
Cons
Leaves the skin very wet.
The REVITALIFT Crystal Micro-Essence Treatment from L'Oreal contains the power of one essence bottle in one mask. Its skin brightening actives penetrate deeply to increase skin renewal, minimize pores, and refine the skin tone, giving you clearer and brighter skin. The revolutionary patented cushion technology, higher carrying capacity, and 30x more absorption power help deliver more serum to the skin for quicker results. This mask is suitable for all skin types and provides deep hydration and a radiant glow to your skin.
Key Ingredients: Shea butter, Kiwi fruit water, Grapefruit water, Hydrogenated castor oil, and Skin brightening actives
Pros
Deep penetration
Instantabsorption
Non-comedogenic
Cons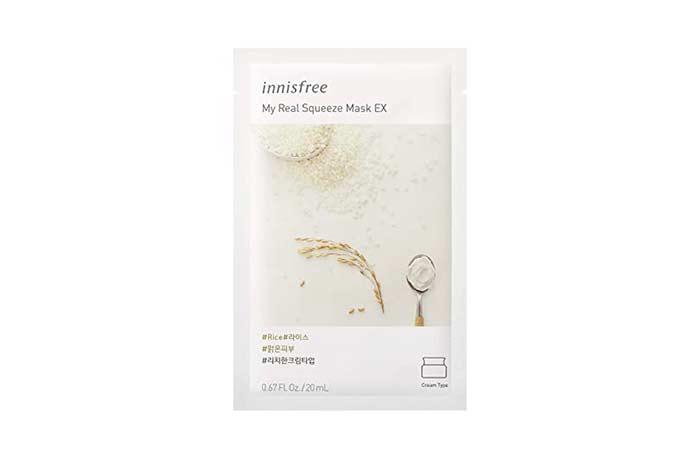 The innisfree sheet mask is enriched with fresh rice nutrients to moisturize and brighten your skin. The active ingredients are extracted by a slow cold brew squeeze process to ensure no loss of nutrients. The jeju green complex lightens dark spots for a smooth, flawless look. The 100% cellulose sheet is made of eucalyptus and provides long-lasting nourishment to the skin. This mask plumps your skin to make it feel supple and refreshed.
Key Ingredients: Jeju green complex (Green tea, Tangerine, Cactus, Camellia leaves, and Orchid) and Rice
Pros
Cellulose sheet
Creamy texture
Cons
Not suitable for acne-prone skin.
Heavy
The kaya youth mask is enriched with aloe vera and cucumber extracts to give an instant boost of hydration to your skin. It also contains hyaluronic acid that penetrates deep into the skin to lock in moisture and prevent the appearance of wrinkles. The added benefits of licorice and ginger extract remove toxins, oil, and pollutants to improve skin health. The cell renewal properties revive dry and dull skin by aiding in moisture retention.
Key Ingredients: Aloe vera, Hyaluronic acid, Licorice extract, Ginger extract, and Cucumber extract
Pros
Developed by dermatologists
Paraben-free
Sulfate-free
Cons
The POND'S Skin Brightening Serum Mask contains vitamin E, niacinamide, and sea daffodil to make your skin radiant. It reduces the appearance of wrinkles and fine lines while rejuvenating the skin tone. The advanced Pro-Cell Complex shrinks pores, prevents dryness, enhances collagen production, and promotes cell renewal. This made-in-Korea sheet has 30x glycerin to unveil glowing skin.
Key Ingredients: Vitamin E, Niacinamide, Sea daffodil, Glycerin
Pros
Pleasant fragrance
Long-lasting effects
Cons
None
If you want to learn how to use a sheet mask to reap its many benefits, read ahead to know the directions for use.
How To Use Sheet Masks
A sheet mask is soaked with concentrated liquids, known as serums, containing ingredients, such as hyaluronic acid, vitamin C, and fruit extracts in dissolved states. The mask ensures these liquids are absorbed by the skin effectively for best results. Since these masks are one-size-fits-all, they are usually easy to apply.
Cleanse your face well before applying the mask.
Gently tap and adjust it to the shape of your face.
Keep it on for 15-20 minutes or as instructed on the pack.
Remove the mask and massage your face so that the skin absorbs any remaining serum. There is no need to wash your face or wipe off the excess.
Benefits Of Using Sheet Masks
They are easy to apply and can be used at home without any assistance.
You can carry on with your other activities while you have the mask on your face.
They restore hydration and keep the face moist.
They brighten the skin to give an instant glow.
They are more convenient and less expensive than spa treatments.
They have anti-aging properties, rejuvenate the skin, and prevent damage from pollutants.
Sheet masks have no adverse effects, and you can use them as often as you wish.
There are some very important differences between a normal face mask and a sheet mask. Keep reading to know the difference.
What Are The Differences Between A Normal Face Mask And A Sheet Mask?
Sheet masks cannot be reused, whereas face masks are reusable.
Sheet masks are applied to the entire face, while you can apply face masks only to affected areas.
Face masks are more suitable for exfoliation, while sheet masks may not provide the desired exfoliation.
Sheet masks are easy to remove, while face masks can be messy.
Both have different ingredients and are beneficial for different skin conditions.
There are various kinds of sheet masks available on the market. Check out the next segment for different types of sheets.
What Are The Types Of Sheet Masks Available?
Clay Sheet Masks: These have a mixture of charcoal and clay to absorb impurities while improving skin texture.
Bio-cellulose Masks: These are made of all-natural materials produced through cultured bacteria and provide hydration and nourishment to help soothe sensitive skin.
Foil Masks: The outside is made of foil with soft cotton-like material on the inside. The foil keeps the liquids from evaporating and locks in the moisture.
Microfiber Sheet Masks: These are made of cotton and dry out quickly, making them a less popular choice.
Bubble Masks: These contain a sprinkle of water and bubbling properties to keep the face smooth and soft.
Hydrogel Masks: These have a gel-like texture and are made from synthetic polymers that can retain large quantities of liquid. They are transparent and have a cooling effect.
While buying a sheet mask, it is important to consider certain factors. The following key factors will help you make a perfect choice.
How To Choose The Best Sheet Masks
Skin Type: Choose a mask that will suit your skin type.

If you have dry skin, go for a sheet mask that has the words 'hydrating,' 'moisturizing,' and 'nourishing.' Look for ingredients like hyaluronic acid, honey, glycerin, aloe vera, and avocado.
For oily or acne-prone skin, look for sheet masks with the words 'purifying' and 'soothing.' Check for salicylic acid, green tea, tea tree, turmeric, neem, aloe vera, oatmeal, and charcoal in the ingredients list.
For normal skin, opt for sheet masks with fruit extracts. For dull skin, look for words like 'brightening' and 'revitalizing.' Ensure it contains ingredients like rice, licorice, vitamin C, lemon, lotus, tomato, and milk.
If you are looking for anti-aging benefits, go for sheet masks containing collagen, hyaluronic acid, peptides, or pomegranates.

Ingredients: Go through the ingredients list to make sure you are not allergic to any of them.
Check The Reviews: Check the reviews of the product by other users and understand how a particular skin type fares.
Now that you know the advantages of a good sheet mask take your pick from the 13 best sheet masks available in India. Get a spa treatment at home for refreshed and rejuvenated skin!
Frequently Asked Questions
When is the right time to use a sheet mask?
Use sheet masks in the morning before you apply your makeup orin the evening before bedtime for best results.
How many times should I use a sheet mask?
You can apply it two to three times a week or once every day.
How safe are these serums in general?
The serums are all well-tested and generally made of skin-safe ingredients. It is advisable to check the ingredient list for any ingredients that you may be allergic to.
Are sheet mask serums good for oily skin?
Yes, they are good for oily skin as they may reduce shine and shrink pores.
Can I store face mask serum?
Yes, if there is extra serum, it can be stored for the future.
Recommended Articles