8 Best Shellac Nail Polish Kits To Slay The Manicure Game – 2023
Pamper your nails to achieve a salon-like finish without breaking the bank!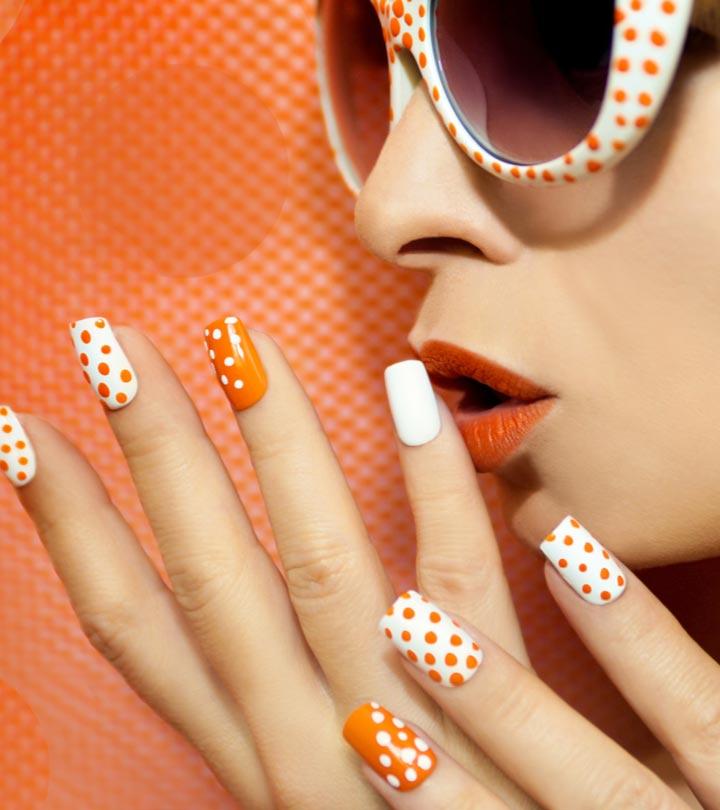 Are you someone who loves to have gorgeous-looking nails all the time? If yes, you should surely try the best shellac nail polishes on the market. While professional manicures and nail art sessions might be comforting, they burn a hole in your pocket. Therefore, the best part about these nail kits is that you can use them in the comfort of your own home as they are easy to use and give you a salon-like experience. It is also faster to apply shellac nail paints than the dip powder manicure because gel nail colors are applied like regular nail polish colors and are gentler than acrylic nails.
These comprehensive manicure kits include nail polish, base coat, and topcoats. Some may also have manicure tools and UV LED nail dryers that will help pamper your nails perfectly. These polishes are chip-resistant, and they offer a lighter finish that lasts for up to 3 weeks. In this post, we have compiled a list of the best shellac nail paints that you can try. Keep reading to know more!
The 8 Best Shellac Nail Kits For Fabulous, Long-Lasting Nails
Look no further for perfectly elegant nail enhancement in classic colors. The Shelloloh kit comes with 20 shades of non-toxic gel polish along with a base and topcoat. Its 48 watts UV light nail dryer sets your nails in 30 to 60 seconds. This fun kit also contains nail decorations like rhinestones and sequins to give your nails a fun spin. The manicure tool kit contains gel polish remover tools, too, so you can remove and change your nail color with ease.
Pros
 Ideal for beginners
 Made from natural resin
 Fun nail decorations
 Easy to remove and change
Cons
 Some women may find the nail paint chipping sooner depending on their activity
Here's a compact nail kit with exactly everything you need to get your salon-quality nails done at home. It is effortless to use with just the right amount of tools and a powerful 82 watts UV light nail dryer, so doing your nails will never be overwhelming again. The nail dryer has 3 timer settings and is sensor-operated. The kit contains 8 spring colors along with a no-wipe base and 2 topcoats, so you can pick between a glossy or a matte finish and play around with your style.
Pros
 8 fun spring colors
 Powerful UV light nail dryer
 No-wipe base and top coats
 Glossy and matte finish topcoat options
Cons
Some women may find the nail paint consistency a little thick

The Sunbow kit is a 25 piece nail kit that contains 9 pretty pastel macaron colors, 9 bright, rich berry colors, and 4 charming sparkling colors along with a base coat and 2 top coats so you can choose between a high-gloss finish or a matte finish. It takes about 90 to 120 seconds to cure and lasts up to 21 days. This easy-to-use long-lasting nail kit also makes it a sweet gift for your nail art-obsessed best friend.
Pros
 Variety of colors for every occasion
 Ideal for beginners and intermediate users
 Long-lasting for up to 21 days
 Perfect for gifting too
Cons
 You may need to buy a UV light nail dryer separately
Price at the time of publication: $19.99
The nail paint starter kit from Vishine is a petite, and travel-friendly kit with 6 universally loved colors that you can never be wrong about, complete with the basecoat and a glossy topcoat. The kit also includes tools so you can file and buff your nails and take care of your cuticles while you treat yourself to a fun nail spa day on the go. The UV light nail dryer is ergonomically designed yet can cure all 5 fingernails or toenails at once with two times faster cure than most of the other dryers. It's time to flaunt your professional-grade nails!
Pros
 Ergonomic dryer lamp design
 6 well-selected nude colors
 Two times faster curing compared to other dryer lamps
 Easy to use for beginners
Cons
 Some women may find the texture a little sticky depending on the curing process
Price at the time of publication: $37.99
A classic nail care kit with 12 essential classic colors that give your nails a professional and elegant finish. GAOY promises to use premium quality raw materials to ensure that your product is safe to use while also being eco-friendly. The nail paints are certified by SGS and toxin-free. Along with having the perfect shades for every occasion, you get to play around with glossy and matte finish topcoats.
Pros
 12 elegant colors
 Smooth brush for a seamless finish
 SGS certified
 Eco-friendly
Cons
 Some women may experience nail polish chipping sooner.
Price at the time of publication: $16.14
An all-in-1 stylish nail polish kit with 7 dainty nude colors, and you can wear them with a glossy or matte finish. Nail primer, the basecoat, and topcoats with a glossy and matte finish are included in the kit. The kit is complete with a powerful UV light nail dryer lamp and an integrated manicure kit with decorations, live rhinestones, rivets, and stickers. So, nothing can stop you from bringing your creative side out and having fun DIY nail spa parties with your girl gang with this easy application kit.
Pros
 Durable up to 21 days
 Cruelty-free
 Vegan friendly
 Fun nail decorations
Cons
 It might take slightly longer to cure
Price at the time of publication: $23.86
Is there anything more fun than a luminous neon glow in the dark nails? Go all out and play around with Vernmol's glow-in-the-dark nail polish kit. It is perfect to give your nails a fun and creative look by layering different colors and adding decorative accessories. Your nails are bound to have heads turning in every party with the quirky and cute neon nail paints in this fun DIY nail kit. Spontaneous party? No problem! Vernmol's nail kit is the perfect quick fix to get a fun eye-catching look.
Pros
 Non-toxic and pungent free
 Lasts up to 3 weeks
 Sheer consistency
 Perfect for parties
Cons
 Might require additional layering to avoid a sheer look
Price at the time of publication: $12.99
ABGEL's nail kit has your back if you're looking for a chic and elegant look for daily office wear or a job interview. The well-thought-out colors are subtle and pretty, and you could still get playful with the cat-eye and sparkly colors. The kit also comes with 2 basecoats, 2 glossy topcoats, and 1 matte finish topcoat, so you will never run out of the base and topcoats. This easy-to-use nail polish kit is perfect for beginners to venture out and explore the world of fun nails.
Pros
 Extra base and topcoat
 Gentle on the nail plate
 Neutral colors
 Ideal for daily use and office wear
Cons
 It might require a longer time to cure
Price at the time of publication: $26.99
With this list of reviews for the best shellac nail kits, feel free to pick your favorite or try them all to expand your range. Here are a few things to keep in mind when you shop for shellac nail kits.
How To Choose The Perfect Shellac Nail Product
It is important to know what goes into your nail paints so you can have healthy nails and protect them from damage caused by toxic chemicals. Make sure to check the ingredients of your nail paint to ensure they are non-toxic and made from responsibly sourced raw materials
Lightweight nail polish is easier to build with and does not feel heavy on your fingertips and is perfect for creating unique styles by layering different colors. Nail polish with light flowing consistency is ideal as it doesn't get lumpy and gives you an even finish.
Some nail paints may be sheer while others are opaque so you can pick nail polish with the right opacity to suit your creative needs. You can also achieve an opaque finish with sheer nail paints by adding more layers.
Shellac nail polish kits come with glossy or matte finish top coats so you can pick the topcoat with the finish that you love most.
Why Trust StyleCraze?
The author of this article, Priyam Gupta, is a makeup enthusiast with a penchant for everything new and trending. Her in-depth knowledge and research about various styles and trends provide users with an unbiased opinion about the best shellac nail polish kits for beautiful nails. She has also gone through several user feedback while preparing this list. The products listed here are chip-resistant and long-lasting.
Frequently Asked Questions
Are shellac nail polish kits worth it?
Yes. Shellac nail polish kits are definitely worth it as they are economical and you can get your nails done as desired and on a whim. It saves you time and effort and we all know that time is money!
Can shellac nail polish be used regularly?
Yes, shellac nail polish can be used regularly but it is recommended to give your nails a breather before every change. Shellac nail polish can last up to 3 weeks or longer with proper care.
How to apply shellac nail polish?
There are five simple steps to applying shellac nail polish.
Step 1: Prepare your nails by filing and smoothing rough edges, pushing your cuticles back gently, and cleaning to make sure there is no dust on the nail plate from filing the nails.
Step 2: Apply the base coat slightly past the cuticles and make sure you do not apply the product on the cuticle or the skin surrounding the nail.
Step 3: Apply your favorite shellac nail polish inside the edges of the basecoat leaving a tiny edge of the basecoat out. This is essential to seal the color in. Dry your nails with a UV light nail dryer lamp and apply the second coat of nail polish before drying it in the lamp one more time.
Step 4: Apply the topcoat from the very edge of the basecoat all the way to the tip of your nails locking in the colored nail polish.
Step 5: When you are happy with how your nails look, cure them for a final time in the nail dryer lamp. Use an alcohol wipe for a quick swab over your nails to make sure there is no sticky residue.
How long can shellac nail polish be worn?
Shellac nail polish lasts for 15 to 21 days. It is usually chip-resistant and long-lasting. The nail polish can last longer if it's well cured and taken care of. Make sure to apply even layers of the base and topcoats for optimum durability
What is the difference between shellac and gel nail polish?
A shellac nail polish is a gel polish mixed with traditional nail paint. They dry out on their own. On the other hand, gel nail polishes are chip-resistant formulas that need LED lamps to dry. Shellac nail polishes are thinner than gel formulas, so they last for a maximum of two weeks, but gel polishes stay for three weeks or more.
Is Shellac better for nails than gel?
Shellac polishes are thinner compared to gel polishes. So, they allow your nails to breathe and maintain the strength of the nail beds. In addition, removing them is easier. On the other hand, gel manicures have a thicker consistency that can turn your nails brittle if you use them consistently without a break.