9 Best Shimmer Bronzers For A Sun-Kissed Glow
It is time to rise and shine with warm-toned makeup to get that perfect summery effect!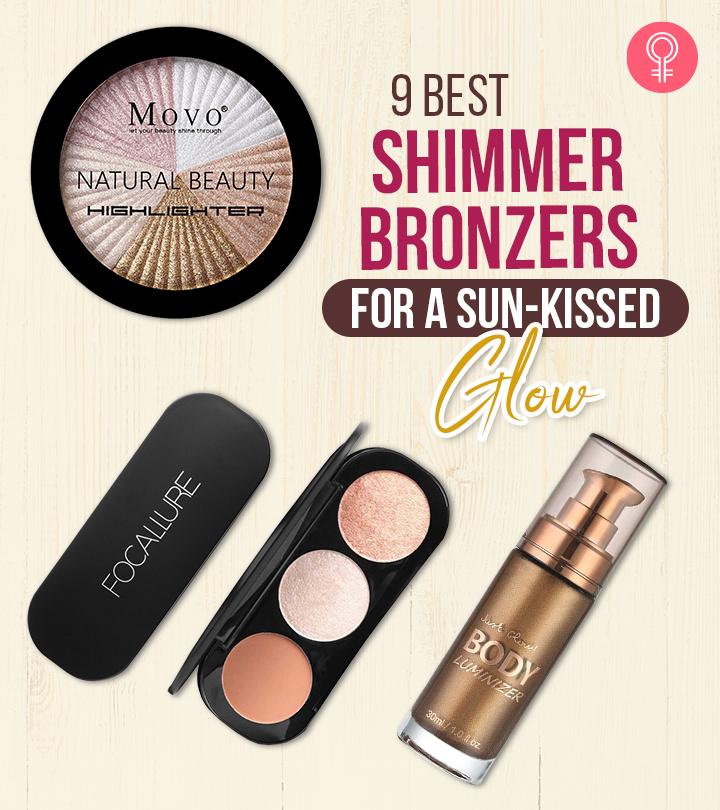 Perfect skin or not, we all want the sun-kissed glow. But visiting the beach every week is not possible! That's why we are here to introduce the best shimmer bronzers available on the market. Whether it's sunny or cloudy, you can achieve a gorgeous sun-kissed glow with the help of these magic formulas. The bronzers not only enhance the complexion but also add definition to your overall appearance.
If you ache for the subtle summer glow, shimmer bronzer is always here to the rescue. Choosing the right bronzer could be tricky, but we have a complete guide for you. Read on to know more.
Top Picks
How To Apply A Shimmer Bronzer
Pick the right shade. Always choose a shimmer bronzer one shade darker than your original skin tone, as it will deliver a natural glow.
Pick the desired formula. Bronzers are available in cream, liquid, and powder formulas. Using a liquid shimmer bronzer will help it blend with your liquid foundation and create a flushed and seamless appearance. However, you can also layer different formulas of bronzers to get the desired finish.
Use the right brush. If you are applying a powder bronzer, use the wide powder brush. You can finish the look using a damp beauty sponge for a more blended and natural look.
Apply shimmer on the bridges of your nose and apples of the cheeks. You can also apply the shimmer around the jawline area to create the chiseled jawline look. However, use bronzer sparingly and build them as you go along during the application process.
Shimmer Vs Matte Bronzer
Shimmer and Matte bronzers are the most common types of bronzers used. Shimmer bronzers mimic reflecting light, providing the skin with a natural sun-kissed glow. In contrast, matte bronzers build the depth of your skin and add natural warmth to your skin color. Matte bronzers usually sculpt the skin and warm it up, while shimmer creates the exact look of how the sun hits the face and reflects light. However, if you have blemishes and skin imperfections, use a matte bronzer instead of a shimmer bronzer.
9 Best Shimmer Bronzers For A Sun-Kissed Glow
Pros
Cruelty-free
Natural sun-kissed glow
Long-lasting
Glides smoothy
Cons
Price at the time of publication: $9.99
Pros
Hypoallergenic
Dermatologist tested
Cruelty-free
Buildable formula
Lightweight
Cons
Shade delivery differs from skin tone to skin tone
Price at the time of publication: $10.66
The Firstfly Just Glow Body Luminizer is infused with natural oils, botanicals, and marine extract to give you velvety smooth skin. It enhances the kin elasticity and texture and tightens the skin by filling in wrinkles. In addition, it treats skin discoloration, blurs stretch marks and pigmentation, and leaves your skin with a glowing natural tone. It highlights the skin and delivers a dewy glow.
Pros
Natural ingredients
Dewy natural finish
Can be used for body
Little goes a long way
Keeps the skin moisturized
Cons
None
Price at the time of publication: $9.99
Pros
Buildable shades
Customizable coverage
Micro-fine pearl pigments
Shimmery finish
Easy to apple
Cons
Price at the time of publication: $4.98
Pros
Dermatologist tested
Cruelty-free
Paraben-free
SLS free
Silicone-free
Cons
Price at the time of publication: $10.97
The Movo Natural Beauty Highlighter comes with 5 shades in one compact, perfect for baking, bronzing, highlighting, and adding a shimmery glow. The creamy powder glides onto the skin smoothly, and the super-pigmented texture adds a natural-looking flawless finish to the skin. You can easily play around with these five shades to create the desired makeup look for any occasion.
Pros
Multipurpose
Natural looking shimmer
Lightweight
Long-lasting
Cruelty-free
Cons
None
Price at the time of publication: $13.99
Pros
Lightweight
Easy to use
Has a color for every skin tone
Buildable
Cons
Less quantity for the price
Price at the time of publication: $42.99
Pros
Lightweight
Blendable
Multi-purpose
Natural finish
Cons
None
Price at the time of publication: $10.99
Best Buildable Coverage: Revolution Bronzer Reloaded
The
Pros
Multipurpose
Easy to use
Cruelty-free
Buildable
Cons
Price at the time of publication: $7
Selecting the right kind of bronzer does require a buying guide. To know which one is the best for you, read on!
How To Select Best Shimmer Bronzer? – Buying Guide
Know what kind of look you want. Finely milled shimmer powders offer a subtle, natural glow to the skin, whereas large shimmer particles can look more like glitter.
Know your skin tone. Always pick a shimmer bronzer that is one to two shades darker than your original skin tone to get the natural tanned look.
Choose the correct texture. Pick a creamy shimmer bronzer if you have dry skin, but if you have acne-prone skin or oily skin, choose a powder bronzer.
Shimmer bronzers can give you a subtle or a sparkling. They accentuate your facial features and add a sun-kissed glow to make your skin look flawless. Always consider your skin tone and texture while picking a shimmery bronzer. However, there may be a few bronzers that make your skin greasy. Steer clear of such formulas and go for the one that enhances your complexion.
Why Trust Stylecraze?
The author, Shalini Roy, is a makeup enthusiast and loves to review products as they hit the shelves. She went through hundreds of product specifications and ingredient lists and spend hours reading user reviews before curating this comprehensive list of best shimmer bronzers for her readers. Her recommended formulas offer buildable coverage, lasting wear, and lightweight formulas to ensure a flawless sun-kissed look.
Frequently Asked Questions
What do you use shimmer bronzer for?
Using a shimmer bronzer will give you a sun-kissed glow while also defining your features.
Should bronzer be glittery?
Bronzers are not glittery; they are shiny. They give your face the natural glow of warmth.
Is shimmer bronzer good for tanning?
Your bronzer is not a replacement for a tan. It is just a makeup item that gives a sun-kissed glow for a few hours.
Can you use shimmer bronzer to contour?
No, a shimmer bronzer will not give you the same effect as a contour. Instead, you can use matte bronzer as a replacement for contour.
Can I use shimmer bronzer every day?
Yes, if you wear makeup daily, you can use shimmer bronzer every day. However, make sure to get a gentle, non-comedogenic formula.