15 Best Shiseido Products You Should Definitely Try In 2023
Pamper your skin with the most nourishing skincare essentials that suit your skin type.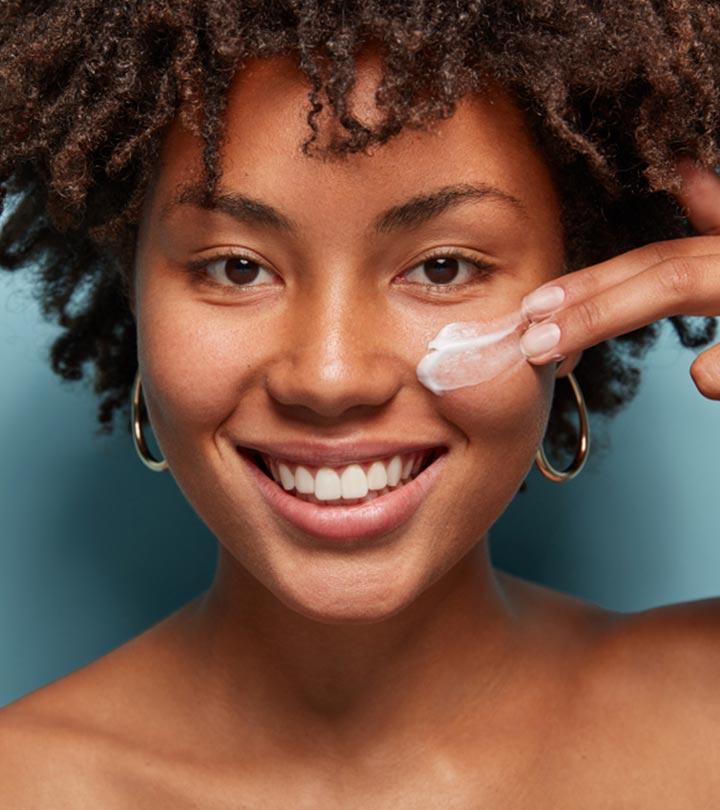 There are many makeup brands that claim they are the best in the beauty industry. That is why many of us often get confused when we are out shopping. But using the best Shiseido skin care products clears this confusion and allows you to choose products that are backed by science. Hillary Clark, a skin care and makeup expert with 21 years of experience, states, "Shiseido brought Eastern advanced technology and ingredients to the US decades before K Beauty. J Beauty is the OG in Eastern skincare and Shiseido has been prized for formulation for centuries." This Ginza-based brand has been trusted by many skincare and beauty lovers since 1872. It balances both science and natural ingredients in its makeup products. In this article, we have compiled the 15 best Shiseido makeup products you can include in your makeup regimen. Have a look at them and choose the ones that suit you!
15 Best Shiseido Skin Care Products You Should Try Before 2023 Ends
They say that our eyes are the first assets that reveal our age. Scientifically speaking, the super-delicate skin surrounding our peepers is to be blamed here – plus all the screen-time, remember? This immedately paves the way for the dreaded first signs of aging! Before you get yourself worked up, take a look at this bestseller from Shiseido's Benefiance range. Banish fine lines, crow's feet, corner creases, and other problems with this ultra-rich Shiseido eye cream. Formulated using WrinkleResist24 technology and enriched with active ingredients like burnet extract and Super Bio-Hyaluronic Acid, the cream restores smooth, resilient, younger-looking skin around the eyes. Hillary Clark, a skin care expert, remarks, "This is one of the first lines to introduce Hyaluronic Acid into skincare."
Pros
Rich texture
Easy to blend
Quick-absorbing
Leaves no residue
Luxe packaging
Pleasant scent
Cons
Nights are meant for pampering your skin with due TLC, and a great night cream acts as the prime catalyst in helping us do that. A night cream can amp-up your beauty game like no other, given that you've found the one your skin adores. Another gem from Shiseido's Benefiance WrinkleResist24 range, this ultra-rich cream reduces the appearance of wrinkles significantly. Formulated with WrinkleResist24 technology using chlorella and gambir extracts, this whitening cream provides intensive moisture, which helps make your skin look fresh and radiant every morning. The product was tested on 116 women for 4 weeks. The testers' experience claimed that the cream offered visible results after regular application. Hillary Clark, a skin care expert, states, "Benefiance has been a staple for over 40 skin for decades and they keep improving the line as they develop new technology."
Pros
Easy to blend
Quick-absorbing
Leaves no residue
Luxe packaging
Smells amazing
Cons
The Shiseido Benefiance Pure Retinol Intensive Revitalizing Face Mask is a concentrated formula that provides hydration to your skin and helps it recover naturally, giving it a youthful softness and radiance. You will notice improved skin in just a single application. This Shiseido face mask also fights wrinkles, reduces dryness and dullness, and adds firmness to your skin. Use the retinol mask after cleansing your skin before bedtime.
Pros
Hydrating
Dermatologist-tested
Quick-healing
Smoothening
Easy to apply
Reduces eye wrinkles and dullness
Suits all skin types
Cons
None
Serums provide ample hydration and nourish the skin. This dermatologically-tested serum from the award-winning Ultimune series by Shiseido strengthens facial skin from within while protecting it from day-to-day damage and visible aging signs. A test conducted on 104 women showed that the serum was proven to deliver visible results within 3 days. This Shiseido product contains Ultimune Complex™, which comprises Bulgarian rose water, yeast extract, and a powerful botanical blend of ginkgo biloba leaf extract, shiso, and thyme. The skin-firming Shiseido serum is also enriched with outstanding antioxidant properties of reishi mushroom and iris root, helping your skin look smoother. Check the clear demo of the Shiseido Ultimune Power Infusing Concentrate Serum.
Pros
Lightweight
Provides adequate hydration
Offers age defense
Paraben and mineral-oil free
Dermatologically-tested
Instant firming effect
Cons
The fragrance may be overwhelming for some.
If you have always dreamed of dewy, flawless skin, Shiseido's products never seem to disappoint. Justifying its name, this Super Revitalizing Cream instantly fortifies your skin and lends a healthy glow that lasts all day. The advanced Bio-Revitalizing Complex acts as a shield and protects the skin from harmful environmental factors. On the other hand, dreaded signs of aging like wrinkles, fine lines, dark spots, pigmentation are taken care of by Super Bio-Hyaluronic Acid N. Users have vouched for the proven efficacy of this anti-aging cream in reducing fine lines.
Pros
Rich yet quick absorbing
Suits all skin types
Non-comedogenic
Dermatologically-tested
Cons
The Shiseido Benefiance NutriPerfect Eye Serum is a natural serum that improves the firmness of the skin, reduces wrinkles and dark circles, and boosts radiance in the eye area. It gives the skin around your eyes special care against environmental stressors like pollution and sun damage. This eye serum has a lightweight formula that quickly gets absorbed into the skin to help fortify the eye area. It also hydrates your under-eyes and is particularly suitable for mature skin. Use it twice daily as the last step in your skincare regimen for a youthful appearance.
Pros
Natural
Lightweight
Hydrating
Anti-aging
Soothes and reduces wrinkles
Reduces dark circles
Suitable for mature skin
Cons
None
Are you a beach person? Do you like to workout outdoors? If yes, chances are you're already a fan of this one. For the uninitiated, this ocean-friendly formula is already a rage amongst adventure-hungry millennials. Formulated with WetForce Technology and Heat Force Technology, this is probably one of the best sunscreens you'll ever lay your hands on. It works by creating an invisible, lightweight protective veil that doesn't wash away in the heat or water. The broad-spectrum Shiseido sunscreen vanishes as soon as you slather it on without leaving any residue. The testing results claimed that the sunscreen blended smoothly on the skin and remained resistant to water, sweat, and heat even after 4 hours. Go through this video for a detailed review of the Shiseido Ultimate Sun Protector Lotion SPF 50+ Sunscreen.
Pros
Water-resistant
Long-lasting
No whitish cast
Ocean-friendly formula
Cons
The Shiseido Ultimate Sun Protection Lotion SPF 50+ provides ultimate sun protection for your face and body and is already a rage amongst millennials. It is formulated with WetForce Technology which arguably makes the best sunscreens you will ever lay your hands on. It locks in moisture and remains water-resistant for almost 80 minutes while keeping your skin rejuvenated. It creates an invisible protective veil that doesn't wash away easily and becomes even more active when the applied area gets exposed to water or sweat for 15 minutes.
Pros
Lightweight
Water-resistant
Hydrating
Unscented
Long-lasting
Paraben-free
Fragrance-free
Suitable for sensitive skin and children
Cons
Flaunting a bright and youthful appearance with innate confidence is easier with the Shiseido Treatment Softener. It is a lightweight, dewy skin softener that helps refine your skin and delivers a rejuvenating skin treatment. This deeply hydrating body lotion helps smoothen and brighten your skin while making it even and receptive to other skincare treatments. The formula glides smoothly and treats dryness and uneven skin tone to promote healthy-looking skin. Use the treatment lotion suitable for oily skin after cleansing your face for the best results.
Pros
Lightweight
Refreshing
Brightening
Smoothening
Boosts radiance
Suitable for normal and combination to oily skin
Suitable for dry skin
Cons
Fluttery eyelashes can win anyone's heart and a good choice of mascara will make your eyes look dramatically wide-eyed. This bestselling mascara is indeed one of the best Shiseido skin care products. The ultra-black, super-smooth mascara is known to elongate the lashes like no other. Thanks to the 4 mm liquid lengthening fibers, which provides volume like no other! Macadamia nut oil helps condition your lashes while the applicator brush features shallow grooves that lengthen and curl every single lash.
Pros
Jet black color
Smudge-free
Long-lasting
Easy to glide
Conditioning formula
Precision brush applicator
Cons
Some may find it hard to wipe off.
This breakthrough multifunctional night cream formulated with MultiBright and Double Strike PROApproachx2 brightening technologies fights dullness, uneven skin tone, and tanning, among a host of other skin imperfections. The Sakura ESIST Technology with Japanese cherry blossoms helps in eliminating dark spots and keeping them at bay for a radiating and vibrant look. It is also safe to be used before and after skin-brightening cosmetic procedures.
Pros
Rich yet easy to blend in
Quick-absorbing
Non-comedogenic
Dermatologist-tested
Cons
The fragrance may be overpowering for some.
This revolutionary spot-corrector enriched with the goodness of Japanese cherry blossoms like prunus yedoensis, goes a thousand miles to prove that! Formulated using Micro Target Technology and Double Strike PROApproachx2 brightening technology that targets spots at "laser speed", this one could be your savior on those last-minute breakouts before a date or that interview! It reduces dark spot appearance and hyperpigmentation for a radiant and healthy glow and offers visible results in 1 week.
Pros
Blends well
Suitable for all skin types
Works on old scars too
Dermatologist-tested
Cons
It may take a long time for results to show.
While traveling from one climate to another, our skin goes through a lot and needs special pampering. Loaded with exclusive signature Japanese ingredients, such as yomogi extract, white clay, and micro white powder, it penetrates your skin to remove impurities and fights dullness for clear-as-crystal, radiant skin. Besides this, the Internal Power Resist formula fortifies and protects the skin as you go about discovering quaint or exotic locales. Ideal for all skin types, the ImuCalm compound strengthens the skin barrier, while the hamamelis extract offers antioxidant properties.
Pros
Contains rice germ oil
Non-drying
Loaded with anti-aging properties
Value for money
Cons
It may leave combination skin slightly dry.
If there's one thing that can bring your skin sheer comfort and softness, it's the Shiseido Future Solution LX Concentrated Balancing Softener Lotion. It can revitalize the skin, making it soft and supple. This luxurious and dewy emulsion gives your skin 8 hours of intense moisture, refines texture, fights visible signs of aging, and reduces pores, boosting your skin's radiance and maintaining overall skin health. This Japanese beauty product contains green tea extracts, a key ingredient that helps improve dullness and enhance the glow of your skin, allowing for easy absorption of other skincare products in your regimen. Use this everyday skincare essential after cleansing your skin, starting from the center of the face with outward strokes.
Pros
Moisturizing
Smoothening
Anti-aging
Reduces dullness
Boosts radiance
Suitable for normal skin
Cons
None
If you've been on the hunt for a mask that boosts the youthful look of your eyes, you need not look any further than the Shiseido Benefiance WrinkleResist24 Pure Retinol Express Smoothing Eye Mask. The instantly rejuvenating mask refreshes your eye area and makes your eyes look brighter and energized. The eye mask contains pure retinol and is one of the best Shiseido products that use the popular Japanese Micro-Infusion Technology to give you radiant, healthy-looking eyes in just one application. Its moisturizing formula helps soothe and reduce the appearance of wrinkles and smoothes laugh lines. You can use either side of the sheets, keeping the broader end at the outer corner of the eye.
Pros
Hydrating
Smoothening
Eye area brightening
Easy to apply
Reduces eye wrinkles and lines
Suits all skin types
Cons
None
*The prices provided in this article are based on the latest available information. However, they may vary due to changes in pricing by the seller and/or promotional offers.
Shiseido products are highly sought after worldwide for their quality. However, it might be hard to pick the best among them. This is where this buying guide comes! Take a look at the points you need to consider while buying the best Shiseido products.
What To Consider When Buying Shiseido Products – Buying Guide
Preferences: While choosing Shiseido products, identify the need since they have ample products for your skincare regime and makeup. Shiseido products have a wide category for all skin types like dry, oily, combination as well as matured skin.
Lightweight: Whatever skin type you have, always look for a lightweight and non-greasy formula. It provides clear and smooth skin without being cakey or clogging your pores. Lightweight formulas also offer a good base for applying makeup further.
Ingredients: Shiseido products are enriched with botanical extracts and safe chemical ingredients. For mature skin, look for ingredients like hyaluronic acid, roselle extract, heartleaf extract, and iris root extract which gives instant firmness to the skin while restoring skin elasticity. Natural ingredients like carrot cells and peony root extract hydrate the skin deeply offering a rejuvenated and smoother-looking appearance.
Quality: Make sure the skin care products are dermatologically tested while products for your eyes are ophthalmologically tested. It should nourish your skin, restore skin barrier, and be safe to apply on your skin. Go for hypoallergenic products if you have sensitive skin. For acne-prone skin, opt for non-comedogenic, oil-control products that do not clog pores.
Price: Shiseido products are pocket-friendly and suit everyone's needs. Check the prices of the skin care products before you settle on one. Several quality products are available at low prices as well. So do good research of a product and check reviews before making a purchase.
Why Trust StyleCraze?
Medha Deb has a passion for skin care and unearthing the best skin care products. Discovering the best skin care products starts with a good and reliable brand. Sneha recommends Shiseido products. From wrinkle creams to cleansing foams, this Japanese skincare line offers high-end products that cater to all your skin needs. The products on the list have been selected because of their active ingredients, skin care benefits, and many more.
Frequently Asked Questions
Are Shiseido products good?
Shiseido is popularly known as a brand that incorporates innovation and deeply-nourishing ingredients to bring out luxury skincare and makeup products that work wonders for healthy and glowing skin.
Is Shiseido high-end?
Known for their innovative ingredients and a luxe packaging, Shiseido is indeed touted as high-end by many.
Does Shiseido have retinol?
Retinol, with its collagen-boosting properties, greatly helps in reversing signs of aging. The anti-aging products from Shiseido may contain retinol.
Are Shiseido products safe during pregnancy?
Yes, the brand claims it is safe to continue using its products during pregnancy. However, make sure to consult your doctor first.
Do Shiseido products contain parabens?
Shiseido uses a permitted volume of ethylparaben and methylparaben for a few of its products, following rigorous safety protocols.
Recommended Articles