12 Best Shoe Insoles For Running And Walking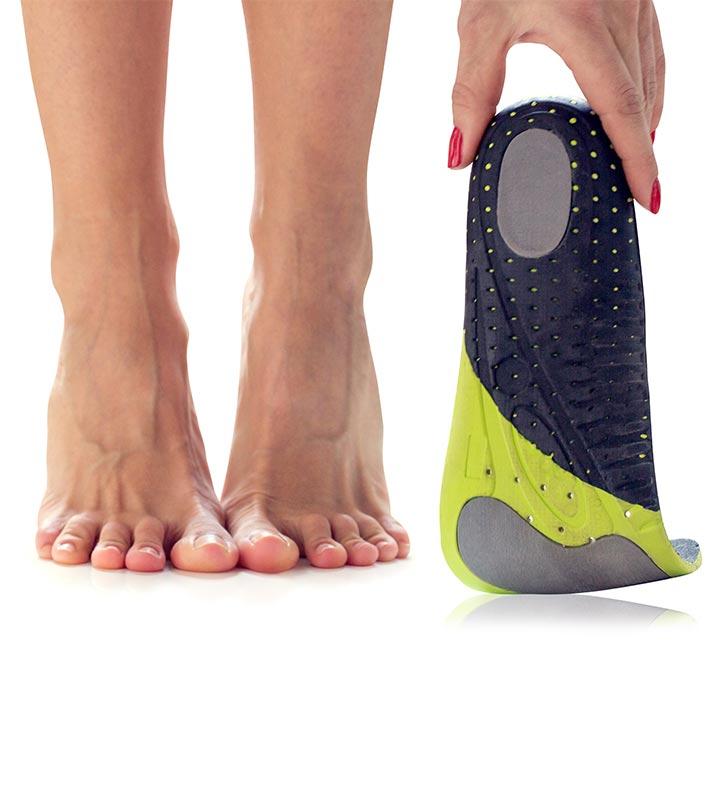 If you spend most of your time on your feet, whether running, playing, or standing, you definitely need the right shoe pads for better support and flexibility. Shoe pads are also called insoles. Walking on uneven surfaces can put a lot of strain on your feet, which is why choosing the right insoles is essential. Where the wrong insoles can make your feet ache and cause blisters and back pain, the right ones will prevent arthritic pain, calluses, heel spurs, and other common issues.
If you are willing to replace your standard insoles with something new, here are some promising ones that will offer the comfort you need. Invest in any of these awesome insoles and lower your chances of injury.
12 Best Shoe Insoles To Improve Foot Health
No products found.
Wernies insoles are strong, comfortable, and supportive and help reduce pain and discomfort.  These running shoes insoles have a contoured neutral arch that is suitable for most foot types and can be inserted into casual shoes, sneakers, or work shoes. The reinforced arch support comes with a deep heel cup and anti-slip top layer to improve support and stability. These pads distribute pressure evenly to prevent pain and stress on your feet and also eliminate heel and arch pain. They are made using high-quality EVA foam material and gel that offer great cushioning.
Pros
Shock absorbent
Reduce stress on feet
Suitable for running, walking, cross-training, and everyday wear
Cushioning effect
Cons
These plantar fasciitis arch support insoles are orthotic insoles recommended by podiatrists to minimize feet pain and reduce discomfort while running or performing any sports. The insoles offer support for plantar fasciitis, high arch, flat feet, pronation, back, ankle, knee, neck, lower back, joint, posture, heel spur,  metatarsalgia, shin splints, bunions, and Morton's neuromat. They are suitable for performing any activity like gym training, playing sports, running, skiing, etc. They offer dynamic support while performing any high-intensity activity and prevent injuries.
Pros
Made using anti-pronation biochemical reinforcement technology
Shock-absorbing
Excellent grip
Gel forefoot and air capsules enhance softness
The deep heel cradle with built-in heel support provides stability and keeps foot bone vertical.
Cons
These inserts are designed to fit into different types of shoes and are not too hard for your feet. They are perfect for plantar fasciitis support and prevent feet, knee, and joint pain. If you are dealing with shin splints, achy feet, or pain while working out/running, grab these insoles. The lightweight design fits into all kinds of shoes without any modification. The company assures instant pain relief from different types of foot conditions.
Pros
Designed by leading podiatrist for maximizing comfort and support
Offer instant pain relief and support
Lightweight
Do not rip, tear, or smell
Great for tired feet, shin splints, and feet issues
Cons
These insert soles are designed to offer excellent support while performing any high-intensity activity. These orthotic soles provide foot, heel, and arch support and will also improve your athletic performance if you are a runner or an athlete. They provide plantar fasciitis as well as arch support and help improve posture. They claim to improve mobility and offer fast pain relief. The soles come with an embedded orthotic plate and a deep heel cradle that absorbs your body weight and redistributes weight equally for stability. They are available in five different sizes and made using breathable fabric.
Pros
Offer instant plantar fasciitis relief
Absorb body weight and distribute weight equally inside to offer stability
Made using breathable, moisture absorbent, and comforting fabric
Cons
If you need elevated soles for your shoes, the Burlingham shoe lifts are a great option to consider. These supportive insoles realign the feet to their natural position and are elevated 2 inches from the back and thin from the front. These are the best elevated insoles you can insert in your casual shoes for all-day comfort and relaxed feet. They are made from heavy-duty fabric and material and absorb shock naturally and last long. The cushion design adds weight, so you can roam freely while wearing these insoles. The fabric is odor-resistant, prevents moisture build-up, and promotes airflow.
Pros
2-inch elevated soles for better circulation and improved physical functioning
Odor-resistant
Prevent moisture build-up
Boost air circulation
Can be cut to fit any shoe
Cons
Not great for sports or the gym.
High-density memory foam soles are great if you need low arch support. These memory foam insoles will smoothly glide into your shoes and offer great support. They are made using closed-cell foam that provides customized cushioning and offers the best support for neutral to medium foot arch types. If you need trim-to-fit insoles that can fit into any shoe, these are a great option. You will feel the bounce in seconds, and it will help prevent any foot injury or joint pain. It is ideal for you if you have flat feet or any other foot ache issues.
Pros
Made using premium memory foam
Offers support for medium to neutral arch shoes
Provide customized padding for better comfort
Great for improving posture and relieving joint pain
Cons
The front of the insoles is quite thin.
The foam doesn't offer complete support.
These synthetic insoles by Powerstep are podiatrist-recommended and relieve foot pain caused due to overpronation, plantar fasciitis, hammertoes, bunions, etc. These pink shoe insoles offer soft padding and full-body support and control. The encapsulated design consists of a flexible shell, proper arch support, a plush top layer, and a deep heel cradle for motion control. The dual-layer cushioning has a durable EVA foam base. The variable cushioning technology provides targeted control and enhanced relief.
Pros
Antimicrobial polyester top fabric
Reduce heat and friction while performing rigorous activities
Keep your feet dry
Offer control and flexibility
Cons:
More padding in the heels and thin in the front.
These insoles are suitable for most types of shoes and are great for active performers. They help relieve foot aches and improve posture. These anti-fatigue insoles have high-impact foam forefoot, are 4" high, and come with a reinforced stabilizer cap that supports the rear foot and also provides structure and stability to form the layer. You can also find a deep and narrow heel cup that supports the foot during high-intensity activities and while walking for long distances. The closed-cell foam offers cushioning and lasts long. This is an odor-resistant and organic pair of insoles.
Pros
Reinforced stabilizing cap for better control and comfort
Deep and narrow heel cup for support during high impact activities
Biochemical shape with slimmer heel and arch
Responsive full-length foam layer for long-lasting comfort
Eliminate odor-causing bacteria
Cons
Not durable
Not for long-distance running
These insoles are a perfect choice for improving athletic performance. The enhanced arch of these insoles offers better support, and the targeted gel drop in the heels provides better cushioning and control. The deep heel cups prevent heel slips and keep you stable. They fit into most of the athletic shoes and work shoes. You can cross-train, run, workout, and walk while wearing these insoles in your shoes and feel relaxed.
Pros
Improve overall athletic performance
Extra arch height for better support
Targeted gel drop for enhanced comfort
Prevent heel slip and offer control
Cons
No odor control or resistance
Do not fit all kinds of shoes
These shoe insoles relieve foot pain and also prevent plantar fasciitis and flat feet. The arch support improves foot and leg alignment and helps ease stress and discomfort. They also offer orthotic foot support and increase stability, comfort, and support. The deep stabilizing heel cups maintain correct foot positioning and keep the foot bones vertical. They are perfect for maintaining balance while performing rigorous activities and offer moderate control. You can wear insert them into hiking shoes, work shoes, athletic shoes, etc.
Pros
Comfortable arch support for foot and heels
Relieve foot ache, plantar fasciitis, and metatarsal pain
Made using high-density foam
Reduce muscle fatigue
Cons
Spenco Rx Comfort Thin Lightweight Cushioning Insoles are ideal for reducing stress and pain. This premium-grade pair of insoles is made using nylon fabric and loaded with full-length insole cushions. The insoles offer heel-to-toe comfort and are highly flexible. They are available in seven different to fit various shoe sizes.  The 4-way stretch fabric with Silpure antimicrobial helps prevent blisters and skin irritation. These insoles are odor-resistant and prevent wetness and are highly recommended for people seeking a thin and flat layer of padding.
Pros
Lightweight and cushioned
Full-length insoles for heel-to-toe comfort
4-way stretchable fabric for preventing skin irritation and blisters
Odor-resistant material
Cons
Very narrow for regular shoes.
These insoles enhance feet stability and come in different sizes. They offer rigid arch support for maximum stability and are perfect for athletes. They come with advanced support for both the arch and the heels to improve motion control and reduce overpronation. The insoles feature a 3-POD modulation system and position the pods with varying degrees of hardness. The hardness varies beneath the key areas of the foot to offer great support. This is an excellent product for reducing overpronation, a common factor that causes foot, leg, and back issues.
Pros
Rigid arch support for athletes
Best for athletic and sports shoes
POD modulation system for better positioning and control
Prevents foot, leg, and back pain issues
Cons
 That was our round-up of the 12 best shoe pads/insoles. The right insoles will provide better comfort, control, and flexibility and will also make you feel way lighter. They will help you prevent foot and leg injuries and enable you to perform better at your gym and on the field. Look at the features closely before buying a pair and go for the ones that suit your requirements.
Recommended Articles: