12 Best Shoes For Bunions That Relieve Pain And Irritation
These shoes offer adequate foot and arch support to help avoid foot aches and discomfort.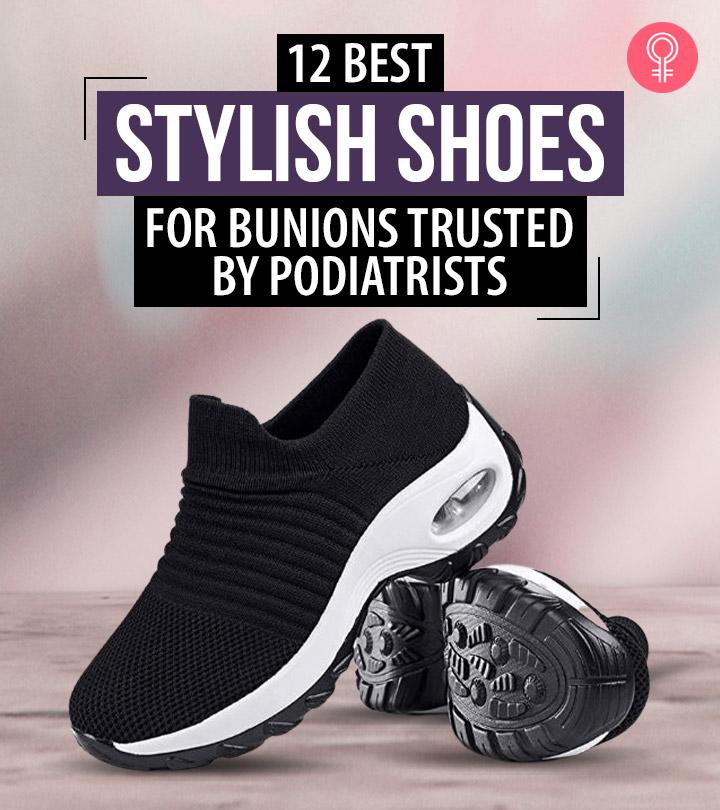 Bunions make regular shoes uncomfortable to wear, which is one of the significant reasons normal shoes are a no-no. Using the best shoes for bunions is a good idea because shoemakers are now creating shoes specifically for this condition. These shoes are made of a stretchy material that allows bunions to be adjusted without strain on the foot. They're also cushioned and have superb arch support.
Dr. Bruce Pinker, board-certified foot and ankle surgeon, says, "Bunions can be hereditary, but most develop due to the usage of improper footwear (pointy-toed, narrow-toed, or high-heeled). Brooks, New Balance, Vionic, and Orthofeet are high quality footwear brands that can offer lots of support for those suffering from bunions."
Check this list of the finest bunion shoes that can relieve your pain and will let you participate in all outdoor activities again.
What Are Bunions?
Bunions, a progressive condition, are the bony bumps on the base of the big toe. People with bunions often complain about pain while walking or running. They can lead to redness and inflammation in the skin as well.
Wearing too tight or pointed-toe shoes that do not give the toes enough room can cause bunions. Patients with rheumatoid arthritis can develop this condition as well in the later stages of their lives. Using roomy, supportive shoes can help ensure the bunions do not worsen.
Walking with bunions can be painful, but the right shoes can help you manage the pain better. Check the following section to know more.
Can Shoes Correct Bunions?
Unfortunately, shoes do not correct bunions. However, they do work to relieve pain and discomfort while you are wearing them. Wearing shoes with wide toe-boxes and good sole support will go a long way in reducing pressure and irritation on your bunions.  In the next section, we have listed 12 such pairs of shoes.
12 Best Shoes For Bunions
The air cushion technology in the Slow Man Women's Sock Sneaker Walking Shoes makes them perfect for bunions. You can wear them for an extended period while standing or walking, protecting your feet from impact and injury. These shoes feature a wide round toe and a medium to wide width to provide a comfortable fit.
Their mesh body makes the shoes breathable, super flexible, and lightweight. The molded MD outer soles are anti-skid and wear-resistant. These slip-on shoes have an elastic opening for easy wearability and an elevated arch and heel for extra support. They are suitable for daily use. Watch this video to gain insights into the usage and benefits of this product.
Pros
Lightweight
Flexible
Breathable
Non-slip sole
Perforated arc
Air cushion
Easy to wear
Cons
Price at the time of publication: $35.99
The ultra-comfortable Skechers Women's Go Walk Joy Walking Shoes are crafted with highly responsive 5GEN midsole cushioning. These lightweight shoes have a one-piece air mesh fabric with a featherweight sock liner that expands to accommodate the foot for a natural fit and optimal ventilation. Their 1.5-inch heels absorb impact while the air-cooled GogoMat technology insole provides added support. Plus, these slip-on shoes come with a padded collar and a heel top loop for easy wearing and removal. Watch this honest review from this famous YouTuber to gain a better understanding of the product.
Pros
Padded collar
Lightweight
Breathable
Flexible
Cushioned midsole
Soft lining
Cons
Expensive
Excessive cushioning
Price at the time of publication: $45
These slip-on Women's Athletic Walking Shoes from Tiosebon are the best when it comes to breathability. They feature a durable air mesh upper and holes on the soles to promote ventilation and faster drying. So, no more worrying about sweaty feet in hot and humid weather conditions.
The Solyte midsole provides a high bounce-back for shock absorption and comfort. It features an elasticized soft mouth for easy on and off without tugging the feet. The lightweight shoe has a sock-like fit with a non-skid MD sole that offers good traction. It is fitted with a latex insole and arch insert for added support and cushioning. Check out this YouTuber's video to reassure yourself about the benefits of this product.
Pros
Quick-drying
Breathable
Flexible
Lightweight
Slip-resistant
Easy on and off
Cons
Price at the time of publication: $23.99
Running with bunions can be a painful experience – and if you are wearing the wrong shoes, it can be worse. But with the smooth transitions and soft cushioning of the Brooks Women's Ghost 13 Running Shoes make jogging, cross-training, and exercising a breeze. The shoes create a balanced feel underfoot using a combination of BioMoGo DNA and DNA LOFT cushioning. An integrated system of shock absorbers and a soft midsole come together to cushion landings and take-offs. The shoes are crafted with an air mesh upper that holds the feet in a secure and breathable fit. These daily-use trainers have strong stretchability with a structure that supports and accommodates the feet. Plus, these shoes are PDAC A5500-certified, so they qualify for medical reimbursements as diabetic shoes.
Pros
Shock-absorbing
Secure fit
Cushioned
Lightweight
Soft mesh lining
Qualify for medical reimbursement
Cons
Price at the time of publication: $106.42
The New Balance Women's Walking Shoes feature a 100% leather upper and rubber outsole with high durability and comfort. These shoes support the rear-foot movement and enhance motion control and stability – making them perfect for your everyday routine.  The cushioned midsole absorbs impacts, while a removable PU foam footbed provides added support to the feet for long durations. The seamless phantom liner reduces friction and irritation. Plus, the special odor-resistant treatment keeps your feet fresh.
Pros
Shock-absorbing
Enhanced support
Long-lasting
Odor-resistant
Irritation-free
Cons
Price at the time of publication: $144.95
The innovative Orthofeet Orthopedic Women's Walking Shoes are designed with an adjustable heel strap that provides a snug fit to narrow or wide heels and braces. Their unique tieless closure system with Velcro tabs on either side of the shoes enable easy wearing and removal, making them best for those who have difficulty bending. The upper is constructed from breathable fabric and a PU trim with a seam-free polyester lining and a moisture-absorbing polyester top cover. The arch support on the insoles and cushioning soles ease pain and pressure while absorbing impact. These in-built systems help propel the foot forward with ease.
Pros
Adjustable heel straps
Tieless lacing system
Wide toe-boxes
Seam-free protective interior
Foam padding
Include orthotic insoles
Arch support
Breathable
Cons
Price at the time of publication: $129.95
The ergonomically designed Vionic Women's Tokyo Sneakers feature a contoured rubber sole that promotes flexibility and stability for an active lifestyle. These shoes are crafted from mesh and man-made uppers with a removable EVA orthotic arch insert that is firm yet flexible to deliver all-day support. These supportive shoes have a built-in three-zone comfort system that enhances stability and promotes natural alignment of the foot and the knee. The deep heel cup, extra forefoot cushioning, and extra arch support match the natural contours of the feet to relieve pain from bunions and plantar fasciitis.
Pros
Ergonomic rubber soles
Promote stability
Breathable
Flexible and cushioned outsoles
Support natural alignment
Podiatrist-designed
Cons
Mesh upper does not last long
Price at the time of publication: $103.37
The stretchable Orthofeet Orthopedic Women's Shoes are designed with a hook and loop strap and elasticized laces. These features offer a fully adjustable fit and easy wearability. They are fitted with orthotic insoles and ergonomic soles to provide optimal cushioning and support, making them ideal for plantar fasciitis, bunions, hammertoes, and arthritis. The non-binding fit and extra-wide toe-boxes protect pressure points while the arch support realigns the body and feet to relieve pain. The flexible upper and soft padded lining eliminates friction on the skin and offers a comfortable fit.
Pros
Adjustable fit
Easy to wear and remove
Ergonomic soles
Arch support
Padded interiors
Removable spacers
Stretchable upper
60-day wear test
Cons
Price at the time of publication: $119.95
The lightweight cushioning soles of the Orthopedic Women's Closed Toe Sandals from Orthofeet feature a mild rocker design that absorbs impacts to soften the steps and enhance the ease of walking. The 100% leather upper is fully adjustable with a two-way strap and a heel strap to provide a personalized, comfortable fit. The shoe comes with removable spacers to give a snug fit for narrower feet. The orthotic insoles offer superior arch support to realign the feet and body to ease pain along the foot all the way to the lower back. These closed-toe sandals feature advanced built-in technologies that alleviate symptoms of plantar fasciitis, hammertoes, arthritis, and bunions.
Pros
Adjustable straps
Seam-free interiors
Wide toe-boxes
Ergonomic soles
Arch support
Cushioned heels
60-day wear test
Cons
Price at the time of publication: $124.95
The Denacare Women's Wide Width Shoes feature extra depth and width to offer a comfortable fit while reducing the pressure on the toes. These easy-to-wear shoes are fitted with an adjustable hook and loop fastener to accommodate swollen feet, edema, bunions, and plantar fasciitis. The upper is crafted from lightweight, breathable material with a soft inner lining to keep the feet dry and sweat-free. The firm heels protect the feet from impact and promote stability. A memory foam insole takes the pressure of the foot to relieve pain and discomfort, while the extra spacers provide a customized fit.
Pros
Comfortable wide fit
Lightweight
Flexible
Non-skid soles
Memory foam insoles
Breathable
Adjustable Velcro closures
Machine-washable
Cons
None
Price at the time of publication: $32.93
The stylish Orthofeet Orthopedic Walking Shoes makes walking easier for people with bunions. Its multiple cushioning layers help re-align the feet and body and ease pain along the hips, lower back, and knees. The cushioning sole absorbs impacts while propelling the feet forward and adding a spring to the step.
These leather shoes are constructed with soft foam padded interior lining that reduces friction against the skin along with a stretchable upper that eliminates pressure on hammertoes and bunions. Additionally, the adjustable arch support decreases pressure on the heels and balls.
Pros
Anti-odor fabric and foam
Breathable
Padded heels
Arch support
Extra-wide width
Ergonomic soles
60-day wear test
Cons
Price at the time of publication: $139.95
The lightweight, ergonomic sneakers from Orthofeet deliver ultimate cushioning to help push the foot forward with minimal stress to the knees, hips, and lower back joints. They feature a wide toe-box and an extended width to provide a comfortable, relaxed fit that eases pressure on swollen feet, bunions, and hammertoes. They are crafted with stretchable leather uppers and soft padded interiors that reduce pressure points and friction on the skin. The orthotic ergonomic insoles provide arch support to realign the body and the feet to ease the pain on the foot and heels.
Pros
Extra-wide toe-boxes
Removable insoles
Foam padding
Breathable
Ergonomic design
Comes with a money back guarantee
Cons
Price at the time of publication: $132.95
While choosing shoes for bunions, it is essential to know what features to look for that will help you best cope with the pain and discomfort.
How To Shop For The Best Shoes For Bunions – A Buying Guide
1. Material: The lightweight, stretchable material makes the best shoes for bunions. Materials like mesh fabric and soft leather uppers are ideal as they reduce pressure on the foot and stretch to accommodate the foot.
2. Fit: Wide or extra-wide shoes are recommended for bunions as they will not constrict the foot. The widest part of your foot should match the widest part of the shoe and the toe-box should be able to accommodate the bunion bulge. Shoes with adjustable straps or lace-ups allow customization of the fit to make it as comfortable as you want. Inner linings should be seamless to avoid irritation to the bunions.
3. Support And Cushioning: Shoes with layers of cushioning for the midsole can absorb impact, making it easier to walk. A good arch and rubber soles also provide support to the foot and help minimize the pain.
There is one very important factor that you can't miss when investing in shoes specifically for bunions. It is the "sizing." The wrong shoe size can further aggravate the issue. Let us look at some very important points to help us choose the right size.
How To Size Your Shoes?
1. Width: The scale from narrow to wide is denoted by alphabets where AA stands for narrow and EE stands for extra-wide. Pick a wide size to allow room for your bunions to eliminate pressure on them.
2. Length: The numbers in inches (US) and other national standards measure the length of your foot.
3. Toe-box:  Ensure you get a wide toe-box. This is the most important part of the shoe that affects the bunions. A roomy toe-box gives your toes enough space with no pressure on the bunions.
Now that you know everything about the sizing and perfect fit, we will highlight certain points to avoid bunion pain. Keep reading.
Tips To Avoid Bunion Pain
1. Avoid High Heels: High heels with steep inclines are a definite no-no if you have bunions. These shoes aggravate the condition further as the angle puts too much pressure on the balls of your feet, putting stress on the bunions. Platform shoes or wedge heels with a gentle slope are the only type of elevated shoes you should consider if you must wear heels.
2. Wear Flats: Flat shoes are most comfortable and support your weight across the shoe thereby taking the stress off the bunions.
3. Wear Socks: Be careful not to wear closed shoes without socks. Otherwise, you can leave your bunions exposed to friction and irritation from the shoe.
4. Avoid Basic Shoe Models: Whether you are going for sandals, running shoes, or flip-flops, look for models that provide the correct width and support for your bunions. Avoid basic models as they may lack these features and may instead lead to more pain and discomfort for your bunions.
Why Trust StyleCraze?
The author, Aditi Naskar, has a diploma in health and wellness and has a good understanding of footwear for those with bunions. She has spent hours researching a wide range of shoes endorsed by users with their reviews to create the above list of the best footwear. These products are made of stretchy material and provide excellent arch support.
Frequently Asked Questions
Do wide shoes help bunions?
Yes, wide shoes do help with bunions. A wide toe-box provides enough space to comfortably fit all your toes without putting any pressure on the bunion.
How long does it take to correct bunions?
Recovery from bunion surgery takes about six to eight weeks. But complete recovery can take up to four to six months. A splint might give the toes short-term relief while in place, but it is not a cure for bunions. Wide-toed shoes, arch supports, orthotic devices, and ice packs help relieve pressure and pain bunions may cause on the toe joints.
How can you stretch shoes for bunions?
Stretch your shoes using a shoe stretcher. alternatively, you can put your leather or suede shoes out in the sun for 10-15 min and then wear them with double socks to stretch the material.
What causes bunions?
Bunions are generally caused due to faulty bone structure and flat feet and are genetically inherited.
Is going barefoot good for bunions?
Going barefoot can help with extreme bunion pains but it does not stop your bunions from progressing.
Can people with bunions do ballet and wear pointe shoes work?
Yes, ballet and pointe feel comfortable even with bunions. However, you have to do special stretches and exercises to avoid the pain.
Recommended Articles