8 Best Shoes For Elliptical Training Of 2023 – Reviews & Buying Guide
Put on these comfy shoes while training on elliptical trainers to gain a steady pace.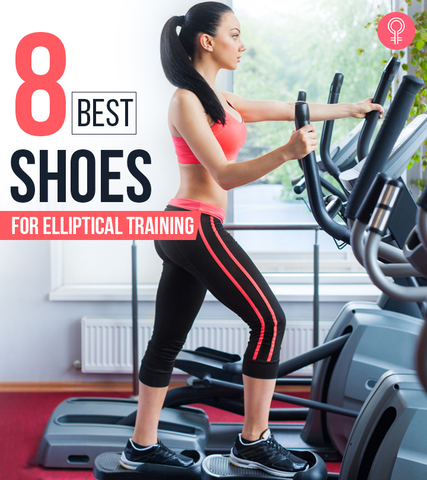 If cross-training is part of your daily workout routine, then you know the importance of the best shoes for elliptical training. Working on an elliptical trainer at a steady pace with the right amount of resistance can burn calories and strengthen your upper and lower body. Another advantage of having this stationary aerobic exercise machine is that you can pedal backward, resulting in the strengthening of your calves, hamstrings, and glutes. Exercise on an elliptical trainer is incomplete without the right shoes. These specially made cross-training shoes offer the correct arch support without compromising on your comfort. These shoes also protect your joints, tendons, and muscles while working out. So, if you haven't found the right one, we have got you covered. Check out our list of elliptical machine workout shoes to get your fitness game going! Scroll down to know more!
8 Best Shoes For Elliptical Training
ASICS Gel-Venture 6 Shoes Comprise a gel padding system at the back that reduces shock at the time of impact and offers a smooth transition towards midstance. They have a detachable sock-liner that can be replaced with a medical orthotic. Their inverted lugs offer great traction on all terrain and help you climb uphill and downhill. The rubber outsole contains AHAR (ASICS High Abrasion Rubber), making these shoes less susceptible to wear and tear. These stylish shoes offer joint protection and Achilles tendon support, and make your cardio workout sessions more effective and injury-proof.
Specifications
Material: Synthetic-and-mesh
Color: Black/ Carbon/ Neon lime
Sole: Rubber
Features
GEL cushioning
AHAR outsole
Detachable sock liner
Pros
Comfortable
Lightweight
Supportive
Good grip
Cons
Not enough cushioning
Tiny laces
Price at the time of publication: $49.95
Brooks Women's Adrenaline GTS 21 Shoes are designed for elliptical trainers. They are soft, smooth, and supportive. These stable shoes work well for overpronation and contain sufficient cushioning. The DNA LOFT crash pad offers cushioning and comfort, while the BioMoGo DNA blend helps adjust your stride, pace, and weight. Their sleek mesh upper containing a 3D fit print provides a perfect fit and makes them breathable, while the Guide Rails holistic system keeps your knees safe from injuries. These shoes with a lightweight design are the successor of Adrenaline GTS 20 and are a must-have in your cabinet. Click here to check out a detailed review of this product.
Specifications
Material: Synthetic-and-mesh
Color: Oyster/ Alloy/ Light blue
Sole: Rubber
Features
DNA LOFT cushions
BioMoGo DNA
3D fit print mesh upper
Guide Rails holistic system
APMA certified
Pros
Comfortable
Lightweight
Supportive
Wide toe box
Stretchable
Breathable
Cons
Flimsy shoelaces
Not enough cushioning
Expensive
Price at the time of publication: $123.59
The well-designed PUMA Women's Tazon 6 Shoes feature a leather upper containing a midfoot saddle which provides a perfect fit and great comfort. Their heel comprises EVA that helps to lower the impact caused by movements. In addition, these stability shoes offer good support and help with foot conditions like foot pronation and bunions. These athletic shoes are perfect for elliptical training without straining your knees. This video offers a deeper insight into the details of these shoes good for shock absorption.
Specifications
Material: 100% Leather and Synthetic
Color: Puma black / Puma silver/ Beetroot purple
Sole: Rubber
Features
Leather upper with midfoot saddle
Eva heel
Pros
Stable platform
Lightweight
Great arch support
Stylish
Snug fit
Sturdy
Absorbs shock
Cons
Price at the time of publication: $42.11
New Balance Fuelcore Nergize V1 Classic Sneakers comprise a REVlite midsole that offers soft padding, ensuring a smooth and comfortable ride. Their NB memory sole provides a plush feel when you walk or run in these shoes, while the bootie-style upper mesh makes it easy to put on and snuggles your feet, giving a perfectly comfortable fit. These stylish shoes offer sufficient foot support, which you can wear every day. The sleek upper of these shoes makes them lightweight, which allows you to go about your workout effortlessly. These attractive shoes that come in a wide range of colors can match most of your gym outfits.
Specification
Material: Mesh and Synthetic
Color: White/Iridescent
Sole: Rubber
Features
REVlite midsole
NB memory sole
Pros
Lightweight
Snug fit
Padded insole
Comfortable
Fits well
Soft material
Versatile
Cons
Price at the time of publication: $44.05
Nike Women's Flex Trainer 9 Sneakers are lightweight, with excellent traction, and are meant for low-impact workout sessions and circuit training. Their synthetic upper and the band around the heel provide support and security. These sneakers have a durable midsole made of foam, which acts as the outsole, reducing their weight. Their rubber sole makes them less susceptible to wear and tear. Their forefoot comprises a mesh that promotes air ventilation, making these shoes breathable. There is a tri-star design on their outsole that expands, which helps in distributing the impact and offers forefoot flexibility. These training shoes are a must-have in your collection. Click here to check out this YouTuber's review of the shoes.
Specification
Material: Textile and Synthetic
Color: Vast gray/ White-coral stardust-phantom
Sole: Rubber
Features
Synthetic upper
Heel strap
Foam midsole
Mesh in the forefoot
Tri-star outsole design
Pros
Lightweight
Comfortable
Midsole cushioning
Fits well
Flexible
Easy to put on
Excellent support
Durability and longevity
Suitable for low-impact exercise
Cons
None
Price at the time of publication: $70
Nike Women's Track & Field Shoes comprise a minimalistic upper with just one stretchable layer of mesh that feels like a second skin. The mild foam at their bottom keeps your feet closer to the ground. These shoes are flexible on all sides with their heel-to-toe trenches. They have a bootie design that attaches the tongue, giving a snug, comfortable, seam-free fit. These shoes are lightweight and give a barefoot feeling. They are perfect for walking and jogging and a must-add to your sports wardrobe.
Specification
Material: Ethylene Vinyl
Color: White/ Black-half blue-hyper pink
Sole: Acetate sole
Features
Minimalistic upper
Low foam density
Heel-to-toe drop
Bootie construction
Pros
Lightweight
Comfortable
Fits well
Breathable material
Seamless
Cons
Price at the time of publication: $55.98
Adidas Women's Alphabounce Running Shoes are perfect for elliptical training, ensuring a comfortable and smooth feel. Their Bounce midsole provides sufficient padding, letting you cover longer distances. They have a forged mesh upper that is seam-free and stretchable, providing a customized fit that adjusts as you move along while playing or working out. These shoes with cushioned soles are lined with fabric inside that makes them cozy. The sturdy rubber outsole provides great traction and is less susceptible to wear and tear. They are designed like socks, with a neoprene tongue and heel, ensuring a perfect fit and ankle mobility.
Specification
Material: 100% Textile/Synthetic
Color: Energy blue/ White/ Ocean
Sole: Manmade sole
Features
Bounce midsole
Forged mesh upper
Neoprene tongue and heel
Pros
Fits well
Comfortable
Supportive
Good cushioning
Lightweight
Cons
None
Price at the time of publication: $84.95
Reebok Women's Print Run 3.0 Shoes are comfortable, long-lasting, and have a great fit and feel. The shaft of these shoes extends to the low-top from the arch and offers ankle stability. They are lightweight and blister-proof with no break-in period. In addition, these shoes promote air ventilation, making them breathable, and are perfect for elliptical training. Their printed design makes them a must-have for every fashionable fitness freak.
Specification
Material: Textile and Synthetic
Color: Twisted berry/ Coal/ White
Sole: Rubber
Features
Shaft measures low-top from arch
Pros
Lightweight
Comfortable
Snug fit
Supportive
Breathable
Flexible
Cons
Price at the time of publication: $86.95
Choosing the perfect shoes for elliptical shoes won't be a hassle anymore with our curated list. However, there are a few points you must keep in mind while you shop for them. Scroll down to keep reading.
How To Choose The Best Shoes For Elliptical Training?
Material: Whether it is synthetic or leather, make sure the material used to make your shoes is breathable, which will keep your feet cool and dry.
Traction: This is important during pedaling as your shoes should provide enough grip to ensure you don't slip and fall.
Cushioning: You need moderate cushioning for this workout that will absorb shock and keep your feet comfortable.
Flexibility: The heel and ankle area of your sneakers should be flexible to prevent injuries.
Style: You are spoilt for choice in this segment, with many pretty options in various colors and designs. Pick a pair that will motivate you and make your workout sessions more fashionable.
Fit: When you are playing a sport or working out, your shoes need to fit you perfectly to focus on your performance. Pick the right size and try them on before you buy them.
Closure: A velcro or a lace system will work depending on your preference; just make sure it is not too tight, blocking circulation, or too loose, affecting your balance.
Reviews: Unpaid reviews by customers who have used the product are of great value since they tell you whether it is worth your money.
Jeremy Kring, a fitness and weight loss expert with 10 years of experience, says, "There are a number of factors that will determine how well a shoe works for you. Those with high arches will likely find different shoes ideal for them than someone with flatter feet. Therefore when selecting a shoe, it's important that you are able to exchange them if they don't feel right."
Why Trust Stylecraze
Aditi Naskar, the author of this article, holds a diploma in health and wellness and specializes in reviewing fitness and health products. She knows that exercising on elliptical trainers demand the right shoes for comfort and arch support. Hence, she curated this list to help out her readers. She considered user reviews, feedback on trusted online forums, along with factors like quality, design, comfort, and cushioning to pick only the best products for you.
Recommended Articles